Forsythe Defrauded Out Of $3 Million By 29-Year Old Fertilizer Salesman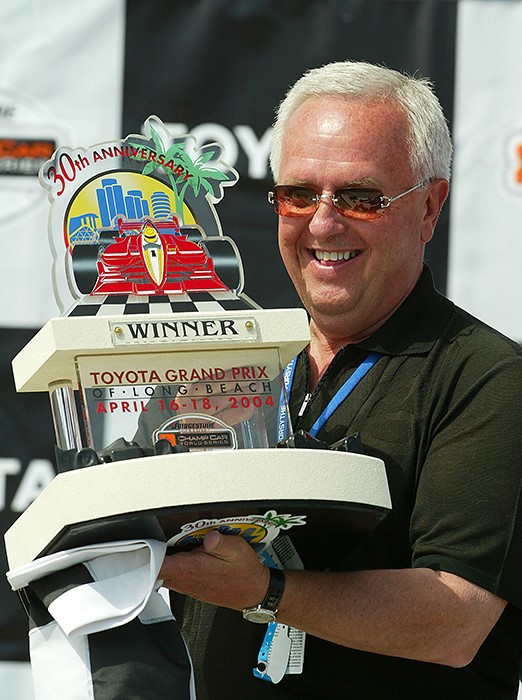 Gerald Forsythe
A case appealed from the federal bankruptcy court in Terre Haute to the federal district court in Indianapolis is raising a lot of eyebrows. Multi-millionaire businessman and former CHAMP Car Series owner Gerald Forsythe contested the bankruptcy filing of a 29-year old fertilizer salesman originally from my hometown of Marshall, Illinois based on a claim that the bankrupt salesman defrauded him out of $3 million. Reading the facts from Judge William Lawrence's opinion this past week, it's hard to have any sympathy for Forsythe.
According to the opinion, Forsythe, whose reported net worth was $600 million many years ago, entered into an oral agreement on July 6, 2004 with Yeley, who he came to know when he sold him fertilizer for his vast farming interests in Illinois, to purchase Cabela's stock when its initial public offering was launched. Forsythe agreed to put up $3 million, which he transferred into a brokerage account opened up by Yeley at Pershing, LLC. The funds were to be used solely by Yeley for purchasing Cabela's stock and when the stock was sold the two were to share in any profits realized from the sale of the stock. The two also agreed that Forsythe could demand the return of his money at any time. You can pretty much guess what happened thereafter.
Forsythe cut a check made payable to the brokerage account at Pershing for $3 million from Indeck Energy Services. Shortly after the deposit was made, Yeley began withdrawing funds from the account and transferring them into his personal bank accounts. Between September 24, 2004 and December 18, 2006, Yeley withdrew a total of $2,365,939 from his Pershing account, which he spent on personal expenses. What little of the money Yeley used to purchased Cabela's stock, he wound up selling for a loss. He also used part of the money to buy stock in a different company. On November 1, 2006, Forsythe asked Yeley to sell enough of the Cabelas' stock in order to return the $3 million "loan" he provided to him. Yeley tendered a $3 million check payable Forsythe drawn on an Old National Bank account, but he told Forsythe to hold the check until he had marshaled all of the necessary funds to cover the full amount of the check. Not surprisingly, Yeley never came up with the funds necessary to allow the bank to honor the check.
In 2007, Forsythe sued Yeley, his former spouse and Pershing, alleging breach of contract and conversion. The court opinion does not say how that case ended, but in January, 2012, Yeley filed for Chapter 7 bankruptcy protection in the bankruptcy court in Terre Haute to avoid Forsythe's $3 million claim against him. Yeley alleged that Forsythe used him to launder the money because he was supposedly barred from participating in Cabela's initial public offering, although Judge Lawrence's opinion says that Yeley did not produce evidence to prove his claim. At a trial held last year, the bankruptcy court found Yeley liable to Forsythe for $1.5 million and, while it granted him a discharge from bankruptcy, it found that Yeley's $1.5 million debt owed to Forsythe was non-dischargeable. Forsythe appealed the bankruptcy court's decision, arguing that the judgment should have been for the full $3 million, and that Yeley should be denied discharge from bankruptcy due to his fraud.
The bankruptcy court had reasoned that Forsythe shared some of the responsibility for his loss by "doing what he did with who he selected." Judge Lawrence agreed, in part, with Forsythe in concluding that Yeley should at least be responsible for the more than $2.3 million he drew out of the account to spend on personal expenses. On remand, Judge Lawrence ordered the bankruptcy court to determine the exact amount that Yeley acquired through fraud and set that amount as the non-dischargeable debt still owed to Forsythe. Judge Lawrence, however, sided with Yeley in finding that he had not engaged in acts of dishonesty through the filing of his bankruptcy petition. Forsythe had argued that Yeley had failed to file tax returns, failed to disclose interests in businesses, failed to provide documentation of his financial affairs and respond to discovery requests and could not document the dissipation of large sums of money, as a basis for arguing that Yeley had engaged in fraud throughout the bankruptcy proceeding. Judge Lawrence deferred to the bankruptcy court judge's determination that there was "no overt effort in the petitions to mislead anybody or lead them down the road that they shouldn't go."
This is an article from Gary Welsh who is a very good attorney in downtown Indianapolis. He has a knack for exposing the real facts behind political stories that the local lap dog media are afraid to touch.
As he mentions in the article he is originally from Marshall, Illinois which is the home of the Forsythe family and where they still have large property and business holdings.
If nothing else this article gives some insight into just how one of the former CART/ChampCar owners handles his business.
By way of disclosure, I'm from Marshall, Illinois and am a little more familiar with the involved parties than a person with a passing interest. Yeley's family farms near my parent's farm, and our families are well-acquainted with one another. Forsythe has bought up a great deal of farmland around my parents' farm and doesn't shy away from showing off his wealth. It's no secret that Chris has been fighting a lot of demons and has been in and out of rehab over the years. What is difficult for most people in the community to figure out is why a highly-successful businessman like Forsythe would have ever entrusted $3 million with Yeley based solely on an oral promise and an arrangement that included virtually no adult supervision by Forsythe of Yeley's activities. When Chris started spending money like a millionaire buying expensive homes in an upscale subdivision in Terre Haute and down on Dale Hollow Lake, people around town knew instinctively that something was amiss. I'm told that he made no secret of the claim that he was laundering money for Forsythe. Forsythe never engendered much sympathy in the Marshall community by boasting to anyone within ear shot how little he paid in taxes to the government because of his business acumen. Frankly, if I had been in Forsythe's shoes, I would have been too embarrassed to have resorted to the courts to recover the money he essentially gave to Yeley.
Forsythe, who is from Marshall originally, made his fortune from Indeck, a family of companies that specialize in the sale and lease of power-generating equipment, as well as owning and operating cogenerating power facilities throughout North America. He also owns tens of thousands of acres of farmland in Illinois, car dealerships, banks and auto racing tracks. Indy Car fans will recall that he once owned a race team that featured a number of prominent race car drivers, including Teo Fabi, Greg Moore, Patrick Carpentier, Alex Tagliani and Paul Tracy. Forsythe was best known in auto racing as the guy who hated Tony George and wanted no part of his IndyCar series.
Forsythe owns the largest house in Cook County, Illinois, a nearly 25,000 square foot home in Inverness, and perhaps the most ritzy log cabin home in all of North America in rural Marshall that features an 18-hole golf course rated as one of the best private golf courses in the country by Golf Digest. Forsythe likes telling the story about Peyton Manning calling him up and asking to play on his golf course. Forsythe told him he would be happy to have him visit his golf course. After Forsythe told Manning how much he would have to pay for a round of golf, Manning said no. He mistakenly assumed he could play for free as a guest because of his celebrity status. Forsythe is much more generous with his money towards the politicians, mostly Republicans, having contributed hundreds of thousands of dollars to various candidates and political action committees over the past two decades.
Believe me, Forsythe will never miss that $3 million. If I had known he was passing out money like candy, I would have approached him myself long ago for a "loan." Who knew? I'll never forget going to a CART race down in Homestead, Florida with my brother, who worked for Forsythe at the time, and my nephews on guest tickets we thought had been given to us by Forsythe. Rock singer Lenny Kravitz was a special guest of Forsythe, and Forsythe's racing team had two drivers that day, Greg Moore, who won the race, and Patrick Carpentier. Moore refused to mingle with Forsythe's invited guests at a race party following his win, which angered Forsythe. I'll still never forget my reaction when Forsythe came over to my brother to collect money from us for the cost of each of our tickets. I looked at my brother and said, "You're kidding, right?" I reached into my wallet and paid for cost of the ticket in cash, even as I couldn't help but think what a cheap skate Forsythe was.
A few years ago, Forsythe wanted to treat his high school classmates in Marshall to a class reunion they would never forget. They boarded buses in Marshall and were taken to Terre Haute's historic Indiana Theater, where they were treated to a surprise live performance by singer Wayne Newton. Forsythe turned red-faced when his "close friend" Newton got his wife's name wrong during introductions. I wondered if Newton had to fight for his performance fee after that faux pas.