Even Andretti might not be able to make IndyCar race in NJ happen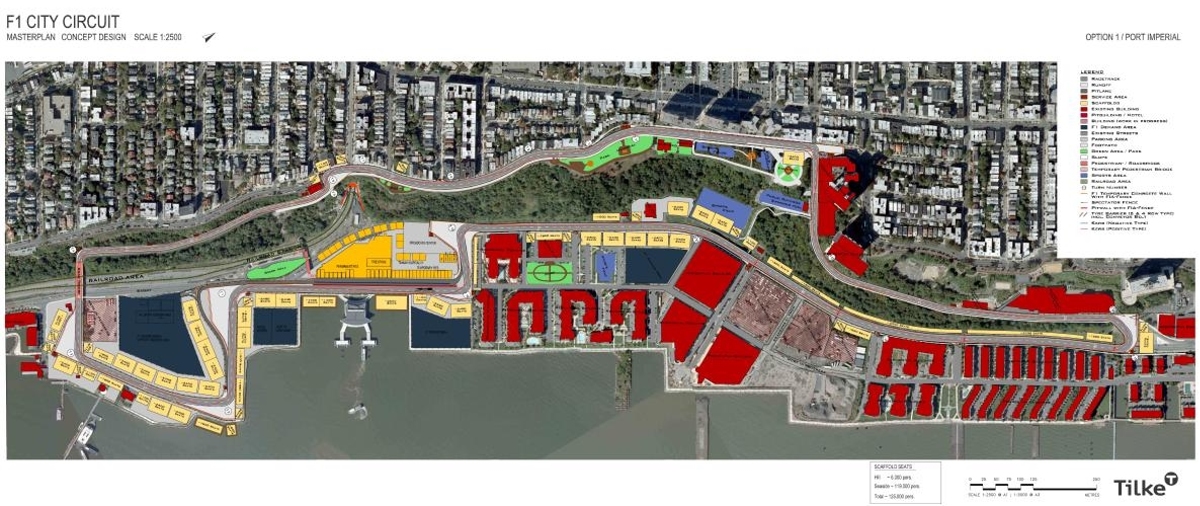 Could Andretti Sports Marketing make a go of this event?
After two failed attempts to join the Formula One schedule that proposed street circuit in New Jersey it appears that the deal is dead, barring of course someone invests a $100 million. Well, that's not going to happen, so IndyCar could sweep in and have a signature event, right?
The only IndyCar race promoter who might be able to pull off this event would be Andretti Sports Marketing. However, Matt Shafer in this Beyond the Flag article gives five reasons why they think it won't happen. Too bad because the setting is mind blowing and the street circuit the fastest in North America.
5. The course isn't built. Some of the renovations have been done, but the course couldn't host a race this year. It's not publicly known how much it would take to get the course ready for an F-1 race, much less an IndyCar race, but it's probably in the millions.
4. There's already a race track in New Jersey: After going through a bankruptcy New Jersey Motorsport Park appears to be re-establishing itself as a viable track. NJMP hosts an ARCA race and hosted the Rolex Grand Am series for five years running. Given Indycar's current financial situation — and lack of standing road courses on the schedule – NJMP makes far more sense than trying to pick up the pieces in Port Imperial. [Editor's Note: NJMP would never draw a crowd for IndyCar. There is nothing to nice around to attract the fans and the track is not safe enough for the speed of IndyCars]
3. It would be a huge course: At 3.2 miles it is a mile longer than any other street circuit IndyCar races on, and looking at the track map there doesn't seem to be any place to truncate the course. With street races there has to be a cost-per-foot price when it comes to building street courses. While I don't know what it would be in New Jersey, I'm sure it would the most expensive in America. When you add the costs of an extra mile of racing surface, plus all the costs of racing in the New York metro area I can't see an IndyCar event being viable.
2. Politics: The recent media circus involving Gov. Chris Christie it illustrates that politics in New Jersey is a contact sport. Beyond that, there is a long history of failed attempts to bring auto racing to the New York metro area.
A decade ago Paul Newman tried to bring Champ Car to Floyd Bennett Field on the south edge of Brooklyn. He was defeated by a powerful coalition of NIMBY opposition and environmental groups who wanted to protect a sparrow.
Not only is there a host of municipal, county, and state politicians who need to see an upside in any IndyCar race, there are trade unions, neighborhood groups, environmentalists that would have to be appeased, and then there is a mountain of regulation. Before the latest "setback" Chris Pook told Racer about the mass of regulations that were tying down every aspect of the event.
First of all, this is an extremely complicated temporary circuit, by far the most complicated temporary circuit that I have ever seen. It involves two different cities – two towns, if you will, plus a private sector landowner – Roseland Property Company. Then you have to deal with the environmental issues with the Hudson River because you are using a portion of that to mount platforms for seating.

All of these bits and pieces take a huge amount of time to get sorted out and they are also very expensive. As you move forward with the planning process of putting it together, it's as if you turn over another stone every day and underneath that stone is another financial requirement, not to mention the regulatory requirements. Actually, it's a regulatory requirement that, in turn, has financial requirements attached to it."
NASCAR's International Speedway Corporation tried to bring oval racing to Staten Island and was essentially shouted down by NIMBY opposition who didn't want to deal with the traffic, and arguably the fans, that a NASCAR race would bring to their island. Eventually the France family had to sell their investment.
1. Bernie has money in it: Even if someone could deal with the politicians, pacify the local opposition, raise the money to finish the build out, and pay Indycar's sanctioning fee, they'd still need to deal with "The Man."
By published reports Bernie Ecclestone has invested $10 million into making it happen and has bought walls and fencing from the Valencia Street Circuit to be repurposed in New Jersey. This more than anything else would sink the deal.
In order for any other promoter to pick up the venue and run an IndyCar race they would have to buy out Bernie's interest, because there is no way that Ecclestone is going to take a willing hand in helping IndyCar. Given the insane amounts of money that Ecclestone and the F-1 ownership has taken out of the sport he'd probably be more willing to let his investment rot than sell it to any organization that would host a competing racing series.
So there you have it, five big reasons why IndyCar will never race in Port Imperial. It's not that racing in New Jersey doesn't make sense, after all it's a market NASCAR hasn't penetrated, but racing next to New York wouldn't be viable. New Jersey Motorsport Park, now that makes a lot of sense to me.