Andretti remembers Granatelli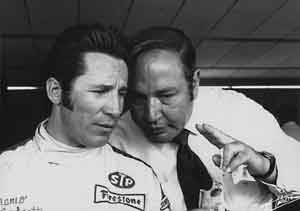 Granatelli with Andretti in Spain in 1970 as Mario does a one-off F1 race
Andy Granatelli, a flamboyant race car driver turned businessman who became a household name with TV commercials for his STP fuel and oil additives, died Sunday at a Santa Barbara, Calif., hospital. He was 90.
Granatelli died of congestive heart failure, his wife, Dolly, said.
Over the course of his career, he was inducted into 19 engineering and motorsport halls of fame, including, in 2002, the hall of fame at the Indianapolis Motor Speedway.
A natural promoter, he designed and owned cutting-edge cars raced at Indy and marketed his achievements with flair, decking himself and his crew out in pajama-like white suits covered with red STP stickers.
The globally broadcast image of the attention-grabbing outfits was "the best thing that ever happened to STP or the speedway," Granatelli said in a recent interview. "To this day it makes the covers of magazines."
Granatelli wrote a 1969 autobiography titled "They Call Me Mr. 500," but he drove the famed speedway just once, crashing in the qualifying rounds in 1948. He broke both shoulders and lost 11 teeth. At the time, he owned a small Chicago garage but was billing himself as Antonio the Great, an Italian rocket-car driver.
Despite the mishap, Granatelli soon was one of the best-known people in the sport.
"He understood better than anyone the spirit and challenge of the Indianapolis 500 and had a remarkable ability to combine innovative technologies with talented race car drivers to make his cars a threat to win at Indianapolis every year," J. Douglas Boles, the speedway's president, said in a statement Sunday.
"Andy leaves a legacy of historic moments that will live forever in Indianapolis 500 lore," Boles said, "including his famous turbine that dominated the 1967 Indianapolis 500, the Lotus 56 of 1968, and giving the great [and Nazareth native] Mario Andretti [whom he sponsored in the race] a kiss on the cheek in Victory Lane after his 1969 win."
Andretti told The Morning Call, "He touched my life and my family's life in so many ways. We were able to win Indianapolis together. That one he really wanted and deserved and I was happy to be the one to bring him it.
"It was incredible in racing in so many ways. He was a marketing genius. He created a lot of noise the right way. He was a very entertaining and interesting individual and was always thinking outside the box."
Granatelli was the godfather to Mario's daughter Barbie.
The kiss, an exuberant smooch that made the papers worldwide, was classic Granatelli, the late Los Angeles Times racing writer Shav Glick wrote in 2000.
"Granatelli, all 300 pounds of him, ran earsplitting Novis and silent turbine 'Whooshmobiles,' kissed Mario Andretti in the winner's circle, and made STP such a familiar name that when Neil Armstrong was about to walk on the moon, it was rumored the first thing he might see would be an STP sticker," Glick wrote.
Although the Federal Trade Commission ultimately questioned STP's effectiveness, Granatelli, its president and chief executive, was the ultimate pitchman, handing out STP hats and T-shirts and donning his trademark trench coat in its ubiquitous commercials. In less than a decade, he boosted its annual sales from $2 million to $100 million.
The "wondrous campaign represents total involvement of a kind rarely seen in America since the days when peddlers sold their own celery tonic from Conestoga wagons," Sports Illustrated wrote in 1968.
In an Autoweek interview two years ago, Granatelli said the personal touch was sadly missing from today's racing scene.
"It used to be in the 1950s and '60s that you could watch a car go by and tell who the driver was by the way he sat in it, upright or lying down or whatever," Granatelli said. "You can see none of that now, because the car goes by so fast, and the driver is hidden down in that hole. Then the stupid driver gets out of the car, takes his helmet off, puts on a hat and sunglasses, and all you can see is the tip of his nose and his lips. We're supposed to pull for a nose and a set of lips'"
Born March 18, 1923, in Dallas, Anthony Granatelli grew up poor in Chicago. He and his two brothers, Joe and Vince, took to cars naturally, he once told an interviewer.
"Finally it got to where we could overhaul a whole engine right there in front of someone's tenement," he said. "Joe would lie under the car in the snow and we'd drop the whole block, and Vince and I would dance around fixing things and blowing on our fingers to keep warm."
Over the years, Granatelli had many positions in the racing world. He was vice chairman of NASCAR and head of the Hurricane Racing Association. As chief driver and engineer for Studebaker Racing, he set 400 speed records, according to the International Motorsports Hall of Fame in Talladega, Ala., which inducted Granatelli in 1992.
When he was 62, he drove a street-legal 1982 Camaro more than 241 mph at a test track on El Mirage Dry Lake near Edwards Air Force Base, Calif. He said it was his personal car – the one he used to commute to work every day.
"I wanted the world to know that you are never too old to do something you want to do," he said.
Cars he sponsored twice won the Indianapolis 500, and his drivers included some of racing's biggest names: Richard Petty, Gordon Johncock, Al and Bobby Unser, and many others.
After Union Carbide acquired STP in 1985, Granatelli started Tuneup Masters, a chain of low-cost garages.
Granatelli, a Montecito, Calif., resident, retired from business 27 years ago, family members said.
Since then, he had been active in Santa Barbara County civic affairs, raising money for the Sheriff's Department, schools and charities.
He is survived by his wife, Dolly, sons Vince and Anthony, and three grandchildren. A brother, Vince, also survives him. Mcall.com