Andy Granatelli dies at 90 (3rd Update)
UPDATE #3
12/30/13 An obituary written by Robin Miller for Racer.com.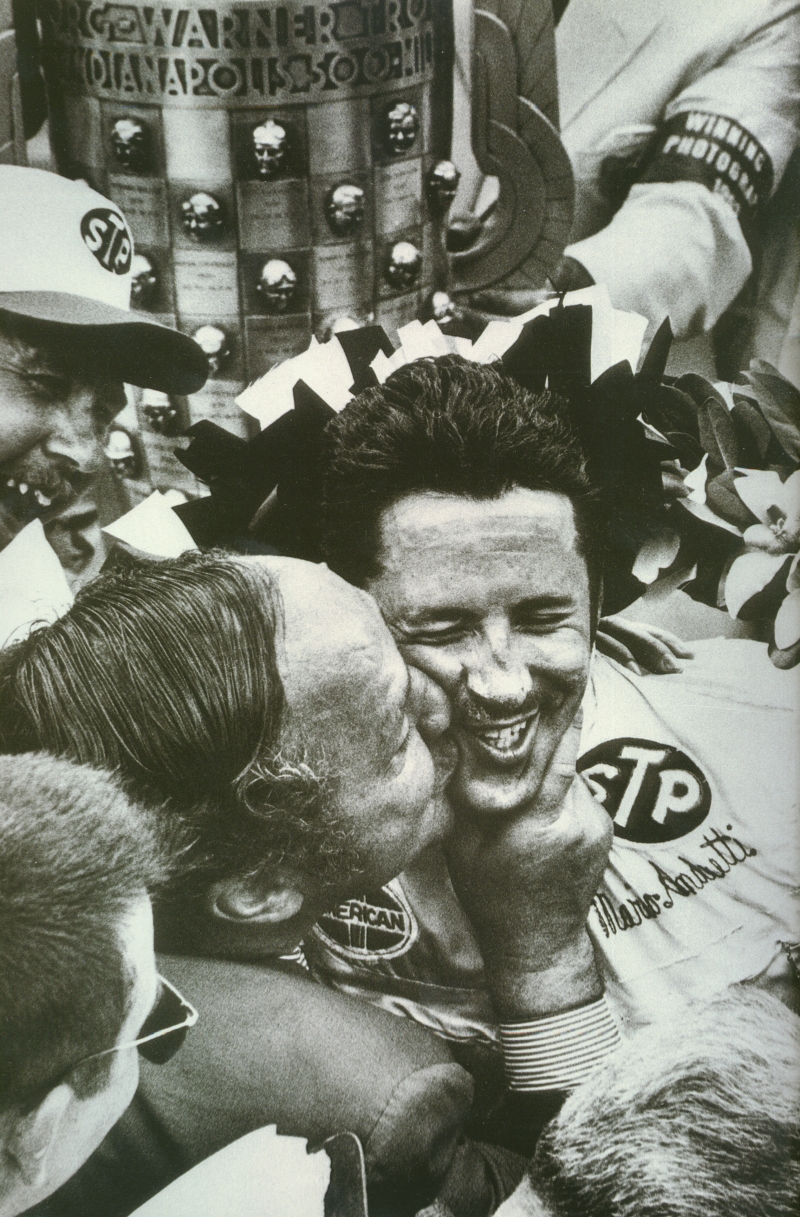 Andy Granatelli and the famous kiss he planted on Mario Andretti at Indy in 1969
Granatelli Trivia
One of the last things Rocky Marciano did before his death was a car commercial. The world heavyweight champion (1952–1956) was on a visit to Chicago. He was coming from a dinner at Granatelli's home where he reportedly gave Granatelli's son boxing lessons after he was being picked on in school. Marciano died hours later in a plane crash.
Andy Granatelli was famous for purchasing the small automotive repair chain Tuneup Masters. He renamed the company "Andy Granatelli's Tuneup Masters" and opened locations in Arizona, Nevada, New Mexico, Oklahoma, Texas and Utah. This was done largely through the acquisition of other small automotive chains. The company was never franchised and remained privately held until the late 1980s, when it was sold to Cardis (Carquest Autoparts). Cardis, a Cerritos-based distributor and retailer of automotive parts, bought TuneUp Masters from Granatelli's group in a cash and stock deal then valued at up to $53 million, with at least $40 million paid in cash. At the time of sale they had approximately 150 stores. Andy followed the marketing success of his STP decal branding by affixing the TM decal to every car serviced. The chain was famous for offering complete automotive tune-ups for $49.95, flat rate, with no extra charges for parts. This was a popular price and led to tremendous growth throughout the 1980s. Eventually the chain was sold, probably due to the increasing complexity of cars, and the difficulty of offering comprehensive service for such a low price. The business model was changed from flat-rate to a base flat-rate, with additional charges for a list of add-ons such as air filters. This business model was much less effective, because the cost to customers rapidly increased.
STP, the engine oil additive which Granatelli made famous, stands for "Scientifically Treated Petroleum", according to Granatelli's autobiography, They Call Me Mister 500. A common STP slogan has been, "STP, The Racer's Edge".
Granatelli was the man responsible for the STP sponsorship of racecar driver Richard Petty. The 30-plus-year sponsorship almost did not happen because Granatelli wanted the car painted solid red. Petty was adamant that they team would use the Petty Blue they were known for. An agreement was reached that the car would be half red and half blue. When Petty was given the contract there was a line that said Petty would receive an extra $50,000 on top of the $250,000 if he would paint the entire car red. Petty crossed out the line and put RP beside of it, saying he was not going to stop using his signature blue. After having much success sponsoring Petty, Granatelli made a deal with Petty that as long as he drove a race car STP would sponsor him, the longest sponsorship in the history of NASCAR.
12/29/13 A statement from the Indianapolis Motor Speedway President J. Douglas Boles on the passing of Andy Granatelli, who passed away Sunday, December 29, 2013 in Santa Barbara, California at the age of 90.
"Andy Granatelli – known appropriately as "Mister 500" – understood better than anyone the spirit and challenge of the Indianapolis 500 and had a remarkable ability to combine innovative technologies with talented race car drivers to make his cars a threat to win at Indianapolis every year," said J. Douglas Boles, IMS. "Andy leaves a legacy of historic moments that will live forever in Indianapolis 500 lore including his famous turbine that dominated the 1967 Indianapolis 500, the Lotus 56 of 1968, and giving the great Mario Andretti a kiss on the cheek in victory lane after his 1969 win. Our thoughts and prayers are with Andy's family, friends and legion of fans."
12/29/13 Andy Granatelli, the former CEO of STP motor oil company who made a mark on motorsports as a car owner, innovator and entrepreneur, has died. He was 90.
Granatelli's son, Vince, said his father died Sunday of congestive heart failure at a Santa Barbara hospital.
Granatelli is a member of the International Motorsports Hall of Fame, the Motorsports Hall of Fame of America and the Indianapolis Motor Speedway Hall of Fame.
"Everything he did was bigger than life," Vince Granatelli said.
Andy Granatelli's cars nearly won the Indianapolis 500 in 1967 and '68 with turbine engines. He broke through in 1969 with Mario Andretti driving his winning car with a conventional engine. Granatelli kissing Andretti on the cheek in Victory Lane is one of the most famous images in Indy history.
In 1973, Gordon Johncock gave Granatelli another Indy 500 victory.
"The thing that gave him the most gratification in his life was what he did at the Indianapolis 500," Vince Granatelli said.
Andy Granatelli was born in Dallas. He gained fame during World War II as a promoter of racing events, such as the Hurricane Racing Association.
He is survived by wife Dolly and sons Vince and Anthony.