Popular former Funny Car driver "240 Gordie" Bonin dies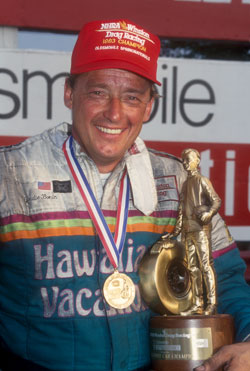 Gordie Bonin
Former NHRA national event-winning Funny Car driver "240 Gordie" Bonin, the world championship runner-up in 1977, died Nov. 29. He was 65.
According to a post on his Facebook page, Bonin had been admitted to a Las Vegas hospital recently, suffering from heat-stroke symptoms. He had been released from the hospital and was in a local hotel, where his body was discovered early Friday evening.
Bonin earned his famed nickname in the 1970s when his Bubble Up Trans Am was a steady performer in the rare 240-mph zone. The Red Deer, Alta., driver first burst onto the national event scene in 1972 with a surprise runner-up at the U.S. Nationals in the Pacemaker Vega with Edmonton, Alta.-based partners Ron Hodgson and Gordon Jenner.
Bonin, Hodgson, and Jenner, who were inducted into the Canadian Motorsport Hall of Fame in 2000, ran together through the 1979 season – Jerry Verhuel, who tuned Frank Hall to the 1973 world championship, joined the team in 1975 – a run highlighted by a huge win at the silver anniversary U.S. Nationals in 1979, where they also became the fourth members of the Cragar 5-Second Club.
Jenner left the team when the Bubble Up deal ended that season, and after a few years, Bonin hung up his driving gloves and for six years (1983-89) served as NHRA director of marketing and marketing services manager.
He returned to the cockpit in 1989 in Top Fuel with old pals Hodgson and Jenner and won the AHRA championship. He reached the semifinals of the 1991 Seattle event in the car of the recently passed Gary Ormsby before the Austin family bought the team, and he returned to his Funny Car roots – and a second stint with legendary owner Roland Leong – in 1993, then drove two seasons for the Candies & Hughes team – scoring two wins – in 1994-95. All told, he scored nine NHRA national event wins.
Bonin was out of racing until 1999, when he competed in three of five events in the FIA European Drag Racing Top Fuel Series, and he later drove for Bill Miller on an infrequent basis.