Latest F1 news in brief – Wednesday
Hulkenberg turned down Lotus

Hulkenberg turned down offer to replace Raikkonen

Kubica insists F1 return not impossible
Facu Regalia tests McLaren F1 simulator
McLaren 'lacked organization and humility' – Perez
Ecclestone will run F1 "the way I've always run it
Circuit of the Americas: three corners in detail
Hulkenberg turned down offer to replace Raikkonen
(GMM) Nico Hulkenberg turned down an offer from Lotus to replace the surgery-bound Kimi Raikkonen for the remaining two grands prix of 2013.
German Hulkenberg, who currently drives for Sauber, is the hot favorite to replace Raikkonen full-time in 2014, but only if financially-struggling Lotus completes its crucial investment deal with the Quantum group.
If that deal collapses, as many insiders believe it will, Pastor Maldonado – who will not drive for Williams next season – is tipped to switch his lucrative PDVSA backing to the Enstone based team.
Nevertheless, late on Tuesday Hulkenberg's manager Werner Heinz revealed that, in the past days, Lotus expressed interest in the 26-year-old racing in Raikkonen's place in Austin this weekend, and then the Brazil finale a week later.
"We were presented an offer that we are exploring now," Heinz was quoted by the SID news agency.
"Within the next two days, a decision will be made. But this does not mean that Nico is leaving Sauber," he added.
Indeed, with apparently no guarantee of the full 2014 race seat, moving to Lotus now would appear to be a risk for the otherwise highly-rated Hulkenberg.
"It's a big risk," agreed German-language F1 commentator Christian Danner, according to Bild newspaper.
"He would have to get used to a new car in the space of three practice sessions — usually you need months."
After a short period of reflection, Heinz told Bild: "We had an offer from Lotus and we discussed it.
"We decided that Nico will do the last two races with Sauber."
Lotus reserve driver Davide Valsecchi, a F1 rookie and last year's GP2 champion, is now the favorite to replace Raikkonen in Austin and Brazil.
Kubica insists F1 return not impossible
(GMM) Robert Kubica has admitted it is unlikely he will ever return to formula one.
Ferrari boss Stefano Domenicali admitted recently that, prior to the Pole's horror rally crash of early 2011, Kubica was a front runner to become a driver for the fabled Italian team.
"Unfortunately, I don't think he will be back," said Domenicali, referring to the limited mobility of 28-year-old Kubica's right arm, which was almost severed in the crash.
Indeed, former BMW and Renault driver Kubica admitted in an interview with the BBC this week that a return to F1 is "almost impossible".
Having tested this year in Mercedes' F1 simulator, he said he could drive an F1 car on a circuit like Barcelona, but not somewhere like Monaco, because he is unable to rotate his arm to achieve steeper steering angles.
So Kubica said Domenicali's frank assessment of his F1 return hopes didn't bother him.
"Maybe it sounds strange but I was actually quite pleased, because it showed they've been checking up on me," he told the Independent, as he prepares to race Citroen's full world rally car in Wales this weekend.
"I know the reality, and the reality is the improvement in my range of movement is still happening," said Kubica, who this year won the second-tier WRC2 title.
"There is no 'finished' (with F1)," he insisted, according to the Daily Mail.
"Some doctors say it (his arm) can't be put right; some (say) that it can. I am hoping," added Kubica.
"One day I would like the opportunity, but I understand that the sport goes on and time keeps running."
Facu Regalia tests McLaren F1 simulator
Argentine GP3 driver Facu Regalia yesterday tested the McLaren F1 simulator in Woking. Engineers congratulated him after the work carried out at two tracks: Silverstone and Yas Marina.
The co-champion in GP3 completed a productive workout in the morning. Regalia tested at Silverstone and Yas Marina circuits, but the San Fernando-born driver focused his attention on the British track, where his frame of reference was Adrian Sutil, official Force India driver. His adaptation was rather fast and engineers were impressed by Regalia´s work, as the Argentina driver did not want to miss the chance of exceeding at all costs.
"It went well. Our test was quite good and we could test many different things. My adaption was fast as well, in all aspects related with a Formula 1 car, such as DRS and KERS. These devices were quite demanding and I needed to focus on them to take advantage of them, and engineers finished happy, as I was able to get the most out of the car. We improved almost each lap. Our benchmark was Sutil yesterday, and my performance was good", Regalia said, shortly after being back from Woking. Now "engineers shall draw up a report, explaining their conclusions. They congratulated me, so I hope everything will be fine".
McLaren 'lacked organization and humility' – Perez
(GMM) Sergio Perez's marriage to McLaren seems definitely over, as the Mexican criticized the great British team at the tail end of its disappointing 2013 season.
Multiple authoritative sources are reporting that the Woking based team has decided to replace Perez after just a single season with its development rookie Kevin Magnussen.
It is unlikely McLaren will make the news official before this weekend's US grand prix, as the Austin circuit is just 250 miles from Mexico, making it Perez's de-facto 'home' race.
But Perez this week hinted that bad news is indeed looming when, at a sponsor event near Mexico City, he described 2013 as "the most disappointing season in my career".
EFE news agency also quoted the 23-year-old as saying 2013 was "probably the worst season in history" for McLaren, adding that it was difficult to show his potential "with a car that bad".
"I'm very disappointed," he is now quoted by Brazil's Totalrace.
"I think when your goals are much higher than your results, you get disappointed. And that goes for both sides.
"It's a great team, I have no doubt of it, with a very capable crew, but I think it lacked organization and a little bit of humility to face the reality," Perez continued.
"During the season, being a great team, McLaren took a long time to recognize the reality of where we were, which was scoring points on a good weekend, and not winning races.
"The team took time to realize it," he added.
Perez said he doesn't blame McLaren's team principal, Martin Whitmarsh.
"I think Martin is a great leader, I have nothing (bad) to say about him. But a team does not depend only on the leader, it depends on many things that were not good enough," said Perez.
So with the news about Perez's departure only now awaiting official confirmation, many have immediately linked the newly-available Mexican with a move to Force India.
Perez said: "I have to see what is the best option for the future. Before anything else, I support my country and that is what keeps me going forwards."
Ecclestone will run F1 "the way I've always run it
A defiant Bernie Ecclestone insisted he will continue to run F1 the way he always has while appearing before the High Court in London, England.
Ecclestone was giving evidence at one of several investigations he currently faces. The case brought by German media company Constantin Medien alleges Ecclestone arranged for F1 to be sold at less than its true value to owners CVC in order to retain his control over the sport.
"I really don't know what limit anybody could put on my authority," said Ecclestone. "I shall run the business the way I always have run it, with all the different shareholders that we've had, and the different companies, or whatever. And I will continue as I do today."
Among the revelations to emerge during his four days of cross-examination was a claim that he recently agreed a high-value deal, the details of which are yet to become public.
"I travel the world making business on a hand shake," said Ecclestone when asked whether he asked the sports' owners in 2004 to publicly affirm he would not be dismissed. "And all of a sudden I'm no longer in any position to do anything, so who would want to accept my signature on a contract?"
"I've just signed a contract now for 600 million-odd with people over the weekend. I can't do that if people think I'm going to be fired in the morning."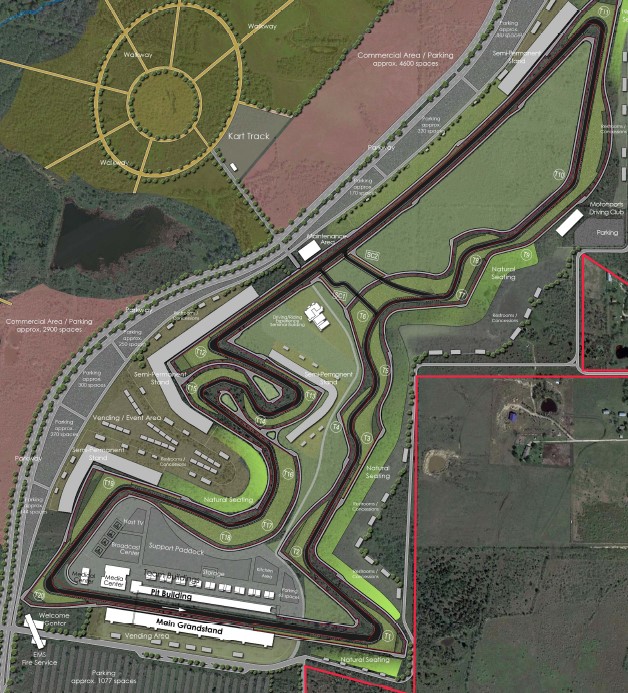 Circuit of Americas
Circuit of the Americas: three corners in detail
Turn one
Turn one in Austin is one of the greatest first corners of the season. The run from pole is 500m but the track goes steeply uphill, with the turn-in point for the corner at the crest. Gear ratios will be spaced out here to give the driver strong acceleration up the hill without losing any speed at maximum velocity. At the top of the hill, just when the driver brakes for the hairpin, the load running through the car is suddenly released, which can cause massive instability if the engine is not completely in phase with the mechanical set-up of the car.
Turns 2 to 4
After the first corner the driver goes back up through the gears to reach seventh for turns 2, 3 and 4, which are taken flat out with an average speed of 280kph. Similar to Maggots and Becketts at Silverstone and the Esses at Suzuka, the driver needs to be precise on the throttle and carry the speed all the way through rather than brake and accelerate. The engine needs to be correspondingly smooth throughout the turns, delivering constant levels of torque. If the engine is too aggressive the car will be unstable and 'bitey' on turn in, which will only lose time and wear the tires quicker.
Turns 11 to 12
Similar to Abu Dhabi and Korea, the longest straight is not the pit straight. In Austin it is the burst between turns 11 and 12. The straight here is 1,016m, meaning the RS27 will spend a touch over 13secs at wide open throttle with a top speed of around 315kph, which will be held for 2.5secs. Since this straight runs in a different direction to the pit straight, selecting seventh gear will depend on wind direction on the day. Selection for the one may compromise end of straight speed for the other, so ambient conditions will be carefully monitored throughout Friday practice to find the optimum ratio.