A.J. Foyt defends Tony Stewart's racing after second leg surgery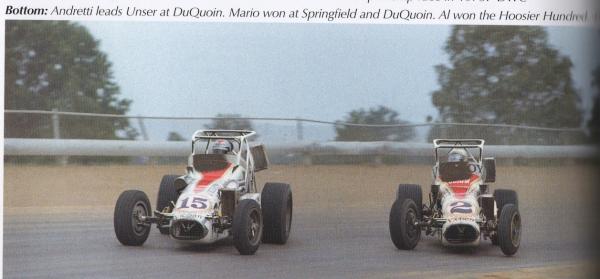 The greats like Al Unser and Mario Andretti (above at DuQuoin in the 70s) and AJ Foyt regularly raced and won in dirt cars while racing their primary series
While NASCAR driver Tony Stewart is recovering from his second leg surgery following an accident Monday in a sprint car race, legendary driver and team owner A.J. Foyt made it clear that the three-time Sprint Cup champion should continue to do what he loves.
Stewart has been the target of criticism for participating in the minor leagues of racing, possibly jeopardizing his Sprint Cup championship hopes, which are over this season as he begins his recovery and rehabilitation for a broken right leg he sustained when his car flipped numerous times at a track in Iowa.
"He ain't no prima donna and life is short, and we don't know how we are going to die or what's going to happen," said Foyt, who happens to be one of Stewart's idols. "I just hate to see anybody badmouth Tony for anything he's doing."
Stewart's primary passion is racing at any level. Unlike a lot of other NASCAR drivers.
"We all know Tony loves to do those races,' said Greg Zipadelli, competition director for Stewart-Haas Racing. "We know that that's his golf game, that's his hunting, his fishing, all the things that the rest of us do. I think that as many races as he's run in the past, we're probably lucky that this is the first time we're dealing with this."
Foyt was very blunt when making a final assessment about the dangerous nature of Stewart's passion.
"What's to say he won't have a heart attack tomorrow and die?" Foyt asked. LA Times