Latest F1 news in brief – Wednesday (Update)
UPDATE
Updates shown in red below.
06/26/13
Ross Brawn

Brawn hits back at test-gate rivals' 'spin'

Ecclestone waived fee to save Nurburgring race – report
Mateschitz offers Webber new deal for 2014 – report
Sahara Force India signs multi-year deal with Varlion
Silverstone Circuit: three corners in detail
Next three races crucial for McLaren
Prost: Being quick will no longer be enough
Force India won't prevent di Resta exit New
Neale: Focus will shift to 2014 in August New
Brawn hits back at test-gate rivals' 'spin'
(GMM) Ross Brawn has hit back at Red Bull's "spin", after the reigning world champions said sitting out the young driver test next month will not hurt Mercedes.
At the end of the recent 'test-gate' hearing, the FIA tribunal banned Mercedes from attending next month's test for rookie drivers at Silverstone.
But Red Bull's Dr Helmut Marko said that is hardly a penalty at all.
"You can't really try anything in the young drivers test," he said.
"The drivers at the wheel are just learning about formula one, while Mercedes had three days (in Barcelona) with their regular drivers."
However, team boss Brawn has hit back at Marko's claims by insisting that missing the test is in fact "significant".
"To downgrade the test and to make out it is not significant is not correct, and just an attempt by teams concerned to distort the facts," he is quoted by the Telegraph.
"I think we have a very tangible loss."
Brawn suggested missing Silverstone will not simply equalize Mercedes' advantage of having run with race drivers Lewis Hamilton and Nico Rosberg with the 2013 car at Barcelona in May.
"It is a different league quite frankly to have a three day test, over 1500 kilometers, with new parts, with race tires that are those we race," he said.
"It is unfortunate the spin that some teams are putting on the punishment that it is not significant."
Brawn's view is even backed by Jonathan Neale, the managing director of the similarly Mercedes-powered McLaren team.
"With the paucity of track testing that we have at the moment, missing the young driver test is obviously problematic," he told reporters in a Vodafone teleconference.
"They (Mercedes) will be sorry to miss it."
Nonetheless, even serving the 'test-gate' penalties will likely not end the finger-pointing at Mercedes, with Hamilton admitting that a good result this weekend will be inevitably traced back to the highly controversial test.
"People will jump to conclusions I am sure," he is quoted by British newspapers.
"We have had a couple of positive races because those circuits have been easier on tires. That's just made it look like we have had a benefit from the Pirelli test," added the 2008 world champion.
Ecclestone waived fee to save Nurburgring race – report
(GMM) Germany is only on this year's formula one calendar because Bernie Ecclestone waived the Nurburgring's usual race fee.
That is the claim of Bild newspaper, referring to that circuit's financial problems that put at risk the race-alternating scheme with Germany's other F1 host, Hockenheim.
Bild reports that, to ensure the embattled Nurburgring takes its scheduled turn next weekend, F1 chief executive Ecclestone agreed to waive his organization's usual EUR 14 million race fee.
"Bild has learned that without the gift, there would not have been a Grossen Preis von Deutschland on 7 July," correspondent Helmut Uhl said.
"The Rhineland-Palatinate state and the insolvent Nurburgring GmbH could not have afforded the fee."
A spokesman for the company responsible for the Nurburgring's insolvency process confirmed: "We achieved an agreement in a very short time with Mr. Ecclestone.
"The details are not disclosed."
The Nurburgring's insolvency administrator Jens Lieser added: "With his commitment to the Nurburgring, Mr. Ecclestone did German formula one fans a big favor."
Mateschitz offers Webber new deal for 2014 – report
(GMM) Mark Webber has the support of Red Bull mogul Dietrich Mateschitz as he considers his future beyond a 2013 contract.
That is the claim of the German publication Auto Bild Motorsport, following Australian Webber's claim late last week that "the ball is pretty firmly in my court" regarding a deal for 2014.
Previously, it was believed Red Bull was considering replacing Webber – who turns 37 in August – with either Sebastian Vettel's friend and 2007 world champion Kimi Raikkonen, or a Toro Rosso driver.
Webber's seven-season run at the Milton-Keynes based team was said to be effectively over, having fallen out with teammate Vettel over the 'Multi-21' affair, and finally succumbing to the lack of support of the influential figure Dr Helmut Marko.
Webber, however, insisted last week that his relationship with billionaire Mateschitz remains strong.
"I'll continue to be in touch with him on where my thinking is at, where my energy levels are, and where my motivation is for still operating at this level," he said.
Citing Auto Bild's report, Die Welt newspaper now reports that Mateschitz has "personally presented the Australian with an offer to extend his contract".
The report added that Webber will consider the offer until August, when Red Bull's bosses Marko and Christian Horner have said consistently they will turn their attention to the team's 2014 driver lineup.
Sahara Force India signs multi-year deal with Varlion
Sahara Force India Formula One Team is pleased to announce that Varlion, the Madrid-based fashion brand, has joined the team as Official Lifestyle Partner as part of a multi-year deal.
The partnership will see Varlion produce a licensed range of leisure products to be available through the team's recently launched E-shop.
Varlion will also focus on developing a fresh concept for the team's trackside clothing to be introduced from the 2014 season onwards.
The Varlion logo will be visible from this weekend's British Grand Prix with branding on the garage panels, transporters and team marketing materials.
From 2014 the logo will be on team's race cars, as well as on the uniforms of team personnel.
Dr Vijay Mallya, Team Principal and Managing Director of Sahara Force India: "It's great news to welcome such a fresh and exciting brand to the team. The Varlion clothing range mixes style with practicality and Formula One is the perfect stage to showcase their products. The relationship with Sahara Force India clearly demonstrates Varlion's ambition to expand into international markets, including India, and benefit from the sport's global footprint."
Felix Regalia, Managing Director of Varlion: "We are delighted and proud to have agreed a long-term partnership with Sahara Force India. Formula One is the perfect environment to test our products and we plan to design and develop new materials to suit the requirements of the trackside team. We pride ourselves on developing elegant, high quality products by drawing on our strong tradition in design and it is our mission to help make Sahara Force India the best dressed team in the pit lane. This far-reaching partnership with such a competitive Formula One team is a clear indication of our determination to establish our brand within the world of motorsport in the years ahead."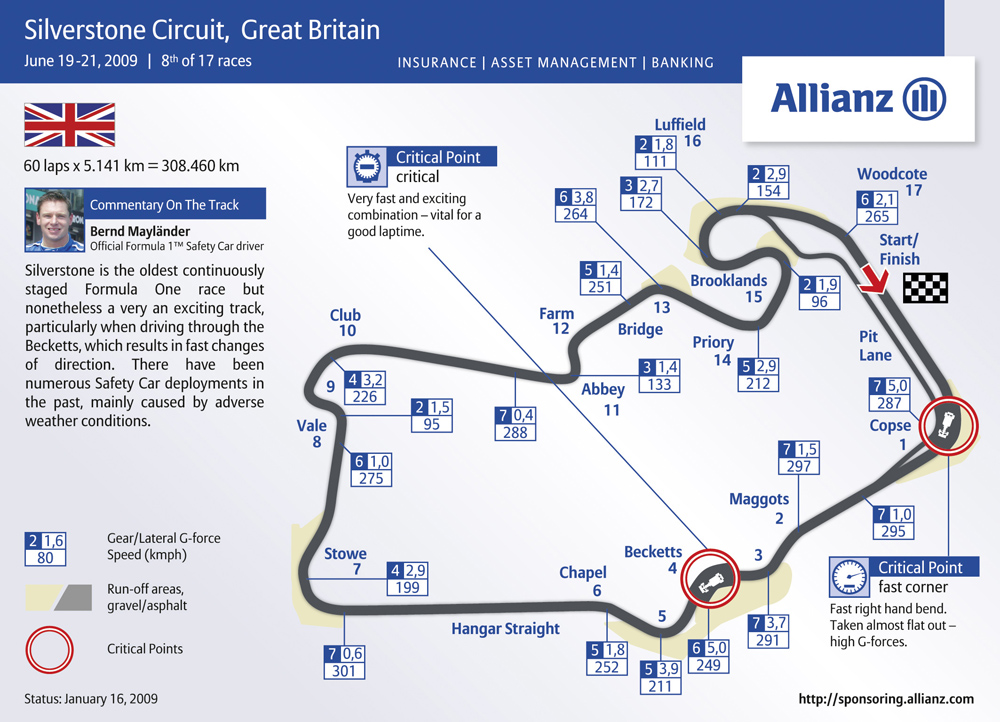 Silverstone
Silverstone Circuit: three corners in detail
The Loop
This tight left hand corner was added when the circuit layout was revised for the 2010 British Grand Prix. Preceded by Village, a slow 2nd gear right hander taken at around 110kph, The Loop is the slowest corner on the circuit. Also taken in 2nd gear, the drivers slow down to between 85-90kph to negotiate this tricky corner. It is vitally important to get a good exit here, as it leads directly into Aintree, easily flat in the dry, and then the ensuing Wellington Straight. Delivering the exact torque requested by the driver to allow him to control his wheel slip and maximize the available traction is the key task for the engine engineer at this point. Last year's winner Mark Webber was able to exploit this to the maximum, getting alongside Fernando Alonso down the Wellington Straight before outbraking him around the outside into Brooklands.
Copse
Much has been written about the Maggots and Becketts complex of curves and rightly so, but Copse, the right hander that precedes them, is equally impressive. At 265kph it is the second fastest corner on the circuit after Maggots, the latter actually being taken flat out. The drivers approach Copse at around 300kph in 7th, sometimes shifting down to 6th for the blind entry, only very lightly kissing the brakes to avoid upsetting the balance of the car, before almost immediately applying full throttle at the exit. The time taken from the driver lifting off to being fully back on it again is less than one second. The challenge for Renault's engine engineers is therefore to allow the engine to effectively function as a switch, going from "fully off" to "fully on" almost instantaneously.
Vale
Vale is the last big stop of the lap, with drivers typically attempting to exploit the braking zone as much as possible to find that last extra tenth in Qualifying. In contrast to The Loop, the drivers approach Vale at high speed, typically around 275-280kph. Braking hard, it is possible to lock the rear wheels and compromise the entry and, in so doing, the exit. The drivers carry forward this penalty into Club, the 180° opening right hander that leads them onto the start finish straight. Get this corner right and the driver can be up a tenth, get it wrong and he can easily lose half a second. Engine engineers can help by providing the correct level of overrun support to stabilize the rear under braking, but they face almost the same conundrum! Too little and the driver locks the rears, too much and the driver struggles to slow the car down, potentially then locking the fronts.
Remi Taffin, Renault Sport F1 head of track operations:
Even with the addition of the new slow loop, Silverstone remains one of the toughest challenges on the calendar for the engine. A touch over 60% of the lap is spent at full throttle and the average speed is well over 200kph. The numerous high speed corners challenge the RS27, particularly the sweeping Maggots-Beckett-Chapel complex where average speeds are around 250kph and no lower than 190kph at any one point. These speeds and changes of direction put huge lateral forces through the car so the oil and fuel systems have to be resilient as the fluids are squashed from side to side. Particular attention is paid to the oil circuit and fuel collector, especially towards the end of the race to avoid engine starvation.
With four straights on the circuit, we work towards delivering correct gear ratios at the higher revs to get powerful acceleration and outright power. The Hangar Straight is the longest of the straights at 875m and top speeds peak at 310kph so it is important to hit vMax just before the braking zone for Stowe, a fourth gear right hander. The notorious British weather may however have an impact on ratio selection as the wind direction can change very quickly, meaning more or less time spent at the limiter.
As much as we talk about the fast corners, we also need to address the slower stops, such as Club and the new Loop, which reduce the average speed and demand drivability and low-rev response. It's a balance to get right, but the flexibility of the RS27 plays dividends at these types of circuits.
With all our teams based in the UK this GP does feel like another home race. In this respect we will be aiming to do as well as we can to achieve everyone's potential in front of the home crowd.
Next three races crucial for McLaren
McLaren managing director Jonathan Neale says the next three races will be central to determining how much focus it retains on 2013.
After a poor start to the season McLaren is sixth in the constructors' championship with a mere 37 points, compared to 201 for championship leaders Red Bull. With three European races ahead of the enforced mid-season break, Neale admitted during a Vodafone McLaren Mercedes phone-in that the team would be likely to turn the majority of its attentions to next season unless it sees a marked improvement before the Hungarian Grand Prix.
"To some extent I think you're right [the next three races are crucial], however there are some programs on the car that we will want to run through much later in to the season which is important as a fundamental for next year as well," Neale said. "Broadly you're right; I think that we recognize that at the moment there isn't going to be a golden bullet. We are pushing hard but the reality of the situation is that there's still a big gap from us to the front of the grid."
However, Neale explained the different variables that would determine when McLaren needs to switch focus and said there would still be certain areas of the 2013 car where further development will prove beneficial.
"I think if you looked in to any of the Formula One teams when you're coming up against a step change in the regulations as we are in 2014 – not just in powertrain but in aerodynamics as well – then I'm pretty sure that all of the teams will have been running some kind of car concept research work in the last quarter of last year, maybe some even sooner than that. So we have been contemplating what we're going to do from a car concept point of view throughout the winter and we're still doing it.
"Progressively as we need to meet the deadlines for decision making on that car matched by the readiness of our engine suppliers to be ready with the relevant bits of information then we obviously need to put resource on 2014. We're working very closely with Mercedes in that respect; Mercedes have got a huge program going on up at Brixworth and we're very close to the guys up there. They're doing some great stuff at the moment and they need to be given some extra time this year to be able to maximize the performance of that engine.
"So the program is to some extent fluid. In terms of this year's car versus next year's car then we're still learning a lot. I think that some of the fundamental work that we'll continue to do beyond the shutdown is useful in to next year but inevitably once we're through in to August we will be migrating some resource across in to 2014." ESPN F1
Prost: Being quick will no longer be enough
Alain Prost has admitted that he is looking forward to engines taking on a new role in shaping F1 from the start of next season, which he believes will herald a new era for F1.
The Frenchman, who has a vested interest in the sport as an ambassador for Renault Sport, believes that the introduction of turbocharged 1.6-litre V6 powerplants from the start of 2014 will shift F1's technical focus back onto the engine and away from aerodynamics – at least in the short-term.
This year's Brazilian Grand Prix will be the last for the current breed of normally-aspirated V8 units, as F1 looks toward a 'greener' future and the return of turbocharging, as well as boosting the importance of regenerative technologies such as KERS.
"As soon as you freeze engine development, the chassis and aerodynamics become more important again," Prost explained in a Renault Sport Q&A, "In 2014, the situation will be rebalanced, [and] there'll be a very interesting technical side to the sport, where greater emphasis will be again placed on engines.
"Whoever manages to get the various parts to gel most effectively will benefit the most and innovation will stem from good working relationships between the chassis and engine departments. And then the engines, and all the resulting energy use strategies, will be utilized by the engineers and the drivers in a variety of ways. In short, there will be new strategies that will increase the importance of the engines. On paper, it sounds perfect!
"Many people watching F1 are disappointed with the racing and the fact there are restrictions this year, even if they are subjective. The engines are all more or less the same. In the 1980s, you have to say that the turbo engine years generated interest in F1: everyone was interested in this new technical challenge. It was also a bit of an emotional journey, insofar as huge developments were expected at each race."
The four-time world champion was at his peak during the last 'turbo era', joining technology pioneer Renault in the early years of the technology before benefiting from its development at McLaren,
"If you go back to the start of the 1980s, it was all about response time: there was a lag of two to three seconds," he reflected, "We saw turbo engines develop every year, there were improvements between the first turbo engines in 1977 and those at the end but, throughout the period, the driving style was very different. You had to find the right moment to accelerate – and anticipate when the power would come through. Getting the timing right depended on a lot of factors: the type of corner, speed, grip, the type of tires, how worn they were and how much the turbo had been used.
"For the drivers, there were corners where you definitely had to brake a bit earlier, so you could accelerate earlier, and therefore be able to have the required power at the right moment. That's why there could be such big gaps between the cars, as well as drivers becoming tired towards the end of the race. Your brain had to process things differently." Crash.net
Force India won't prevent di Resta exit
(GMM) Force India on Wednesday said it will not hold Paul di Resta to his 2014 contract should the Scot want to join another team.
There have been rumblings about the 27-year-old's discontent in the middle of the grid and at the Silverstone based team, amid his recent criticism of race strategies and reports even a garage scuffle broke out in Montreal.
Deputy team boss Bob Fernley said on Wednesday: "Paul is contracted to us anyway for next season, so the question is whether somebody else comes in, so it won't be our decision.
"But we wouldn't stand in his way. That's not our policy. If a driver feels he is better somewhere else, what would be the point in keeping him?"
Fernley said the fact Force India was able to pick up the pieces after Nico Hulkenberg's move to Sauber shows that the team would also cope with di Resta's exit.
"We then proved by bringing in Adrian (Sutil) we are capable of recovering from such a situation and carrying on as normal," he said.
Meanwhile, another British driver – rookie Max Chilton – has revealed ahead of his home grand prix this weekend that he would like to stay at Marussia for a second year.
"When it gets nearer the time then we'll hopefully work on it, but I love the team and obviously I'd love to stay for another year and to keep learning," he said.
"It's what a lot of drivers do; starting out at a team like this, learning, become the driver you are, and you work your way up."
His teammate Jules Bianchi has stolen a lot of the headlines so far in 2013, but Chilton believes he has done a good job in his own rookie season.
"I don't think I've underperformed," said 22-year-old Chilton, who claims the team was "over the moon" with his race in Monaco.
"I know the whole team are behind me, so if I can keep doing that, keep showing them what I can do, then anything is possible."
Neale: Focus will shift to 2014 in August
McLaren has vowed not to give up on its ambitions to return to the front of the Formula 1 grid this season, despite the fact that it occupies only sixth in the Constructors' standings after struggling for raw pace over the course of the first seven races.
Instead of cutting back on the development of the MP4-28 chassis, Managing Director Jonathan Neale has explained that efforts will remain high until at least the summer break in August, when he expects focus to gradually shift towards the 2014 campaign.
"I'm pretty sure that all of the teams will have been running some kind of car concept research work in the last quarter of last year, maybe some even sooner than that," Neale explained during the latest Vodafone McLaren Mercedes phone-in. "We've been contemplating what we're going to do from a car concept point of view throughout the winter and we're still doing it now."
He added: "In terms of this year's car versus next year's car, we're still learning a lot. I think that some of the fundamental work that we'll continue to do beyond the shutdown is useful into next year, but inevitably once we're through and into August we will be migrating some resource across in to 2014."
On Tuesday, McLaren test driver Oliver Turvey conducted a straight line outing at the Idiada motorsport complex to assess updates for this weekend's British Grand Prix.