N.J. Formula One Race Is 'Definitely On'

The promoter behind a plan to bring a Formula One race to the doorstep of midtown Manhattan said Thursday that despite some bumps, the race is "definitely" on.
In his first public comments on the race's scheduling in months, Leo Hindery Jr., the founder of the YES network and the driving force behind bringing the so-called Grand Prix of America to the banks of the Hudson River in New Jersey, said all necessary agreements are in place with the London-based racing series—not just for the inaugural race, which he said is scheduled for June 2014, but "for the next 15 years."
Hindery said his organization has been "spending like a sailor on leave" in its campaign to place an F1 race on a 3.2-mile street course in Weehawken and West New York, N.J. that winds along the Hudson River in full sight of the Manhattan skyline. The paddock area, a permanent structure that will have pits for 24 cars, is nearly completed, he said, and paving work on the road course could start as early as next week. He said there are plans to have 39 ferries available to bring fans to and from the track site during the event.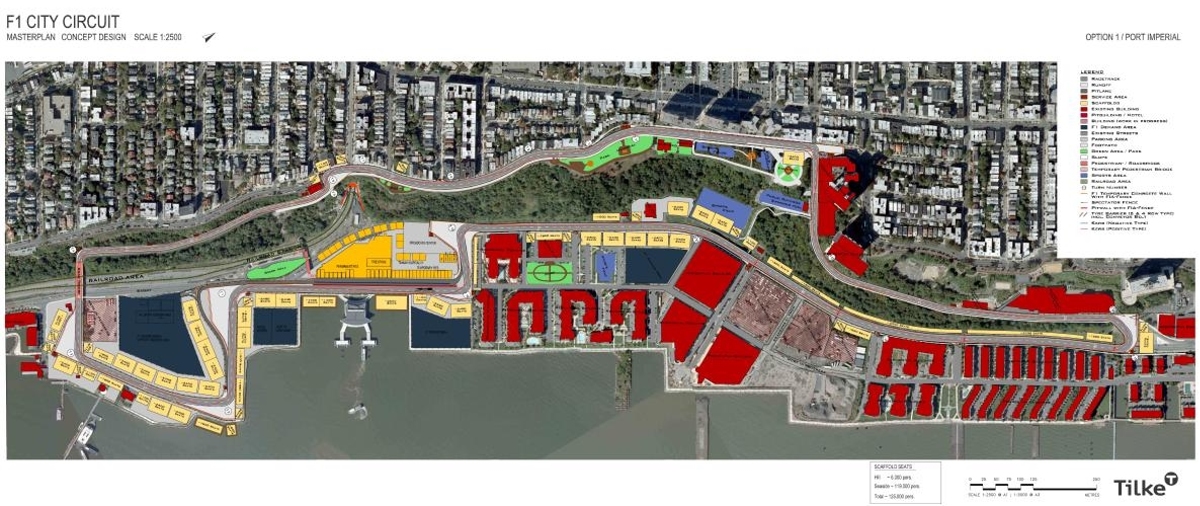 NJ F1 race circuit
Formula One, which holds competitions in 19 cities around the globe from Monte Carlo to Kuala Lumpur, is the most popular and technologically advanced form of auto racing. It has hosted races in nine American locations in years past, but unable to find a permanent venue, left the U.S. market in 2007.
Last November, the series returned to the U.S. at a purpose-built track in Austin, Texas—the $400 million Circuit of the Americas with an event that drew 117,429 fans. The racetrack has a contract to host Formula One until 2021.
For years, Bernie Ecclestone, Formula One's powerful CEO, has publicly expressed hopes of holding a race in the New York area. In October 2011, Hindery—an accomplished driver who won his class at the 24 Hours of Le Mans in 2005—announced he'd struck a deal with Ecclestone to launch a Grand Prix in June 2013 along a ribbon of roads next to the Port Imperial ferry terminal on the Hudson River. With contracts signed, he held a news conference in at the site in October 2011 with New Jersey Governor Chris Christie.
Since then, the plan to host 100,000 spectators and 22 200-mph cars in the middle of one of the world's most clogged commuter zones has been plagued by a series of starts and stops. The delays—due in large part, Hindery said, to problems with engineering permits—eventually forced the race's postponement to 2014. At one point, Ecclestone said publicly that the promoter's contract had been canceled over funding issues. Earlier this year, Hindery's group lost two prominent executives.
Hindery, who maintains that his group will not accept public funding for the project, said all of these obstacles have been overcome. In May, he announced the hiring of Christopher Pook, the founder of the successful Grand Prix West, the F1 street circuit race held from 1976 to 1983 in Long Beach, California. Pook also ran the now-defunct open-wheel CART racing series in the U.S. "Chris has a history of great success in Formula One," Ecclestone said in a statement, "which I'm confident he'll bring to the Grand Prix of America race. We look forward to working with him to bring F1 racing to New Jersey and New York." Wall Street Journal