Latest F1 news in brief – Tuesday (Updated)
UPDATE
Updates shown in red below.
05/07/13
Just What the doctor ordered – Lotta Hintsa

Hamilton – I could handle Vettel, Alonso as teammate

F1 doctor's daughter wins Miss Finland
Former winner Maldonado hopes Williams can recover
De Villota to return to F1 paddock this weekend
Alguersuari unsure over F1 race seat future
Double KERS on Barcelona Main Straight
Barcelona: three corners in detail
Ferrari 'not quite where they want to be' New
Ferrari organizational changes reaping rewards New
Hamilton – I could handle Vettel, Alonso as teammate
(GMM) Seven years into his F1 career, Lewis Hamilton thinks he is now mature enough to handle any teammate.
Before switching to Mercedes for 2013, the long-time former McLaren driver expressed interest in joining Red Bull, whose Sebastian Vettel has won the world championship three times on the trot.
But back in 2007, Briton Hamilton fell out spectacularly with his then teammate Fernando Alonso.
Dr Helmut Marko, now grappling with the disintegrating relationship between Vettel and Mark Webber, said it's simply a problem when two "alpha dogs" clash.
But Hamilton told the Daily Mail: "Now I'm older, I'm sure we would have a different relationship."
Referring to himself and Spaniard Alonso, he added: "There would still be intense moments because we are both quick, so we would be very close to each other, but we've both matured a lot.
"I think I'm much better at nurturing relationships between teammates now. It depends on the drivers.
"Put Sebastian with Fernando Alonso and the team would be in trouble straight away, the chemistry would just … (Hamilton whistles).
"You know, I even think I could drive with Sebastian," Hamilton mused. "I just wouldn't turn the engine down."
No longer under the control of McLaren supremo Ron Dennis or his father Anthony, Hamilton also says he has learned to cope with criticism.
A good example is the last few months, when Sir Jackie Stewart initially slammed Hamilton's move to Mercedes, and then tipped the 28-year-old as a title favorite for 2013.
"I think I've definitely developed a thicker skin," said Hamilton.
"At the start, it's easier to get stung. I'm more consistent now because my mental strength has improved. So when Jackie Stewart talks about me, I just laugh it off.
"Some people are nosey, or they've nothing better to do. They're entitled to their opinions, but Jackie talks a lot."
Just What the doctor ordered – Lotta Hintsa
F1 doctor's daughter wins Miss Finland
(GMM) The new Miss Finland is Lotta Hintsa.
That sort of news usually wouldn't make formula one headlines, but the 24-year-old blonde beauty's father is Aki Hintsa.
Hintsa is McLaren's F1 doctor.
Finnish media reports say Lotta Hintsa, now eligible to represent Finland at the 2013 Miss Universe, is studying business and economics at Finland's Jyvaskyla university, and in 2006 had a brief relationship with Lewis Hamilton.
Former winner Maldonado hopes Williams can recover
(GMM) One year ago, Pastor Maldonado was on top of the world in F1, having broken through for his first formula one win.
Now returning to Barcelona in 2013, Williams has suffered a major performance slump, and – backmarkers Caterham and Marussia aside – is the only team yet to score a single point this season.
"At the moment we are living hard moments," Venezuelan Maldonado, 28, said.
But after the first four 'flyaway' races of the season, the Spanish grand prix is traditionally the scene of a performance jump for many teams, as major upgrade packages are added to the cars.
And Williams – and other underperforming teams like McLaren and Sauber – have higher hopes than most that they can make a big step forward this weekend.
But Force India team boss Bob Fernley is not so sure.
"Apart from McLaren, who we know will come back and be as strong as always, for the rest of the teams there is not much (development potential) left in these cars," he told PA Sport.
"We've been pretty stable (with the regulations) for the last few years, so there are not big leaps."
Maldonado agrees that Williams' task is more complicated than simply bolting on some 'go faster' bits.
"I think we need some time," he said.
"The problems we have got are quite big but hopefully step by step we're going to get there."
He is not hiding the obvious pain that Williams' 2012-2013 decline is causing, having cut a noticeably downbeat figure in the paddocks so far this year.
"Sometimes you don't feel very happy," Maldonado admitted, "but this is racing, you know.
"Sometimes it's good, sometimes it's not and we need to do our best when it's like that to try to improve, to try to survive."
This weekend is also the one year anniversary of Williams' Barcelona pit fire, and one team member – mechanic Martin 'Barney' Betts – is still yet to fully recover from severe burns.
"Barney, with the injuries he sustained, has had to have a significant time off but it is important that he comes back and is well looked after," deputy team boss Claire Williams told the Sun newspaper.
De Villota to return to F1 paddock this weekend
(GMM) Ten months after her Marussia testing crash, Maria de Villota will return to a formula one paddock this weekend in her native Spain.
Last July, the 33-year-old was conducting a straight-line aerodynamic test at Duxford, UK, when the 2012 Marussia inexplicably accelerated into a truck loading ramp.
De Villota, whose father is the former F1 driver Emilio de Villota, sustained serious head injuries and lost her right eye.
Scheduled to attend this weekend's Spanish grand prix in Barcelona, she told Europa she is "a little nervous".
"It's the first race I'm going to after the accident, so I'm finding it harder to sleep," she said.
"It's hard for me, because I miss it, but I want to see all the drivers at home and I think we'll see a great race, as we have seen lately," said de Villota.
"I want to thank many people that I have not seen since the accident, and I've been unable to acknowledge the support they gave me, like by putting my star on their helmet."
She admitted she will have mixed feelings when she bumps into Marussia team members.
"I think now they're working with new drivers, which is the natural cycle of things," said de Villota. "I was with them, but life goes on."
Alguersuari unsure over F1 race seat future
(GMM) Once so confident he would return to the grid in 2013, Jaime Alguersuari now admits his formula one future is clouded.
Dropped suddenly by Toro Rosso team owner Red Bull at the end of 2011, the Spaniard was just 21 but managed to stay in the paddock as Pirelli's test driver.
He was hopeful he would bounce back onto the grid this year, but drivers with powerful backers and sponsors leapt to the front of the queue.
Now 23, Alguersuari is not so sure he can expect a future in F1.
"The future? I don't know where I'll be," he told Spain's Radio Marca.
"I had hoped that formula one worked differently, but (in F1) two plus two does not equal four."
Double KERS on Barcelona Main Straight
The 4.655km long Circuit de Catalunya is a medium downforce, medium engine demand track used extensively in testing as it has a very good 'average' of characteristics of other circuits on the calendar. There are a variety of low and medium speed corners that push the engines in the lower rev ranges, particularly in sector three, but 55% of the track is also taken at full throttle.
The longest period of full throttle is of course the pit straight. This length gives the opportunity for a fully charged KERS to be deployed twice as the KERS energy counter resets on the start/finish line. While a double KERS release in the race is useful to overtake, it puts a lot of stress on the KERS cooling system. It does need to be carefully monitored. Setting up the right top gear in these conditions is then quite a big challenge!
The undulating nature of the track also puts the engine internals under pressure so every element of the engine gets a full workout here. The first corner is quite representative of this as the driver accelerates as the track goes uphill. In addition to monitoring the fluid systems, teams also need to deliver a smooth torque curve to give controlled power to counter the high g.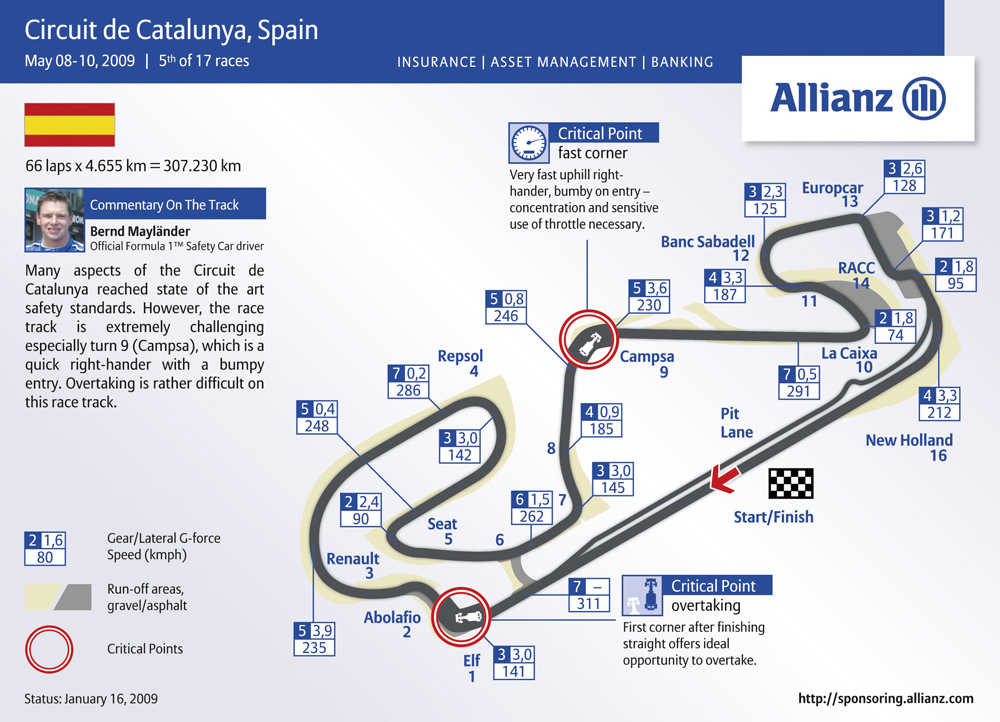 Barcelona
Barcelona: three corners in detail
Turn 1 to 3
The first corner comes at the end of the 1km pit straight on which speeds will peak at well over 300kph. The car and engine are therefore subject to heavy braking loads as the driver scrubs off 50% of that speed to take the first corner at approximately 140kph. Halfway through Turn 1, drivers start to accelerate into Turn 2 and Turn 3 (also known as Renault) but as the circuit starts to climb a car will have a tendency towards 'snappy' oversteer. Having a delay in engine response or an overshoot in torque delivery will only confirm this trend, thus increasing tire wear as the car tries to slide to one side and subject the tires to lateral g-force.
Turn 10
Once through Turn 9 the track begins to descend into Turn 10. The braking zone for this corner is the hardest one of the track, as the cars arrive at 300kph and take the turn at just over 70kph. To give the right stability engineers work very hard on the overrun settings, trying to give neutral engine braking when the driver is off the throttle. In parallel engineers will try to make the downward gear shifts as smooth as possible so the torque gradient change is ironed out and not too aggressive. Giving smooth downshifts and the right level of overrun will result in a better balance, thus helping to control wheel lock and minimize tire wear. By the end of the corner the driver is down in first gear but needs to accelerate back up the hill. This sends huge loads through the tires so pedal maps are often designed with just this corner in mind.
Turn 14 to 16
The chicane on this track is very slow and needs, again, the right amount of engine torque, not only at the entry of the corner but in the midpoint of the chicane. In fact the driver will just blip the throttle between the entry and the exit of the chicane as he changes direction. Even if he is only on the power for a millisecond balancing the car on this knife edge is critical to keep the car balanced, minimize wheelspin and ultimately gain lap time. Once the cars exit this chicane traction is very important as the speed will be carried through turn 16, with the driver ultimately going flat out using KERS onto the pit straight.
Ferrari 'not quite where they want to be'
Ferrari are pleased with the start they have made to the 2013 campaign, but chief designer Nikolas Tombazis believes there is plenty of room for improvement.
Fernando Alonso is fourth in the Drivers' Championship and 30 points behind leader Sebastian Vettel on the back of a win in China and a P2 in Australia while the team are third in the Constructors' standings.
However, Alonso also had to a couple of bad races as he was forced to retire in Malaysia and he could only manage a P8 in Bahrain last time out due to DRS problems.
Tombazis feels the team have proved they can challenge for race wins, but says they need to improve further if they want to win silverware come the end of the season.
"I think in general, the first results mean we can be reasonably optimistic about the rest of the season, with a sense that we can fight for wins and the Championship," said Tombazis on the official Ferrari website.
"However, if I was to score our overall performance, I would only give it a 6 out of 10 and that's for two main reasons: one is that we are not yet quite where we want to be.
"In the first four Grands Prix, we were not really able to fight for pole position and that is one of our main objectives at the moment. Secondly, if you look at the actual results, even if it's true we've had a win, which naturally we can be very pleased about, we have also had two very bad results where we scored very few points. However, I reiterate, that overall, we can be optimistic for the future."
With the four flyaway races out of the way, the focus shifts to the traditional European tracks and first up is the Spanish Grand Prix at Barcelona this weekend.
Tombazis says the F138 will also have several new components, but they will adopt a wait and see policy before they decide if they will use it on race day.
"I believe most of our competitors will have a significant number of updates in Spain, which is not surprising, as there was a reasonably long gap after the first four races," he said.
"Of course, we too have updates and naturally, I don't want to go into too much detail, but they extend to the bodywork, floor and wings. With any new component, the difficulty lies not so much in its development but in deciding whether or not it is working on track as well as we had hoped.
"Therefore, by Friday evening in Barcelona, our objective is to have a clear view on what we will take forward to use in the race, in the hope of seeing measurements taken from the wind tunnel confirmed on track." Planet F1
Ferrari organizational changes reaping rewards
Ferrari's chief designer Nikolas Tombazis believes that changes made by the Italian team to their technical department and facilities have contributed to the Scuderia making a more competitive start to the season than in recent years.
A troublesome Bahrain Grand Prix resulted in Ferrari slipping back to third in the constructors' championship standings behind Red Bull and Lotus, but recent reliability issues aside, this year's F138 has been one of the quickest cars on the grid in all conditions, confirming the feeling within the team that behind-the-scenes changes are paying off.
"We have made a series of changes to our approach in terms of our working practices and also from an organizational point of view," said Tombazis, ahead of this weekend's Formula 1 Gran Premio de Espana 2013 at Barcelona. "At the same time, we are improving our facilities and I believe we now also have a better understanding about how certain aspects of the car work.
"Putting all that together has enabled us to make a better start to the season than in previous years. However, the process is not complete and we feel we are only halfway through these fundamental changes and we continue to work on improving all these parameters, which, in the case of our facilities, includes the work we are doing on our wind tunnel.
"I think the new working methods we have adopted and the new structure put in place has allowed us to be more creative and this was one of the objectives we established along with (technical director) Pat Fry, to reorganize the place and to give people more time to think.
"We identified areas where, in the past few years, we were a bit understaffed, which meant people were under pressure and did not have time to think about what could make the car go faster. It is working, but there is room to improve still further, even though this aspect has definitely contributed to the improvement in performance that we have seen so far this year."