Latest F1 news in brief – Thursday
UPDATE #2
Additional updates have been added.
12/27/12 Updates shown in red below.
12/27/12
Petrov hoping, waiting

Petrov waiting for Caterham's call – manager

De la Rosa not expecting McLaren return
Conspirator Symonds to return to paddock in 2013
Ferrari says Red Bull give 'best parts' to Vettel
News agencies vote Vettel top Euro athlete
Ferrari rules out F1 return for Schumacher
Ferrari to develop 2013 car in Cologne
Maldonado marries in Venezuela
Sauber hopes Hulkenberg takes leadership role
2012's top three deserve equal praise – Hulkenberg
Vettel named European athlete of the year New
Russian Grand Prix circuit on schedule New
2014 rules 'urge team collaborations' New
Montezemolo defends Ferrari strategy New
Petrov waiting for Caterham's call – manager
(GMM) Vitaly Petrov's hopes lie with Caterham, as the Russian bids to stay in formula one for a fourth consecutive season in 2013.
His manager, Oksana Kosachenko, admitted that while there is also still a race seat vacancy at Force India, the 28-year-old driver is only waiting on Caterham's call.
"At the moment, all the necessary work on our part is done — and it's for Caterham to decide," she told sportbox.ru.
Admitting that talks with other teams had all fallen through, Kosachenko insisted it is "difficult to say" whether Caterham will make its decision in the days immediately after Christmas.
She told f1news.ru: "Yes, Vitaly is among the contenders, however, so are six drivers."
De la Rosa not expecting McLaren return
(GMM) Pedro de la Rosa has acknowledged that, with HRT closing its doors, he is not expecting to simply stroll back into his job as McLaren's reserve driver.
"No, that's not true," he told the Spanish sports newspaper Marca.
"I took my road and I live with my decision, so I'm not going back to McLaren with their doors open wide, because I left twice."
Spaniard de la Rosa, 41, was arguably F1's most highly respected test driver when he accepted the challenge to become HRT's lead race driver in 2012.
He expected to stay in 2013, but the Spanish backmarker has all but officially folded.
As for his chances of returning to McLaren, de la Rosa admitted: "I've been unfaithful and so it is normal to be starting from scratch.
"I am confident that I will continue in F1 as a test or reserve driver, but there is no guarantee of anything."
Meanwhile, de la Rosa said his season at the back of the grid with HRT was not his worst in F1.
"I especially liked working at McLaren — there can be no doubt," he told f1news.ru.
"My least favorite team? Sauber. I did not like that they blamed every problem on the driver, not the car, which obviously did not have the speed."
Conspirator Symonds to return to paddock in 2013
(GMM) Pat Symonds' paddock exile is about to end, according to international reports.
Although working as a crucial technical consultant with Marussia in the last couple of seasons, the Briton was officially serving his F1 ban in the wake of the 2008 Renault 'crashgate' scandal.
But the Spanish newspaper ABC, and Italy's specialist Autosprint magazine, said Symonds will return to the paddock with Marussia in a direct role in 2013.
ABC said the 59-year-old veteran will be Marussia's technical director.
Ferrari says Red Bull give 'best parts' to Vettel
(GMM) Red Bull also has a clear number 1 driver, Ferrari team boss Stefano Domenicali has alleged.
The fabled Italian team is open about its policy of hiring a clearly superior top driver – presently Fernando Alonso – alongside a capable 'number 2' such as Felipe Massa.
In Austin last month, this policy was highlighted when Ferrari deliberately incurred a gearbox penalty on Brazilian Massa's car in order to give Alonso a better grid position.
"If the others don't like it, we don't care," Ferrari president Luca di Montezemolo is quoted by Marca sports newspaper.
"Others are critical but do the same, although less transparently."
Team principal Domenicali picks up the theme.
"Why does Webber have so many failures on his car? Because the best parts go to the driver getting the better results.
"And this is normal, and it seems so logical that we never say anything.
"We don't like to speak of the others, but the others like to talk about us," he added.
Meanwhile, Domenicali admitted Ferrari is looking forward to 2013, even though Red Bull and McLaren had superior cars this year and the rules are not changing much.
Ferrari, though, thinks the banning of DRS on Saturday is a "major change", while Pirelli will supply softer tires.
"This year it took us between two and five laps to heat the tires," said Domenicali.
News agencies vote Vettel top Euro athlete
(GMM) Sebastian Vettel has been named the top European athlete of 2012.
F1's new reigning triple world champion received the title after 26 European news agencies voted in the annual poll organized by Poland's PAP agency.
German Vettel outpaced British tour de France winner Bradley Wiggins by 7 points, who was a further 4 points ahead of Olympic athlete Mo Farah.
Ferrari rules out F1 return for Schumacher
(GMM) Ferrari has ruled out a return to the famous Italian team for Michael Schumacher.
Schumacher, 43, is returning to retirement in 2013 as, at the end of his unsuccessful three-year comeback, Mercedes replaces him with Lewis Hamilton.
As for whether the great German – who won five consecutive titles for Ferrari last decade – might enjoy a second F1 comeback, team president Luca di Montezemolo said: "That will not happen.
"It is a pity he did not win another race (in his comeback), nevertheless it was right of him to retire now," the Italian added.
Montezemolo also played down new reports he might soon launch a bid to become prime minister of Italy.
"No, I would not want that," he insisted. "Besides my family, Ferrari is my great love."
Ferrari to develop 2013 car in Cologne
(GMM) Ferrari will develop the aerodynamics of its 2013 car exclusively in Cologne.
After encountering problems with its Maranello facility this year, Ferrari's wind tunnel will be closed next year until August.
International reports, including in El Mundo Deportivo newspaper (Spain) and Kolner Express (Germany), said Ferrari has now turned its attention to Cologne, where the former F1 team Toyota rents out its state-of-the-art facility to clients.
Asked why Ferrari chose Cologne exclusively, team boss Stefano Domenicali said: "Because working in two wind tunnels would be too risky."
Team president Luca di Montezemolo added: "We will develop the 2013 car exclusively in the Toyota wind tunnel to avoid confusion and mistakes."
The Italian added that McLaren is also a regular customer of the Toyota tunnel.
Toyota Motorsport GmbH's Rob Leupen commented: "Our clients are very happy with our wind tunnel services."
Maldonado marries in Venezuela
(GMM) Williams driver Pastor Maldonado last Saturday married journalist Gabriele Tarkanyi in Canaima, Venezuela.
International media reports said the event was attended only by the couple's closest family and friends.
Maria Gabriela Chavez, the daughter of Hugo Chavez, was slated to attend, but she is reportedly at her father's side as the Venezuelan president recovers in Cuba from cancer surgery.
27-year-old Maldonado, sponsored by the Venezuelan state oil company PDVSA, won May's Spanish grand prix in Barcelona, but finished the 2012 season just fifteenth.
Sauber hopes Hulkenberg takes leadership role
(GMM) Sauber is hoping Nico Hulkenberg embraces a leadership role, boss Monisha Kaltenborn has admitted.
A few days ago, German Hulkenberg – who is moving to the Swiss team in 2013 from Force India – doubted his role at Sauber would be significantly different, even though his new teammate is the Mexican rookie Esteban Gutierrez.
Sauber team boss Kaltenborn said: "We don't have a first and second driver, both are treated the same.
"But of course we hope Nico, who is very good in certain areas, takes some leadership such as with the (car) development and the relationship with the engineers," she is quoted by Brazil's Totalrace.
At any rate, 25-year-old Hulkenberg is hoping for a better season in 2013, after finishing the past season in eleventh place.
"I see Sauber slightly above Force India," said the German.
"Sauber had four podiums (in 2012) and Force India none. It will be interesting to be with a team that has reached the podium a few times, and I think they can develop even more."
2012's top three deserve equal praise – Hulkenberg
(GMM) It is difficult to say which top-three driver did the best job in 2012.
That is the view of Nico Hulkenberg, who said this year's top three championship finishers – Sebastian Vettel, Fernando Alonso and Kimi Raikkonen – deserve similar praise.
"Alonso and Vettel fought for the title until the last race and did a great job," the German told Brazil's Totalrace. "You cannot tell which was the best.
"Both took everything from the car, and so did Kimi, who did a great championship after two years out."
Spanish veteran Pedro de la Rosa, however, is more willing to choose a favorite.
Asked if Vettel's three consecutive titles for Red Bull means he is the world's best, he answered: "I don't know.
"I think Fernando deserved it more this year because he was the most complete driver fighting with a disadvantage," de la Rosa told Marca sports newspaper.
"Last year I think Vettel was above everyone else and we need to recognize that he is a great driver, who knows how to win even without the very best car."
And de la Rosa thinks Red Bull's rivals have a chance to beat Vettel in 2013, even though the rules are not changing much.
"This year the difference between Red Bull and the others was much lower and in the first part of the year they (Red Bull) were not dominant.
"Anyway, the best car throughout the year was McLaren's, it should have won the championship, but they were betrayed by the reliability," said the 2012 HRT driver.
Vettel named European athlete of the year
Sebastian Vettel has been named European athlete of the year, with journalists from 26 different news agencies casting votes. The Red Bull driver claimed a third world title in 2012, finishing the season three points ahead of Fernando Alonso.
Vettel's main competition came from cyclist Bradley Wiggins, who claimed the Tour de France crown and Olympic success, and Mo Farah, who achieved gold medals with two stunning performances in the 5,000 and 10,0000 meter running events.
Vettel won with an advantage of seven points over Wiggins: 137 to 130.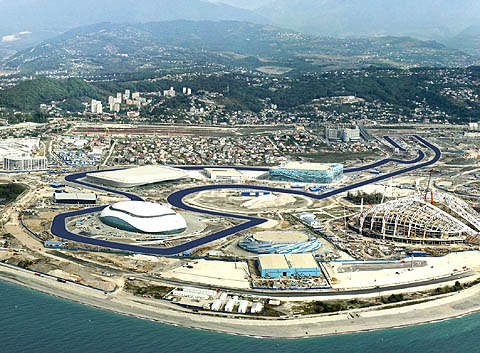 The Sochi track surrounded by the 2014 Olympic construction
Russian Grand Prix circuit on schedule
Construction work on the future Russian Grand Prix circuit is 'according to schedule' at present, with designer Hermann Tilke encouraged by the progress made. Set to join the calendar in 2014, the track sits within the Sochi Winter Olympic Park.
"We are deeply involved in the Russian Grand Prix project and we are glad that all works are going according to schedule considering the large amount of coordination necessary with the Olympic construction," Tilke explained of the situation.
The Grand Prix will take place after the 2014 Winter Olympics which occur in February.
2014 rules 'urge team collaborations'
Formula 1 teams need to be open to the idea of greater co-operation between themselves if they are to make the most of the radical 2014 change in regulations.
That is the view of new Caterham boss Cyril Abiteboul, who thinks that the scale of the challenge teams face when new 1.6-litre turbo engines come in means that going it alone could be a hindrance.
"Potentially this breakthrough will require some partnership between the teams, and that is not only for teams like us," Abiteboul told AUTOSPORT in an exclusive interview.
"I can feel that it will be just like in the automotive business when you want to produce a new product: you try and share the platform – that is what Renault, Alpine and Caterham will be doing [for a new sportscar for 2015].
"You want to be more efficient, you want to be more competitive – and therefore you work in collaboration.
"I think the same thing that will have to happen in F1.
"It is a bit new to F1, because the teams also have to compete against each on the track, but I think the future will be about collaboration – and 2014 will urge us into considering more collaboration."
Although Abiteboul is eager for closer ties between teams, he has made it clear that he is not advocating tie-ups going as far as leading to the return of customer cars to F1.
"There is a limit and in particular we don't want customer cars," he said.
"But between no collaboration at all and customer cars, there is a compromise to be found.
"I am sure we can do better than we do right now – both for Caterham and F1 in general." Yahoo Eurosport
Montezemolo defends Ferrari strategy
Ferrari president Luca di Montezemolo says he doesn't care what others think about their policy of favoring Fernando Alonso.
The Italian defended his team's strategy, which came to a head at the US Grand Prix when Alonso was gifted a more beneficial position on the grid.
Ferrari opted to break the seal on team-mate Felipe Massa's gearbox in order to incur a five-place penalty and give the Spaniard a more favorable start.
Their motives were also questioned when they decided to pursue clarification of an alleged illegal overtaking move by Red Bull's Sebastian Vettel at the Interlagos finale.
On the subject of Alonso, Di Montezemolo was defiant, saying his team was at least open and honest about its strategy, and that perhaps some of their rivals were not.
"Since I returned to Ferrari in 1991, I have always said that the drivers did not run for themselves, but for Ferrari," he said.
"Where one can win, the other must help. Whoever does not like it, I do not care. Others are critical, but they do the same, albeit though less transparent means.
"In Austin, we interpreted the sporting rules to the limit, as others do, but we did it openly. We could have lied, but still they disliked our explanation and called it 'dirty tricks'."
Di Montezemolo maintains their strategy is the most sensible way to approach the championship, though he did believe there was a line that should not be crossed.
"We have done it before (most notably during the Schumacher era), and we will do it again, but never in the first three races or first half of the year," he said.
Di Montezemolo also has little doubt that champions Red Bull employ a similar strategy, even if they are less open about it.
"Why does Mark Webber have so many problems with his car?" he asked, "Because the newest parts are reserved for the driver having better results? This is normal to us, so it seems logical that we never say anything about it. We do not speak of the other teams, but they still like to talk about us.
"In Austin, we did the only thing possible. What was not fair is that condition of the track meant that Alonso, who qualified on the 'dirty' side, would lose 25 meters [at the start]. We had to do everything possible within the rules." Planet F1