UPDATE
We had a lot of people reply to this contest. The correct answers were:
Back Row L to R: John Surtees, Phil Hill, Graham Hill, Dan Gurney, Jo Bonnier
Front Row: L to R: Jim Clark, Richie Ginther, Bruce McLaren
Surtees and Gurney are the only two still alive.
The first three to reply with the correct answers were:
1st William Howard
2nd Dan Martin
3rd Mike Jablo
Congratulations to the winners. Thanks to all who participated.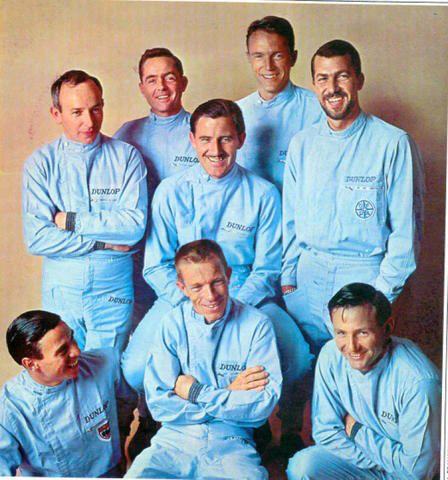 1966 Dunlop Drivers
12/20/12 The first three people who can correctly identify the Dunlop drivers from 1966 in this photo will get a free three months added to their AR1.com subscription.
Hint: Only two of them are still alive today and it is perhaps the biggest collection of talent any manufacturer in racing ever had a one time.