Latest F1 news in brief – Wednesday
UPDATE #2
2nd Updates shown in blue below.
09/19/12 Updates Shown in Red below.
09/19/12
Hamilton playing dumb

Hamilton on rumors – 'what's going on?'

Singapore race uncertainty to continue for now
Rosberg rules out McLaren switch for 2013
Rosberg writes off 2012 title hopes
Singapore Grand Prix facts and figures New
Mercedes updates the F1 Safety Car New
Lotus eye DRS boost New
McNish serves as steward in Singapore New
Vettel not 'afraid' to be Alonso's teammate New
No Friday outings for Monza sub d'Ambrosio – boss New
Raikkonen 'happy' at Lotus amid McLaren, Ferrari rumors New
Hamilton on rumors – 'what's going on?'
(GMM) Lewis Hamilton has admitted to a level of confusion surrounding his future in formula one.
The 2008 world champion is a long-time protege of the McLaren team, but he has refused to deny intense media speculation he is considering moving to Mercedes for 2013.
Some insiders believe the 27-year-old is simply trying to push up his retainer and negotiate better contractual terms, while others think he is under pressure from his entertainment manager Simon Fuller to cash in on the association with the global Mercedes brand.
Amidst the saga, Hamilton seemed unhappy and uncomfortable after winning the recent Italian grand prix for McLaren, and he has now told CNN he is also feeling confused.
"I don't know what the future holds, particularly," he said.
"There is so much speculation, and even in my mind I'm kind of like 'what's going on, what's going on?'
"But you know, as I said, just keep the eye on the ball and win the world championship," added Hamilton.
"It's very difficult to leave any space to think about anything else. So I have to leave that to people who are working with me."
Hamilton insists he needs to direct his full focus towards tracking down championship leader Fernando Alonso, who enjoys a 37 point advantage in the drivers' title standings with seven races to go.
"Fernando is a two-time champion, and he's the best there is," said the Briton. "So to catch him and overtake him is a huge, huge tall order, but not impossible."
Singapore race uncertainty to continue for now
(GMM) Almost another year may pass before it is known whether Singapore is staying on the formula one calendar.
The city-state's popular night race, set to take place this weekend for the fifth time, has become one of the most highly anticipated stops on the sport's annual calendar.
But the current contract does not run beyond 2012, even though Singapore reportedly has to serve more notice before it can cease organizing the event.
Reports earlier this year quoted Singapore officials as saying they were no longer willing to pay "top dollar" for their popular event.
S. Iswaran, the government minister in charge of tourism, told the Bloomberg news agency that talks are underway.
"We will take a hard look at the benefits that accrue to the economy as a whole and in turn what are the costs that the government would have to incur in order to continue to support this event in Singapore's context," he said.
Bloomberg said F1 chief executive Bernie Ecclestone did not immediately respond to a request for comment.
Rosberg rules out McLaren switch for 2013
(GMM) Nico Rosberg has dealt a blow to the Lewis Hamilton saga, insisting he is definitely staying at Mercedes next year.
And 27-year-old German Rosberg also said he hopes his current teammate, Michael Schumacher, also stays with the Brackley based team in 2013.
According to intense media speculation, Briton Hamilton is weighing up a big monetary offer to join Mercedes next year.
Some have surmised that Rosberg could move over to McLaren to replace the 2008 world champion, while others think Hamilton's move would push Schumacher back into retirement.
"I'm definitely with the Silver Arrows (Mercedes) and I'm looking forward to getting some more race wins next season," Rosberg told the DAPD news agency.
As for Schumacher's uncertain future, Rosberg added: "I think it would be right if he stays.
"We get along well, the competition between us is good, Michael is still at a very, very high level and it's a real challenge to race against him.
"We push the team forwards well," he insisted.
But Rosberg also acknowledged that Schumacher is one of the keys of the 2013 driver market.
"Not much will happen until Schumacher, Hamilton or Massa are able to say 'I'm definitely here'," he explained.
Meanwhile, Schumacher's former manager insists he has not given away any hints about the seven time world champion's plans beyond 2013.
Willi Weber is the architect of the great German's new EUR 7.5 million personal sponsorship with a Chinese company, which has caused some to surmise that Schumacher must be staying in formula one beyond 2012.
But Weber told Auto Bild Motorsport: "The (sponsor) contract is independent of any driving contract."
Rosberg writes off 2012 title hopes
(GMM) Nico Rosberg has counted himself out of the running for the 2012 world championship.
Earlier this year, his Mercedes teammate Michael Schumacher acknowledged that he is already out of the hunt for an eighth drivers' crown.
But fellow German Rosberg was much higher in the points standings, having broken through for his first pole and victory in Shanghai.
Mercedes, however, has struggled since then, with Rosberg finishing second at Monaco but thereafter managing a highest finish of just sixth place.
The 27-year-old is now seventh in the drivers' standings, almost 100 points off Fernando Alonso's lead with seven races to go.
"For us," Rosberg told DAPD news agency, "the season has been decided in the sense that we know we cannot win the championship now."
Mathematically, however, the German can still win the championship, if he scores almost 14 points on average more than Ferrari's Alonso in every race until late November's Brazil finale.
Rosberg does, however, think it is possible for defending champion Sebastian Vettel to leap from fourth to first in the standings, "because Red Bull has a strong car".
He admits that Alonso is the clear favorite.
"The others behind him make mistakes, or their cars break down, while he is the most consistent driver. He has a good chance to be world champion."
But Rosberg does not think the Spaniard can yet be counted among the sport's best of all time.
"Schumacher, Senna, Fangio — that's it," he said.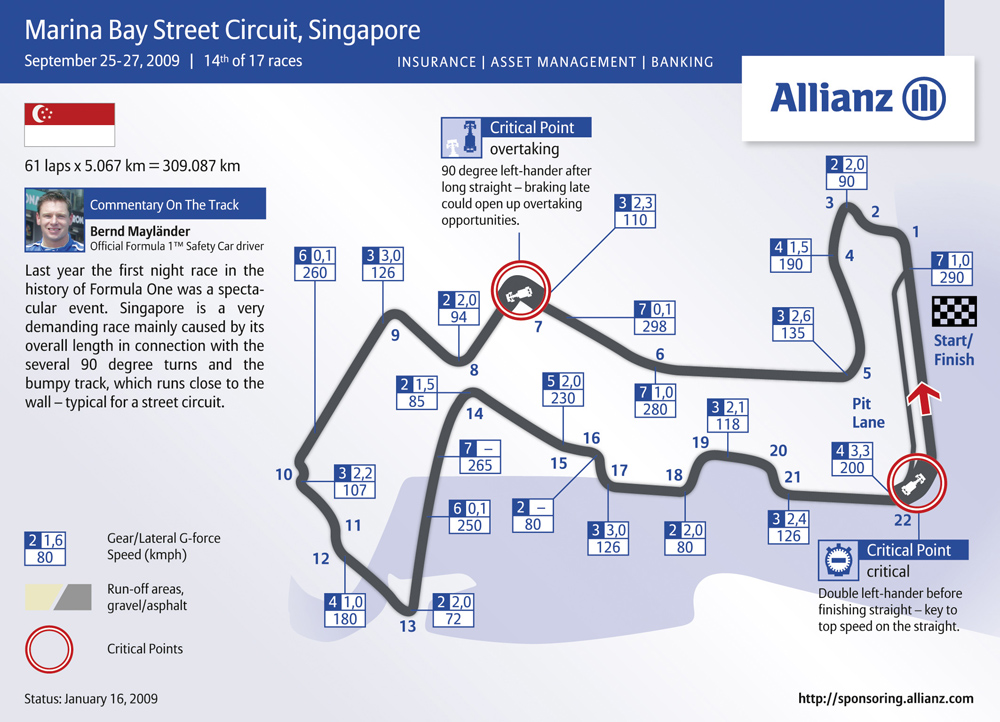 Singapore circuit
Singapore Grand Prix facts and figures
In contrast to the previous two events on the calendar, the Singapore Grand Prix places an emphasis on low speed drivability and engine response. The 5.073km circuit has a huge 23 turns — more than any other track on the calendar, bar Valencia — as cars pass in and out of the office blocks, luxury hotels and state buildings. The average speed is therefore correspondingly low, with cars circulating at just 170kph over the lap. Top speed is just over 305kph between turns five and seven with DRS and KERS activated and under 50% of the track is spent at full throttle; two thirds of the figure from Monza.
Twenty two of the 23 corners are taken in first to third gear, so for the vast majority of the lap the engine is working at between 8,000rpm and 13,000rpm on the corner exits. The engine maps need to deliver good drivability through the low speed and low rev range as accurate torque response and stability are key. Getting the correct gear ratios in the lower level can also improve grip, and ultimately lap time, in this respect.
The engine is only given a chance to breathe on two short straights, the pit straight and then the curved straight between turns five and seven. In fact seventh gear will only be engaged three times per lap; only Monaco has a lower usage.
The stop-start nature of the track and the short bursts of acceleration between the turns make Singapore one of the least fuel efficient of the season and consumption per kilometer is extremely high compared to the last event at Monza. Getting the fuel load for the start is one of the major challenges of the race as engineers will also have to consider the likelihood of weather changes and safety cars.
While temperatures during the night are typically lower than during the day (between 5 and 6°C cooler), the enclosed nature of the track between the buildings keeps ambient temperature high. Cooling systems are therefore carefully monitored, particularly since the cars are going relatively slowly and often circulating closely to each other, raising the operating temperatures further.
Singapore's equatorial location gives it a very tropical climate and humidity is often over 90%. The high water content in the air displaces the air being ingested into the engine via the air filter, reducing the amount of oxygen that can be combusted with the fuel. This makes the engine output less powerful so different engine modes will be used to negate the power loss.
F1 Safety Car
Mercedes updates the F1 Safety Car
This weekend's 2012 FORMULA 1 SINGTEL SINGAPORE GRAND PRIX is almost certain to see the Mercedes-Benz SLS AMG GT Official F1 Safety Car called into action. With an increase in power output to 435 kW (591 hp) compared to its predecessor, optimized gear shift times and the new AMG RIDE CONTROL Performance suspension, the GT evolution of the gull-wing model is perfectly placed to cope with its demanding role in the elite class of the world of motorsport.
Indeed, Race Control has deployed the Safety Car in every FORMULA 1 SINGAPORE GRAND PRIX since it joined the calendar in 2008. The race also promises to be highly exciting from a sporting perspective: the four editions have produced a total of three different winners.
The job of the Official F1 Safety Car is, as always, to help ensure maximum safety for the F1 field is maintained in extreme situations. As soon as Race Control considers that the safe progress of the race may be impeded, it sends the Safety Car out onto the track. Poor weather conditions or accidents are the main reasons for its deployment. The new SLS AMG GT differs from the previous SLS AMG in terms of its increased driving dynamics, even better on-track performance and also new design features.
The new SLS AMG GT is driven by Bernd Maylander (41 years old, Germany). The Official F1 Safety Car driver has fulfilled this role since 2000 and he is a key member of the FIA's safety team across the race weekend. "The new SLS AMG GT is the best Safety Car I have driven. The combination of increased performance, optimized transmission shift times and the new AMG RIDE CONTROL Performance suspension takes the driving dynamics of the gull-wing model to an even higher level. I have now been driving the different Safety Cars since 2000, and with each new vehicle I notice a significant enhancement over the previous model. This is where the pursuit of high performance and precision, which is so typical of Mercedes-AMG, is clearly evident again", according to Bernd Maylander.
His co-driver, FIA associate Pete Tibbets (45 years old, from Great Britain) remains in permanent radio contact with the Race Control during deployment of the Safety Car. The Official F1 Safety Car is also on call throughout the race weekend for the majority of the accompanying race series, such as the GP2 and GP3 Series and the Porsche Supercup.
Lotus eye DRS boost
The Lotus E20 will sport a new rear wing and new floor at the Singapore Grand Prix with the latter expected to give the team a boost in the DRS zone.
Technical director James Allison believes the new wing in particular will help to improve their DRS performances without having a negative impact on their straight-line speed.
"We have a new floor and a new rear wing. The new rear wing operates at the same downforce level as our Monaco spec rear wing, but with a better DRS delta. This means that this wing has better DRS switching from its maximum drag to its reduced drag settings," he is quoted as saying by Autosport.
"We believe we've been able to produce a rear wing which is at the higher end of the downforce spectrum but still able to allow the lion's share of the DRS potential which is more difficult to achieve at high downforce levels. It will be interesting to see how it works on track."
The Enstone squad have also been working on a double-DRS in recent months, but the innovation won't be used at the Marina Bay Circuit this weekend as it unlikely to be compatible with the street circuit.
"It would not suit the track's characteristics," team boss Eric Boullier said. "This system should be back in Japan. That said, we have a few upgrades scheduled for Singapore and they should bring some extra performance."
McNish serves as steward in Singapore
Allan McNish has been named as the driver representative steward for this weekend's Singapore Grand Prix. He will serve alongside José Abed, Vice President of the FIA, and Garry Connelly, Deputy President of the FIA Institute.
McNish spent a single season in F1 ten years ago, racing alongside Mika Salo in Toyota's debut season. Prior to that, he had developed the Japanese company's first F1 car and in 1990 was test driver for McLaren. In 2003, he was the test and Friday driver for Renault in the season of Fernando Alonso's maiden win with the team.
The majority of his success has come in Endurance Racing, having won the legendary Le Mans 24 Hours on two occasions. The Scot has also celebrated four Sebring 12 Hour wins and three titles in the American Le Mans Series. He is currently placed second in the FIA World Endurance Championship (WEC).
This year, McNish has also represented Sky Sports as an F1 pundit.
Vettel not 'afraid' to be Alonso's teammate
(GMM) Sebastian Vettel on Wednesday insisted he would not be "afraid" to race against Fernando Alonso in the same team.
Even before Luca di Montezemolo named the German as an ideal Ferrari driver of the future, Vettel was strongly linked with a 2014 switch to the famous Italian squad.
He would not comment on the reports when asked by Germany's Auto Bild.
But Vettel did say: "I'm not afraid to go against Fernando in the same team, as in the end it's good for the team if it has two good drivers, which means it's also good for me because the challenge is all the greater.
"But the most important thing is that I'm very happy with Red Bull, and not at all thinking about leaving," he insisted.
Vettel, currently 39 points behind the Spaniard with seven races to go, named Ferrari's Alonso as the favorite for 2012 glory.
"His car is not as bad as everyone always says — only at the start of the season was he not really able to compete.
"In the end he has always been there in all conditions, and very reliable, which for me is why the Alonso-Ferrari package has been so far the strongest," said the defending champion.
Vettel insisted he is also still in the running.
"Of course it's always better if you have a points lead," he said, "but the approach doesn't change. You always want to get the best out of yourself and the team.
"If you were making more of an effort as the hunter, that's not a good sign because it means that you were not working hard enough beforehand.
"The goal is to win all the races and see what happens," added Vettel.
No Friday outings for Monza sub d'Ambrosio – boss
(GMM) Eric Boullier has admitted it is unlikely Jerome d'Ambrosio will make another appearance on the grand prix asphalt in 2012.
Lotus' Boullier-managed Belgian reserve driver replaced Romain Grosjean at Monza recently, while the team's French regular served his one-race ban.
D'Ambrosio is the team's official reserve driver, who at the start of the 2012 season was slated to make some Friday morning practice appearances in the black Lotus.
But the E20 was ultimately so impressive that Kimi Raikkonen is now charging for the title, and Grosjean race wins.
It's for that reason that team boss Boullier has sidelined d'Ambrosio for now, even though he insists the 26-year-old performed impressively at Monza.
"Jerome lost KERS at the start of the race and around Monza that is a big, big loss. In lap time it is nearly a second," Boullier is quoted by the Telegraph.
"He did a very nice job. I was very satisfied."
So does that mean the former Virgin driver might be given another chance to drive the 2012 Lotus, perhaps during a Friday morning practice session?
"I don't think it's under consideration," Boullier answered.
"If we can afford to do it, we will do it, but with the championship being so close we want to fight and use any resources or means we can to give us all the chances to do well."
Raikkonen 'happy' at Lotus amid McLaren, Ferrari rumors
(GMM) Kimi Raikkonen on Wednesday insisted he is "happy" at Lotus, despite rumors linking him with a return to his grandee former employers.
With Felipe Massa and Lewis Hamilton's seats at Ferrari and McLaren respectively in doubt for 2013, those teams' former race winner Raikkonen has been mentioned as an ideal candidate.
Before taking a rallying sabbatical in 2011, the 32-year-old raced for McLaren for five years until 2006, thereafter switching to Ferrari and winning the title.
But after Lotus team owner Gerard Lopez recently insisted Raikkonen is already under contract for 2013, Raikkonen said on Wednesday he is "happy" where he is for now.
"I enjoy working with the people, very nice and I'm happy here but you never know what happens in the future but right now I'm happy with what's going on," he is quoted as saying by Reuters in Singapore.