Rosberg and Schumacher to drive classic and modern Silver Arrows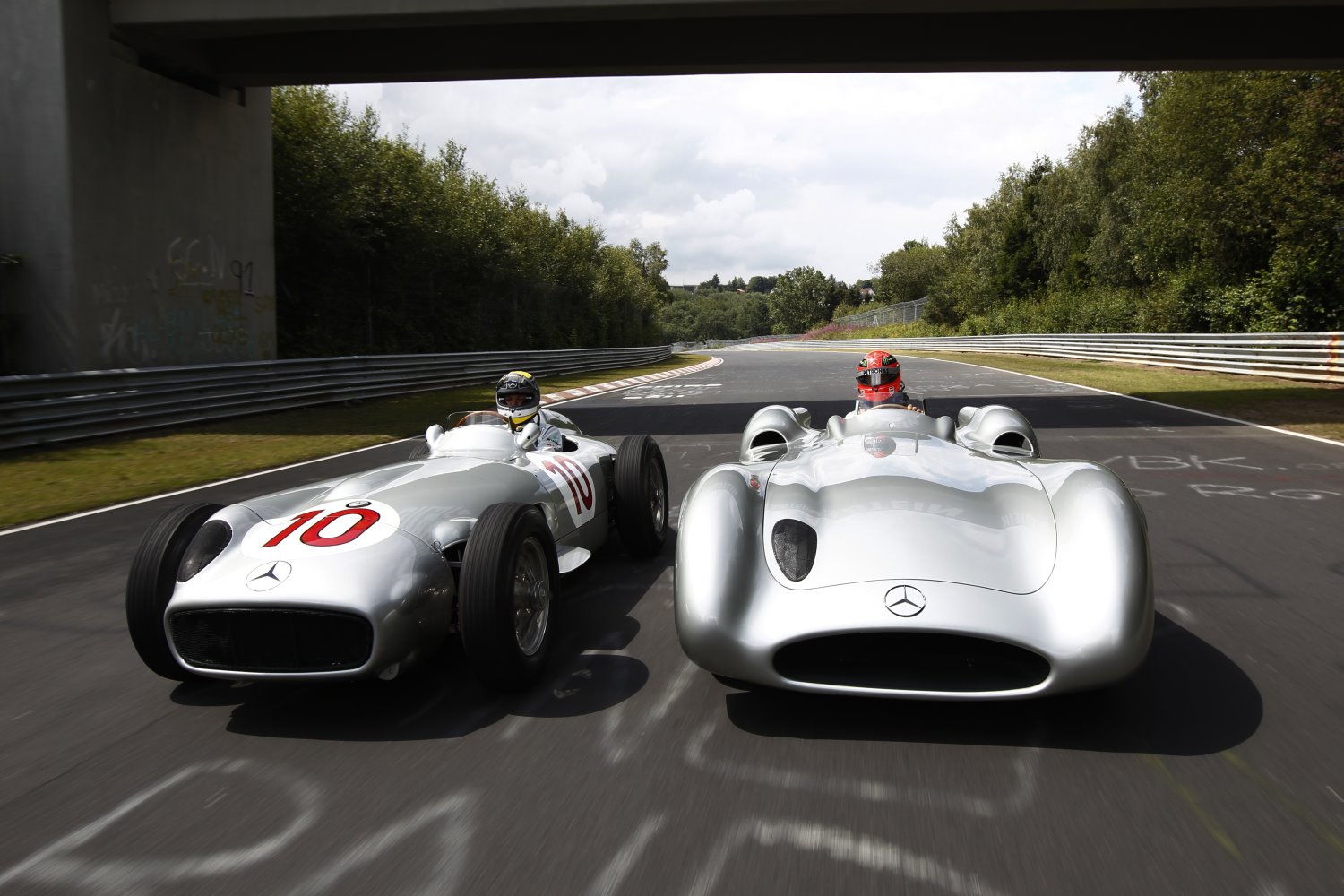 Rosberg (L) in Fangio's 1955 W196 Silver Arrows and Schumacher (R)
Mercedes Petrobras driver Nico Rosberg's first Formula 1 win in the Chinese Grand Prix one week ago was also the first for a works Silver Arrow since the 1955 Italian Grand Prix. The victory in Shanghai came precisely 20,671 days after five-time Formula 1 champion Juan Manuel Fangio won the world championship at Monza in his Mercedes-Benz W196. In the 55 years between 1955 and 2010, there was no such thing as a thoroughbred works Silver Arrow in Formula 1. Rosberg's win came in the 41st Grand Prix of the new era.
To thank his German fans for their incredible support, Rosberg will be performing demonstration laps around the Hockenheimring in Juan Manuel Fangio's race-winning Silver Arrow from the 1955 season.
This will be Rosberg's second visit to the DTM season opener at Hockenheim: last year, he volunteered his services as a DTM 'taxi driver' at the wheel of the THOMAS SABO AMG Mercedes Câ€'Class. Rosberg's involvement in last season's DTM extended to the first ever Show Event in Munich: on that occasion, he drove a Formula 1 Silver Arrow around the temporary circuit in the Olympic Stadium.
Nico will not be the only prominent guest at Hockenheim; his MERCEDES AMG PETRONAS teammate Michael Schumacher is also keen to be present for the opening race of the world's most popular touring car series and will be in Hockenheim on Sunday 29th April. Like Rosberg, the seven-time Formula 1 champion will be bringing a Silver Arrow to the event, namely the 2011 MGP W02 in which he will complete a sequence of demonstration laps.
Nico Rosberg: "I have great memories of the DTM. The earliest date back to when my father was still racing. Then I started competing in the various junior classes that are staged as part of the DTM race weekend as I started out on my own motorsport career. A lot has happened in the meantime, and the highlight so far was obviously my win in China one week ago. I am absolutely delighted to be returning to Hockenheim as a Grand Prix winner. Last year, I was able to drive a classic Silver Arrow on the famous Nürburgring Nordschleife, so now I'm really looking forward to climbing into the cockpit of Juan Manuel Fangio's phenomenal W196 streamliner from Monza in 1955 and driving a few laps at Hockenheim. It means a lot to me that we have written a new chapter in the wonderful history of Mercedes in motorsport – and that there is plenty more still to come."
Michael Schumacher: "After a busy start to the Formula 1 season with four flyaway races in succession, it will be nice to come back to Germany for the DTM season opener at Hockenheim on Sunday. I'm especially looking forward to the chance to give the fans a taste of a Formula 1 Silver Arrow in action.
This will be my first visit to a DTM race in 20 years, and I hope that my brother and his fellow Mercedes-Benz drivers will get their season off to a great start."
Norbert Haug, Vice-President Mercedes-Benz Motorsport:
"DTM begins a new era this weekend in Hockenheim, with a brand-new and exciting generation of cars. To mark the occasion, we wanted to give the spectators at the circuit something extra, and both our F1 drivers were immediately right behind the idea. Following his victory at the Chinese Grand Prix ten days ago, Nico Rosberg will complete demonstration laps in the Silver Arrow W 196 streamliner, with which Juan Manuel Fangio won at Monza in 1955. On Sunday, just before the start of the race, Michael Schumacher will complete a demonstration run in last year's F1 Silver Arrow.
It's a throwback to the start of the DTM, which now features three premium manufacturers, and a way of saying thank you to the loyal DTM fans and to our Mercedes colleagues, thousands of whom will be in the Motodrom this weekend, accounting for a high proportion of the 55,000 pre-sold tickets. We are delighted to be able to offer the fans these additional attractions and Nico and Michael are excited to be attending on one of their few free weekends, for which I sincerely thank both of them.