Newgarden: Franchitti took me out
UPDATE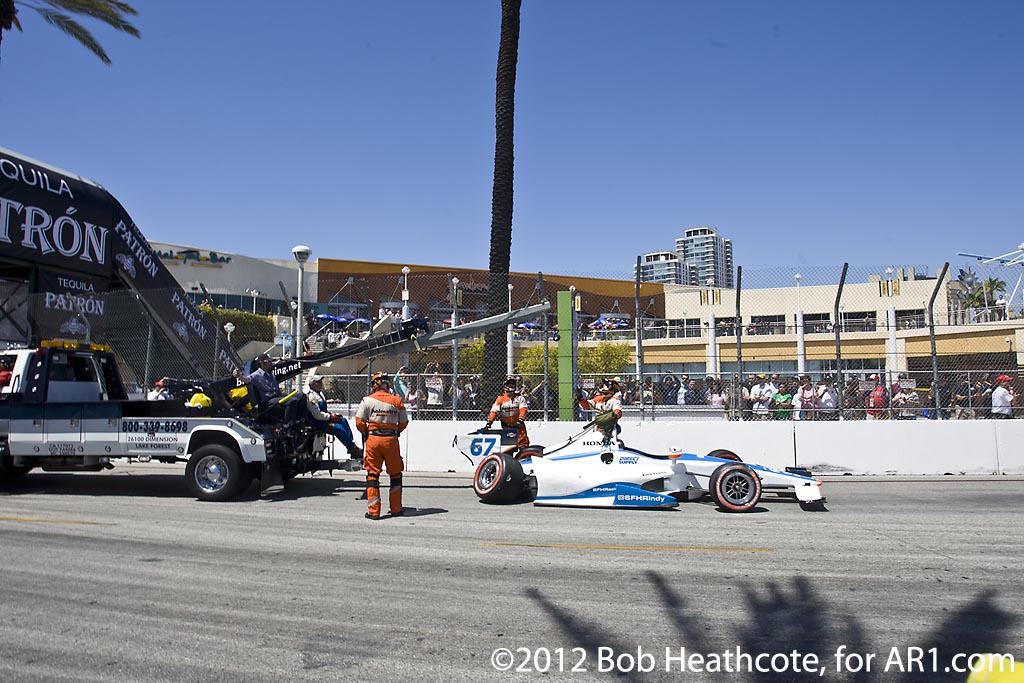 Newgarden's wrecked Honda. Fast all weekend, the sensational rookie had a legitimate shot at winning the race. It would have been huge for IndyCar given he's American.
Bob Heathcote/AR1.com
Sarah Fisher has a Toyota Grand Prix of Long Beach souvenir sitting in her Indianapolis office.
"A left rear (wheel) rim that I can throw away," she said Thursday. "And that (damage) isn't from hitting any walls."
The rim was on Josef Newgarden's Sarah Fisher Hartman Racing car that started on the front row of last weekend's Izod IndyCar Series race. But before Newgarden could get through the first corner, his car hit the outside wall.
The question was, how did he get there? A rookie mistake? Normal congestion? Perhaps help from contact from Dario Franchitti?
The answer is in the rim.
"Dario's right front (hit) our left rear, and that is so clear," Fisher said.
Franchitti wasn't penalized for avoidable contact because race director Beaux Barfield couldn't find a camera angle that proved the cars touched.
Regardless, Newgarden's race ended with a last-place finish despite having the second-fastest Honda in qualifying. The 21-year-old finished 11th and 17th in the season's first two races, showing several times the talent that belies his age.
However, Newgarden's car remains without a primary sponsor despite his strong start. Fisher said people should take notice of how the Hendersonville, Tenn., native handled himself after the crash, refusing to blame Franchitti or criticize Barfield's no-penalty ruling.
"You know he was frustrated, but he handled that situation much better than I would have at that age," she said. "Overall, holy cow, he's been more than we expected." Indy Star
04/19/12 Josef Newgarden has watched replays of his failed attempt to pass Dario Franchitti in Turn 1 at Long Beach and is certain he'd do nothing differently.
The 21-year-old rookie from Nashville started on the front of Sunday's race next to the four-time IndyCar champion and made a bold move to pass Franchitti on the outside. It was a narrow passing zone to begin with, and Newgarden wound up in a tire barrier in a race-ending crash.
"I have seen it. I've seen all the angles now, and I feel the same way I felt in the car — I wouldn't do anything differently," Newgarden told The Associated Press.
"I think it was a good legitimate move; the way I executed it just didn't work out."
Why it didn't work out is up for debate.
Franchitti said after the race he didn't believe he made contact with Newgarden, and IndyCar race director Beaux Barfield said officials found replays inconclusive.
"I thought it was fairly brave," Franchitti said Sunday. "I braked fairly late. I was on the edge. He tried to go right around the outside and ended up in the tires, and that was it. I don't think there was any contact."
But Newgarden, who won five races last season while claiming the Indy Lights championship, is confident Franchitti hit him.
"Oh, 100 percent, I think it was pretty clear on the video," Newgarden said. "When the car swings around that hard — absolutely there was contact. It was very violent in the car; when I got hit, it was pretty hard."
He seemed understanding with IndyCar's explanation that officials couldn't see anything definitive that warranted penalizing Franchitti.
"Camera angles can be so deceiving," Newgarden said. "It's hard to be an official and try to officiate that kind of stuff. If (Barfield) doesn't see anything he's sure about, then that's the call he made. It's hard to pick it up on camera, but I know it was a hard hit. It just doesn't look as hard on camera."
Newgarden and Franchitti spoke Monday, the day after the race, at an appearance for all Honda drivers. Newgarden declined to reveal what was discussed.
"It was fine. We're fine. I think we're on OK terms," Newgarden said. "It's racing. There's going to be more racing like that, and I'm sure I'll be racing with him again this year." More at ESPN/AP Story