IZOD IndyCar Series to race in Houston in 2013
UPDATE #2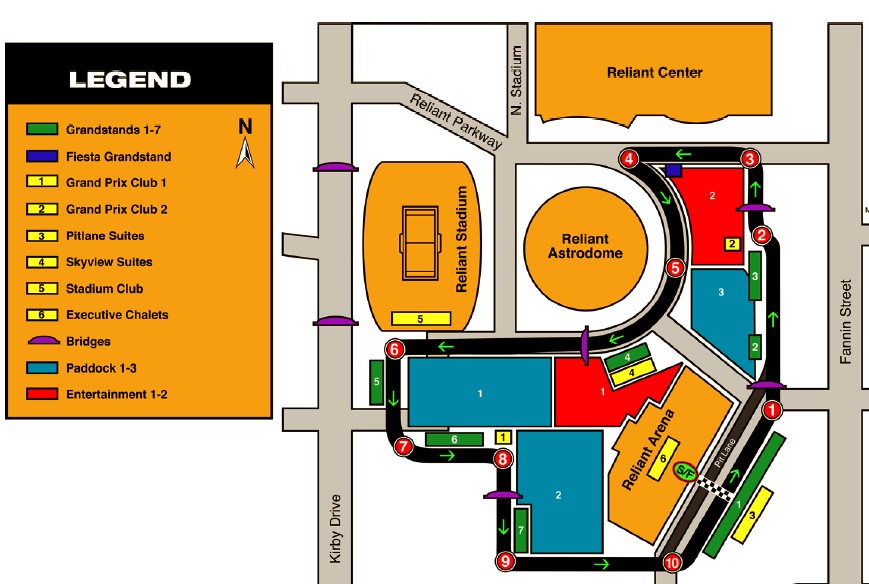 This was the Houston 1.7-mile circuit used by Champ Car in 2007
The 1.7-mile track used in the previous races at Reliant Park featured 10 turns and offered few passing areas. There were even fewer actual passes during Houston's final CCWS race, won from the pole position by Sebastien Bourdais.
But the likelihood of that recurring should be diminished.
"The track surface, where the cars will race, was repaved to concrete," Kosich said. "The whole parking lot and street started off as asphalt. But to make the thing work, they dug that up and put (in) concrete. (IndyCar officials) think there is enough concrete in areas we haven't used that they can change the configuration so that there will be much more passing."
03/28/12 Bobby Rahal, a co-owner of a racing team with Lanigan, said the addition of the Houston race is exciting news for the circuit.
"I joined Mike several years ago to speak with the business community about the potential of having a Grand Prix," Rahal said, "and it was clear that there is a tremendous amount of local support for the event, which is critical for long-term success. It will be a marquee event for the series."
Shell and Pennzoil entered a multi-year agreement to sponsor the race, though race officials would not confirm how long the deal runs.
03/28/12 Indy car racing will return to Houston in October 2013.
The announcement March 28 confirmed an IZOD IndyCar Series race weekend that INDYCAR CEO Randy Bernard and Mi-Jack Promotions principal Mike Lanigan had sought for more than a year. The Oct. 4-6 event will be known as the Shell and Pennzoil Grand Prix of Houston.
"We are thrilled to be returning to Houston," said Lanigan, Chairman and CEO of the Shell and Pennzoil Grand Prix of Houston. "The Grand Prix was very successful in 2006 and 2007 (Champ Car World Series events won by Sebastien Bourdais), with big crowds at Reliant Park witnessing an exciting three-day festival of speed. In 2013 it will be better than ever."
Bernard, who attended the news conference in Houston, said many factors contributed to the decision to award Houston a spot on the 2013 schedule.
"When we look at growing our schedule, one of our top objectives is to showcase our racing in major U.S. cities, which in turn helps our sponsors, team owners and television package and is key to the success of our sport," he said. "As the fourth-largest city in the country, Houston is a great fit for the IZOD IndyCar Series and Reliant Park will be a tremendous venue."
INDYCAR president of operations and strategy Brian Barnhart toured the complex March 28 and was impressed with the infrastructure and venue for racing and spectators. The 1.7-mile, 10-turn concrete circuit will challenge drivers and teams.
"Aside from the size of the market and what it brings, to be in the Reliant Park complex is just a phenomenal venue that will be great because it's so convenient and well-packaged," he said.
Others participating in the news conference were Harris County Judge Ed Emmett, City of Houston Mayor Pro-Tem Ed Gonzalez, Shell Oil Company President Marvin Odum, Chairman of the Grand Prix Local Organizing Committee George DeMontrond, IZOD IndyCar Series driver Helio Castroneves, and IZOD IndyCar Series team owner Roger Penske.
The multi-year title sponsorship agreement between Shell and Pennzoil and Mi-Jack Promotions made the Grand Prix's return possible.
"Shell has built a long, storied history in motorsports across the world," said Lisa Davis, President of Shell Commercial Fuels and Lubricants Americas. "Becoming the title sponsor for the IZOD IndyCar Series race lets us bring the Grand Prix home to enjoy with our customers, employees, and neighbors."
In 2006 and '07, the Grand Prix of Houston had an estimated economic impact of more than $35 million per year to the region and resulted in substantial international exposure for the city and Harris County. With this in mind, then-Mayor Annise Parker and Emmett founded the Grand Prix Local Organizing Committee in 2010 to identify a title sponsor to make the Grand Prix's return possible.
"On behalf of all of us involved in the Grand Prix Local Organizing Committee, I would like to thank Randy Bernard and the IZOD IndyCar Series for their confidence in Houston," DeMontrond said. "We are also very grateful for the leadership of Mayor Parker and Judge Emmett, and for Shell and Pennzoil stepping up and providing the sponsorship support we needed."
Penske and Castroneves, who won the season-opening Honda Grand Prix of St. Petersburg on March 25 in the Chevrolet-powered No. 3 Shell V-Power/Pennzoil Ultra Team Penske car, represented teams and drivers that will be competing in the race weekend.
"It is important for the IZOD IndyCar Series to bring events to major markets to not only grow the series but to expand the audience and create new fans of the sport," Penske said. "With the history of open-wheel racing in downtown Houston and at Reliant Park, this is a great opportunity to bring a vibrant street race to the fourth-largest city in the United States."
Added Castroneves: "It's always fun to put on a great show in front of large crowds, and with Houston being a gateway to Central and South America it's important for the series' Latin America audience to have the opportunity to experience these urban festivals that always have a fun and exciting atmosphere."
Bourdais said he's looking forward to the challenge of competing on the circuit. Dario Franchitti (1998) won the inaugural race in Houston. Other winners included Paul Tracy, Jimmy Vasser and Gil de Ferran.
"It's a really hard course," he said. "It's what we call concrete racing and it's not easy. Houston is a good market for INDYCAR and is a very positive thing for the series."
Event organizers are planning a "three-day festival of speed," with a variety of family-friendly activities complementing on-track activity.
Tickets are not yet on sale, but fans are encouraged to visit www.grandprixofhouston.com to join the "Checkered Flag Club" to receive information and pre-sale opportunities.