NASCAR celebrates 40-years with Petty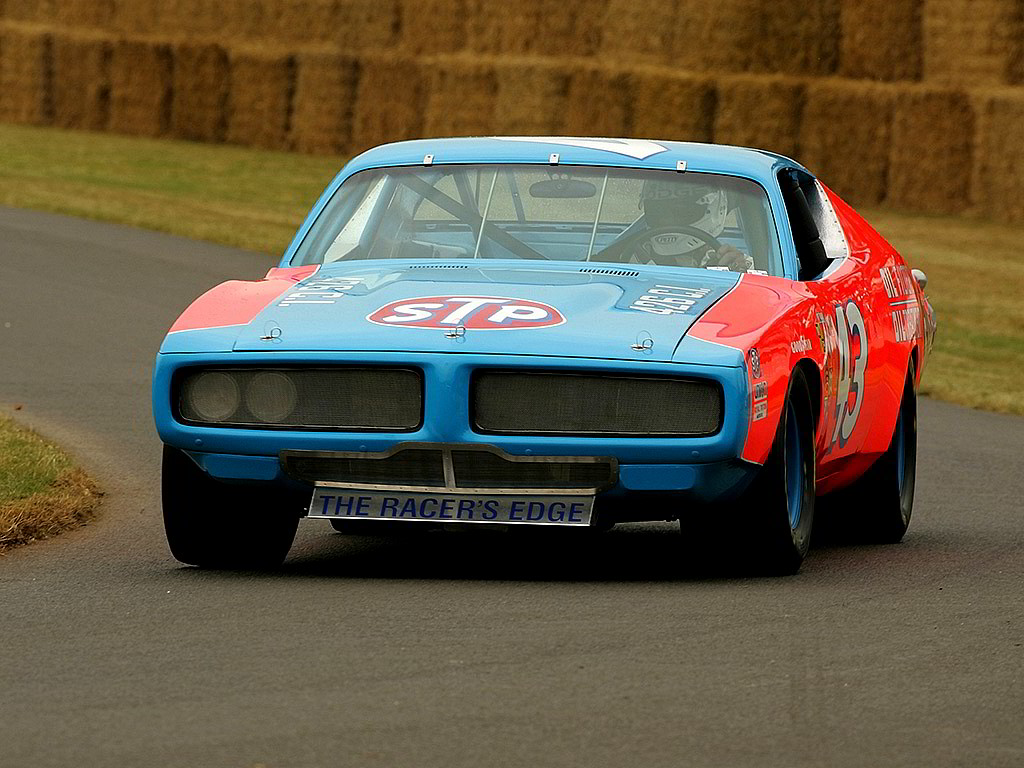 Petty's 1972 STP Dodge Charger
STP signed their first deal with Richard Petty in 1972, forever changing the motorsports sponsorship landscape. This year they are proud to celebrate their 40th Anniversary with "The King."
As part of the celebration, STP will be back on the No. 43 Ford Fusion for the second consecutive year during the STP 400 at Kansas Speedway. The No. 43 STP Ford Fusion will feature the iconic Petty Blue and STP Day-Glo Red colors and will be piloted by new Richard Petty Motorsports driver, Aric Almirola.
"When I signed with Richard Petty Motorsports for the 2012 season I was honored to be driving for a legend of our sport," said Almirola. "Being able to sit in the driver's seat of the No. 43 STP car with an iconic paint scheme, just like 'The King' himself did, is the icing on the cake and it would be amazing to drive it to Victory Lane on April 22."
STP's winning relationship with Petty shows that STP has truly been "The Racer's Edge®" for the past 40 years and they have been delivering power and performance to consumers since the brands creation in 1954. STP believes the more power you put in, the more muscle you will get out.
"I've been an STP man since '72 and it's hard to believe that it has been 40 years since I started working with STP," said Petty. "They have remained a big part of my career and it's been great having them back at the track. I look forward to seeing Aric in the driver's seat at the STP 400 as we celebrate 40 years with STP."
Last year the STP brand announced its re-entry into the racing community with a presence in multiple series' including NASCAR, NHRA, World of Outlaws, Infineon Speedway, and at several International Speedway Corporation (ISC) tracks.
STP's racing portfolio includes:
Multi-year title sponsorship of the Cup and Nationwide races at Kansas Speedway and Chicagoland Speedway, respectively. This year, the STP 400 Cup race will take place on April 22 and the STP 300 Nationwide Series race will run on July 22.
The STP-branded No. 43 takes to the track for the STP 400 to celebrate the 40th Anniversary of Richard Petty and the STP brand. The No. 43 STP Ford Fusion paint scheme will feature the original Petty Blue and STP Day-Glo Red.
Primary sponsor of two-time NHRA Full Throttle Nitro Funny Car Champion Tony Pedregon for three races (Englishtown, NJ, Infineon and Dallas) and an associate sponsorship for the balance of the season.
Multi-year track sponsorships with a number of ISC properties including Daytona, Talladega, Richmond, Darlington, Michigan, Chicagoland and Kansas.
Multi-year track sponsorship of Infineon Raceway and title sponsor of Wednesday Night Drags and Bracket Drags.
Extended relationship with the World of Outlaws and establishing a longer-term commitment to the series.
Continued sponsorship of Tony Stewart Racing and four-time World of Outlaws Champion Donny Schatz.
"The long-standing relationship with Richard Petty helped thrust STP on to a national stage and we continue to build the brand's image within the motorsports world with our title race and track sponsorships. Last year we saw tremendous success at the STP 400 and we are looking forward to another exciting race at Kansas in April," said Dave Lundstedt, CEO of Armored AutoGroup Inc.
Additionally Guy Andrysick, Armored AutoGroup EVP of Sales and Marketing said, "We are proud to be celebrating our 40th Anniversary with Richard Petty at this year's STP 400. Being able to commemorate this remarkable milestone is rare within the sponsorship landscape and the fact that over the past 40 years STP and Petty have become synonymous with each other makes us proud as a company and a brand."
To catch the No. 43 STP Ford Fusion in action and to celebrate STP and Richard Petty's 40th Anniversary tune in to FOX at 12:30 p.m. EDT on Sunday, April 22.