RRDC awards Follmer Phil Hill Award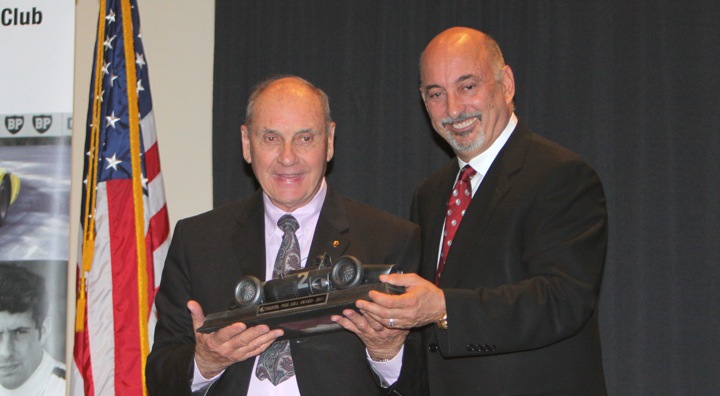 George Follmer receives his award from Bobby Rahal
George Follmer, who has competed in virtually every form of auto racing and is considered one of the sport's living legends, was honored by the Road Racing Drivers Club with the 2012 Phil Hill Award. RRDC president Bobby Rahal presented Follmer with the award at a dinner prior to the running of the Rolex 24 At Daytona, the season opener of the 2012 GRAND-AM Rolex Sports Car Series.
The Phil Hill Award has been presented annually since 1993 to the person who the RRDC feels has rendered outstanding service to road racing. The recipient may be a driver, entrant or outstanding member of a sanctioning body.
It is named in honor of America's first Formula 1 World Champion (in 1961), and is not only a tribute to his masterful accomplishments on the race track, it also recognizes his contributions as a great ambassador for the sport. Hill passed away in 2008.
California native Follmer was born in 1934 and is the only professional racing driver from the United States to compete in Indy Cars, NASCAR, Formula 1, the World Endurance Championship, Can-Am, Trans-Am and IMSA.
In his first racing season, in 1960, he was named the California Sports Car Club's Rookie of the Year, followed by Driver of the Year and the SCCA U.S. Road Racing Championship (USRRC) title in 1965. Through the '60s and '70s he won the '66 Sebring 12-hour race, was the '68 Trans-Am runner-up to his teammate Mark Donohue and set nine Can-Am track records between '66-'71. In '69 he drove the only stock-block-powered car to win a race in USAC Indy Car history, and in '70 notched two Formula 5000 wins. In 1972 he became the first and only driver to win both the Trans-Am and Can-Am titles. His first Formula 1 start in 1973 resulted in a sixth-place finish for the UOP Shadow team at the South African GP, followed by a third at the Spanish Grand Prix. Also that year he placed second in Can-Am, second in the IROC Series, and competed in the World Endurance Championship for Porsche.
NASCAR was next on Follmer's agenda in 1974, where he drove for Bud Moore, scoring 11 top-10 finishes. He also earned another second place in the Can-Am championship and raced a full Formula 1 season teamed with Jackie Oliver. He won the 1976 SCCA Trans-Am crown, then competed in select IMSA events in '77 and '78 as well as Can-Am. Following a spectacular Can-Am crash at Laguna Seca Raceway in Monterey, Calif., in which he was severely injured, he was back on the track in less than a year, and in 1980 ran IMSA and Can-Am events. He was the principal test driver for the IROC series in the '80s and today lives in Idaho and keeps busy with various commercial ventures.
"I got to know Phil Hill towards the end of his career, his life," said Rahal. "What a gentleman he was. What was so great about Phil Hill was not that he took on the world, and he did – he was the first U.S. F1 champion, multi-time winner of LeMans, won the Nurburgring 1000, Brands Hatch – but that no matter what he got into he won. Above all that, he was a very educated guy, and a gentleman in the finest sense of the word. He exemplified what is great about American motor racing.
"It's my pleasure to present the Phil Hill Award to a guy who, you name it, has won it," added Rahal. "George Follmer was a champion who lived through the greatest era of sports-car racing, the 'glory years' of the '60s and '70s."
"It's a very big honor to get an award from the RRDC, because it's such a highly-regarded organization of race-car drivers and it's always important to be recognized by your peers," said Follmer. "I've had a lot of admiration for Phil, because he was a California guy, and I was one of those guys. He was a world champion and I remember watching him before I ever started racing, in Santa Barbara and Pomona in Southern California. I knew then he was a great race car driver. It's a great honor to receive this award in his name."
Past RRDC Phil Hill Award Winners include:
1993 John Bishop
1994 Juan Manuel Fangio II
1995 Leo Mehl
1996 Charlie Slater
1997 Danny Sullivan
1998 Rob Dyson
1999 Bob Fergus
2000 Elliott Forbes Robinson
2001 Bill France
2002 Jim Downing
2003 Derek Bell
2004 Brian Redman
2005 Jim France
2006 Roger Werner
2007 Skip Barber
2008 Roger Penske
2009 Bob Bondurant
2010 Nick Craw
2011 Rick Mears