NBC Sports moves into ESPN territory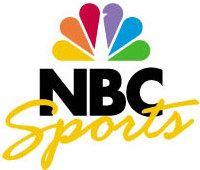 Right now, it's just a big ugly building sitting on 32 acres of land in Stamford, CT. All that is about to change. Only 65 miles down the road from ESPN, the new powerhouse in the sports TV industry is setting up shop. NBC Sports is coming to town and taking over the site of a former Clairol hair dye factory.
This week a panel of dignitaries including Connecticut Gov. Dan Malloy announced a blockbuster economic agreement that will consolidate the various companies now housed under the NBC Sports umbrella in one location. It is a very big addition to the TV sports landscape, and should be good for IndyCar, which has gone unnoticed on the lowly Versus channel.
The logo above represents the new name for the VERSUS network starting in January. Make no mistake about it, the NBC Sports Network is a fully-funded effort by the Comcast Corporation to grow their own in-house version of ESPN. Comcast recruited top executives, filled their war chests with Comcast subscriber cash and has now put down roots.
Mark Lazarus is the Chairman of the newly-formed NBC Sports Group. "Our plan (in Stamford) is to redo the administration space, to build what we think is a work environment that is cool and sports-like," Lazarus said. "We will create an open area, an inclusive environment and a place that is conducive to creative output. The equipment that comes in here that will allow us to send sports television and digital media out to the world will be second-to-none, state-of-the-art and we're thrilled to do that here."
There are lots of NBC-themed companies that will be setting up shop in Stamford in addition to VERSUS. They include the NBC Sports group, NBC's Olympic division, NBC Sports Digital and the Comcast Sports Management Group that oversees 11 Comcast Sports regional TV networks. In addition, the NHL Network will also build studios on the site as it continues a ten-year partnership with NBC.
NASCAR fans may remember VERSUS televising selected NASCAR Whelen Modified Races a while back in a TV package that featured SPEED's Jimmy Spencer in the TV booth. VERSUS continues to be the home of the vast majority of the IndyCar Series races. Lazarus confirmed that the new Stamford studios would be the home of IndyCar, college football and Olympic studio production in addition to multiple sports talk shows. Daly Planet