Trevor Bayne talks about what Bristol means to him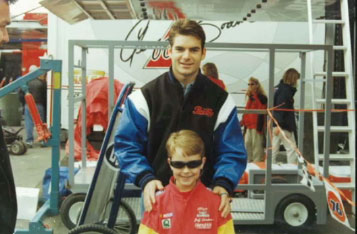 Trevor Bayne with childhood hero Jeff Gordon
Trevor Bayne, driver of the No. 21 Motorcraft Ford Fusion, will be making his second Homecoming in three weeks as he heads to Bristol, TN, for this weekend's Jeff Byrd 500. Bayne was in his hometown of Knoxville shortly after winning last month's Daytona 500 and while he's been going to Bristol since the age of five, this will mark his first time driving a NASCAR Sprint Cup Series car. He spoke to Ford Racing recently about what this weekend means to him.
TREVOR BAYNE – No. 21 Motorcraft Ford Fusion – HOW LONG HAVE YOU BEEN GOING TO RACES AT BRISTOL? "I've been going there since I was in kindergarten. I was five years old and I'd get out of school early to go up there and watch and hang out, so that's definitely a special place for me. That was actually the first place I ever went to a NASCAR race."
WHAT MEMORIES STAND OUT? "I remember one year when Terry Labonte was up on the wall on his side, that's when Dale Sr. put him there, and, for some reason, I guess because I was 00 later on in my career, I remember Buckshot Jones was driving the Cheez-It car, and, obviously, I remember the Cartoon Network car. One time I was down in the pits and Ray Evernham saw me taking a picture of Jeff (Gordon) and he actually grabbed my camera from me and took a picture of me and Jeff together, so that's one thing I'll always remember. But we used to always go to the Food City tent there because my dad did business with them, so then they'd take us down in the infield and we'd get the little tour. It was pretty neat."
ARE YOU IN AWE OF BRISTOL LIKE MOST PEOPLE OR IS IT DIFFERENT FOR YOU BECAUSE THAT'S KIND OF WHERE YOU GREW UP? "No, to me it feels like home, so it's not like that intimidating beast that everybody else thinks of it as. To me, it's home. It doesn't have that bad of an effect, but it is still the coolest place we race. It's like a gladiator arena is what I always call it or a bullfighting stadium because it's crazy. The fans are everywhere and the sound of it almost gives you the feeling of being in a dome, so it's a really neat place."
WHAT CAN YOU EXPECT WITH BRISTOL BEING ONLY YOUR FIFTH NSCS START? DO YOU HAVE ANY IDEA WHAT TO EXPECT? "No idea. We're just gonna go in and hope for the best. My first-ever race there I was in Hooters Pro Cup and we were actually leading it with 15 to go and got turned. We definitely didn't expect that, but we didn't expect to win the 500, so I've just learned not to put expectations on it at all, just go in and everybody does their best. If we could get a top 15 there, like we've been hoping for, that would be great, but I think that's definitely a place we can excel. Even though it's a tougher track, I've got a lot of laps there so it could be OK for us."
HOW WOULD YOU SAY THE FIRST THREE RACES OVERALL HAVE BEEN FOR YOU? "I would say Phoenix and Vegas were kind of par for what I expected there. The 20th at Vegas was actually pretty good for us. We ran top 15 for a while and then I messed up coming to pit road and got us behind, so to get our lap back and get in the top 20 was good for us. I think that we're making progress now. You set Daytona aside and kind of look at your steps. We finished 17th at Texas in our first race. Obviously, we crashed out of Phoenix, but then Vegas we finished 20th, so we're consistently a top 20 team. Now, we just work on that and make that better to try and be a top 15 team and just gradually take those steps until you're a top 10 team every week."
CAN YOU PUT A GOAL ON BRISTOL? "You can, but normally it doesn't work out that way there. You're either gonna get crashed or you're gonna do really well. I've never had the middle of the road there. I've either been fast and finished in the top 5 or top 10, or we've been crashed out. I've never really had that mediocre 20th-place day there besides my first Nationwide race, but that was kind of a volunteer deal. I think you just have to be smart because you can go for broke there, but you've also got to be careful to make sure you're there at the end of the race."