Quaker State to Sponsor Inaugural Kentucky Sprint Cup race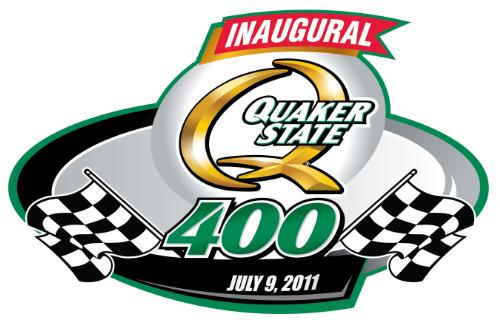 Quaker State®, the racing oil that has enjoyed an unprecedented level of success under the hood of Hendrick Motorsports cars, announced today it will be the title sponsor of the first ever NASCAR Sprint Cup Series event at Kentucky Speedway. The Quaker State 400 will be held at the first new track on the NASCAR Sprint Cup Series schedule since 2001.
"The entire Quaker State team is very excited to be a part of this historic moment for NASCAR and Kentucky Speedway," said Chris Hayek, Quaker State Global Brand Manager. "We are very happy to be involved with what is sure to be a great race."
Quaker State will drop the green flag at the newly-expanded, 105,000-capacity Speedway Motorsports, Inc. (SMI) facility at 7:30 p.m., July 9. The 400-mile event will conclude a tripleheader NASCAR weekend that opens with a 225-mile Camping World Truck Series battle on July 7 and spotlights a 300-mile NASCAR Nationwide Series event on July 8.
"Our Quaker State sponsorship will ideally blend the brand's Sprint Cup Series past and present. Quaker State is among the most recognizable brands in motorsports and we're proud to be a new part of its rich NASCAR heritage," Kentucky Speedway General Manager Mark Simendinger said.
Twenty-nine-year Sprint Cup Series veteran and 40-time race winner Mark Martin will pilot the Hendrick Motorsports No. 5 Quaker State Chevrolet during the historic weekend.
"I think it's great that NASCAR continues to expand the tracks we race, and I am very proud to not only have Quaker State technology under the hood, but also the Quaker State logo on the hood of our car for the inaugural race at Kentucky Speedway," said Martin. "I'm looking forward to piloting the No. 5 Quaker State Chevrolet to Victory Lane."
The Kentucky Speedway sponsorship is another opportunity for Quaker State to expand its presence in NASCAR. The current Quaker State-Hendrick relationship has grown over its 15-year history into a championship-winning technical team. Since 1996, Quaker State engineers work diligently with Hendrick Motorsports throughout the season to analyze and adjust the motor oil formulations in order to maximize on-track success.
Quaker State racing oil has enjoyed an unprecedented level of success under the hood of Hendrick Motorsports cars, led by Jimmie Johnson, who locked up his fifth consecutive NASCAR Sprint Cup Series championship. With more than seven million on-track miles, Quaker State's technical relationship with Hendrick Motorsports has resulted in an unparalleled number of racing triumphs, including 147 NASCAR Sprint Cup Series wins and nine NASCAR Sprint Cup Series championships.