Attracting new fans will be key for IndyCar
Many in the auto racing industry realize the sport has a lot of older racing fans and attracting younger spectators is a priority. Count 1978 World Driving Champion Mario Andretti among them.
"It's cyclical. It's life," Andretti said recently. "There is a cycle of life for drivers. You've got drivers that obviously have been around a long time. Sooner or later they're going to retire. They almost start all over. The same thing with fans.
"But I think the job of the organizing bodies, such as IndyCar, NASCAR, so forth, is to always try to find ways to connect the fans, such as making maybe the drivers more available to the fans, opening up sometimes the pit area to allow the fans to come closer to the race cars and visit," he continued. "Anything to become fan-friendly, if you will. All these things have a way of really working in a positive way."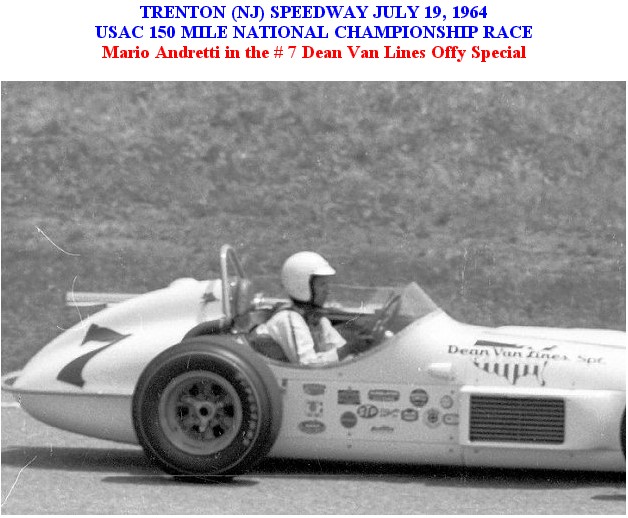 Mario Andretti makes his IndyCar debut at Trenton Speedway in 1964 in this front engine Dean Van Lines Special, just years after meeting Eddie Sachs in Trenton. The next year he landed a full-time ride and won the title in his rookie year, defeating then IndyCar king AJ Foyt. He won the title again in 1966. Missed it by a few points in 67 and 68 due to bad luck, and won it again in 1969. AJ Foyt's ego could not stand that the little Italian had his number.
Andretti has won the Indianapolis 500, Daytona 500 and World Driving Championship, but he still has fond memories of his childhood meeting with racing driver Eddie Sachs more than 50 years ago.
"I remember myself as a kid just one instant when I was able to get next to a driver, like Eddie Sachs in Trenton (N.J.)," Andretti remembered. "I was shaking in my boots. He actually talked to me. I asked him a question about how he enjoyed the race in Monza, in Italy, when they went there to run on the high banks. He actually answered it to me."
Andretti believes it is part of the job of the drivers to attract new fans.
"I know how those things work," he said. "Us as drivers, when we're out there, I think we have to think in those terms. There could be a day that would impress somebody, and that person could become a fan for life. Those are all the things that are important to remember also to create the fan base." NSSN