Observations from Danica's Daytona ARCA test
Danica Patrick in the No. 88 GoDaddy car
AutoRacing1.com is live here in Daytona where Danica Patrick and host of other newbie's are trying out ARCA stock cars. Looking at these cars, compared to, say an ALMS, IndyCar or F1, we feel like we went back in time about 20 years.
They do have tons of aero telemetry on them though. The JR team must have about 100 airflow tubes and sensors all over the car. There are about 6 on the rear wing, and about 20 in the rear window and deck. So there is some tech here, but they obviously don't allow it in the racing. You can tell that is the difference between the teams though.
For what it's worth, Danica has two cars and all the goodies, and Milka Duno is with a small team that seems to have about 1/10 the crew and staff, and her car doesn't have any of those aero sensors at all.
We are sure there are intricacies to the mechanics of these cars, but as far as driving them goes, we are not impressed at all, even though we tried to come here with an open mind.
We could be mistaken, but it looks to us like the GrandAm prototypes are faster through turns 3 and 4 and across the start-finish line, after which they dive into the infield road course.
They are running in draft groups now. They were only letting out single cars until the afternoon. We understand the series does not do it randomly, and the teams have to cut deals to find partners to draft with in groups of five or so. So this becomes as much a game of politics as anything else. If you are testing, and nobody wants to run on the track with you to practice in the draft, what the heck do you do then?
So it would be easy for someone who is not really wanted here, to not get very far, even if they came in with a great drivers resume and a top team with plenty of money.
The draft also produced the fastest speeds of the day with a trio of Venturini Motorsports drivers-Mikey Kile, Steve Arpin and Alli Owens–comprising the top-three positions on the speed charts.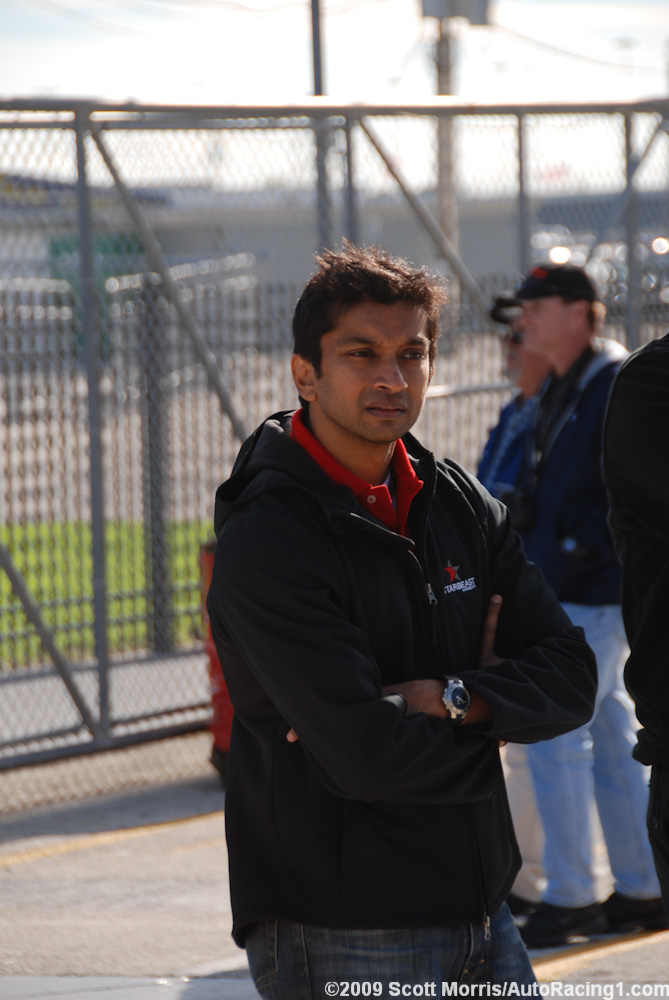 Narain Karthikeyan
"We found a lot of stuff today and a lot of speed," said Kile, fastest overall with a 49.164 second/183.061 mph lap. "We tried a lot of different packages in single car runs and here at the end of the day was our first drafting session. We had an awesome day…the team had an awesome day."
Kile's teammates, Fort Frances, Ontario's Steve Arpin and local, Daytona Beach, Florida, native Alli Owens, posted identical times (49.192 seconds/182.957 mph) while pushing Kile around the 2.5-mile track. Defending race winner James Buescher, in a Phoenix Racing Toyota, was fourth fastest in the Saturday afternoon drafting session, followed by Brandon McReynolds in Eddie Sharp's No. 2 Toyota.
Leilani Münter
Indian F1 hopeful Narain Karthikeyan has not been in the car today because he is not on the time sheets. He appears to be sharing the car with an Asian driver. We caught a glimpse of him in the pit lane and grabbed a quick photo (later….).
There are 10 women testing here this weekend, so Danica is certainly not the only one. We have to say that we don't think she is the hottest of them either.
Check out Leilani Münter. Scott Morris reporting live from Daytona
Results Saturday
| | | | | | |
| --- | --- | --- | --- | --- | --- |
| Pos. | No. | Name | Laps | Time | Speed |
| 1 | 25 | Mikey Kile | 36 | 49.164 | 183.06 |
| 2 | 15 | Alli Owens | 36 | 49.192 | 182.96 |
| 3 | 55 | Steve Arpin | 36 | 49.192 | 182.96 |
| 4 | 51 | James Buescher | 51 | 49.312 | 182.51 |
| 5 | 2 | Brandon McReynolds | 46 | 49.323 | 182.47 |
| 6 | 60 | Patrick Sheltra | 7 | 49.355 | 182.35 |
| 7 | 16A | Randy Renfro | 32 | 49.374 | 182.28 |
| 8 | 11 | Bryan Silas | 32 | 49.394 | 182.21 |
| 9 | 22 | Dakoda Armstrong | 29 | 49.408 | 182.16 |
| 10 | 52K | Josh Richards | 39 | 49.418 | 182.12 |
| 11 | 36A | Robb Brent | 6 | 49.436 | 182.05 |
| 12 | 69 | Steve Blackburn | 22 | 49.46 | 181.97 |
| 13 | 90 | Milka Duno | 17 | 49.475 | 181.91 |
| 14 | 30 | Terry Jones | 11 | 49.486 | 181.87 |
| 15 | 97 | Matt Lofton | 27 | 49.491 | 181.85 |
| 16 | 07 | Ricky Byers | 25 | 49.494 | 181.84 |
| 17 | 43 | Kyle Martel | 51 | 49.545 | 181.65 |
| 18 | 4 | Ricky Carmichael | 28 | 49.564 | 181.58 |
| 19 | 88 | Danica Patrick | 69 | 49.572 | 181.55 |
| 20 | 88A | Danica Patrick | 14 | 49.621 | 181.37 |
| 21 | 31 | Tim George Jr. | 22 | 49.68 | 181.16 |
| 22 | 85 | Lance Fenton | 36 | 49.763 | 180.86 |
| 23 | 16 | Joey Coulter | 11 | 49.773 | 180.82 |
| 24 | 51B | Ryan Crane | 21 | 49.782 | 180.79 |
| 25 | 28A | Chris Cockrum | 9 | 49.885 | 180.41 |
| 26 | 5A | Bobby Gerhart | 11 | 49.926 | 180.27 |
| 27 | 21 | Jennifer Jo Cobb | 26 | 49.941 | 180.21 |
| 28 | 59 | Leilani Munter | 40 | 49.97 | 180.11 |
| 29 | 36C | Glen Reen | 23 | 49.99 | 180.04 |
| 30 | 54 | Brad Means | 4 | 49.998 | 180.01 |
| 31 | 66A | Hal Martin | 17 | 50.038 | 179.86 |
| 32 | 14 | John Ferrier | 14 | 50.057 | 179.80 |
| 33 | 77 | Tom Hessert | 36 | 50.064 | 179.77 |
| 34 | 83 | Grant Enfinger | 14 | 50.072 | 179.74 |
| 35 | 10 | Darryl O'Young | 17 | 50.181 | 179.35 |
| 36 | 75 | Scott Stenzel | 27 | 50.213 | 179.24 |
| 37 | 5 | Bobby Gerhart | 2 | 50.311 | 178.89 |
| 38 | 76 | Jerick Johnson | 2 | 50.313 | 178.88 |
| 39 | 36 | Robb Brent | 6 | 50.314 | 178.88 |
| 40 | 70B | Richard Clifton | 31 | 50.317 | 178.87 |
| 41 | 0 | Butch Jarvis | 15 | 50.351 | 178.75 |
| 42 | 12A | Russ Dugger | 44 | 50.393 | 178.60 |
| 43 | 54B | Chris Lawson | 2 | 50.434 | 178.45 |
| 44 | 54A | Zach Bruenger | 5 | 50.482 | 178.28 |
| 45 | 75A | Chuck Walker | 18 | 50.487 | 178.26 |
| 46 | 36D | Ashley Parlett | 10 | 50.516 | 178.16 |
| 47 | 70 | Tony Palumbo | 32 | 50.669 | 177.62 |
| 48 | 8 | Jill George | 23 | 50.674 | 177.61 |
| 49 | 12 | Derek White | 21 | 50.756 | 177.32 |
| 50 | 82 | Sean Corr | 35 | 50.805 | 177.15 |
| 51 | 58 | Chad Hackenbracht | 35 | 51.079 | 176.20 |
| 52 | 28 | Brent Cross | 13 | 51.383 | 175.16 |
| 53 | 73A | Angela Cope | 5 | 51.498 | 174.76 |
| 54 | 48 | James Hylton | 6 | 51.624 | 174.34 |
| 55 | 73 | Amber Cope | 2 | 51.676 | 174.16 |
| 56 | 1B | Tony Yawn Jr. | 32 | 51.9 | 173.41 |
| 57 | 03A | Donny Kelley | 2 | 52.031 | 172.97 |
| 58 | 77A | Tom Hessert | 2 | 52.151 | 172.58 |
| 59 | 23 | Frank Wilson Jr. | 29 | 52.234 | 172.30 |
| 60 | 89B | Justin Boston | 34 | 52.805 | 170.44 |
| 61 | 89 | Chris Lafferty | 8 | 52.905 | 170.12 |
| 62 | 36E | Jason Bowles | 2 | 53.583 | 167.96 |
| 63 | 03 | Stephan McCurley | 4 | 54.508 | 165.11 |