Barber added to 2010 IndyCar schedule
UPDATE
The IndyCar race at Barber will be a doubleheader with the Grand Am Series.
07/26/09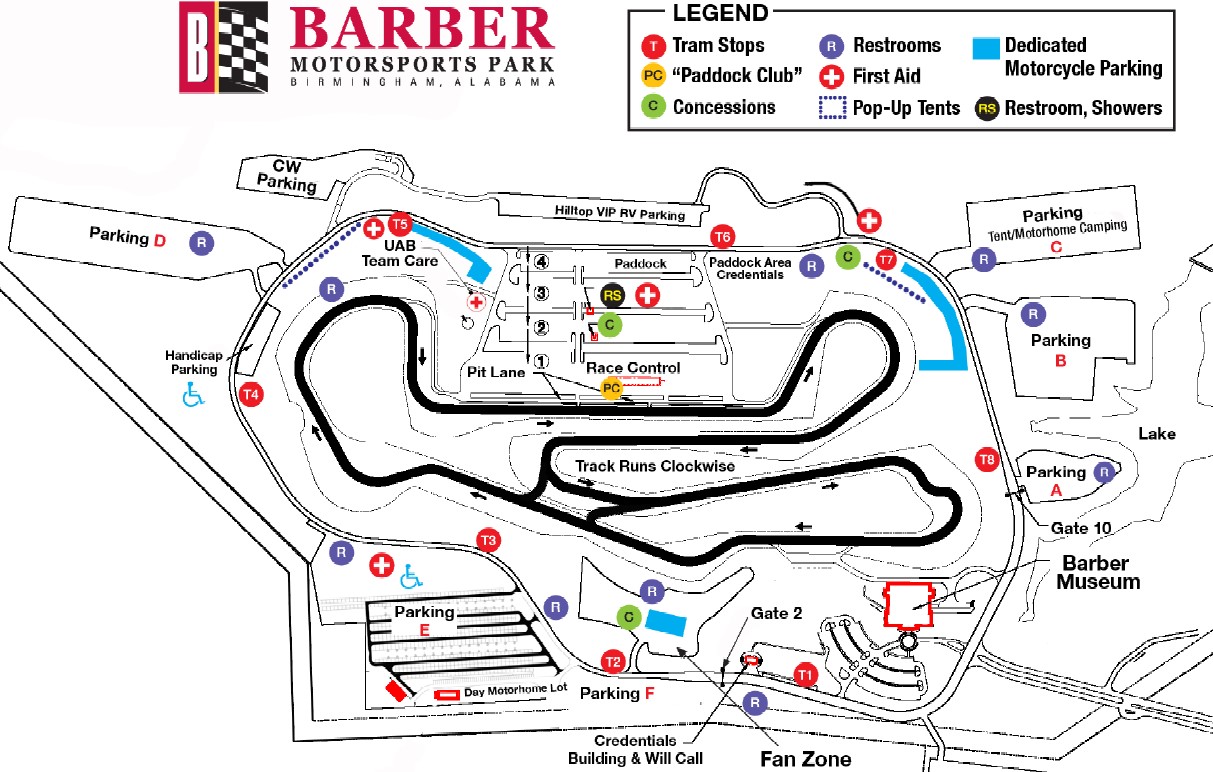 Barber Motorsports Park
The Indy Racing League's decision to bring its high-speed, high-tech, open-wheel cars to Barber Motorsports Park for three years starting in 2010 fills a scheduling void for the circuit in the Southeastern United States.
"We know there are lots of motorsports fans in the Southeast," Terry Angstadt, Indy's president for commercial affairs, said Saturday. "This fills in a nice spot for us in the Southeast."
The IRL will not formally announce its 2010 schedule until Aug. 1 at Kentucky Speedway, and some decisions about where to race still remain for America's premier open-wheel racing series, Angstadt said.
Barber – which will not have to make many adjustments to the 2.3-mile road course other than erecting debris fencing – will be one of at least two additions to the Indy schedule. The other is Brazil, which will open the season. Barber should be the third race on the schedule on April 11, after the street-course race at St. Petersburg.
Angstadt said the IRL, which features stars such as Danica Patrick and Helio Castroneves, is looking at a 17-race schedule in 2010, which means more than one track will be dropped next year. The Milwaukee Mile is a likely candidate because the promoter this year was unable to pay all the fees owed for Indy and NASCAR races (Homestead is rumored to be the other).
Angstadt said it's a "coin toss" whether Milwaukee stays on the schedule.
Barber will be the only Indy race of the year in much of the Southeast. After the circuit dropped Nashville from the schedule for this season, the closest Indy race to Birmingham will be at Kentucky Speedway outside of Cincinnati. The IRL also has races at Richmond, at Texas Motor Speedway in Fort Worth and in St. Petersburg.
The Barber race will be just two weeks before the NASCAR Sprint Cup race at Talladega Superspeedway, but Indy officials have said that's not a problem because Indy draws from a different fan base.
But the IRL also hopes that NASCAR fans decide to "sample our product," Angstadt said.
"We don't go after NASCAR," he said. "What we try to do is emphasize the unique elements of IndyCar racing."
Those elements, he said, are speed, technology and innovation, diversity and "green."
Indy cars are considerable faster than Cup cars, reaching speeds of 230 mph. They also sport the latest in electronics and aerodynamic technology. The sport is diverse in both nationality and gender, with three female drivers.
And it is also "green" in that IndyCars are powered by nearly 100 percent ethanol. The fuel is mixed with about 2 percent gasoline because otherwise it would be drinkable and would run afoul of the law. AL.com