7th Annual WIWC Awards Ceremony and Fundraiser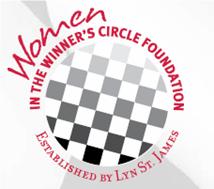 Race fans and racing dignitaries are welcome to attend the 7th Annual Women in the Winner's Circle Foundation (WIWC) Awards Ceremony and Fundraiser Thursday, July 23, 2009 at the Indianapolis Motor Speedway in the Plaza Hospitality Village Pavilion (located in the IMS infield directly behind the Pagoda) 4790 West 16th Street, Indianapolis, IN 46222. Parking is available in the media lot adjacent to the Plaza.
The awards ceremony is 1:30 to 3 p.m. and tickets are $100. Click here to register. At noon there will be media-only interviews and 12:30 to 1:30 p.m. a VIP Reception and Media Interviews/Photo Ops
The Women in the Winner's Circle Foundation (WIWC), a 501(c)(3) foundation, receives all net proceeds from this event. The WIWC Foundation was established in 1994 by Lyn St. James as an educational organization developing, mentoring and advancing women in the motorsports industry, especially women who aspire to become race car drivers. Project Podium is a matching-fund grant program of the WIWC Foundation.
Master of Ceremonies: will be Lyn St. James, Indianapolis 500 driver and Women in the Winner's Circle founder; and Jamie Little, ESPN/ABC NASCAR pit reporter.
Honorary Co-chairs: Cheri Daniels, Indiana first lady and Winnie Ballard, Indianapolis first lady
MEET: • Leadership Award (Tom Binford, former Indianapolis 500 chief steward) and Mildred Marcum Pioneer Award (Gertrude Crain, Crain Communications chairman emeritus) recipients awarded posthumously
• USAC Kara Hendrick Spirit Award winner
• Opportunity Award winners
• Project Podium grant recipients
• Over 20 Driver Development Program representatives including Melanie Troxel, NHRA driver; Sarah Fisher, IndyCar driver; and Jutta Kleinschmidt, 2001 Paris to Dakar Rally champion • Industry Leaders including Mike Helton, NASCAR president; Tom Compton, NHRA president; Kevin Miller, USAC president, Roger Edmonson, Grand-Am president