Indy Speedway has big expansion plans
UPDATE #7
Indianapolis Motor Speedway officials are in talks to move their Hall of Fame Museum from the interior of the oval to a spot just outside the south end of the track, an area that could also house a new Speedway hotel. An announcement could come as soon as early next year.
That move could fuel a flurry of commercial developments that Speedway town officials hope to start unveiling in the first quarter of 2009.
The museum move would be done in conjunction with the Speedway Redevelopment Commission's plans to revitalize the areas immediately south and west of the track and along Main Street in the town on the west edge of Indianapolis.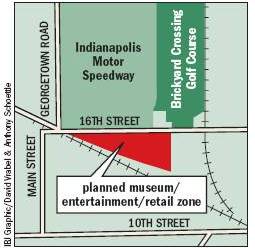 Planned expansion area
Speedway redevelopment officials want the museum and hotel to anchor an entertainment and retail district at the southwest corner of the track. The Redevelopment Commission's plans call for vacating parts of 16th Street and Georgetown Road to make it happen.
"At this point, with our hotel and museum, we're in serious discussions," said IMS Chief Operating Officer Joie Chitwood. "The hotel is a top priority. The museum now is in a great location, but who knows what the future holds. We're looking at all our options."
The new and expanded museum and Speedway hotel wouldn't be the only attractions in the area.
Moving the museum from the track's infield to a prominent place near a jazzed-up entrance would lift the image of the facility and dramatically increase traffic there, said Tim Frost, president of Frost Motorsports, a Chicago-based motorsports business consultancy.
"It's about visibility, and right now the Speedway's museum doesn't have any," said Frost, who recently completed a study on motorsports museums. "Unless you're seeking it out, you'll never see it where it is on the interior of the track. I think moving it to a more prominent location and into an enhanced space would be a tremendous benefit to the Speedway."
Moroknek thinks moving it to a more prominent location could make it as much a destination for locals and visitors as The Children's Museum of Indianapolis, the Indianapolis Museum of Art or the Indianapolis Zoo. "It would create a central gathering place for people visiting the track," Moroknek said. "And I think that raises a lot of other development possibilities."
While the Speedway's collection of cars is impressive, Frost said it's in need of a makeover.
"When you look at what NASCAR is doing with their new Hall of Fame in Charlotte, it may be time for the Speedway to make a move," Frost said. "There's a difference between a museum and a car collection. In today's environment, people are looking for more interactivity."
The $160 million NASCAR Hall of Fame being built now will include a theater, a restaurant, and office and meeting space. The museum scheduled to open in early 2010 will have more than three times the IMS museum's 30,000 square feet of exhibit space.
Museums are usually modest profit centers for tracks and race series, Frost said, but the exposure is invaluable. The IMS museum draws 250,000 visitors annually, about one-third during the month of May.
"By moving this facility to the outside of the track and creating a central place of activity, you make this a year-round attraction," Frost said. "I think it becomes not only a regional and national draw, but an international draw." More at IBJ.com
08/28/07 Despite continued questions and concerns from Speedway business owners and residents, the Speedway Town Council on Monday unanimously approved a plan designed to breathe life into the community.
The most dramatic of the proposed changes on the 400 acres south of the Indianapolis Motor Speedway would reroute roads and overhaul the Main Street business district.
Plans suggest angling eastbound 16th Street to meet a relocated Holt Road and closing Georgetown Road at 25th Street to form a linear park closed to vehicular traffic. During race events, that park also would open to vendors. The Georgetown Road closing drew most of the complaints from residents in attendance.
Those against the closing of Georgetown Road asked town leaders to instead shut it down only during race events. Despite the Town Council approval, parts of the plan still must be approved by the Metropolitan Development Commission, City-County Council and the Metropolitan Planning Organization.
The plan has drawn widespread support from town leaders and area businesses, including the Indianapolis Motor Speedway, to spur new investment and upgrade blighted areas. Local leaders estimate a $63 million total cost. Indy Star
06/20/07 We have been tracking this story for quite some time now. Speedway, IN leaders hope to embark on a new direction that calls for moving major streets, bringing in more retail and industry, and creating a racing-related theme to draw tourists and businesses.
"When (Speedway founder) Carl Fisher laid out his design for a 21/2-mile track and automotive industrial area here, I'm sure it was a bold concept at the time that people probably laughed at and never thought would succeed," said Speedway Redevelopment Commission President Scott Harris.
"After another 70 years, we have another bold vision."
Harris said the proposed road improvements alone could cost at least $20 million. Town officials hope to foster public-private funding but say they could sell bonds.
The public will be allowed to comment on the proposal at a redevelopment commission meeting in late July. Pending commission approval, any final decision would then be made by the five-member Town Council. Town leaders hope to have many of the changes in place by 2011, for the 100th anniversary of the 500-Mile Race.
The plan, in development for more than two years, has drawn wide support from the Town Council and area businesses, including the Indianapolis Motor Speedway.
Speedway's plan is the latest in a series of major improvements announced recently by Central Indiana communities. Within the past five weeks, Fishers proposed a new, $100 million town center that would include an outdoor pavilion, businesses and homes, while Greenwood unveiled plans to attract a 125,000-square-foot Cabela's outfitter.
On Tuesday, Speedway officials and planners from American Structurepoint showed more than 800 residents and business owners gathered at Speedway High School the master plan for 350 acres south of the racetrack.
Town officials launched the plan to overhaul the town's decaying Main Street, which has seen an exodus of businesses in recent decades, and to compete with cities such as Charlotte, N.C., and Daytona, Fla., for racing tourism dollars.
The most dramatic changes in Speedway's plan call for rerouting major streets and overhauling the business district along Main Street.
The intersection of 16th Street with Crawfordsville and Georgetown roads would be moved slightly northwest to form a new roundabout that aligns with Main Street. More at Indy Star
05/25/07 After 96 years, it might be time to move 16th Street away from the Indianapolis Motor Speedway, according to transportation planner John W. Meyers.
"We don't know of any other major track in the United States that has roads right up against it," said Meyers, who works for the firm HNTB Indiana. There's been little changes made to these roads since the first race in 1911," he added. "This is an opportunity for us to look at some long-term changes."
Speedway is exploring how it can make better use of the land near what many consider one of racing's holiest shrines. But not everyone likes the idea of moving roads around the track.
The future of 16th Street and other nearby roads is emerging as a key issue in Speedway, which is seeking to remake itself into a year-round racing destination.
Town officials in the coming weeks will unveil a plan to revitalize downtown Speedway and draw more racing-related businesses and tourists. Meyers helped conduct a transportation study near the track, funded through a $51,000 grant from the Metropolitan Development Organization.
That study suggests moving 16th Street and closing Georgetown Road between 16th and 25th streets to open up prime development space and improve traffic flow. More at IndyStar.com
WHAT'S NEXT
The final concept for Speedway's redevelopment plan will be presented at 6 p.m. June 19 at the Speedway High School auditorium, 5357 W. 25th St., Speedway.
• The plan: The announcement will include a variety of multimedia presentations to illustrate what people could expect after the redevelopment is completed, said Scott Harris, Redevelopment Commission president.
• Public comment: Once the final plan is unveiled, the community will have an opportunity to comment publicly, Harris said.
• Online: Go to www.redevelopspeedway.com to see some sample plans designed by Ball State University students.
10/08/05 This Indy Star article has a bit more news about this story we broke in early August. It's clear the Speedway is trying to come in under the radar screen on their expansion plans because many homeowners will be up in arms. 08/22/05 This Indy Star article has more on this topic. It appears the local residences are just as suspicious about what the city and the Speedway might be up to. Hillmer sees a Main Street in Speedway's future on par with Zionsville's. Others see racing-related businesses like a full-scale wind-tunnel south of the track. And some see moving Georgetown Road to the west a few hundred feet. Such a plan would move the street away from main-straight stands, which improves security, and gives the track room to grow.
The last option causes heartburn for many residents suspicious of the track and town's motives. They figure the town will take their property [Eminent Domain] and give it to the track.
"We just don't want to be blindsided," resident Trent Strader said while sitting in the American Legion Post 500 across Georgetown Road from the track. "We don't want to get rumors going, but we don't know what's going to happen."
If the town and track get up to speed, they'll need residents' cooperation to make it work. The legislature gave officials the green flag, now it's up to them not to crash in the first turn.
08/21/05 We refer you to this Indianapolis Business Journal article about the Speedway's expansion plans. Although this article does not mention it, our sources in Indy tell us, and we find it rather strange, that the City of Speedway, Indiana (where the track is located) is attempting to take property on the corner of Georgetown and Crawfordsville Road (Crawfordsville Road runs up to the NW at 45-degree angle outside of Turn 1) by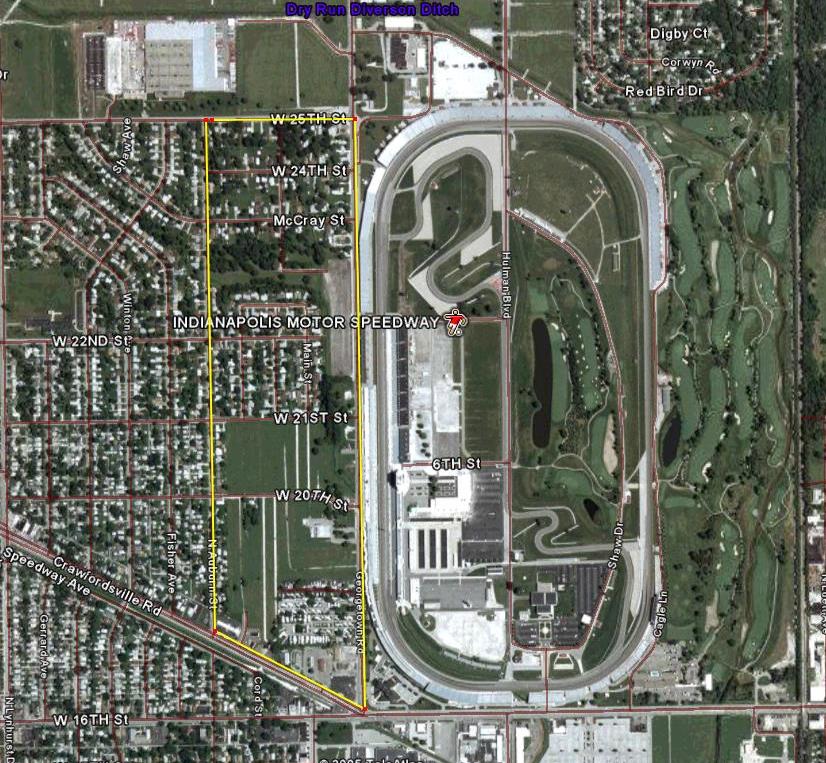 Eminent Domain. Our sources tell us that the town is in the process of starting the Eminent Domain smokescreen for the Speedway so they can in fact make the changes that Yahoo reported on but that Joie Chitwood is denying in this IBJ article (See area bounded by yellow outlined trapezoid in photo to the right. The width of that trapezoid is exactly 1/4-mile, which is exactly how far the Yahoo article reported that the City and the Speedway wanted to move Georgetown Road). We'll keep you informed as to what's going on behind the scenes in Speedway from our inside sources as we hear them. Mark C.
08/08/05 Indianapolis Motor Speedway officials have submitted a proposal to the city of Speedway for a major undertaking at the nearly 100-year-old facility. Plans call for a multistory hotel to be built across the street from the track on 16th Street, where there currently is a vacant lot used for parking.
Sources indicate that city and IMS officials are in negotiations on how tall the hotel will be. Also, when that hotel is completed, the current Brickyard Crossings hotel behind Turn 2 (see photo to right) will be torn down and replaced with a complex that will be a complement to the new hotel, complete with trackside suites and condos.
Plans also call for Georgetown Rd. to be moved a quarter-mile west. The speedway owns all the land on the west side of Georgetown Rd., and once that street is moved west new grandstands with suites will be built to replace the current aging grandstands on the west side of the front straightaway (see photo above, right). The new speedway area behind those grandstands will be used for hospitality and parking. The changes will nearly double the current 559 acres of land on speedway property.