Mario Andretti awarded Gold Medal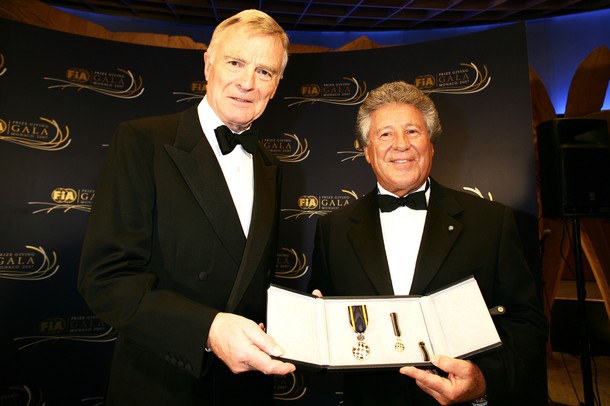 Max Mosley presents award to Mario Andretti
Mario Andretti was honored with an FIA Gold Medal at the governing body's end-of-year gala in Monaco on Friday. The medal is awarded to an individual who, either through exceptional success or outstanding effort, has made a substantial contribution to motor racing. Andretti joins an elite group of former winners including Michael Schumacher and Sir Stirling Moss.
The charismatic Italian-American is one of the most accomplished and versatile drivers in the history of the sport, having been successful in all its major disciplines. He is the only driver to have won the Formula 1 world championship, the Indianapolis 500 and NASCAR's showpiece Daytona 500.
In a career spanning a remarkable five decades, Andretti won races in sports cars, sprint cars and stock cars; on road circuits, ovals and drag strips; and on dirt and asphalt.
"I was full of pride when I learned I would be the recipient of the FIA Academy gold medal," said Andretti, who was presented his award by Prince Albert of Monaco. "This is a relatively new award but carries an extremely high level of prestige in motor sport and I'd like to thank the FIA Academy for acknowledging my part in racing history.
"To receive this gold medal 13 years after my retirement from the sport offers me a wonderful opportunity for reflection.
"Everyone knows that racing was my work, but also the absolute joy in my life.
"And it is the ultimate compliment to receive the gold medal, with the FIA Academy members looking back at my years in racing and finding them meaningful and worthy of recognition."
FIA president Max Mosley paid tribute to Andretti's breadth of achievement. "Mario Andretti is one of motor racing's true legends and is thoroughly deserving of this award," he said.
"He is perhaps the ultimate multi-discipline driver who has achieved success in every area that he has competed. "No one in the history of motor sport has had a career as long and as triumphant." ITV/F1