Montoya Causes Mayhem for NASCAR Stars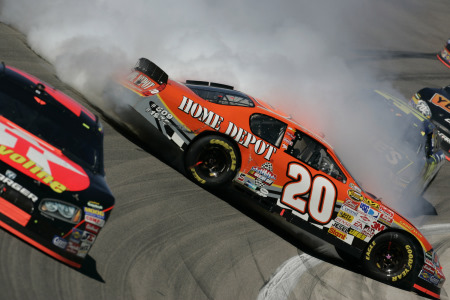 Taking out Tony Raines is one thing. Taking out Tony Stewart, Jimmie Johnson and Dale Earnhardt Jr. is something else entirely. Celebrated NASCAR rookie Juan Pablo Montoya sideswiped Stewart in Sunday's Samsung 500, starting a chain of events that first sent Johnson to the garage and later indirectly led to Earnhardt being taken out of contention.
CIA Stock Photo
The trouble started on lap 240 when Montoya, criticized for a wreck that hampered Raines' chances in the last race at Martinsville, slid up the track and into Stewart. Johnson had no choice but to run into Stewart during the resulting skid, badly damaging his front end.
Thirteen laps later, Stewart was desperately trying to stay on the lead lap when he lost control. This Stewart skid took out Earnhardt, who slowed quickly to avoid Stewart and was rear-ended hard by Kyle Busch.
Stewart ended up two laps down and finished 25th.
"I don't blame [Montoya]. You can't expect him to learn everything in four or five weeks," Stewart said. "He didn't make friends with me today, so he won't get any help from me in the future."
Montoya, the 2000 Indianapolis 500 champion who made the rare switch from Formula One late last season, took eighth for his third top-10 finish in seven races.
"I tried to pass him three or four times, and he never gave me room," Montoya said. "I went in a little different and got really loose, and I don't know what happened."
Said Stewart, "If we'd have been the one to do that to someone else, we would be slandered in the media for life for doing it." AOL Sports