Brian Scott Signs with Richard Petty Motorsports for 2016
Brian Scott will take over the wheel of the no. 9 Ford in 2016
Mike Mercurio/AR1
Richard Petty Motorsports announced their new driver for their no. 9 NASCAR Sprint Cup entry for the 2016 season, introducing former Xfinity Series standout Brian Scott at a media event on Friday at their shop on Mooresville, NC.
Scott, who spent the last six years racing in the Xfinity Series for such teams as Richard Childress Racing and Joe Gibbs Racing, will make his debut with next week in a Goodyear tire test at Homestead-Miami Speedway on Dec. 14.
Scott will replace Sam Hornish, Jr. behind the wheel of the no. 9 Ford Fusion in 2016. Scott has recorded 17 Sprint Cup starts and will make a run for Rookie of the Year in 2016.
"I am thrilled to go Sprint Cup Series racing full time next year and to do it with such an iconic team," said Scott. "When you think NASCAR racing, you think Petty. I'm glad to now be a part of that legacy
"I started dreaming about being a Sprint Cup driver a long time ago and I've always wondered what that would look like and what the future held, and never did I ever think that I'd get to drive for an iconic organization like Petty."
Scott finished eighth in points in the final 2015 Xfinity Series standings but had no idea of his 2016 plans until just a few days ago, when the deal with RPM came together.
"Honestly, this whole deal came together on Monday of this week," said Scott. "I went into the off-season really having no clue what the future held and giving some serious thought or trying to think about there's a real possibility that something might not come together and I might not be doing anything next year.
"It literally just all materialized. Everything lined up right and we had a really good meeting and everybody got pumped up and I think that we saw the potential in that room on Monday that led us to pull the trigger and come out the gates and hit the ground running."
Although no potential sponsorship was announced on Friday, Scott is rumored to be bringing financial backing from his family-owned Shore Lodge resorts. Team owner and seven-time Sprint Cup Champion Richard Petty said finding a driver would can work with sponsors – or bring sponsors with him – was key in signing with a driver like Scott.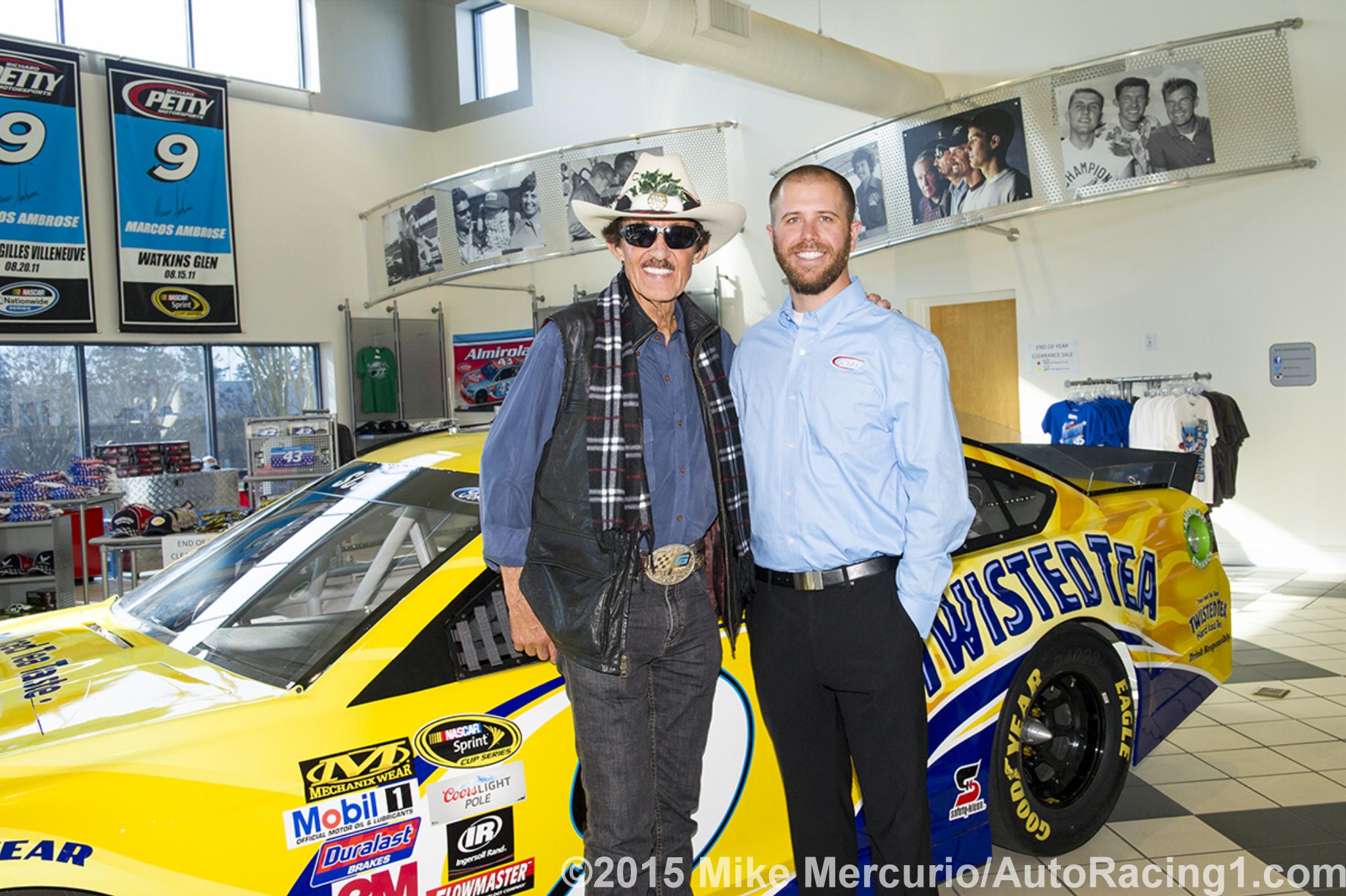 Richard Petty welcomed new driver Brian Scott on Friday
Mike Mercurio/AR1
"The better a front guy a driver is – working with sponsors, meeting the press – the easier it is for us," said Petty. "If he's a pretty good driver and pretty good (working with sponsors), it makes a good combination. The way NASCAR is and the way sponsorship is, you gotta be able to mingle with the people and make them feel good about it too. That's always been a Petty philosophy
"He's 28 years old – if he's ever going to do any good, right now is his prime time. He's had enough experience in dirt tracks and Xfinity races and running a few Cup races and just talking to him, we've seen he's got that burning desire that we're looking for."