Power holds off Pagenaud to win in Long Beach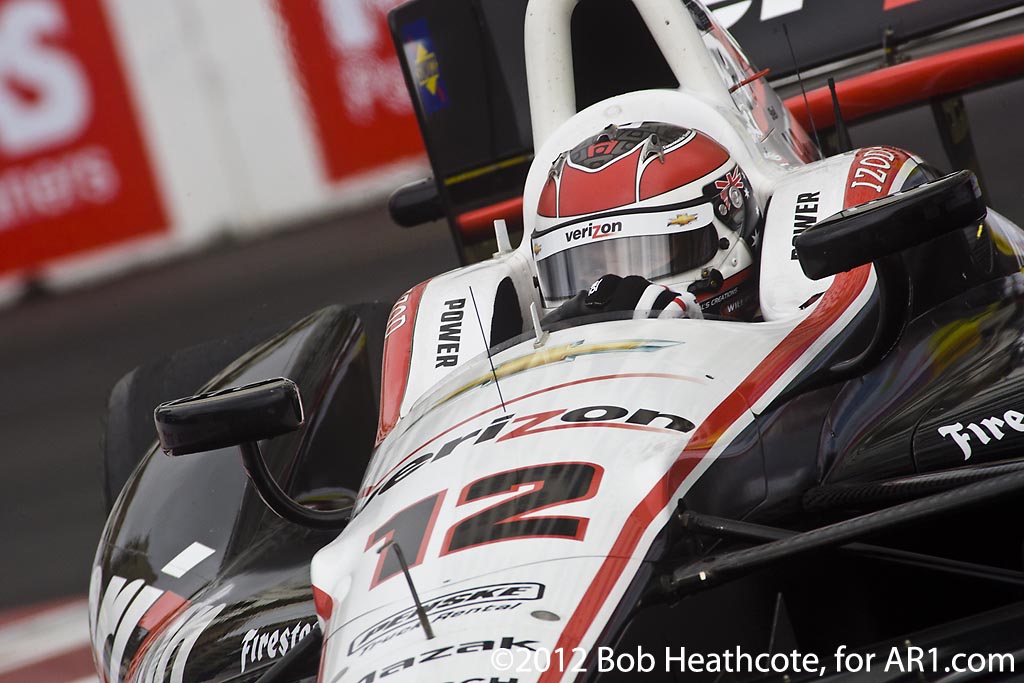 Will Power
Bob Heathcote/AR1.com
In one of the more entertaining races here in a long time, Will Power came from 12th starting position in his Chevy to win the Toyota Grand Prix of Long Beach by less than 1-second, holding off a fast closing Simon Pagenaud in a Honda. James Hinchcliffe came home in third after Ryan Hunter-Reay was penalized 30 seconds for avoidable contact with Takuma Sato's Honda who was in 3rd with one lap to go.
Despite all the Chevys being penalized 10 laps at the start they came back to take eight of the top ten positions.
Because of the Chevys starting toward the back, coupled with this year's better Firestone tires and the fact that the pits were left open during the caution periods, there was more passing up and down the field throughout the race, making this race perhaps the most entertaining for the fans that was ever run on the streets of Long Beach, all before a huge sun drenched crowd.
Much credit has to go to new Race Director Beau Barfield who is using what he learned in Champ Car to make IndyCar races better.
With Power on a two stop pit strategy and Pagenaud on a three stop strategy, Pagenaud had more fuel at the end, enabling him to cut into Power's lead by 1 second per lap. It was a race to the finish and with the crowd on its feet, Pagenaud just ran out of time to pull off the win. One more lap and he may have won this 85-lap event.
Afterward Pagenaud was rather nonchalant about his run. "When my team tells me to go as fast as I can I just put my head down and go as fast as I can. I don't think too much, I just go."
"After last week you can never say never," said Power from the Winner's Circle. "I thought it would be very tough to win the race. Once again good strategy we ran hard when we had to run hard. The end there we had to save so much fuel to get there, but I'm so happy for the Verizon guys and the Chevy guys. We worked hard we got a penalty and we overcame it. I've been trying to win this race for four years and now I've done it. That was just one of my best wins, I love it."
It was Power's 17th IndyCar win and 2nd consecutive of the year. And that moves Power into the point lead by 24 over his teammate Helio Castroneves.
Team Penske has won all three races this year. Power only led 15 laps but he led the most important one. Pagenaud led the most laps with 26.
It was the 5th win at Long Beach for Team Penske and the first for Will Power.
POST-RACE QUOTES:
WILL POWER (No. 12 Verizon Team Penske Chevrolet, winner Toyota Grand Prix of Long Beach): "It's a great day for the Verizon Team Penske Chevy. We really didn't think it was possible to win from 12th place here because it was a two-stop race, but once again with (strategist) Tim (Cindric), Dave (Faustino), my engineer, and all the boys we overcame a 10-spot penalty." (About Pagenaud bump): "When Pagenaud hit my tire, I thought he should have had a penalty for that. So I was happy beating him because I was kind of angry at him for ruining another one of my races." (About Pagenaud closing in on the lead in the final laps): "They told me (Pagenaud) was coming and that I had a four-second gap and just needed to save as much (fuel) as I could and then I ran hard at the end, the last lap or two, and it was enough."
SIMON PAGENAUD (No. 77 Schmidt Hamilton HP Motorsports, finished second): "It was fantastic. The car was great from the beginning. The guys, they did a great job running. We're a one-car team operation, we don't have as much data as Penske or Ganassi, but I'm glad we're giving them a good run for their money. One more lap, man, I would have tried I tell you."
JAMES HINCHCLIFFE (No. 27 Team GoDaddy.com Chevrolet, finished third): "The credit has got to go to Firestone. The tires that they bring here are letting us race, and it's mixing things up with different tire strategies. It was certainly exciting from where I was. I hope it was exciting for you guys in the stands, and thanks to all the fans that come out to the race because this is just one of the best events we go to all year bar none. The guys up in the stand were making all the right calls. I don't know, it's something about this race track that treats me well and I've been trying to get this first podium. We start in the front row and it doesn't happen. We start in the second row and it doesn't happen, and after Barber I said to myself, 'I bet $20 bucks my first podium comes in some bizarre circumstance where I start off in the teens,' and sure enough, here you go."
TONY KANAAN (No. 11 Mouser Electronics/GEICO KV Racing Technology Chevrolet, finished fourth): "Today coming from the back was a tough race but a good break for us. I mean, we didn't finish two races in a row so it was nice to finish this one. I'm very happy. I'm happy for the guys. Now let's go to Brazil – one of my favorite races."
JR HILDEBRAND (No. 4 National Guard Panther Racing Chevrolet, finished fifth): "I'm bummed for the Panther Racing National Guard guys. We had our own trials and tribulations throughout this weekend with getting the grid penalty and me slapping the wall in qualifying, which kind of screwed us for our grid spot, but I thought we had a good car. The guys made some changes for this morning and it really livened it up. We had good traction which is a big, big thing here. They just did a good job during the race. The team picked good strategy. We went with a two-stop and we had really good pit stops. I ended up having to save a little bit more than the guys around us at the end of the race because we had more laps on our tires. Since we pitted right there at the end we lost a couple of spots, but we're just stoked to be able to come from that far back in the field through good strategy and a few on-track passes and a good race car. So, we'll take this one and go to Brazil from here."
JUSTIN WILSON (No. 18 Sonny's BBQ Honda, finished 10th): "It wasn't the end to the day we would have liked it to have been. We had a great car that drove fantastic today. We lead the race early and I think our race strategy ended up not turning out the way we wanted it to. I was very pleased with what the No. 18 Sonny's Bar-B-Q team did to give me a great car today. We should have had a podium finish today, maybe even a win, but everything just didn't go our way today. I now look forward to Brazil and a good finish there."
JAMES JAKES (No. 19 Boy Scouts of America Honda): "Lots of positives for the weekend. I made a mistake going into Turn 1 and that cost me probably a top-10 finish today. The No. #19 Boy Scouts of America team did a great job giving me a very good car today to race. We will take the momentum of this weekend into Brazil in two weeks."
SCOTT DIXON (No. 9 Target Chip Ganassi Racing Honda): "Just unfortunate really to not be able to be brought back to pit lane and have the chance to get the car back in the race. The Target car was good and we had the first stop under our belts. It just died on track and we don't know why yet. The safety team did everything to get us back going but it wouldn't restart."
DARIO FRANCHITTI (No. 10 Target Chip Ganassi Racing Honda): ""We were on a two-stop strategy obviously and thought that would be the way the race played out. We had a mechanical issue at the end and that was it. Not the result we were hoping for with the Target guys and the 10 team today. We didn't have the car handling quite right, but we were still staying close to the front. We had four over-boost penalties on one restart, and Briscoe came across and damaged the front wing. After that we lost time making a wing change and to top it all had a mechanical failure."
ALEX TAGLIANI (No. 98 Team Barracuda/BHA Lotus): "New rule, as soon as it goes green you can pass. Obviously being in the back like that, as soon as it goes green I just jumped on the inside and passed Viso inside the hairpin, and coming on to the front straight away he just pushed me in to the wall. I guess he was upset, but he's the type of guy that gets disconnected sometimes, so it's unfortunate for the Bowers and Wilkins Barracuda team."
SIMONA DE SILVESTRO (No. 78 Nuclear Clean Air Energy Lotus HVM Racing Lotus): "Really disappointed. It wasn't a fun weekend at all. We had issues in practice and qualifying and only ran six laps total going into the race, so we were excited to be running such a great race. We had good pit stops and only 11 laps to go when we lost the engine, so it's really frustrating."
ED CARPENTER (No. 20 Fuzzy's Vodka Ed Carpenter Racing Chevrolet): "It feels good to finish a little better today. It was a tough day though for the Fuzzy's team. We didn't have the car we had at St. Pete. I felt like the race could have been different for us. I think we should have been waved around under yellow when the leader pitted. Unfortunately, we had to ask for a wave around and then the green flag was thrown less than a lap later. So I felt that cost a chance for a better finish. It's too bad we had to bring it to the officials' attention. We'll put this race behind us and pack up for Brazil now. We have an experienced crew for packing and traveling down there. It will be my first time in Brazil. So it will be completely new for me."
KATHERINE LEGGE (No. 6 TrueCar Lotus Dragon Racing Lotus): "Today was really disappointing because we had a number of issues. So, I really don't know what to say. The issues started from the beginning – we had some sort of problem right out of the box with the engine management. Then we ran over some debris on track, which ended up costing us a front wing. So, it just wasn't the day we wanted."
TAKUMA SATO (No. 15 Rahal Letterman Lanigan Racing Honda, finished eighth): ""I haven't seen the checkered flag yet this season. It was a very exciting race; right from the start — a hell of a race. We started from the primary Firestone tires and I was surrounded by drivers on alternate tires and it was a very hard situation for us but I kept the position. On the restart, I was overtaking and gaining positions and when I was on the alternate tires I was really pushing hard; passing Will Power and others and then I led the race. On the last stint we had to work on the fuel mileage and on the very last lap Ryan Hunter-Reay basically took me out. There was not enough depth on his overtaking maneuver. He had a chance for the last few corners so it's very disappointing to finish the race this way. Again we showed good performance and we will carry this good momentum to Brazil."
RUBENS BARRICHELLO (No. 8 BMC/ Embrase – KV Racing Technology Chevrolet, finished ninth): "Honestly I had a good race today. There were so many yellows the team used a strategy that had me saving fuel. Once we knew we were going to be short, I started to push hard. I would just like people to have more respect for each other on the track. I was hit on every side of my car. .Apart from that, I enjoyed myself today. To start so far back and finish in the top-10 again shows I am getting better and better, so hopefully I will have my best result two weeks from now in Brazil."
RYAN BRISCOE (No. 2 Hitachi Team Penske Chevrolet, finished seventh): "We just were stuck in traffic all day long. It's a real shame because I think we had the quickest car out there and we just couldn't do anything with it. We had a bad pit stop, the first one, and that put us way behind and from there we couldn't go anywhere. It was just a really frustrating day."
HELIO CASTRONEVES (No. 3 Auto Club Team Penske Chevrolet): "We were just trying to finish and there were two cars in front of me and Rubens, and Rubens was being, I think, a bit cautious and stopped the car and he stopped too much—to the point that I obviously touched him. My intention was never to pass him, but we ended up blocking the track."
E.J. VISO – No. 5 CITGO/PDVSA – KV Racing Technology Chevrolet): ""I am really disappointed with how the race went. I think we had a good opportunity this weekend because of the strong pace we showed in every session including qualifying where we were actually fifth before the penalty moved several cars back on the grid. In the race, we used a strategy that didn't work out the way we hoped. Then I had some bad situations occur in the race. On my first pit stop the entry to my pit was blocked by Graham Rahal. However, the main problem occurred when Alex Tagliani made a very dangerous move passing two or three cars heading into the hairpin turn which is a very awkward place to overtake. I saw what he was doing and moved out of the way, but he was sideways coming out of the hairpin and when I attempted to pass he blocked me and I hit his tire and he spun. Because of the contact I was given a drive through penalty, which I feel was very unfair. I want to thank my crew for all their hard work. They gave me a fast car this weekend and hopefully we have an even better one for Brazil."
RYAN HUNTER-REAY (Team DHL/Sun Drop Citrus Soda Chevrolet, finished sixth): ""I drove really, really hard all day, and it was a tough race. I had a lot of good racing today with a lot of different drivers. These kind of (fuel strategy) races are hard on a driver because I'm just out there pushing as hard as I can and I had no idea where we're at compared to the guys I'm racing. It's like a book with no ending, and I have to really trust my team. They had the right strategy and it's always an honor to drive such a fast car. (About contact with Sato): "I feel bad Sato ended up in the tires, but I knew he was saving fuel and I came up on him really fast. He let off early and when I went for the gap, he came across the nose. It's a shame because my team really deserved a podium finish. They did a superb job all weekend. It's frustrating to end on that kind of a note, but we're upbeat going to Brazil (the next race). Points are so critical each week, and we need to just keep pushing hard and scoring well each week."
JOSEF NEWGARDEN (No. 67 Sarah Fisher Hartman Racing): "I felt like I got alongside him, I gave him the inside lane and I just got touched there on the exit and went right into the wall. Maybe it wasn't the right move. The plan was if he was braking alongside of me I would have just given him the lane and tucked right in, but I thought I had a good run on him and a good jump on him, so you know it's one of the those tough break. I feel bad for the team if anything."
GRAHAM RAHAL (No. 38 Service Central Honda): "He wasn't going to make the corner no matter what, I think it slipped underneath me, he was going to shoot long how deep we were because he was already braking. It's just frustrating for everybody because the Service Central car felt really good. I was pleasantly surprised, I told you this morning that we were going to have a long day. The car felt really strong, and I was just trying to do laps. It's going to be really interesting to see how this plays out for the rest of the day though.
MARCO ANDRETTI (No. 26 Team RC Cola Chevrolet): "I feel for the guys. We put so much work in the RC Car and that was our stint to make hay, and we were trying to do so. There's one thing blocking, but there's another thing chopping. That was a chop."
Unedited Post-Race Q&A
WILL POWER
SIMON PAGENAUD
JAMES HINCHCLIFFE
THE MODERATOR: We are pleased to be joined by Simon Pagenaud Schmidt/Hamilton Motorsports. This is a career best finish for Simon, previous best career finish was fourth, which he did three times, Mont Tremblant, Toronto and Edmonton, which is also a best finish for team owner Sam Schmidt in the IZOD IndyCar Series. His previous best finish was with driver Jacques Lazier, which was third in Nashville in 2001. Simon, you certainly put on a show today, reeling in Will there at the end. Walk us through the race in those closing laps.
SIMON PAGENAUD: I don't really know until I watch the race to be honest what happened because it seems like it was a pretty cool race to watch. So I'm glad for the fans. I'm glad to be back in Long Beach. It's a place where I've been pretty lucky in the past with two wins in sports cars, so I love coming back here. The Schmidt/Hamilton racing team is just fantastic at the moment. I think we are a one car team, but we need to give a lot of credit to Sam and the whole team for putting such a program together. They're the strongest in Indy Lights with five championship wins, and here we are again with second position today in the IndyCar Series.
A lot of credit to those boys. HP is a big support for us with my new ride Best Buy, so thanks to them for giving us what we need to fight against Penske and Ganassi.
THE MODERATOR: We've also been joined by James Hinchcliffe of Andretti Autosport, James is also having a career best finish today. His career best finish was fourth, which he did several times at St. Pete, Long Beach, New Hampshire and Kentucky. In three starts this season James has yet to finish outside the top six. First podium. Walk us through today's race if you can.
JAMES HINCHCLIFFE: I don't know where to start. It was a bit of an eventful race, but man, I know from my seat it was certainly exciting. I bet it was from the outside, too. It's cool to see some exciting racing back in IndyCar. For us, clean start, didn't have the greatest first stint, kind of got held up behind E.J., he was struggling with the balance you could see, but ultimately it came down to the Andretti guys making the best calls on the pit stand. They've been doing that week in and week out this season. It's cool to have such a great team behind you supporting you and making those right decisions because that's what makes IndyCar racing so cool is you can start 16th and still have a crack at this thing if you play the strategy right. Credit to them. The GoDaddy car was strong right up to the end. I think my fastest lap was the second last lap of the race. Didn't quite have enough to catch Simon and Will, so congrats to them. I do feel bad for Ryan because obviously we finished fourth on track but with Ryan's penalty, and I only got there because of Ryan. He was punching holes left, right and center and I was just following him through for a lot of the race, so big thanks to him as well. Hopefully it's not the last time I get a trophy in this series.
THE MODERATOR: What is this we hear about seeing baby face Hinch in two weeks?
JAMES HINCHCLIFFE: Well, I may or may not have foolishly made a bet with Wade Cunningham and the best was my first podium I had to show up to the next race with a completely clean shaven face, and that's not happened since about 2004. So I guess in Brazil you're going to be seeing baby face Hinch show up, and I'm not thrilled about that.
Q. Simon, in your mind what was the biggest reason for your success today?
SIMON PAGENAUD: Every time he's around we have a blast. I hope we get to do many podiums together.
I think it's mostly my engineer and all the development they are doing is not by himself. He's got a few other engineers working with him, so Ben Bretzman, Nick Snyder and Brendon Cleave, those guys are really close together, and the fact that we're a one car team is actually not a bad thing because they're very focused on just my car and very focused on my feedback. So everything I'm asking, I get it.
So we just obviously it's taking us a little bit longer than those guys with three cars because we don't have as many data, especially this weekend with less sessions. But when we have a normal weekend, we can actually be with those guys because we have time to catch up.
When we don't unload from the truck really well, it's a little bit harder like it has been this weekend, but still, they make good decisions as you can see, and I think it's all about the right decisions at the right time, and I think that's what they're doing.
Q. Simon, not to pick on E.J. Viso, could have been any back marker, you had to have mixed emotions when you saw Will come upon him and slow down and then you had to realize you've got to get around him. What went through your mind at those two moments?
SIMON PAGENAUD: Well, I really thought I would have a go when E. J. Was there. I thought E. J. Did a good job. He did his best to get out of the way in the right place. There's not much else he could have done, really. I was hoping we was going to end up a little bit more, so it gave me some time, but I just needed one more lap or a little bit more pace. But to be honest, that's all I had, and I think it's plenty quick.
But it is what it is; sometimes you can make it happen, and sometimes you don't have the opportunity. But he knows we're coming.
Q. Simon, this is along the same lines because I know race control asked the car 5 and 6 to move over for the leaders, and it seems like car 5 took a while, at least a lap before he did so, and I know there aren't too many places around the track, but if he would have done it sooner do you think you could have challenged Will Power?
SIMON PAGENAUD: I don't know. With a lot of ifs, you could change the world. It is what it is at the end of the day. I'm really happy with second. If I had an opportunity, I would have definitely tried. You can trust me on that. The day I have the opportunity, I will try.
But I didn't have the opportunity, so I don't think I'll go end up (indiscernible) once again badly during the middle of the race, but that's another story. The others I think are doing a pretty good job.
Q. Simon, can you clarify for us, your car appeared to have the best view of the first lap incident. Did you think Dario made the contact with Newgarden?
SIMON PAGENAUD: That's going to start to be political now. To me it looks like Dario drove him into the wall, but that's just to me. I'm not in his car, I'm not in Josef's car. Again, I need to watch the race and then I could have a clear point of view. I think it's a little bit harsh for me to say what I said.
Q. The tire that you struck, was there somebody on your outside when you hit power's tire?
SIMON PAGENAUD: Actually, you know what happened, is when I got out of the pits I saw somebody coming in my mirror, so I tried to stay as far as I could on the inside to leave him room, but it was actually Will, but I didn't know it was him. So I did my best to stay on the right to avoid a contact with that car, and I touched the tire. Really sorry about any delay I could have caused him. But it's a tight pit lane.
Q. James, you get your first career podium. I'm wondering, are you celebrating it or you sort of got it by something happening in front of you.
JAMES HINCHCLIFFE: No, you certainly any competitor wants to earn it. I would have rather have done that pass on the track to get the first podium, to get any podium, to get anything. You don't like being given stuff like that. But at the end of the day, it's a function of racing, and it is what it is. Sometimes those things work for you and sometimes they work against you, so it all sort of balances out, and you just have to take these little things when they come.
Q. How does Long Beach compare to other races on the circuit?
JAMES HINCHCLIFFE: How does it compare? Long Beach is fantastic. I mean, this is a race that everybody looks forward to coming to every single year because it's selfishly from the driver's point of view the track is a lot of fun to drive. It usually produces really good races. And then from the fan point of view, the atmosphere, the environment, everything about this event is just so cool. It's been around 37 years now, and there's a reason for that 38 years now, I stand corrected, and there's a reason for that, still. And yeah, it's a favorite among drivers, it's a favorite among fans, and I love coming back here. It's always treated me pretty well. I wished we raced here three or four times a year selfishly.
SIMON PAGENAUD: Yeah, it's a great place with a lot of history. It's good to come to California, as well. It changes from Florida where we are all winter long. It's nice to be here, and to me, as well, has been a pretty good track to me. The fans, they show up with it's a pretty big crowd out there. As James said, there's a great atmosphere, great restaurants around, so it's cool for us to come over here.
Q. Simon, as the only Honda among the top seven after the penalty, is that kind of demoralizing to see that?
SIMON PAGENAUD: No, it's not. I think Honda is doing a great job. I think it's very tight with Chevy. But you know, Chevy has got teams like Penske and Andretti with six cars, so it's quite a bit of cars to beat, and they're very strong as a team. I think it's just the consistencies of the race. I think drafting the Chevy, I don't feel like we're doing. I don't feel like anything is better on their side. I just think it is what it is at the moment. But luck turns around, so we'll see.
Q. For both you guys, how did the new rules with keeping the pits open during some of the full course yellows affect your races?
SIMON PAGENAUD: Honestly, I don't know again. I need to watch the race. I just came back to the pit as early as possible when they said pit, pit, pit, and I tried to rush into the pit. I think it makes it better for the strategist. It shuffles everything, and you can we initially started to think we would do the race on two stops, and because of that we changed our plan. So I think it makes for good racing.
JAMES HINCHCLIFFE: Sort of like Simon said, I don't know exactly that's a tough question to answer without watching the race. But our strategy seemed to change lap by lap. It was pit in five laps, pit in four laps, pit in two laps, pit now. It's sort of a bit of a bouncing ball for us. I think what is cool about this new rule is that it's not a guarantee. Bo has the right or the prerogative to close the pits under a caution if it's a severe enough accident and he doesn't want people at speed trying to catch up or in pit lane. It just throws another element in there, another unknown, and I just think that's great for the racing, spices things up a bit.
Q. Simon, at what point after your second stop did your team tell you would or would not be able to make it, and did they tell you to go for it at that point because you were pulling out enough of a gap and you needed to close back the gap after your third stop?
SIMON PAGENAUD: Well, I asked them at some point where I was because I didn't know what was going on. I was just pushing as hard as I could with what they were saying. At the beginning of the race they said do this fuel mileage and you need to go as fast as you can so I was doing the fuel mileage and once we started thinking about the three stop strategy it was clear I had to push and not save fuel. So I pushed as hard as I could at the end when Will was behind me. I realized if he wasn't staying up with me, it's because he was saving fuel, so I knew he was going to the end and I wasn't, so I was trying to open up the gap.
I understood, but when the team is just telling me to go as fast as possible, I just go as fast as possible. I don't think that much.
Q. Have you ever closed on a leader like that before?
SIMON PAGENAUD: I did in 2010. I thought it was a repeat of what happened in MP1 in 2010 when I passed Adrian Fernandez in the last lap. I was hoping he was going to make the same mistake, but he didn't.
THE MODERATOR: We have now been joined by our race winner Will Power of Team Penske. This is the 17th career win for Will Power, his last win was two weekends ago at Barber. Will's last back to back victories came in Infineon Baltimore in 2010. This is his second victory at Long Beach. He previously won here at the Champ Car finale in 2008, and this is Penske's first win at Long Beach since 2001. Another great race for you. You said earlier never say never. Talk about overcoming that ten grid penalty to win today's race.
WILL POWER: Yeah, I think it came down to a good call in the beginning there to pit, and then obviously we had to save very good fuel throughout the whole race. So yeah, at the end I was very aware of Simon's strategy, especially after he passed Sato, of the gap and the fuel that I needed to get to the end. We saved enough fuel to be able to push for the last two laps, so I felt we were pretty safe. The only thing was the couple of back markers there on the last. That was the only thing that really concerned me. But apart from that it was just running as hard as I possibly could, getting a good lap time with high fuel mileage, and that was the key to the race.
Q. Two questions: Number one: How far in the field do you have to start before you won't win? And two, if you could talk about when you did come upon Viso, how much of a concern that was and how difficult it was to get around him?
WILL POWER: Yeah, it was difficult because whoever was in front of him, they almost got together in the hairpin, so when I got a run, it was I got a very slow run. Yeah, it was I mean, yeah, the guy was kind of in the way. I don't think it was deliberate or anything. I'm not sure his team informed him that the leaders were coming.
Yeah, what was your first question?
Q. How far back do you have to be in the field
WILL POWER: Yeah, pole. If you get on pole you won't win. We've experienced that a number of times here and many other tracks.
Q. Under the circumstances of the ten spot penalty, how much sweeter if at all is this victory at Long Beach versus the one you had in the 2008 Champ Car finale?
WILL POWER: You know, this was a very sweet victory because I've been on pole here I think '09, '10 and '11, and it just frustrated me that every year something would happen and I couldn't win. I thought, oh, once again this weekend I'm starting 12th. I felt as though that's impossible to win. I've got another bad year at Long Beach.
Yeah, I could not believe it. It was just a good race, pushed hard all the time, no mistakes, great strategy, just a great team effort again. Yeah, it is I go into every season thinking that there's no way I can win another race. I don't know why I feel like that, but I do, and that's always my I guess I have an insecurity or something or I don't believe in myself enough. Yeah, that's always my feeling
Q. Describe this race for you. We're used to seeing you attack if you have to make up positions, but today seemed to be something where you didn't necessarily attack the whole time and kind of played it smart knowing that you had a long distance to travel.
WILL POWER: Yeah, I passed when I could. Every time I could get a run, I passed. You know, I think that was the key to the victory was making those moves on Sato, I think James, I can't remember who else. But that was a key. And on those laps you use a lot of fuel, so then you've got to Tim is on the radio saying, you must save fuel. You have to use fuel to do that but then save extra to make up for the fuel that you used and get the lap time. So it was just a day of pushing as hard as I could while saving fuel. It was a good race like as far as passing and strategy and everything, again, two weeks in a row.
Q. Will, this morning the attitude of your team and yourself going into the race as to what your potential outcome could be, what were your thought processes?
WILL POWER: We were thinking top 5 would be a very good day for points. That's what we were thinking. You always believe that it is possible to win or get on the podium, but it was very unlikely, the fact that it was going to be a two stop race. But it was just amazing that Simon did three stops and I did two stops, like two different strategies. Obviously he could run hard the whole time and not save fuel, and I saved fuel and did the best lap time I could. And the result was very similar. There was hardly any time between us as we crossed the finish line.
It's just always a surprise in IndyCar, I think. You can never predict you can never assume going into a race. You just have to be smart as it plays out.
Q. Going into the race, how many laps, green flag laps, did you think you could make on a fuel run?
WILL POWER: Well, we were thinking 28. All I know, all I ask the team before every race is what lap number, if the radios go out, will I have to pit, if possible, and they said 28. What's two times 28? I don't know, whatever it is. On those laps you have to pit. I try to work that out in my head when the radios go out. What's two times 28?
Q. So you got 31, that's pretty impressive.
WILL POWER: Yeah, I think my engineer says it was amazing the lap time and fuel mileage I got. He said it was very good.
Q. The second question is what did you think of the pits being open immediately not from the standpoint of strategy but in terms of what the pit road looked like relative to open spaces? I know you had the problem with Simon, but basically it's a much cleaner entry and exit.
WILL POWER: It is, yeah, when you get but sure enough, there was a guy leaving the pit as we were coming in and they sent him right in front of me and then he hit my tire. I was kind of pissed off after that. I asked the team, did he get a penalty, and they said no. I couldn't believe it because I literally stopped for him as he left the pit, and I just knew that would happen, and I just go back to Kentucky when I lost the championship because of that, someone just sends it a team doesn't care, someone is coming and they just send them into you. But this time I preempted it, so I stopped, let him go, and then he hits my tire, so that screws that part makes a massively long stop. But I'm aware in pit lane now of I've lost two championships in pit lane because of things like that, so that's why I'm so keen on not getting in an incident.
Q. I believe there was a radio transmission as Simon was catching up to you and Tim said go faster but a little bit faster. How did you calculate that, and what's the danger of just getting involved in a fast lap and using too much fuel?
WILL POWER: No, I was very aware of I have a fuel number on my dash, and he gave me a number. I was very good at picking a number and understanding how much I've got so many different levels of speed and fuel that I can do, and I just slowly picked it up and just used a little bit more fuel, went in a bit deeper everywhere. It's just experience of fuel save, and yeah, just driving. That's where it's at, you know.
Q. About Barber, you thought that was one of the better IndyCar races in a long time. How did you think this one stacked up?
WILL POWER: I think just from what I saw there was a lot of passing and some very good passes in front of me. I didn't know what happened to Marco. It looked like in front of me there was a big crash. But it looked to me, the cars I passed and the passing that I saw, and even the start, I think Bo Barfield did a good job of getting everyone stacked up so it looked like a good start and good restarts, that people weren't going too early. Yes, it was very good racing, again, and I hope it was on TV. I don't know. I can only tell you what I saw.
Q. Both at Barber and here, drivers constantly say the tracks were difficult to pass, but at Barber there was passing like there's never been before, there was times they were three wide going through corners which they've never done before. Do you think this new car is making it possible to do things that you haven't been able to do in the past?
WILL POWER: I think it's the tires, and maybe the new car is quite draggy so it creates a big hole in the air and allows the car behind to get a good draft. But I think it's Firestone having a tire that between new and old there's a big time difference, and I think they can go more with that. That's definitely what it was in Barber, but here maybe just the draft effect made it a bit better, too.
Q. Speaking of the fuel mileage, on the cool down lap you stopped in the hairpin. Were you out of fuel?
WILL POWER: No, there was just a big stack up. No one told me to go the back way. Actually I had enough fuel to get around, no problem.
Q. The last two years you've come close to winning the championship and something happened at the end and you didn't do it. Do you feel like this might be your year?
WILL POWER: After the last two years, I just don't know. But all I know is I'm just going to do my absolute best at every race.
Q. You saved a lot of fuel, which allowed you to go quick at the end, but Simon was really, really closing down. How nervous were you in those closing laps with back markers and such?
WILL POWER: With three to go I had a four second gap or three and a half second gap. I wasn't worried because I knew I could at least run under a second from him. I could probably equal his lap time if I pushed really hard. We had saved enough fuel to run really hard for the last two laps if we had to. You know, I think it was at six to go, I had a six second gap, so I was very aware all the time. I knew how fast he was. I thought it was about a second a lap quicker, and I knew that we'd saved fuel, so on the last two laps we could push if it came to him being right on me.
Q. Penske is perfect on the season, three poles, three race wins. Why do you think that is and what's the mood of the organization?
WILL POWER: I think it's just that they've been probably one of the best prepared with the new car. We did a lot of miles. Chevy has worked very hard, and obviously our first hit of the year obviously the ten spot grid penalty was a precautionary thing and didn't affect us too badly, obviously. But yeah, to me it was hard work. I think whenever you're winning, the whole team feels very good. I think my guys feel very confident no matter where we start now that it's always possible. I think that's good for them. It's good for all of us. So yes, I think the team mood should be good because if it's not good now, it never will be.
How race unfolded
Lap 1 Newgarden tires outside of turn 1
Lap 4 restart Wilson around the outside of Franchitti at the start to take the lead. Wilson proceeds to pull away
Lap 10 Pagenaud passes Franchitti for 2nd. The Ganassi team reports Dario is saving fuel
Lap 12 Sato passes Franchitti for 3rd down the inside going into Turn 1.
Lap 13 Dixon passes Franchitti for 4th.
Lap 22 Restart and Sato leads over Hunter-Reay. Neither pitted.
Lap 23 Marco dives under Rahal but they make contact and Marco pirouettes through the air and into the tire barrier. Both cars are damaged and their day done. At the same time Katherine Legge goes into the tire barrier, Rubens Barrichello breaks his left front wing touching the car in front of him and Alex Tagliani is out with a broken left suspension after making contact with EJ Viso in the hairpin. Marco just proved that the rear bumper idea doesn't work. BTW, Dallara didn't crash test that thing.
Lap 27 Dixon is stalled on the track. Team cannot figure out why the engine lost power.
Lap 30 restart and Briscoe leads over teammate Castroneves and Tony Kanaan. Sato is 4th.
Lap 37 and Viso gets drive-thru penalty for avoidable contact with Tagliani
Lap 40 and Briscoe pits handing the lead to Simon Pagenaud with Justin Wilson 2.1 sec back in 2nd and Sato 2.9 sec. back in 3rd. Power and Jakes round out the top-5
Lap 47 and defending Long Beach champion Mike Conway retires with his Honda engine smoking.
Lap 47 and Pagenaud pits from lead handing lead to Sato who had passed Wilson.
Lap 49 and Will Power takes 2nd from Wilson down the inside of Turn 1
Lap 52 and Wilson pits under green dropping to 8th. Sato still leads and is on a 2-stop strategy and is Power.
Lap 56 Power pits and then Sato pits from the front
Lap 59 and Power passes Sato for 3rd, which means he should be leading when all stops are done. Pagenaud leads but he should need to stop again. Power is pulling away so fast from Sato one wonders if he is going to have to stop again.
Lap 70 Pagenaud pits from lead and returns in P4
Lap 76 Ten to go and Power leads Sato by 5.5 sec and Pagenaud by almost 7 seconds
Lap 79 and Pagenaud takes 2nd from Sato. Can Power and Pagenaud make it to the end though? Rob Edwards tell Pagenaud he is good to go. Pagenaud is gaining 1 second per lap on Power with 6 to go
Lap 81 and Pagenaud gains another second on Power
Lap 82 Pagenaud gains another second on Power and the lead is down to 3.5 sec
Lap 83 Pagenaud cuts lead to 2.6 sec. Cindric tells Power to go as hard as he wants now.
Lap 84 Pagenaud cuts lead to 1.08 sec on Power
Lap 85 Power wins by 0.86 sec to win from 12th place. Sato spins on last lap and loses 3rd to Hunter-Reay after contact between the two. Hunter-Reay is given 30 sec. penalty and finishes 6th. Hinchcliffe gets 3rd.
Results
| | | | | | | | | |
| --- | --- | --- | --- | --- | --- | --- | --- | --- |
| Pos | Car | Driver | Engine | Diff. | Gap | BL | Start | Comment |
| 1 | 12 | Will Power | Chevy | 0.0000s | 0.0000s | 1:09.8386 | 12 | Running |
| 2 | 77 | Simon Pagenaud | Honda | 0.8675 | 0.8675 | 1:09.5474 | 4 | Running |
| 3 | 27 | James Hinchcliffe | Chevy | 13.2719 | 12.4044 | 1:09.7493 | 16 | Running |
| 4 | 11 | Tony Kanaan | Chevy | 18.1951 | 4.9232 | 1:09.3541 | 19 | Running |
| 5 | 4 | JR Hildebrand | Chevy | 22.9947 | 4.7996 | 1:10.4542 | 20 | Running |
| 6 | 28 | Ryan Hunter-Reay | Chevy | 42.5631 | 19.5684 | 1:09.5509 | 13 | Running |
| 7 | 2 | Ryan Briscoe | Chevy | 1:40.1271 | 1:17.1324 | 1:09.6011 | 11 | Running |
| 8 | 15 | Takuma Sato | Honda | 1 LAPS | 1 LAPS | 1:09.9700 | 6 | Running |
| 9 | 8 | Rubens Barrichello | Chevy | 1 LAPS | 33.2348 | 1:10.3998 | 22 | Running |
| 10 | 3 | Helio Castroneves | Chevy | 1 LAPS | 0.6961 | 1:10.1583 | 18 | Running |
| 11 | 18 | Justin Wilson | Honda | 1 LAPS | 0.7227 | 1:09.3974 | 3 | Running |
| 12 | 19 | James Jakes | Honda | 1 LAPS | 15.5566 | 1:09.8024 | 14 | Running |
| 13 | 5 | EJ Viso | Chevy | 1 LAPS | 13.3852 | 1:10.3331 | 15 | Running |
| 14 | 20 | Ed Carpenter | Chevy | 2 LAPS | 1 LAPS | 1:11.5474 | 24 | Running |
| 15 | 10 | Dario Franchitti | Honda | 3 LAPS | 1 LAPS | 1:10.4393 | 1 | Running |
| 16 | 22 | Oriol Servia | Lotus | 3 LAPS | 1:18.9173 | 1:11.5342 | 23 | Running |
| 17 | 7 | Sebastien Bourdais | Lotus | 3 LAPS | 1:09.9538 | 1:10.3548 | 25 | Running |
| 18 | 83 | Charlie Kimball | Honda | 5 LAPS | 1 LAPS | 1:10.3944 | 9 | Running |
| 19 | 6 | Katherine Legge | Lotus | 5 LAPS | 2:07.2338 | 1:12.2718 | 26 | Running |
| 20 | 78 | Simona de Silvestro | Lotus | 11 LAPS | 5 LAPS | 1:11.0271 | 17 | Mechanical |
| 21 | 98 | Alex Tagliani | Lotus | 39 LAPS | 28 LAPS | 1:11.6757 | 10 | Mechanical |
| 22 | 14 | Mike Conway | Honda | 44 LAPS | 5 LAPS | 1:10.6370 | 7 | Mechanical |
| 23 | 9 | Scott Dixon | Honda | 58 LAPS | 14 LAPS | 1:10.5008 | 5 | Mechanical |
| 24 | 38 | Graham Rahal | Honda | 62 LAPS | 4 LAPS | 1:10.6618 | 8 | Contact |
| 25 | 26 | Marco Andretti | Chevy | 63 LAPS | 1 LAPS | 1:10.3022 | 21 | Contact |
| 26 | 67 | Josef Newgarden | Honda | 85 LAPS | 22 LAPS | 0 | 2 | Contact |
Race Statistics
Winners average speed: 88.021
Time of Race: 01:54:01.6082
Margin of victory: .8675 of a second
Cautions: 3 for 12 laps
Lead changes: 9 among 7 drivers
Lap Leaders:
Franchitti 1 – 4
Wilson 5 – 19
Sato 20 – 27
Hunter-Reay 28
Briscoe 29 – 33
Pagenaud 34 – 47
Sato 48 – 55
Hunter-Reay 56 – 58
Pagenaud 59 – 70
Power 71 – 85
Point Standings: Will Power 127, Helio Castroneves 103, Simon Pagenaud 100, Scott Dixon 96, James Hinchcliffe 95, Ryan Hunter-Reay 81, Ryan Briscoe 72, Graham Rahal 62, Rubens Barrichello 59, JR Hildebrand 57