Video: Hideous rear bumper on IndyCar fails to do its job
UPDATE
IndyCar vice president of technology Will Phillips told Autosport Magazine that the shallow angle and higher closing speed of Andretti's car relative to Rahal's contributed to the nature of the accident, but that it would have been more severe had the DW12's safety measures not been in place.
It's a bird. It's a plane. No it's an IndyCar
"The rear wheel guard was designed to reduce wheel-to-wheel contact. It can't eliminate it," Phillips said. "In this instance, it could not prevent it, but it mitigated what could have been a worse accident.
"In several instances during the race it did exactly what it was designed to do. In one instance, it was not able to completely prevent wheel-to-wheel contact."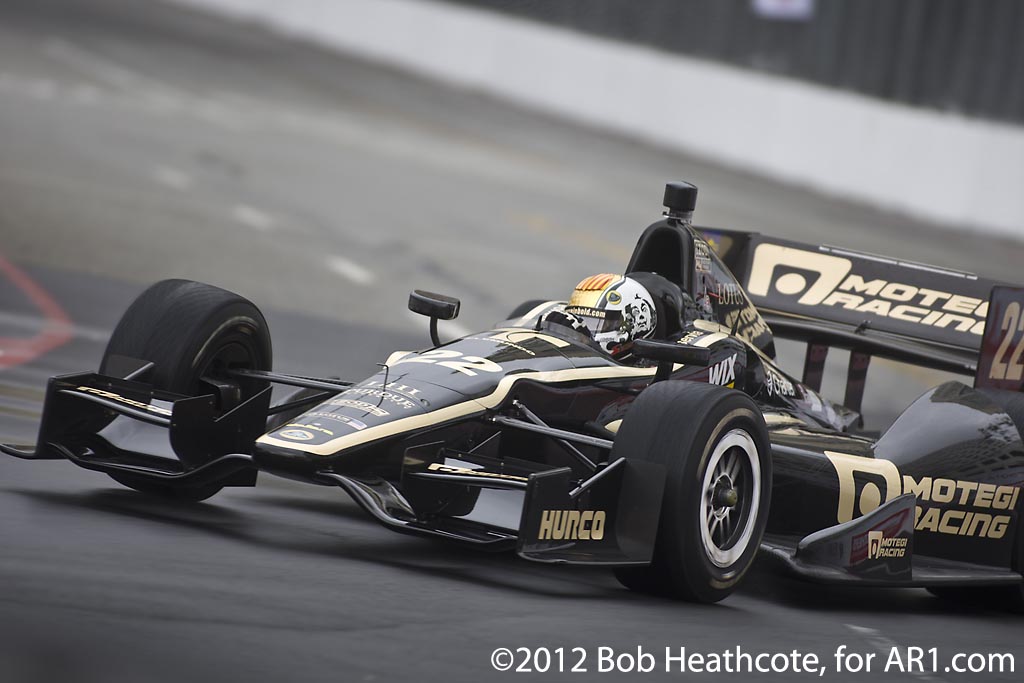 The horizontal plane of carbon fiber you see extending out under the sidepods increases the surface area of the underside of the car. Once air gets under this car, look for it to sail to new heights
[Editor's Note: There has been wheel-to-wheel contact at Long beach for over 30 years and the cars never got airborne. Now with the new wheel guard they do. So on a high speed oval like Las Vegas, Indy, Fontana, etc where the differential speeds can be much greater, we can expect to see cars flying through the air. And with the large horizontal plane of carbon fiber that IndyCar designed into the new Dallara to help with side-to-side contact – once air gets under the car it will act like a big sail propelling the car to new heights, literally. Will we finally see an entire IndyCar sail over the catch fencing and into the crowd?]
04/16/12 Part of the reason the new IndyCar is rear-end heavy is the rear bumper behind the rear wheels. This hideous looking appendage was added with the excuse it would prevent cars from riding over the rear tire of the car in front and getting airborne. Well as this Marco Andretti/Graham Rahal Long Beach video proves, IndyCar can now remove this useless appendage that only adds weight and cost to the car but does not prevent a car from getting airborne as intended. Can you imagine if this was Las Vegas 2011 – a high speed wreck at over 200 MPH (compared to the 75 MPH wreck in this video). Oh, and BTW, while they are removing the hideous appendage from behind the rear wheels, they may as well remove the even more hideous looking appendage in front of the rear wheels – that bubble of bodywork that makes the new car look like a Blowfish.