The build-up gets under way!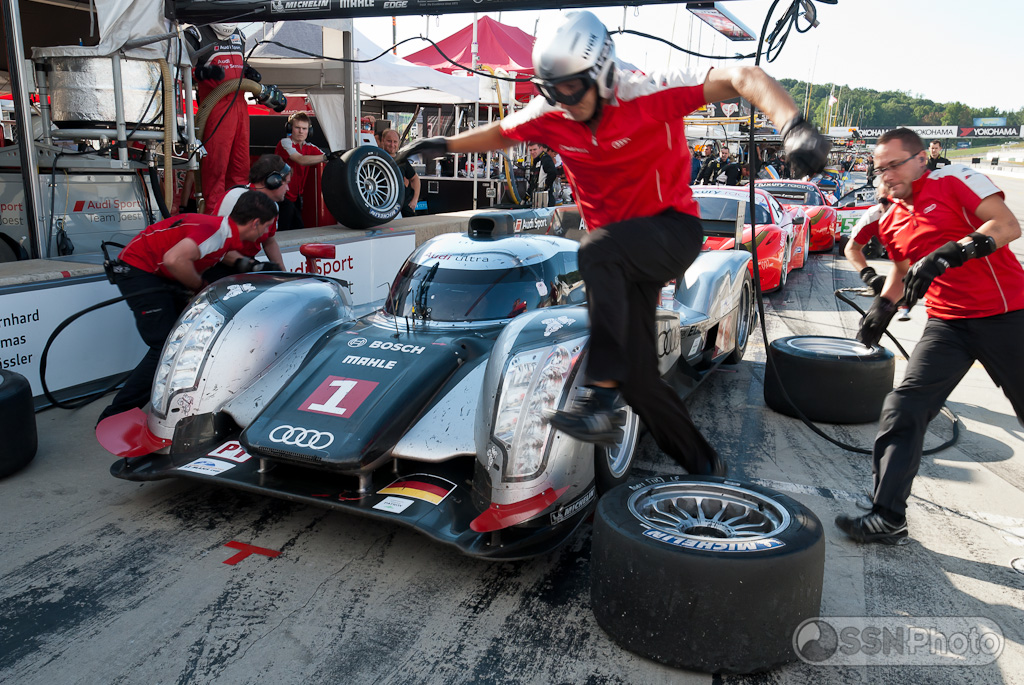 The Audi team practices pitstops
Adriano Manocchia/AR1.com
The Audi-Peugeot, Ferrari-BMW duels top the bill in the Petit Le Mans, which will be run this coming Saturday. Several other teams, though, will be out to prevent the four makes from clinching the titles in the sixth round of the 2011 ILMC.
The weather forecast is looking good for this year's Petit Le Mans. The violent storms that often hit the Atlanta region at this time of the year are not expected to upset the 14th running of the American event. In these conditions, there's a strong possibility that the record for the race, which dates from 1999, when the Panoz LM P1 roadster, entered by the circuit owner Don Panoz and driven by D.Brabham-Bernard-Wallace, covered the 1000 miles (1609 km) in 8h 56m 31s, will be beaten.
Saturday's race will tell whether or not the two favorites, Peugeot and Audi, will be able to achieve this feat. For the French squad what's at stake is very simple (and also very complicated!): namely, to clinch the LM P1 manufacturers' title in the second-last round of the 2011 ILMC. If Peugeot finishes Saturday's race with 13 points minimum (a second place), the French squad will add a second ILMC title to the one they bagged last year. And the Sochaux firm will be out to do so in style by scoring a hat trick of victories in the Petit Le Mans. Bourdais-Pagenaud-Pagenaud at the wheel of the no. 7 908 emerged quickest in the 2 days' practice on Sunday and Monday with a lap in 1m 08.291s.
Two Audi R18s making their first appearance on the North-American continent, will take on two Peugeots in the hands of the above-mentioned trio and Montagny-Sarrazin-Wurz. The German cars will be driven by Bernhard-Fässler-Dumas and Capello (5 Petit Le Mans victories, the record for the event) Kristensen-McNish. The German manufacturer holds the record for the number of victories in the Petit Le Mans (9), but has not won in Atlanta since 2008. To keep its ILMC title chances intact with one race still to go (the Zhuhai 6 Hours), Audi has but a single aim – victory!
But Peugeot and Audi should not forget the other entries in the LM P1 category, ready to pounce on the tiniest slip-up by the hot favorites. There are potentially many pitfalls, especially with the heavy traffic, in the Petit Le Mans. Oreca, winner of the Sebring 12 Hours, the first round in the 2011 ILMC, is back with its 908 HDi FAP. Aston Martin Racing has made its comeback with its Lola-Aston Martin last seen in 2010, and has again proved the car's potential by winning the Laguna Seca round of the ALMS 10 days ago. OAK Racing scored a promising third place in the Silverstone 6 Hours on 11th September, and Rebellion Racing, which wrapped up the Le Mans Series teams' title last weekend in Portugal, has entered a single Lola-Toyota.
There will be a ding-dong battle in the GT categories in this race as Ferrari, like Peugeot, can leave Atlanta with the 2011 manufacturers' title in LM GTE Pro. There are, however, many permutations, and it would be surprising if BMW, which can still throw a spanner in the Italian make's works, does not manage to put off the final showdown until the Chinese event. All the more so as the German M3s have a successful record in races in the USA with a double at Sebring in March, and the make has just won the American Le Mans Series title. Ferrari knows it's up against tough rivals and has entered three F458 Italias, two for Luxury Racing, and the third by AF Corse for the very quick duo Fisichella-Bruni already victorious twice this season, which will be up against 2 BMWs.
In LM P2 and LM GTE Am, the Signatech-Nissan and Larbre Competition teams can also clinch the teams' titles in their respective categories. But Signatech must keep a weather eye out for the new Honda Performance Development (HPD) entered by the American team Level 5 Motorsports for the first time, which can still put off the French squad's triumph. It is the same thing for Jack Leconte's outfit as Krohn Racing based at Road Atlanta is batting on home turf. The blue and green Ferrari F430 GT in the hands of Krohn-Jönsson-Rugolo will give the Bornhauser-Gardel-Canal Corvette a run for its money even though the French team enjoys the official backing of General Motors, which is much stronger in the USA.
Today's (Wednesday) opening practice sessions will provide a few pointers to the form of the different title contenders.
ROAD ATLANTA (USA)
The Road Atlanta circuit is in Braselton (Georgia, United States) and has been open since September 1970 when a round of the defunct CanAm Series took place there. It measures 4,088 kms and hosts a number of events for bikes and cars. Don Panoz bought it in 1996 and made it his home base for his motor sport activities, as well as giving it a major revamp. The first Petit Le Mans took place there in 1998 and became part of the American Le Mans Series when this championship was created in 1999. The Petit Le Mans is a race of 1000 Miles (1609 kms) or 10 hours maximum. The Road Atlanta circuit is a particularly challenging one with an average lap speed equivalent to that of Spa-Francorchamps (the 2010 pole average speed was 219,023 km/h), and the engine is under full load for 75% of the time, equivalent to Le Mans!
Circuit : Road Atlanta (Braselton, Georgie, Etats-Unis), 4.088 km long.
Free practice : Wednesday 28th September from 14 h 45 to 16 h 45, Thursday 29th September from 10 h 00 to 14 h 00, then from 14 h55 to 15 h 55, Friday 30th September from 10 h 15 to 11 h 15.
Qualifying : Friday 30th September from 14 h 40 to 15 h 45 (LM GTE Am : 14 h 40 to 14 h 55 ; LM GTE Pro : 14 h 55 to 15 h 10, LM Prototypes from 15 h 30 to 15 h 45).
Warm-Up : Saturday 1st October from 9 h 15 to 9 h 40.
Race : Start of the Petit Le Mans, Saturday 1st October at 11 h 30 – Finish after 1 000 miles or ten hours' racing maximum.
Entries : 58 cars including 25 in the ILMC.
ILMC field : 25 cars : 9 LM P1s, 3 LM P2s, 7 GTE Pros, 6 GTE Ams.
2010 podium :
1. Sarrazin-Montagny-Lamy (F-F-P), Peugeot 908 HDi-FAP, 1 000 miles (394 laps) in 9 h 10m 43.451s (av. speed : 176,93 km/h).
2. Gené-Wurz-Davidson (S-A-GB), Peugeot 980 HDi-FAP, 1m 01.681s behind.
3. Capello-Kristensen-McNish (I-DK-GB), Audi R15+, 2 laps behind.
Pole position 2010: Davidson (GBR), Peugeot 980 HDi-FAP, 1m 07.187s (av. speed : 219,023 km/h).
Press conferences:
Pre-race: Thursday 29th September at 12h30 – After qualifying: Friday 30th September at 15 h 50 ; Post-race: Saturday 1st October immediately after the podium ceremony, 21 h 15 approx.
The times given are in local time, six hours behind France.
The Petit Le Mans is the ninth and last round of the 2011 American Le Mans Series.
ILMC Classifications
(after the Silverstone 6 Hours)
Manufacturers
LM P1 : 1. Peugeot, 153 pts ; 2. Audi, 108.
LM GTE : 1. Ferrari, 128 pts ; 2. BMW, 107 ; 3. Porsche, 84 ; 4. Corvette, 75 ; 5. Aston Martin, 12 ; 6. Lotus : 10.
Teams
LM P1 : 1. Peugeot Sport Total, 81 pts ; 2. Audi Sport Team Joest, 74 ; 3. Team Oreca Matmut, 34 ; etc.
LM P2 : 1. Signatech Nissan, 68 pts ; 2. Level 5 Motorsports, 42 ; 3. OAK Racing, 41.
LM GTE Pro : 1. AF Corse, 83 pts; 2. BMW Motorsport, 74 ; 3. Luxury Racing, 20 ; etc.
LM GTE Am : 1. Larbre Competition, 65 pts ; 2. Proton Competition, 37 ; 3. Krohn Racing, 35 ; etc.