Mazda and BP introduce advanced biofuel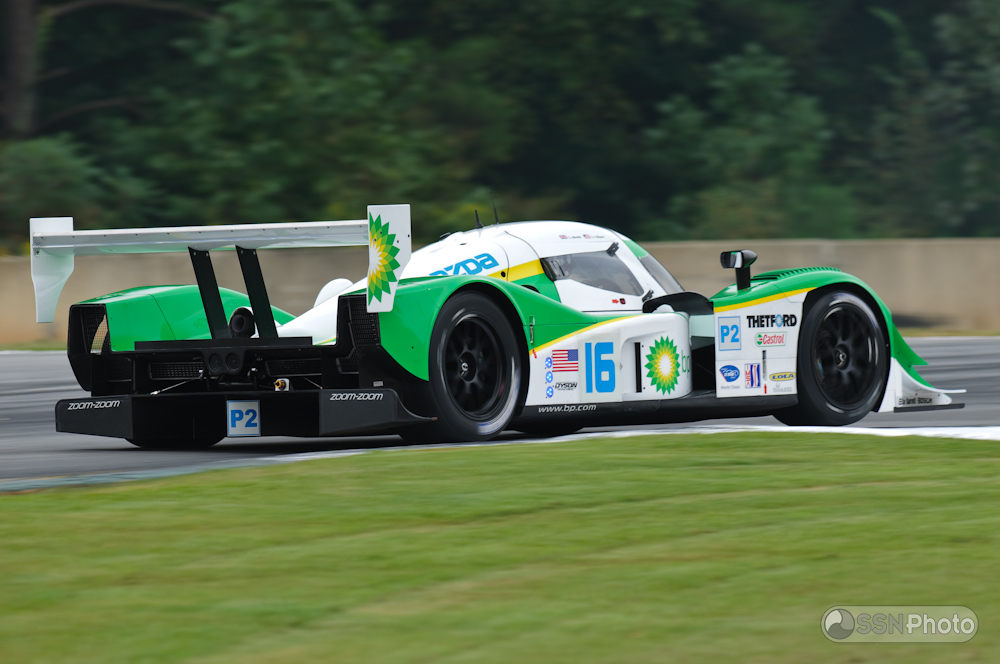 BP Dyson Lola Mazda
In the ongoing rolling technology showcase that is the American Le Mans Series, MAZDASPEED Motorsports Development, Dyson Racing and their primary Series sponsor and technical partner, BP, will fuel one of their Mazda MZR-R-powered Lola coupe racecars with a fuel combining both ethanol and biobutanol – an advanced biofuel that BP is developing with its partner DuPont – in the 12th annual Petit Le Mans powered by MAZDA6.
"This weekend's debut of an ethanol and biobutanol blend in our American Le Mans Series race car is the perfect example of the technical relationship between Mazda and BP," said Robert Davis, Senior Vice President, Product Development and Quality for Mazda North American Operations, and the man responsible for the company's North American motorsport programs under the MAZDASPEED Motorsports Development banner. "Advanced biofuels such as biobutanol, along with the choice to use a production-derived 2.0-liter turbocharged MZR-R engine, shows the commitment that both Mazda and BP have to bringing clean, efficient, environmentally sensitive technologies to motorsports, and using motorsports to improve those products before we offer them for sale to the general public."
In order to continue development of the advanced biofuel in a racing environment, Dyson Racing will run one of its cars using the standard Series-approved fuel (car 20), and the other (car 16) on biobutanol. Through open and ongoing discussion between Mazda, American Le Mans Series technical personnel and other participating teams the gasoline, ethanol and biobutanol-blend-fueled car (car 16) will not participate for Series points during the Petit Le Mans weekend.
BP is a leading energy company with significant investments in advanced biofuels. It is looking for opportunities in biofuels that make both a contribution to energy security and a material reduction in greenhouse gas emissions compared with conventional fuels. BP is committed to using economically and environmentally sustainable feedstocks and is developing new technologies to make good biofuels even better. Participation in American Le Mans Series competition offers BP a unique opportunity to produce new fuels and biofuel components, as well as demonstrate the performance of these fuels.
Headquartered in Irvine, Calif., Mazda North American Operations oversees the sales, marketing, parts and customer service support of Mazda vehicles in the United States, Canada and Mexico through more than 850 dealers. Operations in Canada are managed by Mazda Canada, Inc., located in Ontario, Canada, and in Mexico by Mazda Motor de Mexico in Mexico City.
Biobutanol facts:
Biobutanol shares many of the environmental advantages of ethanol and has additional benefits, including:
Blends into gasoline at higher concentrations than ethanol without the need to modify vehicles.
Offers excellent fuel economy that is close to that of gasoline.
Can be used alongside ethanol to help improve the performance of ethanol/gasoline blends.
Can be used in existing gasoline (petrol) supply and distribution channels, eliminating the need for expensive infrastructure investments.
Production:
Can utilize a variety of conventional feedstocks (such as sugar cane, corn, wheat and sorghum), supporting global implementation.
In future, biobutanol can be produced from cellulosic feedstocks, including fast-growing energy crops (e.g. energy grasses) or agricultural by-products (e.g. corn stalks).
Environmental Benefits:
Initial indications are that, on the same feedstock basis, biobutanol delivers emission reductions that are at least as good as ethanol.
Biobutanol's low vapor pressure (lower than gasoline), means that vapor pressure specifications do not need to be compromised leading to higher VOC emissions.
The 12th annual Petit Le Mans powered by MAZDA6 on Saturday, September 26 is the American Le Mans Series' cornerstone event at Road Atlanta in Braselton Ga. The green flag for the 1,000-mile/10-hour endurance classic is scheduled for 11:15 a.m. ET with SPEED airing live television coverage starting at 11 a.m. ET … rain or shine! American Le Mans Radio presented by Porsche and Living Timing & Scoring will be available on Racehub at americanlemans.com. Live coverage also can be heard on Sirius 126 and XM 242. You can follow the Series on Twitter (almsnotes) and on our Facebook page.
The race will also mark the ninth round of the 2009 MICHELIN® GREEN X® Challenge. Tickets are available at americanlemans.com and roadatlanta.com.