My favorite NASCAR racing story of 2010
So, it's that time of the year again. The time for rewinding the 2010 racing season and taking a second look at all of the fun, and in some cases exasperation, we had during the previous year. Recapping the entire season's highlights is a daunting enough challenge. I soon discovered that the task of picking just one story was almost impossible.
Let's face it, NASCAR racing fans were treated to a very exciting 2010 season. There is a huge list that would easily qualify for favorite story of the year. Some of them include:
Jimmie Johnson's historic fifth consecutive championship.
January's announcement from NASCAR that said "have at it boys."
The aftermath of that announcement which gave us "Bad" Brad versus "Cousin" Carl.
The boxing match between Jeff Gordon and Jeff Burton although I still say I've seen better fights between girls in cocktail lounges.
There is of course Kyle Busch versus just about anyone you want to name. From threatening to kill his teammate, at the All Star Race in Charlotte, to his one finger salute at a NASCAR official, at the Texas Motor Speedway, NASCAR's rowdy one was frequently the source of Monday morning water cooler conversations.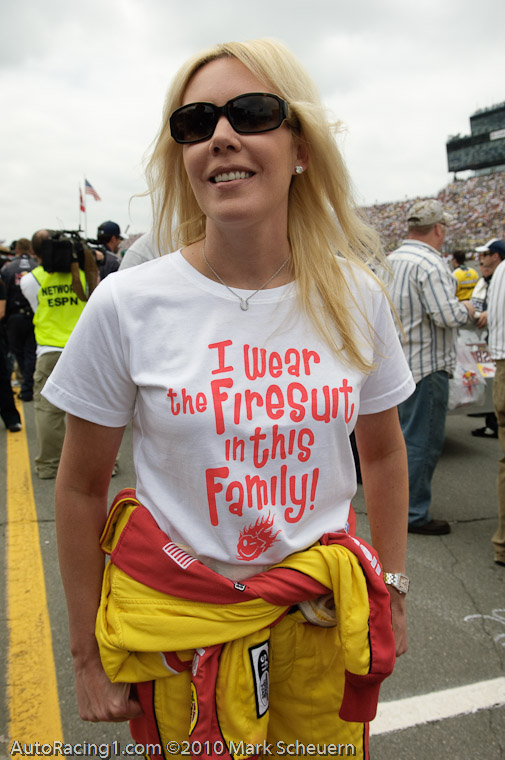 DeLana Harvick – She wears the Firesuit in the her family
Again, the list of potential favorites is lengthy. But it was the source of inspiration that led me to choosing just one favorite story that completely surprised me. During a recent trip to a Wal-Mart store, to do some Christmas shopping, I happen to notice a young lady wearing a T-shirt that read "I WEAR THE FIRE SUIT IN THIS FAMILY."
It was, of course, the creation of DeLana Harvick the wife of Sprint Cup driver Kevin Harvick as well as the co-owner of Kevin Harvick Inc which fields racing teams in NASCAR's Nationwide and Camping World Truck Series. Seeing that shirt was a reminder of how much I admired the story behind its initial creation and marketing.
The details behind this special T-shirt dates back to the NASCAR Sprint Cup Series race held at the Pocono Raceway this past June. In the final moments of this race there was contact between the cars being driven by Kevin Harvick and Joey Logano The Logano Toyota went into a long slide and a top five finish turned into 13th. Harvick kept his Chevrolet under control and finished fourth.
After the race a remarkably calm Harvick said "he just races without giving people and respect and not much room. So, we just wound up getting together. It's unfortunate, but that's the way it goes."
Needless to say Logano had an entirely different point of view. The angry young driver parked his car alongside of Harvick's on pit road. At the encouragement of his father, Tom Logano, he attempted to lunge towards his adversary but that effort was blocked by a member of Harvick's pit crew.
During the course of a live television interview, Logano said "I don't know what his problem is with me but it's probably not his fault. His wife wears the fire suit in the family and tells him what to do. It's probably not his fault."
Like many of you I was watching the broadcast and my immediate reaction to Logano's comments was "that's low and extremely out of line." It's understandable that Logano was upset but you keep the focal point of anger at the individual who caused it. To lash out at another driver's wife, who had nothing to do with the situation, is highly inappropriate.
Logano had to endure both criticism and teasing in the aftermath of his remark. That included a rather humorous "Twitter" message from Kevin Harvick who wrote "after his TV comment I don't know if he wants to fight me or DeLana. My money's on her."
Regarding any possible response to Logano's comment, DeLana Harvick certainly had options. There were plenty of media members at Pocono that day with television cameras, radio microphones and tape recorders. Everyone of them would have loved to record her thoughts on the matter.
But DeLana Harvick had a much different approach and it turned out to be a move steeped in brilliance. She contacted a T-Shirt manufacturer and commissioned the creation of the now famous "I wear the fire suit in this family" logo. The shirts were sold, through the Kevin Harvick Inc website, at $15 with proceeds benefiting the programs supported by the then recently established Kevin Harvick Foundation. The response from female NASCAR fans was immediate. The initial run of the T-shirts, reported to be in the hundreds, were sold out within a period of 48 hours.
Like many modern day NASCAR personalities, the Harvicks wanted to share the blessings from their racing endeavors by championing worthy social causes. That was the catalyst behind the creation of the Kevin Harvick Foundation which they launched earlier this year. The foundation's creed states: "dedicated to the support of programs that positively enrich the lives of children throughout the U.S."
A prime example of their work was presented last October. Visiting his native Bakersfield-California, Kevin Harvick set up a full academic scholarship fund to benefit one student-athlete at Cal State Bakersfield College for the next 12 years.
Yet another example occurred on the evening of December 16th when the Harvicks, along with a local radio station, presented the Christmas For Kids Concert at a Winston Salem-North Carolina night club. The evening featured country music star Sara Evans along with singer Bridgette Tatum and NASCAR personality Kyle Petty. The special evening was a charity toy drive benefiting area foster children in conjunction with the Foster Friends of North Carolina.
For more information regarding the youth orientated activities of the foundation, including how to purchase the fire suit T-shirt, dial up their official website at www.kevinharvickfoundation.org. I think you'll be as impressed as I was.
Finally a tip of the racing hat to that Wal-Mart shopper for reminding me how much I loved this story and why it's my favorite for the 2010 season.