Dakar Stage 9: Sainz clings on to lead, Peterhansel wins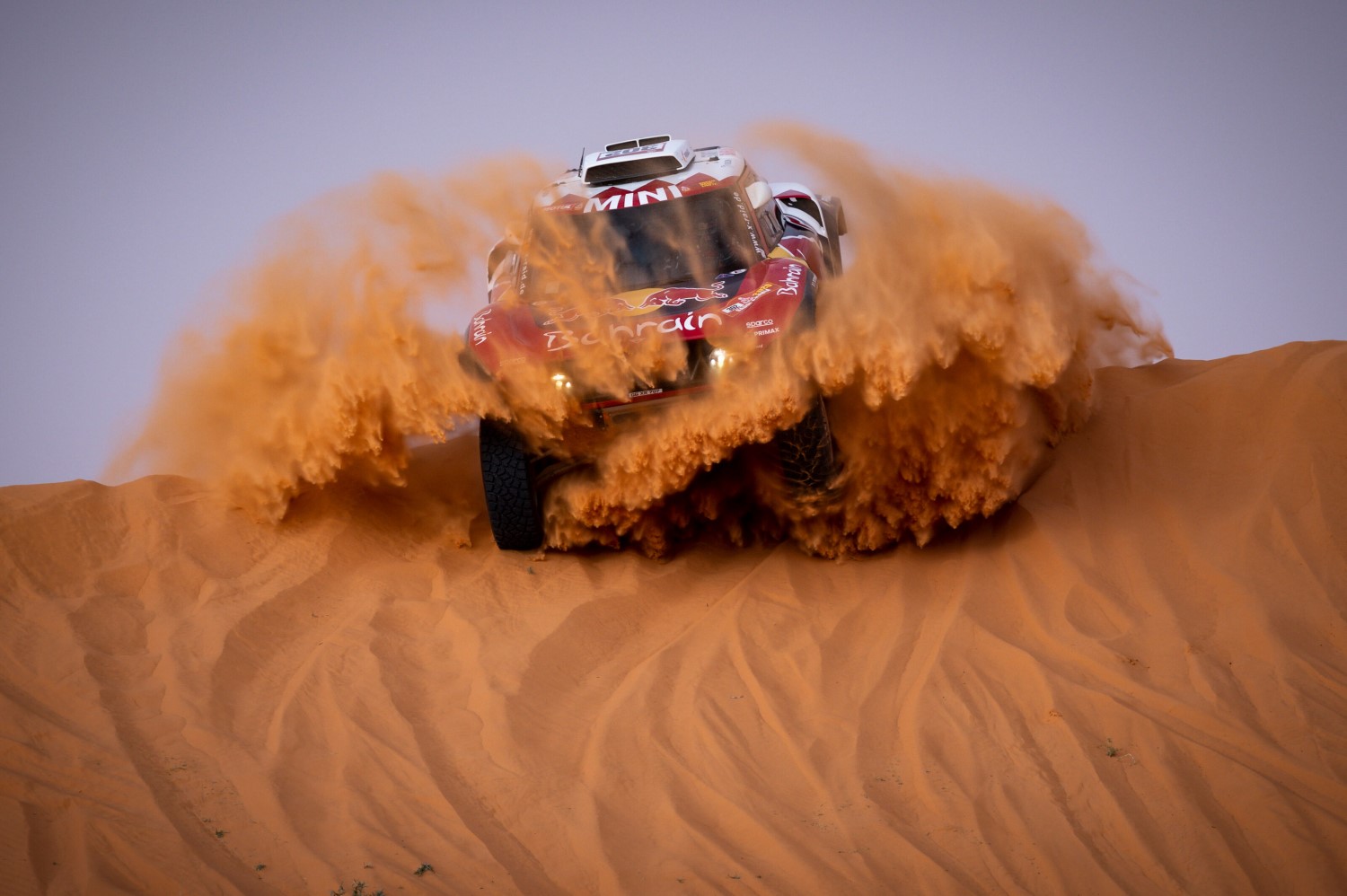 Stephane Peterhansel
The Dakar Rally continues to head towards the east of the Arabian peninsula with the camp for the ninth stage situated in Haradh. The assistants will remain at this point for the coming three days – the final bivouac before the rally concludes in Qiddiyah.
Defending Dakar champion Stephane Peterhansel won his third stage of the 2020 Dakar Rally, as Nasser Al-Attiyah cut rally leader Carlos Sainz Sr's lead to almost nothing.
The 296-mile Wadi ad-Dawasir – Haradh stage saw Al-Attiyah finish just 15 seconds behind stage winner Peterhansel, the Toyota driver slashing Sainz's lead in the marathon down to less than a half a minute.
The gap between Sainz and teammate Peterhansel, meanwhile, has been halved and now stands at 6m38s.
Alonso Changes his tire
Bikes
[adinserter name="GOOGLE AD"]Riders were out bright and early from the Wadi Al-Dawasir camp to complete the 376-kilometer liaison section which took them to the start of the 410-kilometer timed special. In store today were very hard track and tough navigating up until the refuelling point, followed by sand tracks and even some dunes. A final link section of 100 kilometers brought the riders back to the bivouac at Haradh.
On today's stage the top contenders for the victory registered very close times.
Pablo Quintanilla took his and Husqvarna's first stage win of the 2020 Dakar Rally as overall leader Ricky Brabec gave up fewer than four minutes of his advantage.
Joan Barreda, who caught up with Benavides in the final kilometers, clocked the day's third fastest time, with a very narrow gap from the riders ahead in the general standings. The Spaniard, who moves up into fourth spot, will be heavily involved in the battle for the Dakar 2020 podium.
Ricky Brabec managed the gaps at the head of the field extremely well. On the day, the American Monster Energy Honda Team rider finished fourth, which rewards him with a favorable starting position tomorrow, having conceded very little time in the stage today.
Argentinean rider Kevin Benavides, winner of the previous stage, having been lumbered with having to open the track for a greater part of the day, did however, manage to set a swift pace to finish in sixth place just six minutes off the eventual winner.
Car Results Stage 9 (Top-10)
| | | | | |
| --- | --- | --- | --- | --- |
| POS | DRIVER | TEAM | CAR | Time/GAP |
| 1 | Stephane Peterhansel | Bahrain JCW X-Raid Team | Mini/BMW | 3h08m31s |
| 2 | Nasser Al-Attiyah | Toyota Gazoo Racing | Toyota | 0m15s |
| 3 | Yasir Saeidan | Race World Team | Mini/BMW | 4m48s |
| 4 | Jakub Przygonski | Orlen X-Raid Team | Mini/BMW | 6m23s |
| 5 | Carlos Sainz Sr. | Bahrain JCW X-Raid Team | Mini/BMW | 6m31s |
| 6 | Yazeed Al-Rajhi | Overdrive Toyota | Toyota | 8m22s |
| 7 | Bernhard Ten Brinke | Toyota Gazoo Racing | Toyota | 8m30s |
| 8 | Giniel de Villiers | Toyota Gazoo Racing | Toyota | 11m16s |
| 9 | Fernando Alonso | Toyota Gazoo Racing | Toyota | 13m03s |
| 10 | Orlando Terranova | X-Raid Team | Mini/BMW | 13m10s |
Car Standings After Stage 9 (Top-10)
| | | | | |
| --- | --- | --- | --- | --- |
| POS | DRIVER | TEAM | CAR | Time/GAP |
| 1 | Carlos Sainz Sr. | Bahrain JCW X-Raid Team | Mini/BMW | 35h11m54s |
| 2 | Nasser Al-Attiyah | Toyota Gazoo Racing | Toyota | 0m24s |
| 3 | Stephane Peterhansel | Bahrain JCW X-Raid Team | Mini/BMW | 6m38s |
| 4 | Yazeed Al-Rajhi | Overdrive Toyota | Toyota | 34m16s |
| 5 | Orlando Terranova | X-Raid Team | Mini/BMW | 49m41s |
| 6 | Giniel de Villiers | Toyota Gazoo Racing | Toyota | 57m57s |
| 7 | Bernhard Ten Brinke | Toyota Gazoo Racing | Toyota | 1h08m59s |
| 8 | Mathieu Serradori | SRT Racing | Century/? | 1h24m20s |
| 9 | Yasir Saeidan | Race World Team | Mini/BMW | 2h35m35s |
| 10 | Fernando Alonso | Toyota Gazoo Racing | Toyota | 3h17m23s |
Bike Results Stage 9 (Top-10)
| | | | | | | |
| --- | --- | --- | --- | --- | --- | --- |
| Pos. | Rider | Num | Nation | Team | Constructor | Time/Gap |
| 1 | QUINTANILLA Pablo | 5 | CHI | Husqvarna Factory Rally Team | Husqvarna | 03:30'33 |
| 2 | PRICE Toby | 1 | AUS | KTM Factory Racing Team | KTM | +01'54 |
| 3 | BARREDA Joan | 12 | SPA | Monster Energy Honda Team | Honda | +02'42 |
| 4 | BRABEC Ricky | 9 | USA | Monster Energy Honda Team | Honda | +03'55 |
| 5 | EVAN BRANCH Ross | 18 | BWA | BAS DAKAR KTM RACING TEAM | KTM | +05'30 |
| 6 | BENAVIDES Kevin | 7 | ARG | Monster Energy Honda Team | Honda | +05'50 |
| 7 | BENAVIDES Luciano | 16 | ARG | KTM Factory Racing Team | KTM | +06'08 |
| 8 | CORNEJO Jose Ignacio | 17 | CHI | Monster Energy Honda Team | Honda | +06'23 |
| 9 | SHORT Andrew | 6 | USA | Rockstar Energy Husqvarna | Husqvarna | +06'57 |
| 10 | WALKNER Matthias | 2 | AUT | KTM Factory Racing Team | KTM | +08'07 |
Rider Standings After Stage 9 (Top-10)
| | | | | | | |
| --- | --- | --- | --- | --- | --- | --- |
| Pos. | Rider | Num | Nation | Team | Constructor | Time/Gap |
| 1 | BRABEC Ricky | 9 | USA | Monster Energy Honda Team | Honda | 31:59'29 |
| 2 | QUINTANILLA Pablo | 5 | CHI | Husqvarna Factory Rally Team | Husqvarna | +20'53 |
| 3 | PRICE Toby | 1 | AUS | KTM Factory Racing Team | KTM | +26'43 |
| 4 | BARREDA Joan | 12 | SPA | Monster Energy Honda Team | Honda | +28'16 |
| 5 | CORNEJO Jose Ignacio | 17 | CHI | Monster Energy Honda Team | Honda | +26'43 |
| 6 | WALKNER Matthias | 2 | AUT | KTM Factory Racing Team | KTM | +37'16 |
| 7 | BENAVIDES Luciano | 16 | ARG | KTM Factory Racing Team | KTM | +41'11 |
| 8 | CAIMI Stefano | | ARG | Honda Argentina – MEC Team | Honda | +01:21'04 |
| 9 | HOWES Skyler | 59 | USA | Klymciw Racing | KTM | +01:24'24 |
| 10 | SVITKO Stefan | 19 | SLO | Slovnaft Team | KTM | +01:30'35 |