Ferrari in Andretti's future?
UPDATE #3
Jacques Villeneuve says that Marco Andretti is young enough to be able to one day make the transition to grand prix racing, but the Indy 500 runner-up will have to move out of the IRL.
Villeneuve raced in Champ Car in 1994 and '95, winning both the series and the Indy 500 in his second year. He then jumped straight into F1 with Williams.
Mario Andretti has made no secret of the fact that he would like to see his grandson make the move to F1, something that Marco's dad Michael did – without success – in 1993.
"He's quite young and he's got their quite fast," said Villeneuve. "It helps to have your father run a team, but you also need the talent to drive, obviously. So if he keeps on progressing, yeah, if he stops progressing, then no. It depends on that."
However, Villeneuve said that he doubted that either of the US open-wheeler series proved a good training ground for F1.
"IRL is mainly ovals, and I guess GP2 cars are a lot faster than IRL cars if you put them on a road track, so GP2 is better. Champ Car or CART or whatever it's called now doesn't have the depth any more that it used to have.
"I think it's gone downhill. As long as the two series are separated, and not all the drivers are together racing, then it won't be a good grooming ground."
06/05/06 In two weeks time, Marco Andretti has made an enviable impact on the racing world. It's said Andretti's name is even on the lips of the Formula One pooh-bahs thanks to his extremely strong showing in the Indy 500.
This past weekend, Andretti was in the hunt to win the IRL's Watkins Glen Indy Grand Prix. He was gaining a second-per-lap on the leaders and was up to third place late in the race when a coming-together with Eddie Cheever at the entrance to Turn Nine resulted in a dramatic end to his day. Andretti on lap 37 set the fastest race-lap, a full half-second quicker than next-best Ryan Briscoe's.
It is a rare and glorious thing to see rookies in top-level open wheel racing make such an impressive showing so early in the season.
What's been lost in a lot of this wonderful hoopla surrounding Marco Andretti's success is his Skip Barber background. For the record, he's entered a grand total of 76 auto races since he left the karting ranks in early 2003 – and 53 of them (that's 76 percent) were with Skip Barber.
Like all drivers in any of the Skip Barber racing championships, Andretti was coached by Skip Barber instructors for every corner after every session: practices, qualifiers, races. Like all top athletes, the fastest race car drivers have natural talent; how quickly they come to harness and exploit that talent has as much to do with the coaching as does attitude, aptitude and the willingness to learn From March 16, 2003, when he completed his Skip Barber Three Day Racing School at Savannah, Georgia's Roebling Road (instructors: Steve DeBrecht, Don Kutschell and Keith Watts), until August of 2004, when he clinched that year's Skip Barber National Presented by RACER championship and it's $100,000 title bonus, Andretti entered 50 Skip Barber races, driving the 150 h.p. R/T 2000 race car.
Along the way Marco won eight of 16 races to win the 2003 Skip Barber Eastern Region title; then 10 of 14 races in the 2003-2004 Skip Barber Southern Region to win that title; then, in 2004, Andretti had one victory and eight additional podiums in 14 races in the ultra-competitive Skip Barber National, clinching that championship in the last race of the year, nine points more than runner-up Gerardo Bonilla (who would win the National the next year). Nine additional non-points Skip Barber races are also on Andretti's resume.
After having left his mark in the Skip Barber system – 19 wins in 44 points-scoring starts between April of 2003 and August of 2004 – Marco entered the 2005 Star Mazda championship (no wins and three top fives in 12 starts) and six Infiniti Pro Series races (three wins and two other podiums).
This year in the IRL, Andretti had mechanical DNFs at Homestead and St. Petersburg; a 12th at Motegi, Japan; the second-place at Indy; and the Cheever crash at Watkins Glen. Skip Barber
06/02/06 (GMM) A link between Marco Andretti and F1 may be more than idle chatter, with his granddad hinting at the interest of grand prix bosses.
19-year-old Andretti, whose father Michael and grandfather Mario both raced in motor sport's highest category, narrowly missed victory at his first Indy 500 last Sunday.
Mario Andretti, 66 – who in 1978 won F1's drivers' championship – told La Gazzetta dello Sport this week: ''I would like (Marco) to come to F1 with Ferrari.''
But he has now also told US publication 'Sun-Sentinel' that, due to interest from across the pond, his phone has run off the hook since the famous race.
Andretti added: ''They're watching.''
'Sun-Sentinel' speculated that, at 5 foot 6, Marco is also the perfect size for F1.
Father Michael's grand prix assault alongside Ayrton Senna in 1993 famously failed, but a couple of years later he helped Jacques Villeneuve make the leap from America to F1.
He said: ''I told (Jacques) things like, 'Make sure you get 3000 miles of testing before that first race'.
''I would do the same for Marco.''
05/31/06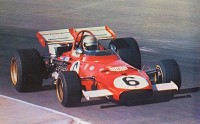 Marco, the third-generation Andretti, grandson of 1978 world champ and former Ferrari ace Mario and son of McLaren driver Michael, is destined for greater things if grandpa Mario gets his way.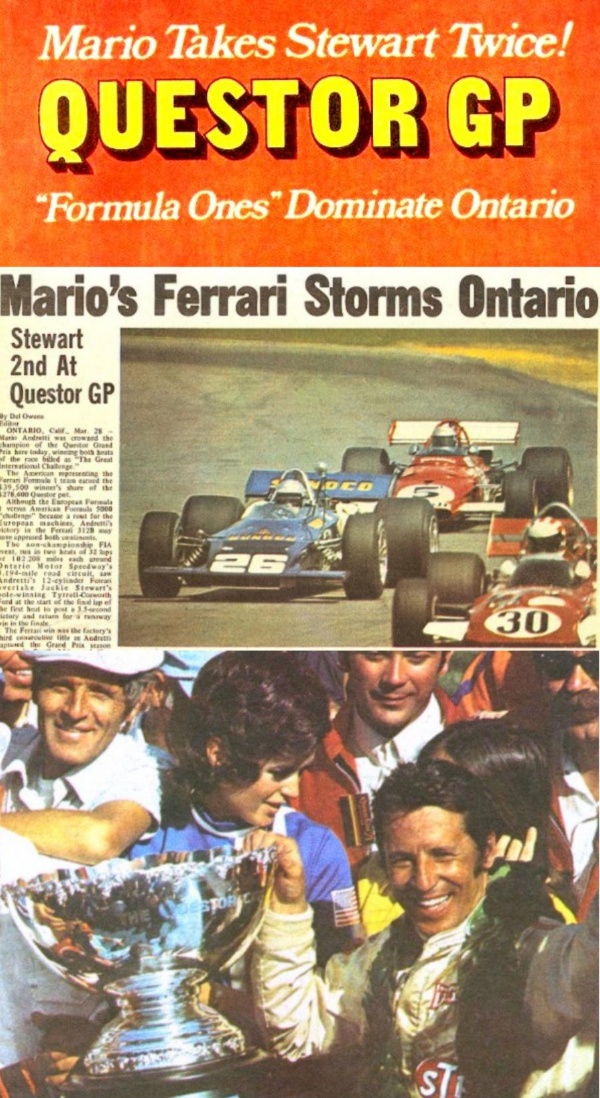 "I would like him to come to Formula 1 with Ferrari," Mario told Gazzetta dello Sport. Mario knows what it means to race for Ferrari, as he did so in several spurts during his 40-plus years career. His first of 12 F1 wins came in a Ferrari at Kyalami in 1971 (above right) and then he beat Jackie Stewart's Tyrell Ford twice in the non-points Questor GP at Ontario Motor Speedway a few weeks later (left).
For Marco, the past weekend's loss at Indy was a bitter pill to swallow and echoed the misfortunes of his father at Indy over the years, as the "Andretti curse" continued.
"I'm disappointed I would love to have won," said Marco.
"But I am happy anyway and it is great to see that all the people around me are happy with what I have done."