Danica has day to forget at The Glen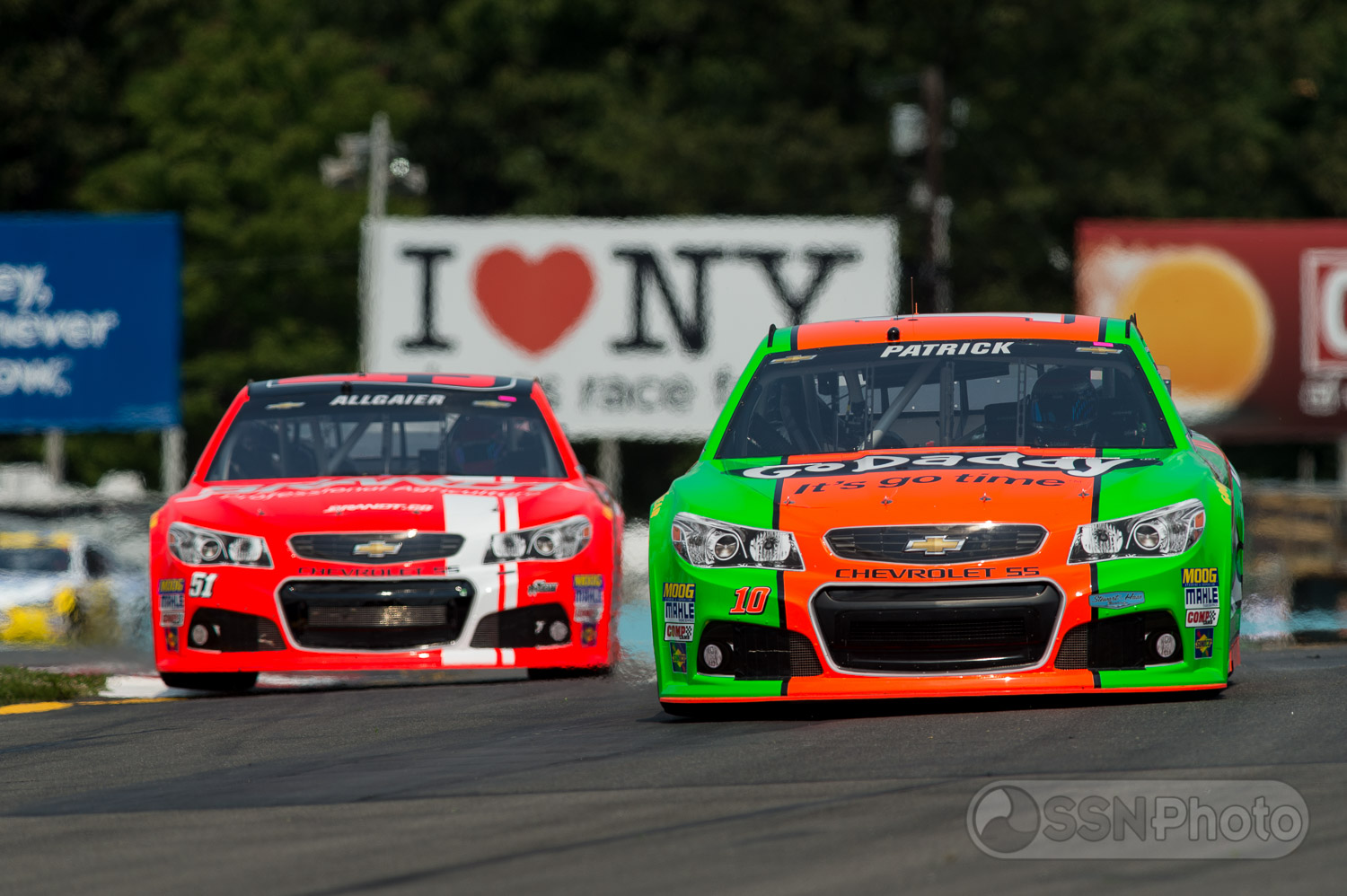 Danica (R) before she crashed
Age Manocchia/AR1.com
The only good thing about Danica Patrick's Friday at Watkins Glen International is it's over.
Patrick had a very bad day at The Glen. She had to change an engine after the day's first practice – meaning she'll start at the rear of the field for Sunday's race – and then crashed head-first into a tire barrier after suffering a blown tire at the end of the second session.
"It has been a record horrible day, I'm pretty sure," she said with a chuckle after being released from the infield care center. "So why not stack it on?"
With just two minutes remaining in practice, Patrick – who was 36th-fastest – was informed by Matt Kenseth that smoke was coming from her car. It turned out the left front shock failed, which caused the tire to rub and then blow out. Her Stewart-Haas Racing team will use a backup car.
Experienced road racer AJ Allmendinger led Friday's final NASCAR Sprint Cup Series practice session at Watkins Glen. Allmendinger topped the charts with a fast lap of 128.688 mph around the 11-turn road course. The No. 47 driver came in at fourth-fastest in Friday's opening practice.
Marcos Ambrose, who was fastest in the Nationwide Series final practice earlier, came in as second-fastest in Cup's final practice with a speed of 128.682 mph.
Defending race winner Kyle Busch rounded his 17th lap at 128.660 mph for the third-fastest run of the session.
Dale Earnhardt Jr. (128.259 mph) and Aric Almirola (128.220 mph) round of the session's five-fastest drivers.
Results

| | | | | | | | |
| --- | --- | --- | --- | --- | --- | --- | --- |
| POS | CAR | DRIVER | MANUFACTURER | SPONSOR | SPEED | TIME | BEHIND |
| 1 | 47 | AJ Allmendinger | Chevrolet | Scott Products | 128.688 | 68.538 | Leader |
| 2 | 9 | Marcos Ambrose | Ford | Stanley | 128.682 | 68.541 | –0.003 |
| 3 | 18 | Kyle Busch | Toyota | M&M's | 128.660 | 68.553 | –0.015 |
| 4 | 88 | Dale Earnhardt Jr | Chevrolet | National Guard | 128.259 | 68.767 | –0.229 |
| 5 | 43 | Aric Almirola | Ford | Smithfield | 128.220 | 68.788 | –0.250 |
| 6 | 15 | Clint Bowyer | Toyota | RK Motors Charlotte | 128.166 | 68.817 | –0.279 |
| 7 | 22 | Joey Logano | Ford | Shell Pennzoil | 128.146 | 68.828 | –0.290 |
| 8 | 48 | Jimmie Johnson | Chevrolet | Lowe's | 127.969 | 68.923 | –0.385 |
| 9 | 1 | Jamie McMurray | Chevrolet | McDonald's | 127.958 | 68.929 | –0.391 |
| 10 | 16 | Greg Biffle | Ford | 3M | 127.861 | 68.981 | –0.443 |
| 11 | 78 | Martin Truex Jr | Chevrolet | Furniture Row | 127.848 | 68.988 | –0.450 |
| 12 | 5 | Kasey Kahne | Chevrolet | Farmers Insurance | 127.835 | 68.995 | –0.457 |
| 13 | 31 | Ryan Newman | Chevrolet | Caterpillar | 127.832 | 68.997 | –0.459 |
| 14 | 13 | Casey Mears | Chevrolet | No. 13 GEICO Chevrolet SS | 127.626 | 69.108 | –0.570 |
| 15 | 95 | Michael McDowell | Ford | K-LOVE Radio | 127.593 | 69.126 | –0.588 |
| 16 | 24 | Jeff Gordon | Chevrolet | Drive to End Hunger | 127.490 | 69.182 | –0.644 |
| 17 | 27 | Paul Menard | Chevrolet | Splash / Menards | 127.488 | 69.183 | –0.645 |
| 18 | 3 | Austin Dillon | Chevrolet | Dow | 127.453 | 69.202 | –0.664 |
| 19 | 14 | Tony Stewart | Chevrolet | Rush Truck Centers/Mobil 1 | 127.425 | 69.217 | –0.679 |
| 20 | 2 | Brad Keselowski | Ford | Miller Lite | 127.416 | 69.222 | –0.684 |
| 21 | 99 | Carl Edwards | Ford | Kelloggs / Cheez-it | 127.223 | 69.327 | –0.789 |
| 22 | 38 | David Gilliland | Ford | Long John Silver's | 127.135 | 69.375 | –0.837 |
| 23 | 34 | David Ragan | Ford | Dockside Logistics | 127.091 | 69.399 | –0.861 |
| 24 | 17 | Ricky Stenhouse Jr | Ford | Ford EcoBoost | 126.925 | 69.490 | –0.952 |
| 25 | 41 | Kurt Busch | Chevrolet | Haas Automation | 126.879 | 69.515 | –0.977 |
| 26 | 26 | Cole Whitt | Toyota | Bully Hill Vineyeards Toyota Camry | 126.835 | 69.539 | –1.001 |
| 27 | 42 | Kyle Larson | Chevrolet | Target | 126.759 | 69.581 | –1.043 |
| 28 | 4 | Kevin Harvick | Chevrolet | Budweiser | 126.735 | 69.594 | –1.056 |
| 29 | 20 | Matt Kenseth | Toyota | Dollar General | 126.032 | 69.982 | –1.444 |
| 30 | 77 | Nelson Piquet Jr | Ford | WORX | 125.950 | 70.028 | –1.490 |
| 31 | 11 | Denny Hamlin | Toyota | FedEx Ground | 125.469 | 70.296 | –1.758 |
| 32 | 23 | Alex Bowman | Toyota | Dustless Blasting Toyota Camry | 125.437 | 70.314 | –1.776 |
| 33 | 51 | Justin Allgaier | Chevrolet | BRANDT Professional Agriculture | 125.377 | 70.348 | –1.810 |
| 34 | 55 | Brian Vickers | Toyota | Aaron's Dream Machine | 125.304 | 70.389 | –1.851 |
| 35 | 98 | Josh Wise | Chevrolet | Phil Parsons Racing | 124.714 | 70.722 | –2.184 |
| 36 | 10 | Danica Patrick | Chevrolet | GoDaddy | 124.545 | 70.818 | –2.280 |
| 37 | 33 | Alex Kennedy | Chevrolet | Media Cast | 124.350 | 70.929 | –2.391 |
| 38 | 32 | Boris Said | Ford | Genny Light | 124.280 | 70.969 | –2.431 |
| 39 | 83 | Ryan Truex | Toyota | Burger King Toyota Camry | 124.243 | 70.990 | –2.452 |
| 40 | 7 | Michael Annett | Chevrolet | Pilot / Flying J Chevrolet | 123.793 | 71.248 | –2.710 |
| 41 | 40 | Landon Cassill | Chevrolet | Newtown Building Supplies | 123.555 | 71.385 | –2.847 |
| 42 | 66 | Joe Nemechek | Toyota | Land Castle Title | 122.679 | 71.895 | –3.357 |