Mario Andretti to be inducted into National Motorsports Press Association Hall of Fame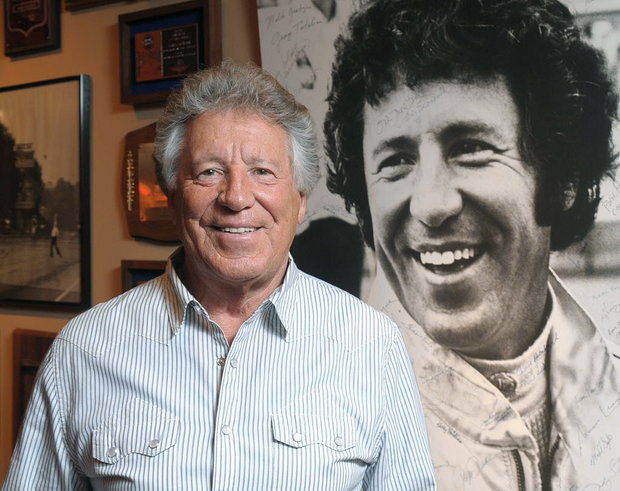 Racing legend Mario Andretti stands in his Nazareth, PA home in front of an image of himself from 1978.
Express-Times Photo | MATT SMITH
Some things never get old for legendary race car driver Mario Andretti.
As a teen, Andretti came to America from post-World War II Italy in 1955, settling with his family in Nazareth and still resides in Bushkill Township.
The spunky, feisty Andretti went on to reach the pinnacle of auto racing, gaining indelible world-wide fame.
On Saturday night, the prestigious National Motorsports Press Association will induct Andretti into its Hall of Fame.
Andretti's induction at a banquet/ceremony at the Embassy Suites and Spa in Concord, N.C., will be the 20th hall of fame honor for the winner of the Indianapolis 500, Daytona 500, Formula 1 World driving title and four Indy car championships.
"Quite honestly, when some of these invitations still appear, it's the ultimate compliment that can be paid to you," said Andretti, who turns 74 on Feb. 28. "It's because somehow they still are looking at your career after all the years."
Andretti, who remains one of the most recognized names in sports even though he retired from active competition after the 1994 Indy car season, said selection into the NMPA Hall of Fame stands out.
"To be recognized by your peers, of course, is special," said the native of Montona, Italy. "But because this is a journalistic group makes it particularly special. I look forward to Saturday night."
Early start at Nazareth Fairgrounds
When Mario and his identical twin Aldo landed in Nazareth with their family led by father Alvice — aka Gigi — they'd already developed a romance with racing in Europe
Soon the Andretti Boys built a sportsman/modified stock car from an old Hudson Hornet. They raced the car at the old, dirt half-mile horse track at the Nazareth Fairgrounds.
"We saw the stock car races there and I thought we can do that," said Andretti, who was lured by the noise of the engines coming from the Fairgrounds.
Evidently, the Andretti boys could. Mario won 20 sportsman/modified stock car features at the Fairgrounds while he and Aldo served as their own mechanics.
But Mario's heart yearned to race open wheel, open cockpit cars.
"Because of my background in Europe, open wheel, purpose-built race cars were my cup of tea," Andretti said. "I knew back then I eventually wanted to race Formula 1."
From the start, Mario proved to be a passionately driven and versatile racer.
The best behind any wheel
Andretti's career resume boasts winning excellence wheeling TQ midgets, full midgets, sprint cars, Indy cars, IROC racers and, of course, Formula 1 in which he became only the second American to win the World Driving Championship.
Between 1961 and 1994, Andretti took the green flag in 879 races of all forms and emerged with 111 victories.
Andretti's first Indy car win came in 1963 at Indianapolis Raceway Park. His 52nd victory some 30 years later at Phoenix International earned him the distinction as the oldest driver to win an Indy car series race.
Andretti's Indy car victories came on paved and dirt ovals of varying size and road courses.
In 1969, the year he won the Indianapolis 500, Andretti also won an Indy car race on the Pikes Peak Hill Climb course and on Nazareth's defunct 1.5-mile dirt "big track."
Andretti is the only driver to win Indy car championships in four different decades and he ranks second in career victories to the legendary A.J. Foyt.
1967 Daytona 500 winner
On Saturday, in the heart of NASCAR country, one of the subjects sure to be addressed will be Andretti's short stint as NASCAR stock car driver.
In 1967, which was his breakout year in Indy cars, Mario shocked the racing world and rattled a lot of cages by winning NASCAR's premier event, the Daytona 500. Driving a Ford Factory entry, Andretti was dominant that day.
In the final lap of the race, Andretti held off his teammate, Ford's "Golden Boy" Freddy Lorenzen, with a slick move. He used the lapped car of Tiny Lund as a pick to win the race to the finish line.
"It was, and remains, an ultimate satisfaction, to come from a totally different discipline and win on their (NASCAR's) biggest stage," said Andretti, who competed in 14 NASCAR events over a four-year period.
But he said stock cars were not for him.
"It did appeal to me enough to make me want to try it," Andretti said. "I always had the greatest respect for their drivers. But I got the greatest satisfaction out of driving the Indy and Formula 1 cars."
Among his plethora of racing awards and honors, Andretti was named the Driver of the 20th Century by the Associated Press.
The prestigious RACER magazine honored Andretti as both the Driver of the Century and Greatest American Driver Ever. Express Times