Overheard at Long Beach – Friday (Prudhomme)
UPDATE #2
As AR1.com foretold way back in April below, Don Prudhomme, has become more involved with oval track racing, specifically the IZOD IndyCar Series. Chip Ganassi Racing announced the addition of Service Central-Chip Ganassi Racing with Graham Rahal in the No. 38 car and Novo Nordis- Chip Ganassi Racing with Charlie Kimball in the No. 83 entry at a news conference Dec. 16 at the Indianapolis Motor Speedway.
The reigning IZOD IndyCar Series championship team plans to invest $3.3 million to locate the team in a facility leased from Prudhomme in Brownsburg, Ind., which is expected to create up to 30 new jobs. Mitch Davis will be the team manager and Target Chip Ganassi managing director Mike Hull will oversee the program.
"I've been around IndyCar Racing since 1969 when Mario Andretti invited me over the ropes to say hi to me. So I've loved IndyCar Racing," Prudhomme said at the press conference. "I've retired from drag racing last year, and I have a nice facility in Brownsburg, real nice. Chip and I are good buddies. I've had a big interest in IndyCar Racing, always have. Of course, I'm looking at the 2012 season with all the big changes coming on, and that is going to be interesting to me.
"And I'm just kind of, as Chip would say, I just got my toe in the water a little bit right now. And yeah, I'll be hanging out, that's for damn sure, but we'll see from there."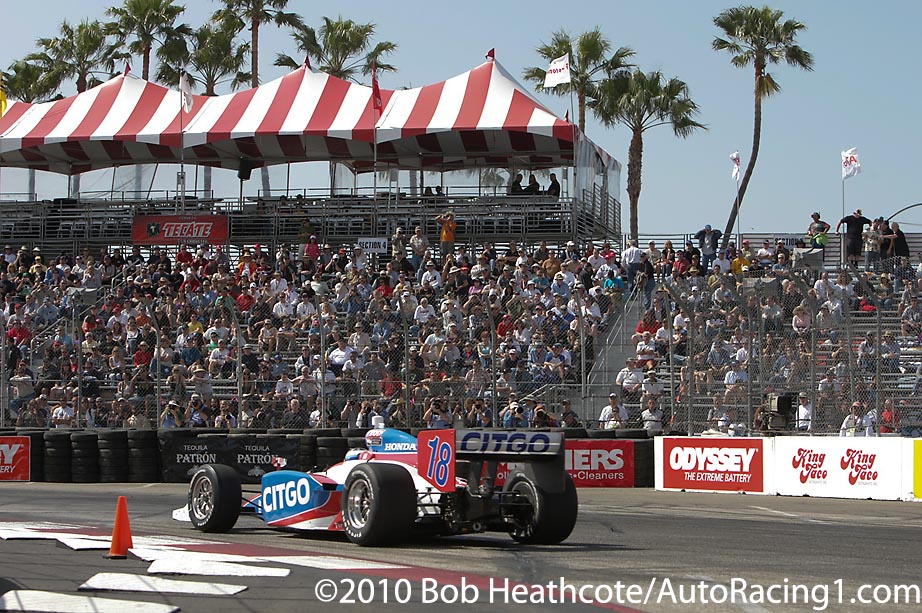 Milka Duno in front of good Friday crowd
Bob Heathcote/AR1.com
04/16/10 We have it on good word that Dutch Indy Lights driver Junior Strous is close to a deal that will see him backed by Shell Oil in an IndyCar starting sometime around the street race in Toronto…..A rumor going around the Long Beach paddock is that if Milka Duno continues to be so far off the pace the IRL will park her.
04/16/10 We heard a rumor here at Long Beach that Polestar is teaming up with Rahal Letterman with sponsor Fat Burner for Indy and beyond with Graham Rahal driving. Supposedly the sponsor for Rahal at N/H/L Racing was to be Game Streamer, but we hear that deal has fallen through……..We hear that Tony George has been hunting for sponsorship in China where the economy is booming in the hope of restarting his Vision IndyCar team with the aim of running his stepson Ed Carpenter on the ovals and Australian James Davison on the road courses……Word is that last weekend's race from Barber garnered a 0.4 TV rating on Versus, which considering it was up against the Masters Golf Tournament, isn't bad…….Word is that Geico and KV Racing will announce Saturday a deal to run Paul Tracy at Indy and we hear the announcement by Honda to sponsor Tracy at the two Canadian races will happen at Indy in May…….Did you know that it takes a minimum of $500K of sponsorship just to run the Indy 500?……….We spotted Oriol Servia combing the pits hoping to do a deal for at least Indy. "I was close to a full season deal over the winter but at the last minute it fell apart."………We hear that some in the paddock are critical of the IRL for not being able to provide worldwide TV viewership since the Versus ratings are not high enough to sell to a potential sponsor. We were very critical of Champ Car for overlooking this key piece of data because beyond a doubt the worldwide numbers would be a big selling point. Bernie Ecclestone, who knows how to run a race series, has this data available for the teams to help them land sponsors and it works…….Word is that a bunch of teams will be oval testing in Kansas late next week for a couple of days……We hear that one of the PBIR Indy Lights drivers may have failed a drug test, opening the door for Tonis Kasemets to step in this weekend for the team…….Controversy continues to rein in the IndyCar paddock over the ride control system Team Penske is alleged to be running. More on that in an upcoming report on the Hot News
Don "The Snake" Prudhomme watches the Ganassi pit crew service their car
Scott Morris/AR1.com
page…….Spotted Don Prudhomme spending a lot of time with Chip Ganassi in his hospitality area. Don, "The Snake" as he is known in NHRA, is a longtime IndyCar fan and rumor is he may be doing a deal with Ganassi to run a third car at Indy…….The Friday crowd here is definitely larger than last year and last year's 50,000 turned out on Friday……With the Jaguar still 3 seconds off the pace at Long Beach in the GT2 category rumors continue to rumble that Jaguar will switch their effort to another team as they are not here to look bad……..We spotted Scott Dixon walking through the very crowded vendor area, completely unbothered, and nobody except us even had a clue who he was. It amazes us that the IRL is not wholeheartedly supporting the proposed reality TV show we wrote about. Mark C. reporting from Long Beach