IndyCar: O'Ward outduels Newgarden to win Detroit Race 2
Mexican Pato O'Ward Team Penske's Josef Newgarden with 2.5 laps to go in the 2nd half of the Detroit GP doubleheader and pulled away to win by 6.76s at the flag in his #5 Arrow McLaren Chevy.
With the win, O'Ward, who started 16th, takes a 1-point lead in the championship going into Road America next weekend.
O'Ward dedicated his win to teammate Felix Rosenqvist, forced to sit out this race due to a heavy crash in Race 1 Saturday, and longtime McLaren Racing shareholder Mansour Ojjeh, who died June 6.
"I talked to Felix this morning, and the important thing is that he's OK, but I told him, 'I'm going to win it for you,'" O'Ward said. "So, this is for him and for Mansour."
Newgarden led every lap from pole until O'Ward made the late pass on his #2 Penske Chevy. Newgarden, on deteriorating red soft tires, then faded and struggled to keep Alex Palou behind in third, but he did.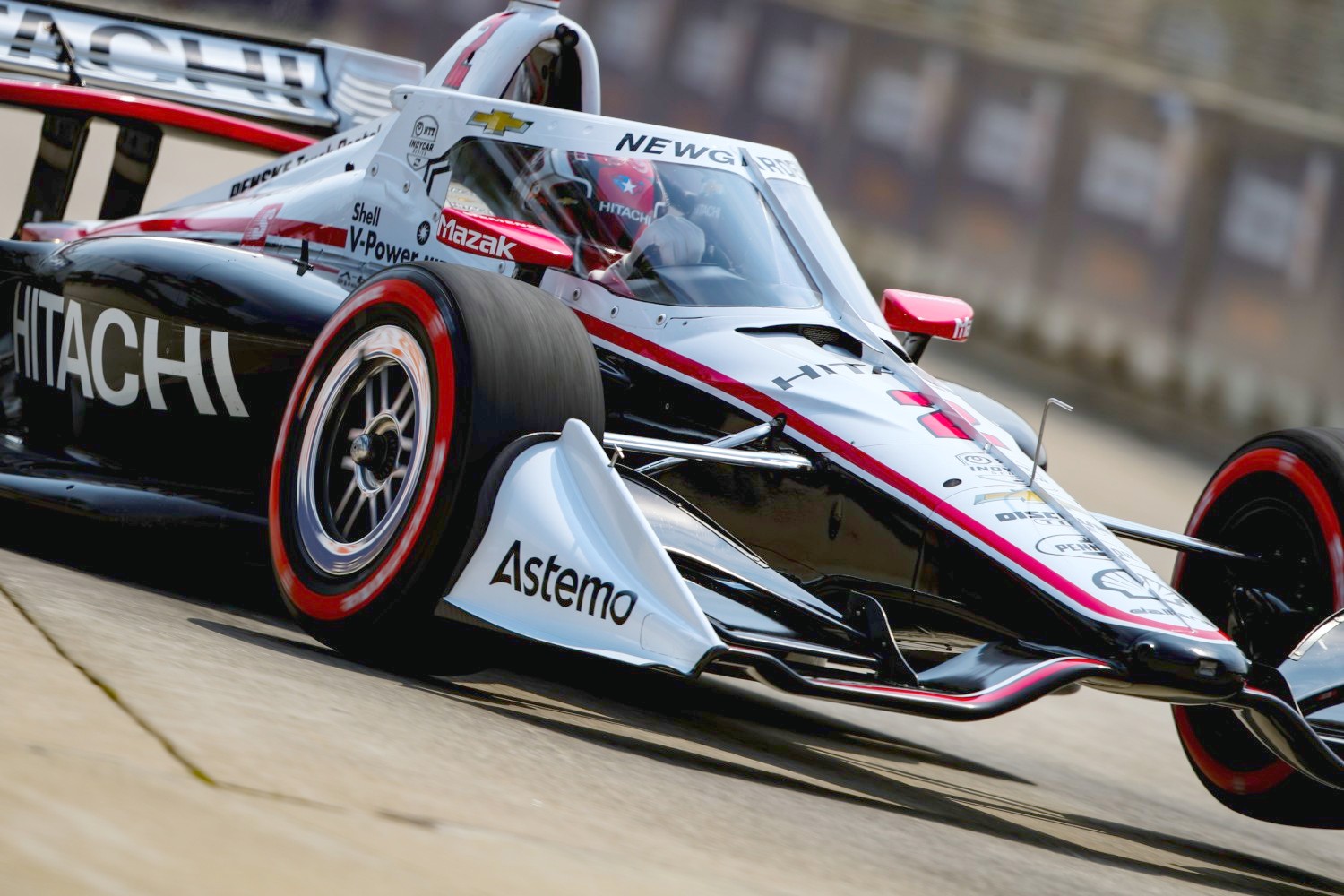 "He was coming like a freight train," Newgarden said. "What are you going to do? I just couldn't do anything. I had so much wheelspin. My rear tires were just shot to death on the last 10 laps. Just trying to be aggressive, and the restarts don't help you. None of it played into our favor, especially the first caution."
"None of this played into our favor, especially the first caution," Newgarden said. "We had to pit because we weren't sure if they were going to go full-course caution, and if we don't pit, we get completely hosed. So, we had to put an extra seven, eight 10 laps on the (alternate) tires that we didn't want to. It would have been a lot easier if we kept it cleaner, and that was our plan. But it just didn't work our way."
Newgarden built a lead of nearly 10 seconds over Herta during his second stint, also on Firestone primary tires, before pitting for slightly used Firestone alternate tires on his last stop, on Lap 46.
That lead was reduced to 4.3 seconds after Newgarden's final pit stop, and Herta sliced that gap to 0.364 of a second on Lap 52 before Jimmie Johnson slid through Turn 1 in his No. 48 Carvana Chip Ganassi Racing Honda on Lap 54, triggering the second full-course caution and packing the field behind Newgarden for a restart.
"It's hard not to be disappointed," Newgarden said. "I think we had the car to beat. Cautions at the end, wrong tires at the end. It was a fun strategy. I think we were doing well. It was just the caution that killed us. My rears were shot, and I didn't really need that. We tried."
Colton Herta finished 4th in his Gainbridge Honda while Graham Rahal rounded out the top-5 in his Rahal Honda.
Herta said he had a fast car, but his car was not good on restarts and there were two caution flags just when Herta was ready to make a move on Newgarden.  On the restarts he lost two positions and went from 2nd to 4th.
O'Ward's charge to the front was breathtaking from the 16th starting position. He passed six cars and jumped to 10th in the opening five laps while racing on the Firestone alternate "red" tires.
But the charismatic O'Ward saved his best maneuvers for last.
Romain Grosjean stopped on course with a small fire in his left front brake on Lap 59, triggering the last of three full-course cautions in the race. On the restart on Lap 63, O'Ward was fifth behind Newgarden, Herta, Palou and Rahal.
But O'Ward dove under Rahal in Turn 1 for fourth and then devoured Palou and Herta for second place with defiant, but clean, maneuvers on the same lap.
Then O'Ward set sail for Newgarden while keeping his eye on his mirrors for Herta's pressure from behind. Herta locked up trying to pass O'Ward for second with three laps to go, effectively ending his chances for victory.
O'Ward then dove under Newgarden in Turn 7 on Lap 68 for the lead and drove away to glory.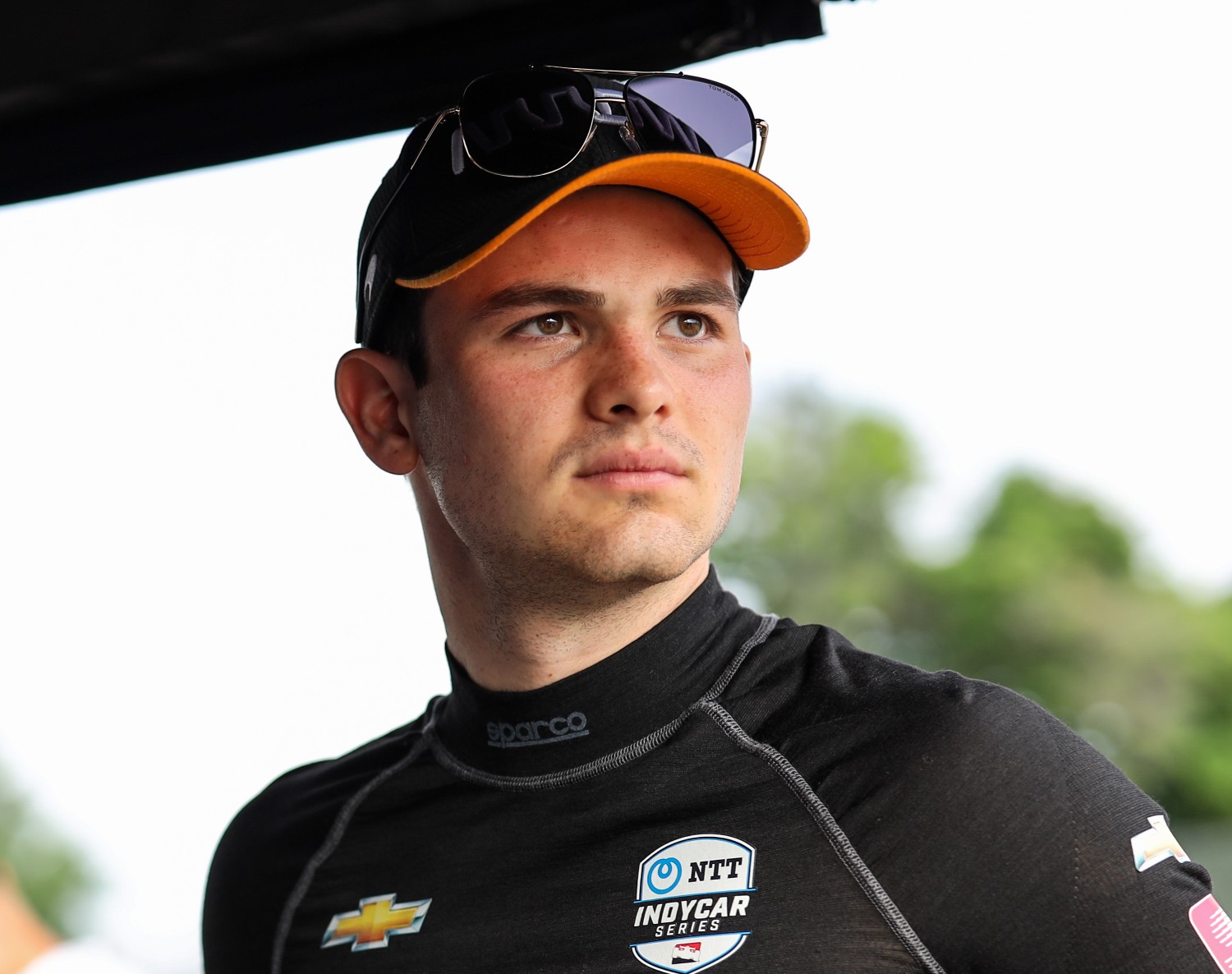 The Andretti team had another disappointing weekend after showing well in practice.  The highest placed finisher was Herta in 4th, with the rest out of the top-10.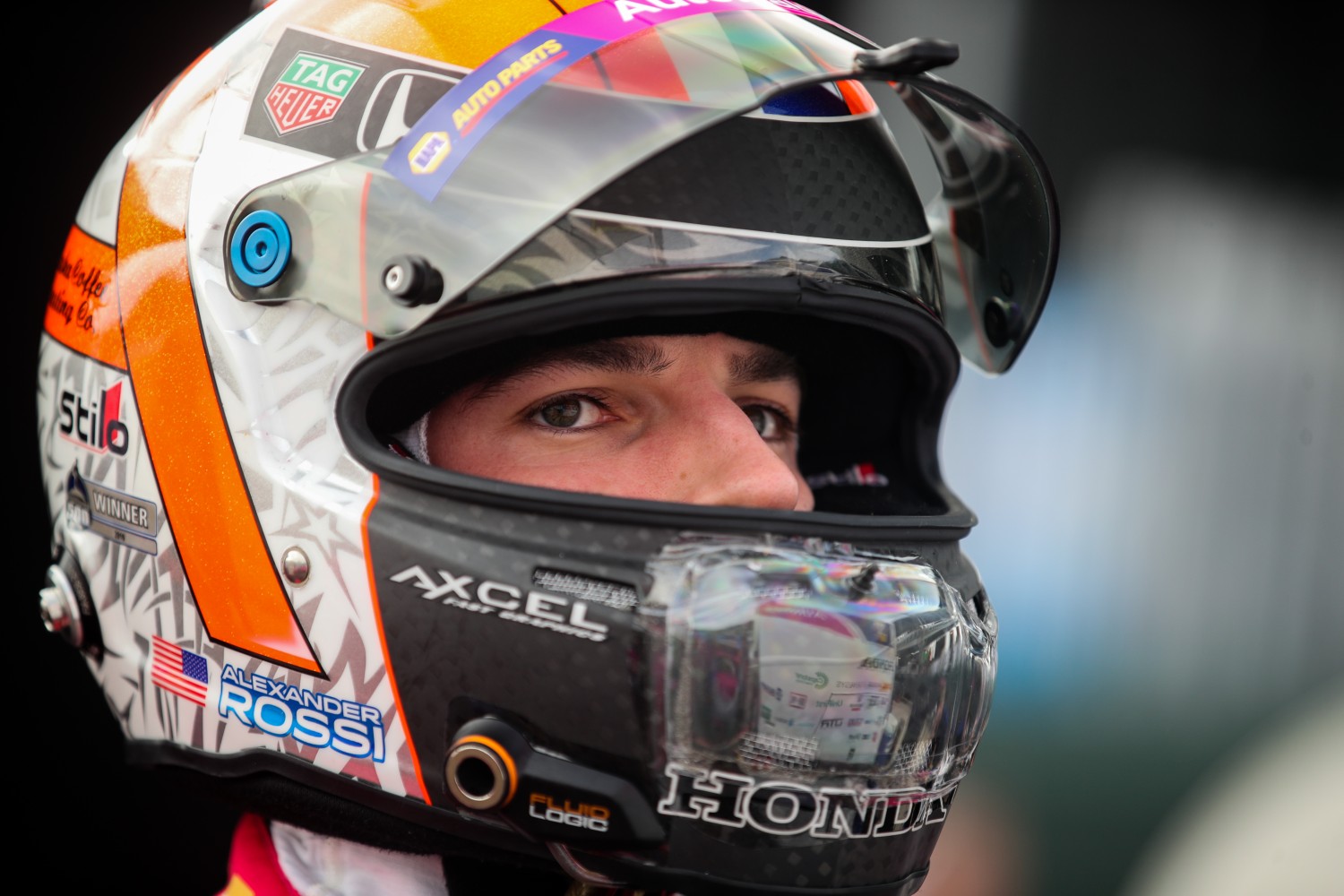 Dale Coyne Racing with RWR driver Romain Grosjean had the pace to run at the front as he displayed in qualifying, but nothing went his way in Race 2 on Sunday in Detroit with his day ending in flames due to a brake fire with 12 laps to go.
"It was a pretty eventful weekend in Detroit," said Grosjean. "I think we had two mega qualifying results with a third yesterday and fifth today. But I got sandwiched at the race start and I lost a fair bit of positions. Then we tried to come into the race, but I picked up a drive thru penalty, and we tried to come back from there. Eventually, we had a brake fire, and I had to extinguish a fire, but we're all good here! I think the positive of the day is that we improved the #51 Nurtec ODT car a lot from yesterday, and we can now look forward to Road America."
Winner's Quotes
PATO O'WARD, NO. 5 ARROW MCLAREN SP CHEVROLET – Race Winner
TELL US ABOUT THOSE TWO RESTARTS. YOU STARTED 6th OR 5th ON THE FIRST ONE, FROM ALL THE WAY BACK THERE TO VICTORY LANE. HOW DID YOU GET IT DONE?
"The two guys I'm fighting were in front of me, so I said from behind, there is no good! So, pass them, I guess? It's tough to pass around this place. These cars are the best of the best, so it's not like they're going to make it easy on you. I knew that I'm strong on cold tires. So, I had to take advantage of it."
HOW WERE YOU ABLE TO MAKE IT WORK WITH JOSEF NEWGARDEN AND WERE YOU SENSING THERE WAS AN OPPORTUNITY THERE, KNOWING HE WAS ON THOSE RED TIRES?
"I had such a great car all weekend. Today was my fault that we made it a little extra hard on us starting from the back. But I had a great car under me. I've got to thank Arrow Electronics and Team Chevy, man. This is Team Chevy territory. I'm so excited and so pumped to get them this. And, I talked to Felix (Rosenqvist) this morning and the important thing is that he's okay. But I told him I'm going to win it for you. So, this is for him.
"I told him I was going to get it done. I like to be a man of my word, so I got it done."
YOU ARE NOW THE CHAMPIONSHIP LEADER
"Yes, I should be. There is still a long way to go. We need to continue doing this and we're in the fight, man. We're in the fight. We're leading it. And we just need to keep our head in it."
AND YOU DID IT COMING FROM 16th.
"Yeah, I screwed up in qualifyijng. I owe this to these guys because they gave me a great car all weekend. The plan all along was to get in the fountain and go swimming at the end of the day."
Race Results
| | | | | | | | | | | |
| --- | --- | --- | --- | --- | --- | --- | --- | --- | --- | --- |
| Pos | No | Name | Laps | Diff | Gap | Led | ST | Engine | Points | Team |
| 1 | 5 | Pato O'Ward | 70 | 0.000s | 0.000s | 3 | 16 | Chevy | 299 | Arrow McLaren SP |
| 2 | 2 | Josef Newgarden | 70 | 6.7595 | 6.7595 | 67 | 1 | Chevy | 248 | Team Penske |
| 3 | 10 | Alex Palou | 70 | 6.9392 | 0.1797 | 0 | 4 | Honda | 298 | Chip Ganassi Racing |
| 4 | 26 | Colton Herta | 70 | 7.0558 | 0.1166 | 0 | 2 | Honda | 202 | Andretti Autosport |
| 5 | 15 | Graham Rahal | 70 | 7.6952 | 0.6394 | 0 | 9 | Honda | 209 | Rahal Letterman Lanigan Racing |
| 6 | 12 | Will Power | 70 | 8.4418 | 0.7466 | 0 | 20 | Chevy | 169 | Team Penske |
| 7 | 9 | Scott Dixon | 70 | 8.8324 | 0.3906 | 0 | 6 | Honda | 263 | Chip Ganassi Racing |
| 8 | 22 | Simon Pagenaud | 70 | 9.0641 | 0.2317 | 0 | 10 | Chevy | 243 | Team Penske |
| 9 | 8 | Marcus Ericsson | 70 | 9.5248 | 0.4607 | 0 | 22 | Honda | 211 | Chip Ganassi Racing |
| 10 | 45 | Santino Ferrucci | 70 | 10.6860 | 1.1612 | 0 | 12 | Honda | 105 | Rahal Letterman Lanigan Racing |
| 11 | 28 | Ryan Hunter-Reay | 70 | 10.9852 | 0.2992 | 0 | 17 | Honda | 122 | Andretti Autosport |
| 12 | 30 | Takuma Sato | 70 | 11.5761 | 0.5909 | 0 | 19 | Honda | 181 | Rahal Letterman Lanigan Racing |
| 13 | 27 | Alexander Rossi | 70 | 14.2097 | 2.6336 | 0 | 7 | Honda | 145 | Andretti Autosport |
| 14 | 29 | James Hinchcliffe | 70 | 14.9968 | 0.7871 | 0 | 14 | Honda | 103 | Andretti Steinbrenner Autosport |
| 15 | 20 | Conor Daly | 70 | 15.1529 | 0.1561 | 0 | 8 | Chevy | 117 | Ed Carpenter Racing |
| 16 | 14 | Sebastien Bourdais | 70 | 15.2726 | 0.1197 | 0 | 13 | Chevy | 122 | AJ Foyt Enterprises |
| 17 | 18 | Ed Jones | 70 | 16.1183 | 0.8457 | 0 | 11 | Honda | 113 | Dale Coyne Racing with Vasser Sullivan |
| 18 | 21 | Rinus VeeKay | 70 | 16.8545 | 0.7362 | 0 | 3 | Chevy | 243 | Ed Carpenter Racing |
| 19 | 60 | Jack Harvey | 69 | 1 LAPS | 1 LAPS | 0 | 18 | Honda | 146 | Meyer Shank Racing |
| 20 | 3 | Scott McLaughlin | 69 | 1 LAPS | 7.0703 | 0 | 21 | Chevy | 164 | Team Penske |
| 21 | 48 | Jimmie Johnson | 69 | 1 LAPS | 8.9193 | 0 | 25 | Honda | 40 | Chip Ganassi Racing |
| 22 | 59 | Max Chilton | 68 | 2 LAPS | 66.0492 | 0 | 15 | Chevy | 44 | Carlin |
| 23 | 4 | Dalton Kellett | 61 | 9 LAPS | 7 LAPS | 0 | 24 | Chevy | 81 | AJ Foyt Enterprises |
| 24 | 51 | Romain Grosjean | 57 | Mechanical | 1 LAPS | 0 | 5 | Honda | 95 | Dale Coyne Racing w/Rick Ware Racing |
| 25 | 7 | Oliver Askew | 46 | Mechanical | 1.5013 | 0 | 23 | Chevy | 5 | Arrow McLaren SP |