Supercars: Van Gisbergen overtakes Whincup late to claim victory in Townsville
Red Bull's dominance in Townsville has continued with Championship leader Shane van Gisbergen taking victory in today's opening race of this year's NTI Townsville 500.
The 32-year old kiwi claimed his 9th race victory of the 2021 Repco Supercars Championship and the 49th of his career, taking him to outright 6th on the all-time win-list, ahead of Peter Brock.
Van Gisbergen started from pole position but fell behind his teammate Jamie Whincup.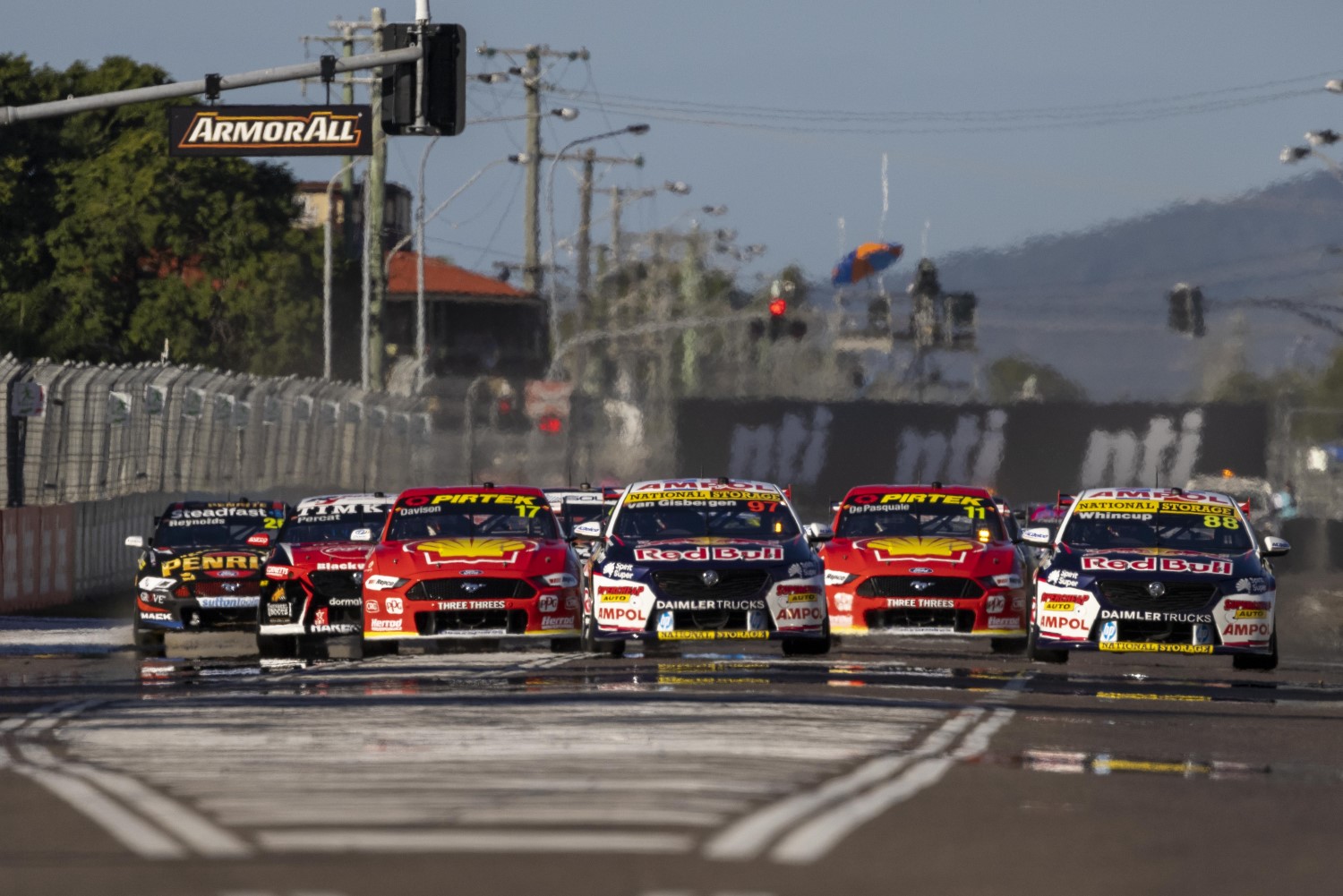 Whincup looked on track to claim his 13th career win in Townsville, until van Gisbergen made a passing  move in the dying laps to take the lead, which he held until the end of the race.
Today's result adds to Triple Eight Engineering's dominance in Townsville. It is the 7th time the team has finished 1-2 since 2011 and the fifth for Whincup and van Gisbergen at the venue since they became teammates in 2016.
Joining the Red Bull pair on today's podium was Shell V-Power Ford Mustang driver Anton De Pasquale who recorded his fifth podium finish of 2021.
The race itself had a false start. In front of a strong crowd at the Reid Park street circuit, Fabian Coulthard's battery died before the formation lap, meaning drivers had to hold longer than expected before lights wents out.
Once things were all clear, Whincup got the jump on van Gisbergen and jumped out to a lead of almost a full second before the end of the second lap.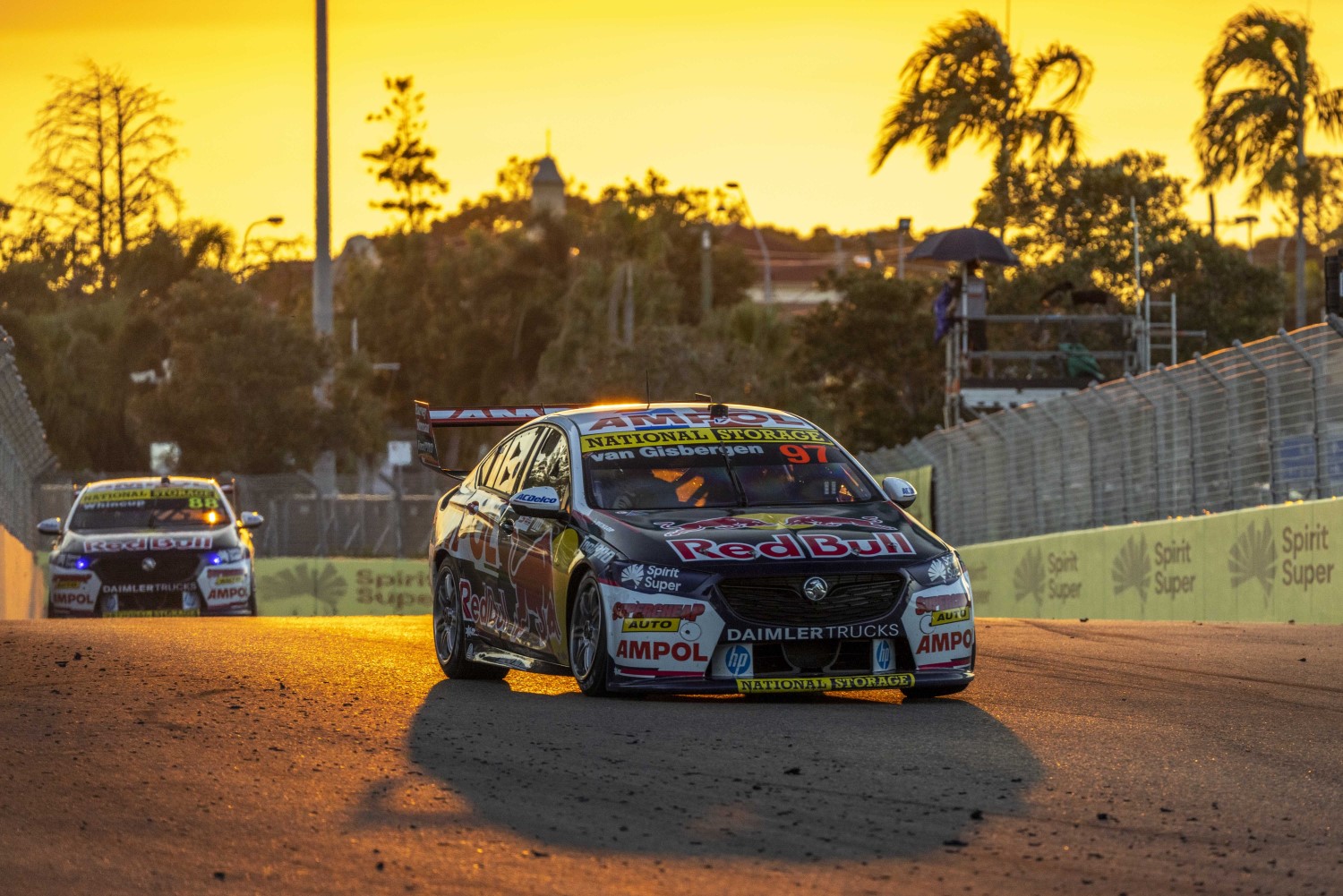 In just the third race of the year when fuelling strategy would play a key role, van Gisbergen ran a different strategy to Whincup, and it paid off, with the #97 Commodore running down the #88 in the 70th lap.
"We're two pretty lucky guys at the moment, our engineering group and the mechanics, the guys at the shop, it's amazing how good our cars are this weekend," said van Gisbergen after the race.
"It's fun to drive them, and we have to make the most of it."
The result extends van Gisbergen's lead over Whincup on top of the Championship ladder. The 32-year Kiwi now holds a 233-point advantage over the seven-time Champion heading into tomorrow's second race of the event.
Drivers will go back to the drawing board tonight and reset for another round of qualifying, a top ten shootout and Race 16, which will run tomorrow from 2:45pm local time.
It was announced on Thursday that this weekend's event will be the first of two in Townsville, with a second event, the WD-40 Townsville SuperSprint announced for next weekend.
There will be two 250km races on both Saturday and Sunday.
Race Results
| | | | | |
| --- | --- | --- | --- | --- |
| Pos | No. | Driver | Car | Behind |
| 1 | 97 | Shane van Gisbergen | Holden Commodore ZB | 0.000s |
| 2 | 88 | Jamie Whincup | Holden Commodore ZB | 7.368 |
| 3 | 11 | Anton De Pasquale | Ford Mustang GT | 37.453 |
| 4 | 8 | Nick Percat | Holden Commodore ZB | 48.879 |
| 5 | 26 | David Reynolds | Ford Mustang GT | 51.354 |
| 6 | 3 | Tim Slade | Ford Mustang GT | 51.986 |
| 7 | 44 | James Courtney | Ford Mustang GT | 1'00.213 |
| 8 | 6 | Cameron Waters | Ford Mustang GT | 1 lap |
| 9 | 17 | Will Davison | Ford Mustang GT | 1 lap |
| 10 | 18 | Mark Winterbottom | Holden Commodore ZB | 1 lap |
| 11 | 2 | Bryce Fullwood | Holden Commodore ZB | 1 lap |
| 12 | 7 | Andre Heimgartner | Ford Mustang GT | 1 lap |
| 13 | 99 | Brodie Kostecki | Holden Commodore ZB | 1 lap |
| 14 | 25 | Chaz Mostert | Holden Commodore ZB | 1 lap |
| 15 | 5 | Jack Le Brocq | Ford Mustang GT | 1 lap |
| 16 | 96 | Macauley Jones | Holden Commodore ZB | 1 lap |
| 17 | 4 | Jack Smith | Holden Commodore ZB | 1 lap |
| 18 | 9 | Will Brown | Holden Commodore ZB | 1 lap |
| 19 | 34 | Jake Kostecki | Holden Commodore ZB | 1 lap |
| 20 | 22 | Garry Jacobson | Holden Commodore ZB | 1 lap |
| 21 | 19 | Fabian Coulthard | Holden Commodore ZB | 2 laps |
| 22 | 14 | Todd Hazelwood | Holden Commodore ZB | 8 laps |
| 23 | 20 | Scott Pye | Holden Commodore ZB | 10 laps |
| 24 | 35 | Zane Goddard | Holden Commodore ZB | 11 laps |