IMSA: Whelen Engineering wins at Road America
Whelen Engineering drivers Pipo Derani (Brazil) and Felipe Nasr (Brazil) won for the second straight time in as many races winning today's IMSA WeatherTech SportsCar Championship IMSA SportsCar Weekend race at Road America.
Nasr qualified the No. 31 Whelen Engineering Cadillac DPi-V.R on the pole with a time of 2:07.919 under wet track conditions yesterday for the team's third pole of the season (Daytona, Sebring, and Road America). However, unlike yesterday's qualifying session, it was sunny and dry to start today's race. Nasr led early and continued to gap the field through two cautions before handing the car over to Derani on lap 35.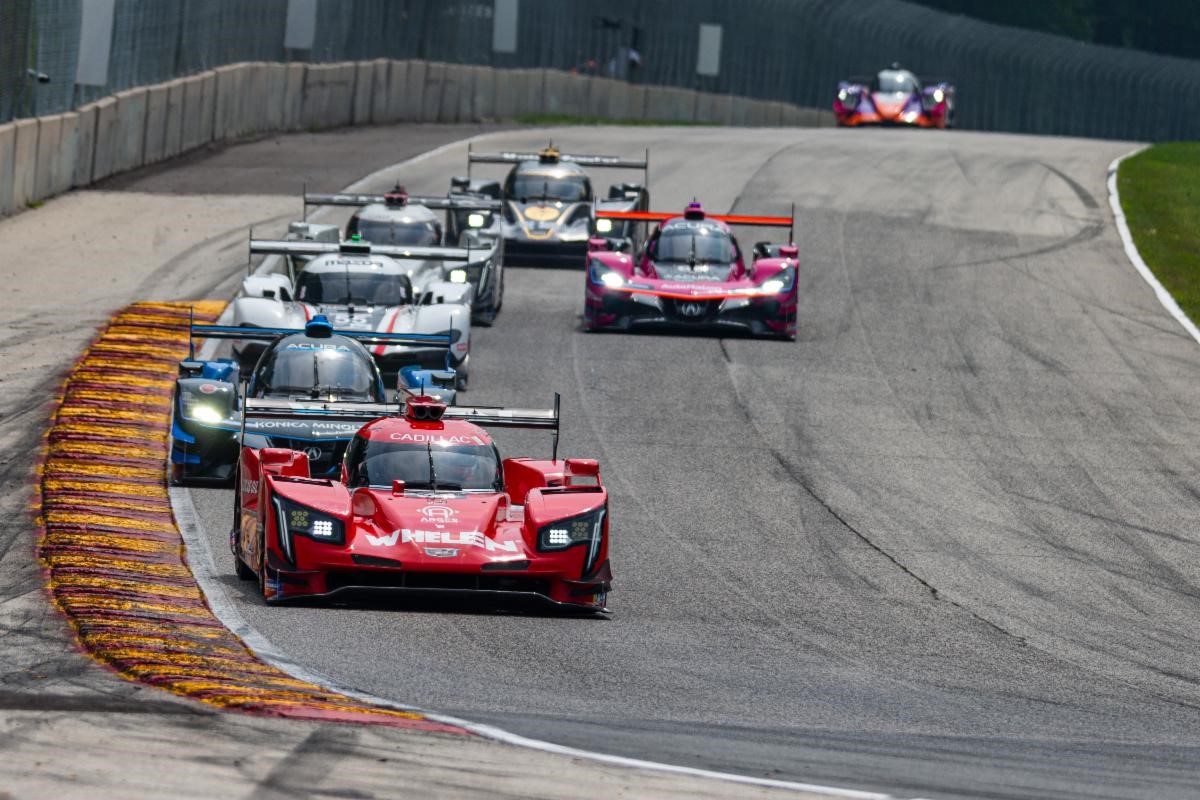 Derani also drove a solid double stint, keeping the No. 31 Cadillac within striking distance. For most of his stint, he was in second place due to the No. 60 Acura using a different pit strategy. However, with little more than three minutes left in the two hour and 40-minute race, Derani inherited the race lead when the No. 60 Acura came to pit lane for fuel. From there, Derani cruised to the team's second-straight victory.
"The race started pretty well," Nasr said. "It was great to get the pole position yesterday. We know how important it is at this place to drive in clean air. It helps the whole setup of the car. You can look after your tires and [it helps] with fuel economy. At the start, I had a lot of pressure from the No. 10 car going into Turn One. After that, it was all about hitting the marks and that proves the car was good enough to stay in the lead. We knew it was going to be a fuel saving race to make it to the end.
"It [the win] was great. I just want to say a big thank you to the guys at Action Express Racing. The No. 31 Whelen Engineering Cadillac was amazing to drive today. It's hard to believe when you get a perfect weekend like this because they are so hard [to come by]. Winning here after winning at Watkins [Glen], back-to-back wins, it just shows how much work and effort we're putting into the car and the team. The [Championship] fight is on. We're going to bring the Championship to all of us here. We're certainly going to give them [the competition] more battles until the end [of the season]."
"We had a fantastic weekend – perfect to be honest," Derani said. "When I was in the car, the No. 60 car was out of my hands. So, I just hit my marks and focused on making sure we could make it to the end saving fuel. Not having a yellow [late in the race], helped us. The No. 60 eventually had to come into the pits with that off sequence strategy they had. That allowed us to just focus on bringing the car home. I'm really happy. We had a fantastic weekend. We didn't put a foot wrong in any practice. We even skipped practice #1 because we felt it was too risky to go out with the amount of rain. Without testing in the rain, we went out there and put it on pole. That's fantastic. That set the tone for us from the very beginning. I just want to say a big thank you to Whelen Engineering, Lucas Oil, Cadillac, and all of our sponsors for giving us an opportunity to go racing and to go win back-to-back races, which is awesome."
With today's win, Nasr picks up his first-career Road America (2021) win, Derani captures his second-career (2017 and 2021) win, and the team gets its fourth win (2014, 2015, 2016, and 2021) at this circuit. This season, Whelen Engineering/Action Express has two wins, four podiums and three poles. Derani and Nasr moved up one spot to second in the DPi Driver Point Championship with 2,339 points, just 41 points behind the DPi leaders. The team is also second in the Team Point Championship.
Overall, Derani now has 10-career wins in IMSA competition, and Nasr has six-career wins.
GTLM
A fuel mileage run by Matt Campbell was the right strategy for GT Le Mans class victory for WeatherTech Racing.
Campbell finished 15.855 seconds ahead of the No. 3 Chevrolet Corvette C8.R of Antonio Garcia, after stretching the fuel to a 60-minute final stint in his Proton Competition-run Porsche 911 RSR-19.
Corvette Racing finished second and third in the GT Le Mans (GTLM) category of the IMSA WeatherTech SportsCar Championship on Sunday at Road America as the program now heads across the Atlantic Ocean for the 24 Hours of Le Mans.
GTLM championship leaders Antonio Garcia and Jordan Taylor finished second in the No. 3 Mobil 1/SiriusXM Chevrolet Corvette C8.R, just ahead of Tommy Milner and Nick Tandy in the No. 4 mid-engine Corvette. Shortly after the race, all focus turned to Le Mans with the team traveling over in the coming days with the Test Day set for Aug. 15.
Up next, the IMSA WeatherTech SportsCar Championship series heads west to WeatherTech Raceway Laguna for the Hyundai Monterey Sports Car Championship Sept. 10-12.
Vanthoor, Robichon Claim Win for Pfaff in GTD
Pfaff Motorsports claimed a commanding class win in GT Daytona, with Laurens Vanthoor and Zach Robichon coming out on top in their Porsche 911 GT3 R.
Race Results
| | | | | | | | |
| --- | --- | --- | --- | --- | --- | --- | --- |
| Pos | PiC | No. | Class | Drivers | Team | Car | Laps |
| 1 | 1 | 31 | DPi | F. Nasr/P. Derani | Whelen Engineering Racing | Cadillac DPi | 76 |
| 2 | 2 | 55 | DPi | O. Jarvis/H. Tincknell | Mazda Motorsports | Mazda DPi | 76 |
| 3 | 3 | 01 | DPi | R. van der Zande/K. Magnussen | Cadillac Chip Ganassi Racing | Cadillac DPi | 76 |
| 4 | 4 | 10 | DPi | R. Taylor/F. Albuquerque | Konica Minolta Acura ARX-05 | Acura DPi | 76 |
| 5 | 5 | 60 | DPi | D. Cameron/O. Pla | Meyer Shank Racing w/Curb-Agajanian | Acura DPi | 76 |
| 6 | 6 | 5 | DPi | T. Vautier/L. Duval | Mustang Sampling/JDC-Miller MotorSports | Cadillac DPi | 76 |
| 7 | 1 | 18 | LMP2 | D. Merriman/R. Dalziel | Era Motorsport | ORECA LMP2 07 | 75 |
| 8 | 2 | 8 | LMP2 | J. Farano/G. Aubry | Tower Motorsport | ORECA LMP2 07 | 75 |
| 9 | 3 | 52 | LMP2 | B. Keating/M. Jensen | PR1 Mathiasen Motorsports | ORECA LMP2 07 | 75 |
| 10 | 4 | 11 | LMP2 | S. Thomas/T. Nunez | WIN Autosport | ORECA LMP2 07 | 74 |
| 11 | 1 | 54 | LMP3 | J. Bennett/C. Braun | Core Autosport | Ligier JS P320 | 73 |
| 12 | 1 | 79 | GTLM | C. MacNeil/M. Campbell | WeatherTech Racing | Porsche 911 RSR – 19 | 73 |
| 13 | 2 | 38 | LMP3 | D. Goldburg/R. Lindh | Performance Tech Motorsports | Ligier JS P320 | 73 |
| 14 | 2 | 3 | GTLM | A. Garcia/J. Taylor | Corvette Racing | Chevrolet Corvette C8.R | 73 |
| 15 | 3 | 74 | LMP3 | G. Robinson/F. Fraga | Riley Motorsports | Ligier JS P320 | 72 |
| 16 | 4 | 91 | LMP3 | J. Cox/D. Murry | Riley Motorsports | Ligier JS P320 | 72 |
| 17 | 3 | 4 | GTLM | T. Milner/N. Tandy | Corvette Racing | Chevrolet Corvette C8.R | 72 |
| 18 | 5 | 36 | LMP3 | J. Andretti/O. Askew | Andretti Autosport | Ligier JS P320 | 72 |
| 19 | 6 | 61 | LMP3 | A. Pabst/T. Kasemets | Wulver Racing | Ligier JS P320 | 71 |
| 20 | 1 | 9 | GTD | Z. Robichon/L. Vanthoor | Pfaff Motorsports | Porsche 911 GT3R | 69 |
| 21 | 2 | 96 | GTD | B. Auberlen/R. Foley | Turner Motorsport | BMW M6 GT3 | 69 |
| 22 | 3 | 16 | GTD | T. Hindman/P. Long | Wright Motorsports | Porsche 911 GT3R | 69 |
| 23 | 4 | 23 | GTD | R. De Angelis/R. Gunn | Heart Of Racing Team | Aston Martin Vantage GT3 | 69 |
| 24 | 5 | 14 | GTD | A. Telitz/J. Hawksworth | VASSER SULLIVAN | Lexus RC F GT3 | 68 |
| 25 | 6 | 12 | GTD | F. Montecalvo/Z. Veach | VASSER SULLIVAN | Lexus RC F GT3 | 68 |
| 26 | 7 | 1 | GTD | B. Sellers/M. Snow | Paul Miller Racing | Lamborghini Huracan GT3 | 68 |
| 27 | 8 | 88 | GTD | R. Ferriol/K. Legge | Team Hardpoint EBM | Porsche 911 GT3R | 68 |
| 28 | 9 | 66 | GTD | T. Bechtolsheimer/M. Miller | Gradient Racing | Acura NSX GT3 | 68 |
| 29 | 10 | 39 | GTD | R. Heistand/J. Westphal | CarBahn with Peregrine Racing | Audi R8 LMS GT3 | 68 |
| 30 | 11 | 42 | GTD | D. Yount/J. Hildebrand | NTE Sport | Audi R8 LMS GT3 | 68 |
| 31 | 12 | 76 | GTD | J. Kingsley/M. Farnbacher | Compass Racing | Acura NSX GT3 | 67 |
| 32 | 13 | 44 | GTD | J. Potter/A. Lally | | Magnus with Archangel | Acura NSX GT3 |
| 33 | 14 | 32 | GTD | S. Lewis/G. Cosmo | | Gilbert/Korthoff Motorsports | Mercedes-AMG GT3 |
| 34 | 15 | 19 | GTD | M. Goikhberg/F. Perera | | GRT Grasser Racing Team | Lamborghini Huracan GT3 |
| 35 | 7 | 30 | LMP3 | T. Olson/M. Skeen | | Jr III Racing | Ligier JS P320 |