F1: Bottas wins Turkish GP from pole
In treacherous conditions throughout, pole sitter Valtteri Bottas never put a wheel wrong in his Mercedes to win the Turkish GP over the Red Bull Honda of Max Verstappen.
Bottas finished 14.5s ahead of Verstappen who complained of gear shift and steering positions during the race.
"It's been a while, but it feels good," said a happy Bottas.
"From my side, one of the best races I've had – everything was under control. Everything went smooth for once for me. When's there's only one dry line – difficult one."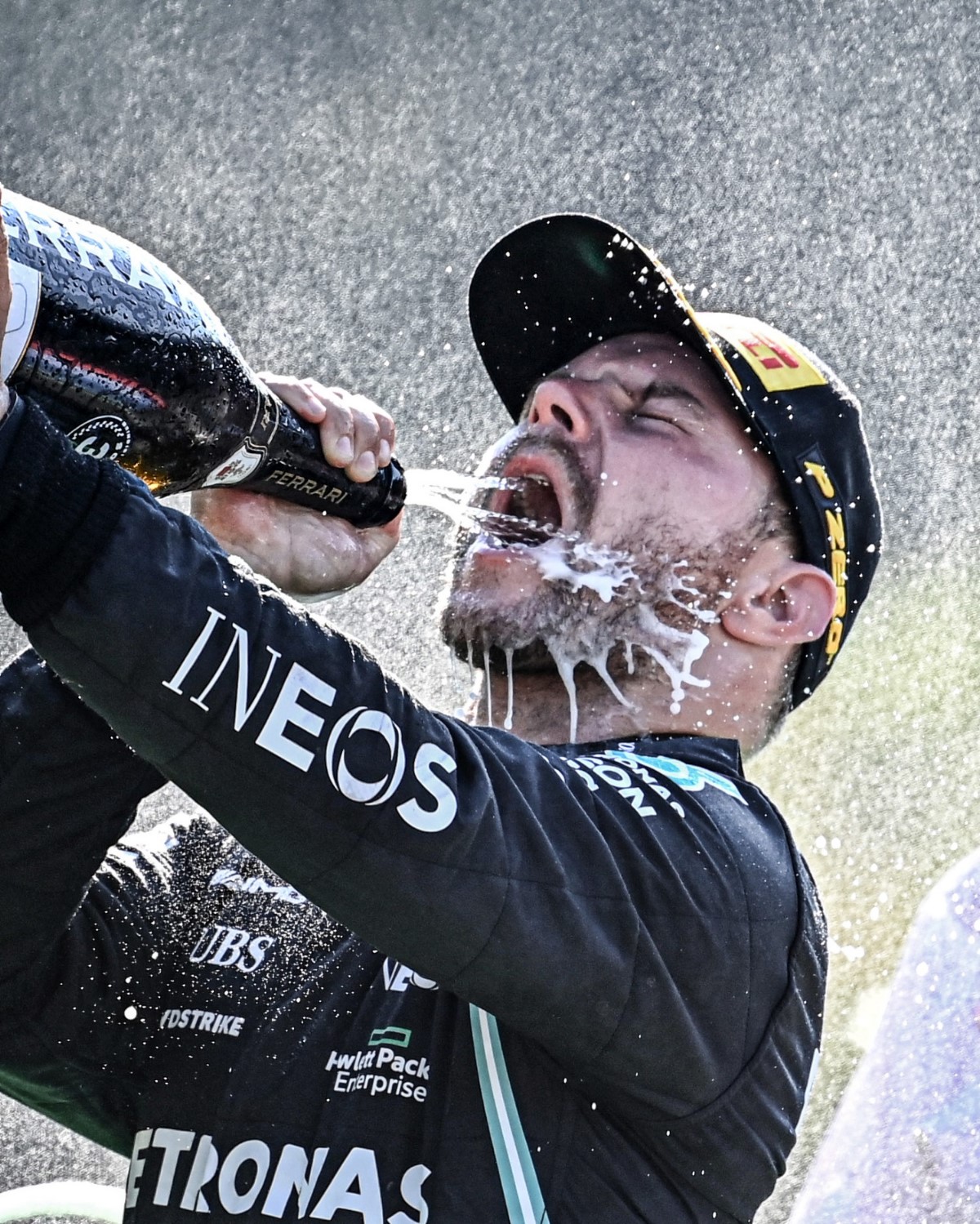 With his 2nd place Verstappen retook the lead from Lewis Hamilton who came home 5th after starting 11th.
"It was not easy today, the track was greasy and we had to manage the tires the whole race," said Verstappen.
"Valtteri had a bit more pace, but we are happy to finish second – it's easy to get it wrong and drop back."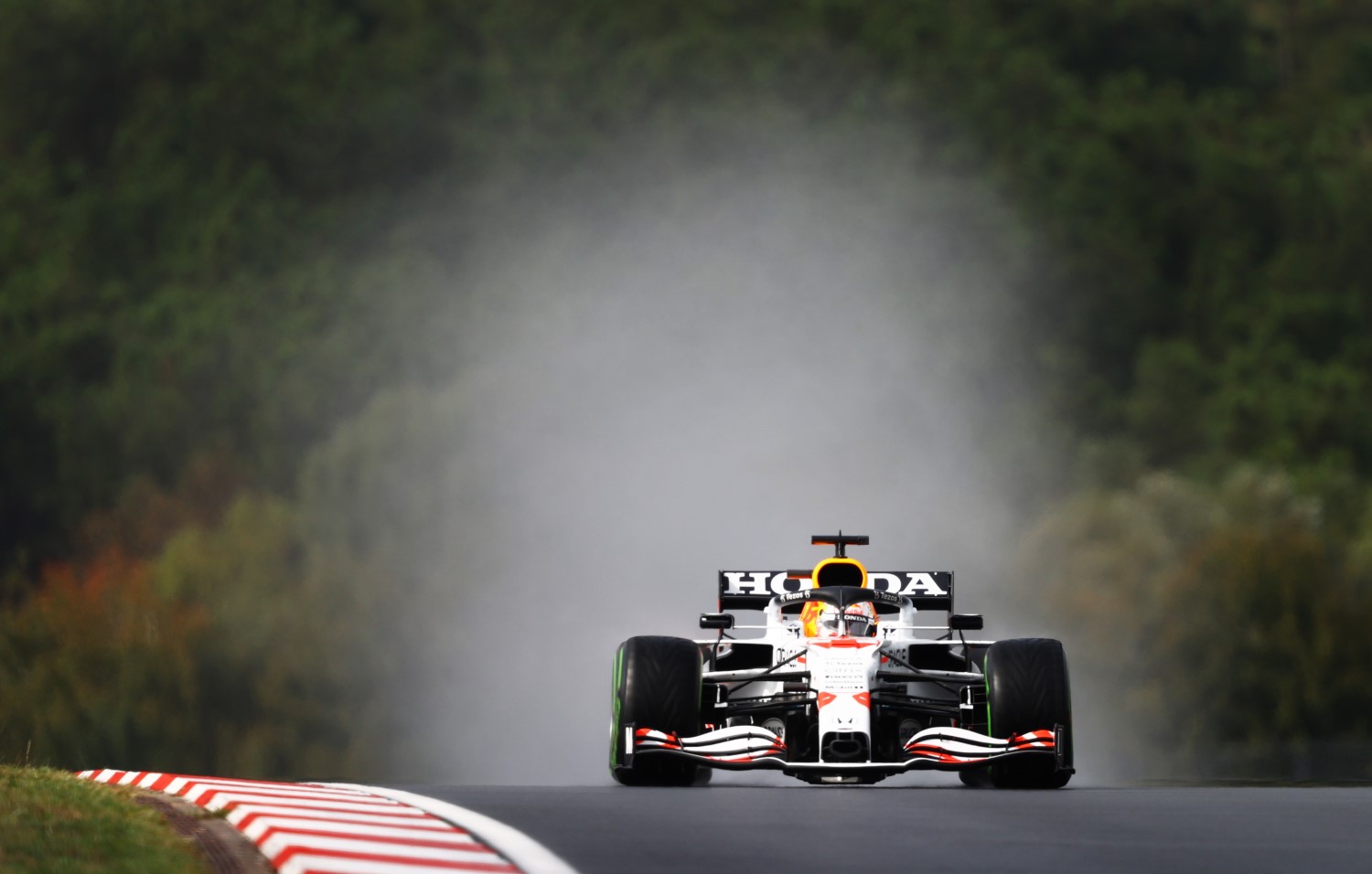 Sergio Perez completed the podium in the 2nd Red Bull Honda, 33.4s behind.  "It was quite an intense race, fighting with Lewis and Charles. The start was very good, manage the tires well, it was tricky to know where you were as the tires went off and came back."
Charles Leclerc came home 4th for Ferrari after leading when Bottas pitted for new Intermediate tires.
Lewis Hamilton finished in 5th 41.8s behind after making a later pitstop for new tires than most.
Speaking of, Hamilton was brought in with a handful of laps to go for fresh intermediate tires. He didn't realize he'd drop from third to fifth, and was not happy with his team when he returned to the track behind Perez and Leclerc.
He was losing a second a lap so arguably second place was long gone – but could he have held on to third on very old tires?
The conditions were strange out there all, wet enough that slicks were never an option – just ask Sebastian Vettel who spun like a wanker when his team put slicks on his- but never soaked enough for the extremes. It was cool enough that the inters didn't overheat, but they did lose grip and turn into effective slick tires at times.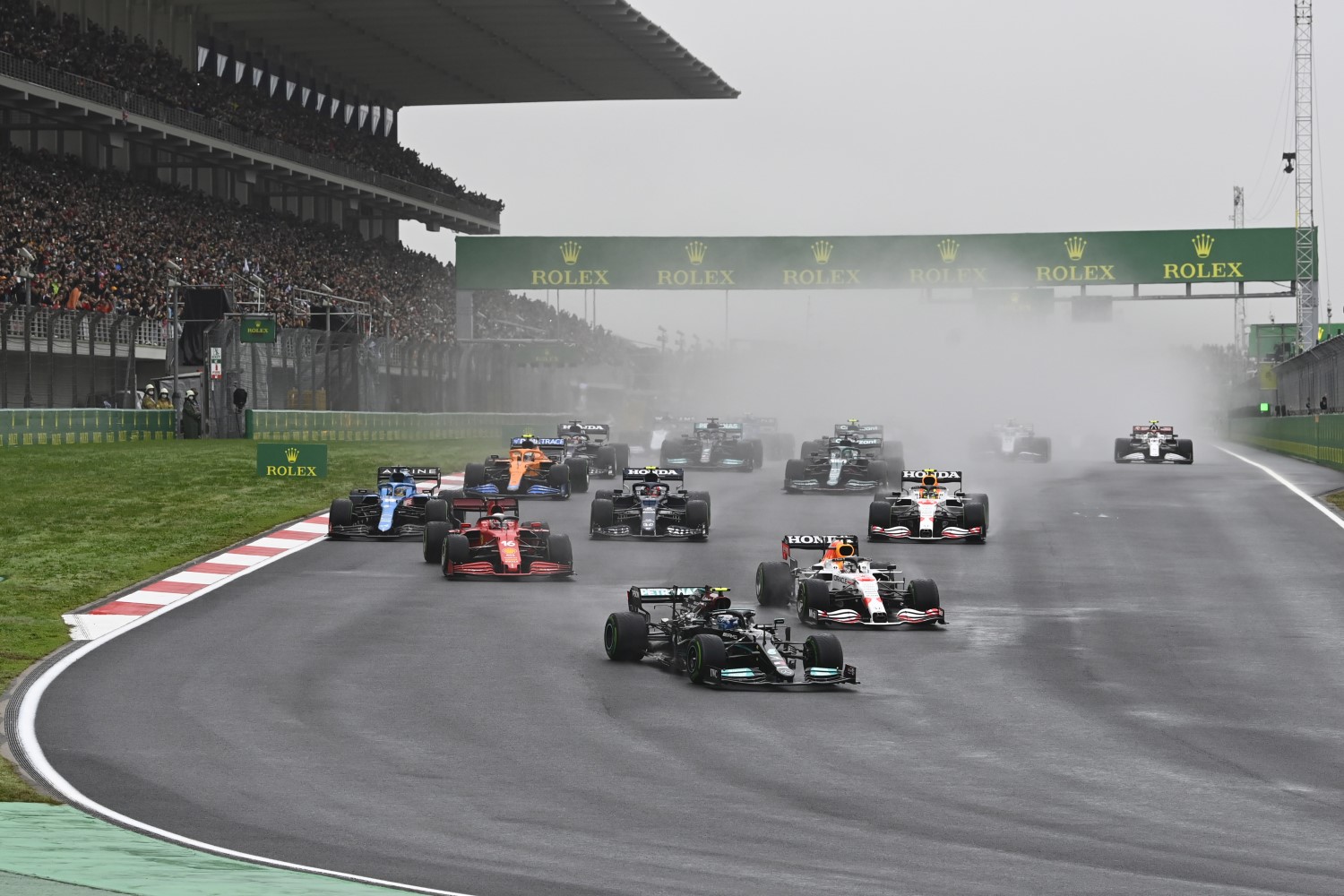 Select Quotes
Valtteri Bottas
Today was probably one of the best races I've had ever – apart from that one little slide, everything was under control. The car has been fantastic in every possible condition this weekend and I had great confidence with it. It's not easy to choose the strategy here with these conditions – when to stop, which tire to choose – but I'm glad everything went smoothly for me. When there's only one drying line it doesn't take much for you to go off, you need maximum focus all through the race and so today feels like a well-earned victory. My first win of the year too which feels great and I was happy to bring it home. It also took points off Red Bull so great for me and the team.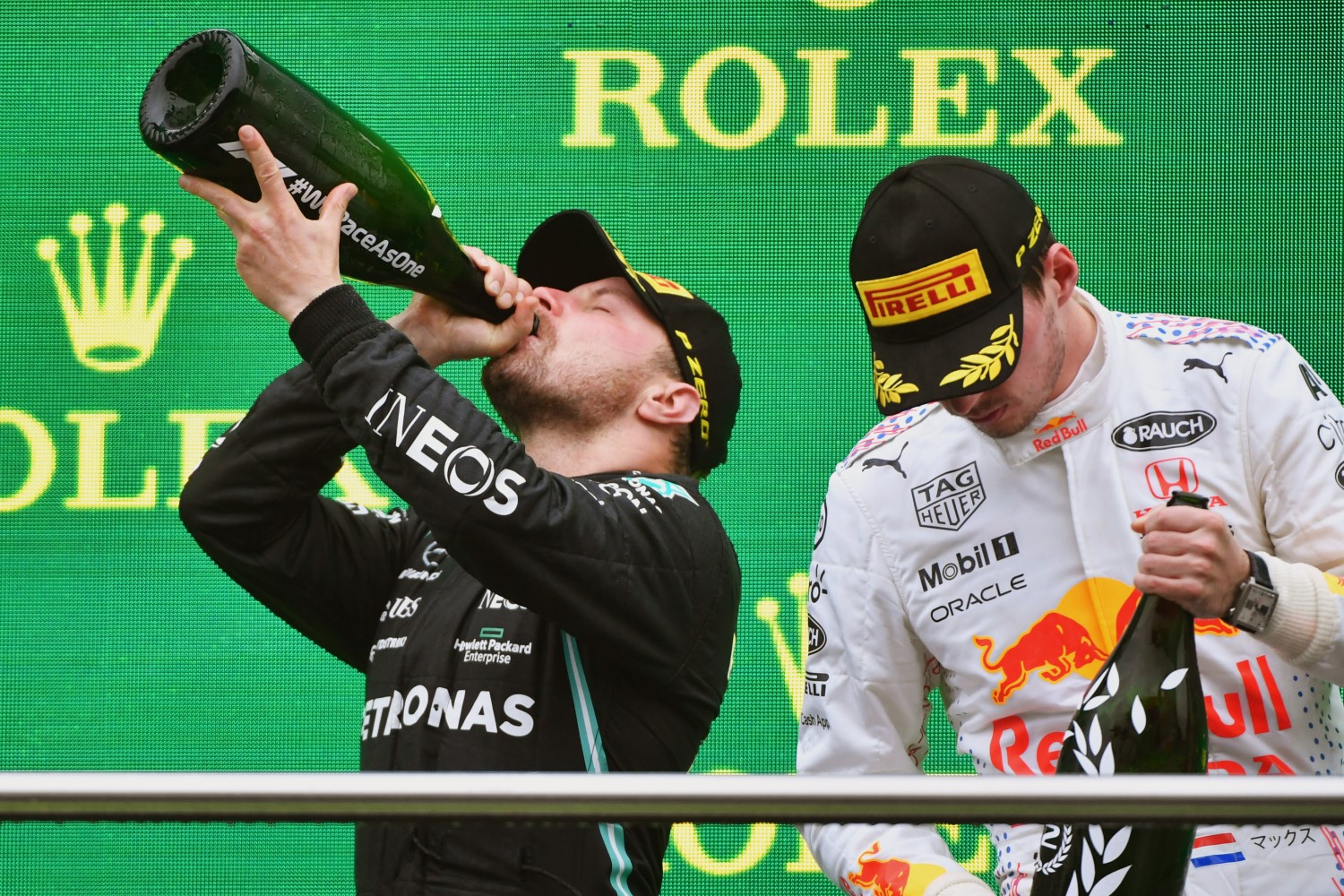 Lewis Hamilton
Today was frustrating but it is what it is – it felt good to be in third and I thought if I could just hold on it would be a great result from 11th. Strategy calls in conditions like today can be so tough. I'm naturally a risk-taker and being third, I was aiming to miss the stop when everyone pitted for new Inters, hopeful that I could get the opportunity to switch to slicks later and gain some good positions. Then the team made the call to come in and you have to rely on your team, accept the choices they make and hope it's the right one – as I always say, we win as a team and we lose as a team. Overall, the car was great this weekend and Valtteri did a great job today. If we can continue to perform like that over the next few races, we'll be in a good position come the end of the season.
Toto Wolff
Absolute dominance from Valtteri today, a 10/10 drive from the get-go from him. He had the race under complete control, not only with his pace but his management of the tires was fantastic. Well done Valtteri, a very strong weekend.
For Lewis, we had difficult decisions to take throughout the race. We thought we could maybe hold out with him, not stopping, and take third place. Or, if a dry line appeared, maybe even bring him in and switch to the Soft tire. The balance for us therefore was between pitting, taking it conservatively and fighting with Leclerc and Perez on track for P3 or, by taking a calculated gamble, have a chance to win the race or finish P3.
As it unfolded, we could see Leclerc's pace dropping off on the old Inter, shortly followed by Lewis and then we knew we couldn't go until the end and needed to stop. At that stage, Lewis was losing 1.5 secs to Gasly and Perez and it would be a matter of time before he was caught. We settle for P5 and I'm happy with the decisions we took.
There is always an absolute view and a relative view. The relative view is that in the last race, Red Bull were very happy to only lose 7 points from a grid penalty – today we lost 8 points so it isn't the end of the world. The absolute view is that today, we could have scored another 3, 4 or 5 points more. But that's fine, the championship is wide open and the fight continues.
Andrew Shovlin
A superbly accomplished drive by Valtteri in the wet today, he had the race under control from start to finish and his fastest lap at the end shows just how much he had in reserve. The only awkward point of his race was giving up the lead to Charles in order to cover Max but that came back to him pretty quickly. Lewis had a busier afternoon – he'd made good progress considering there was no DRS to help and got himself up to fifth, almost passing PER for fourth. At that stage, most cars were stopping, but we decided to leave Lewis out for the chance of either running to the end or transitioning to the dry tire. It started to become clear to us that it was never going to be right for the slicks and our strategy tools were showing that we'd get beaten by PER and LEC anyway if we stayed out, so we took a fresh set of Inters to cut our losses.
We've extended our lead in the Constructor Standings and whilst we've lost a little ground in the Driver Championship, the car pace has been really encouraging here, both wet and dry. We're looking forward to Austin where hopefully we can continue our current run of good form.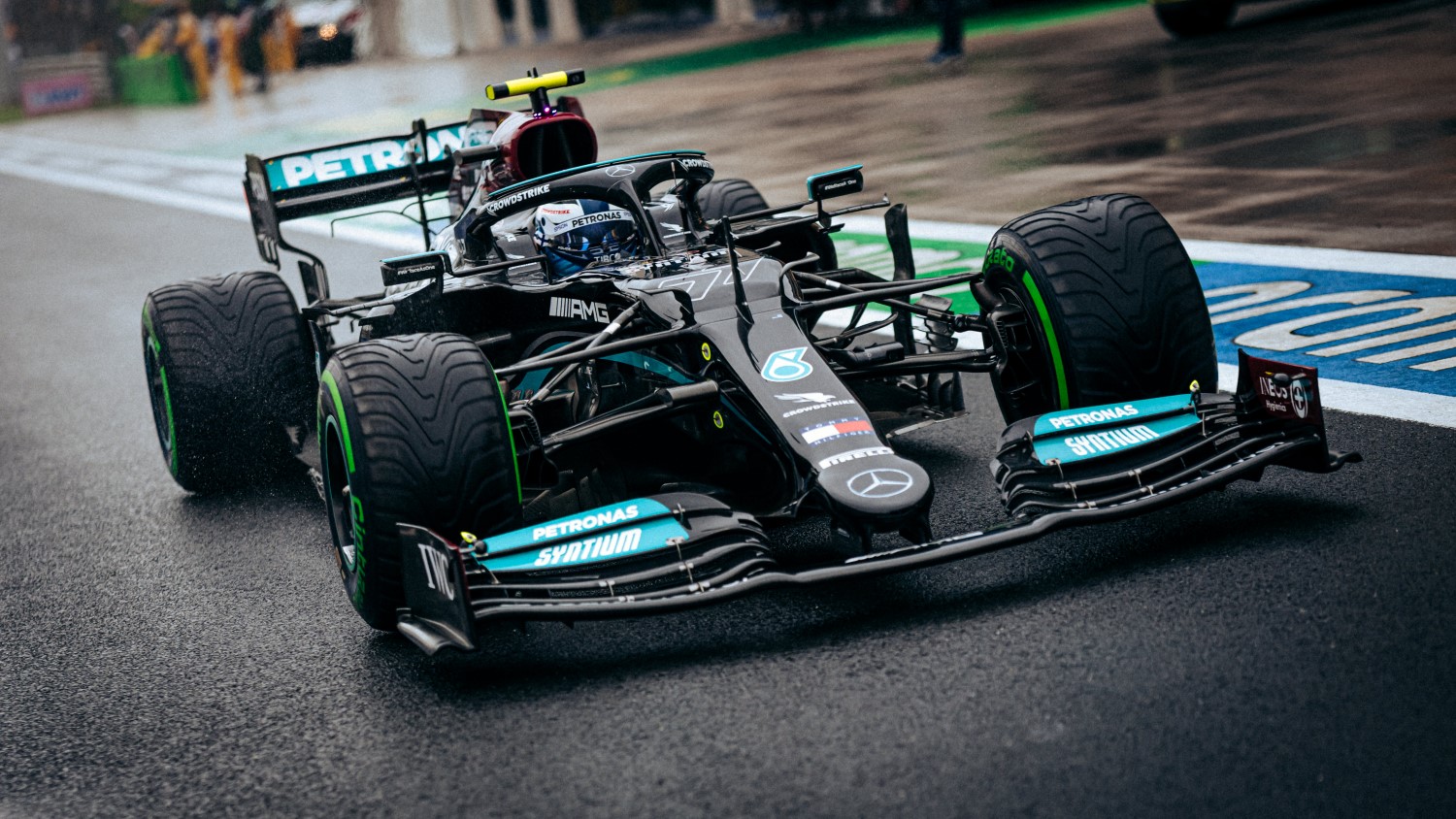 Max Verstappen
"As a Team, to finish second and third here was a great result. It was a pretty straight forward race today and I think in general we had a decent day. The race was all about managing tires, to make sure they lasted to the end which means it wasn't the most fun race to drive as you always want to push hard. Nevertheless, I think we maximized the result today and it's good to be leading the Drivers' Championship again. I do wish I had a bit more pace in the car, but we are still in the fight, we'll keep pushing, and we'll see in the coming races how competitive we will be."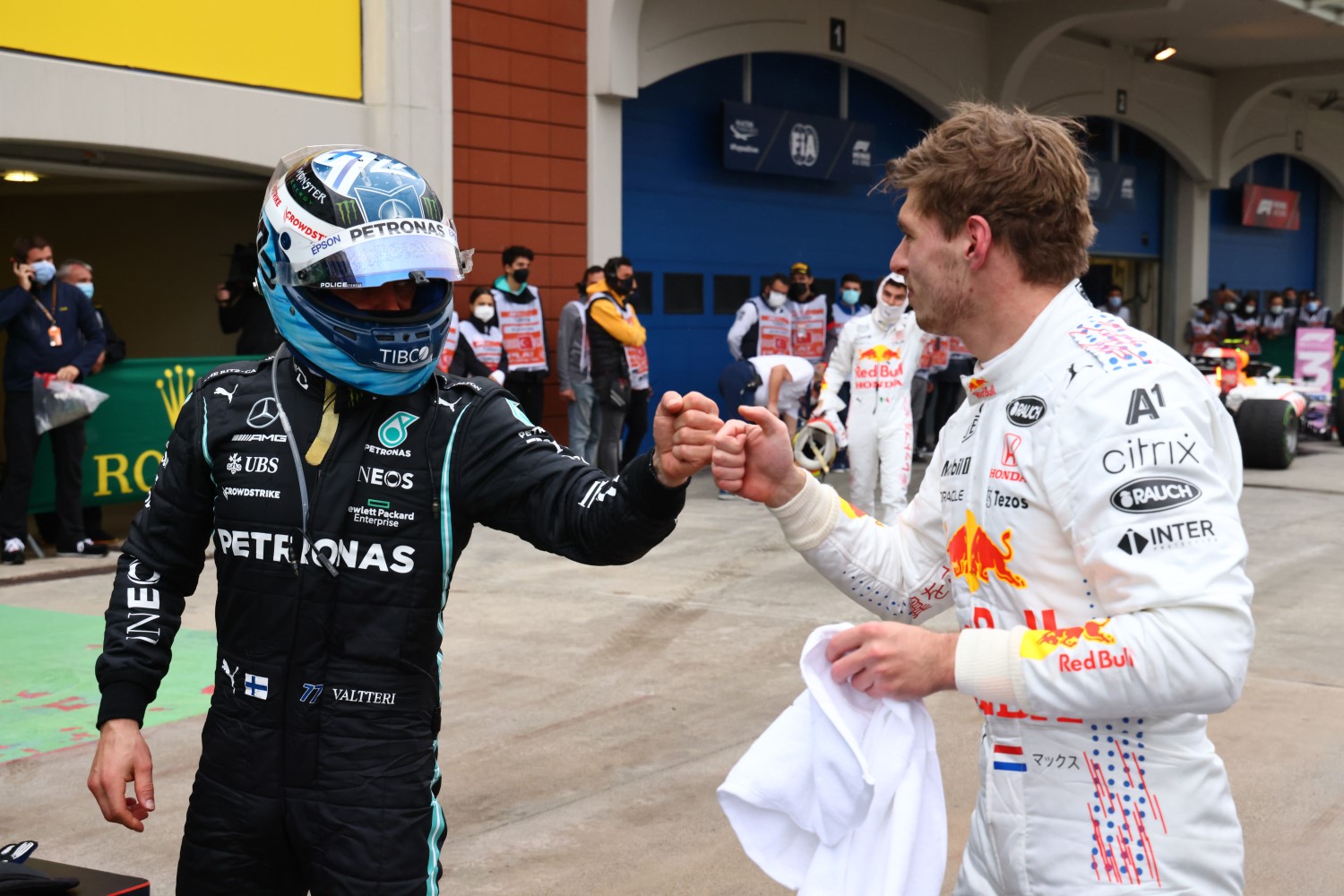 Sergio Perez
"This podium is very special because it was not an easy race for me, it was hard and exhausting at times, so I am very happy this evening. It has been a while since I have been up there, I think the last two or three races we should have been on the podium, but we have been so unlucky. I got a good start, I think there was some contact between Fernando and Pierre into turn one so there were three cars, including me, and I thought we weren't going to make it but in the end, it was a good result for me. After that, I didn't feel comfortable in the first stint with the car and I lost a lot of ground but then the second stint was all about pushing at the right time and using my experience to get a podium for the Team. Lewis was closing in really fast and at that time I was struggling quite a lot with my tires, he had good pace and I thought he might get past me but it turned into a good fight and I came out on top. Lewis is a top driver and it was enjoyable racing with him. When I was standing on the podium I saw a lot of Mexican flags in the grandstands, we are so far from home here in Turkey so it was lovely to see. I think there is a lot we can learn from this race, it is a good result for the Team, and now we're looking forward to Austin."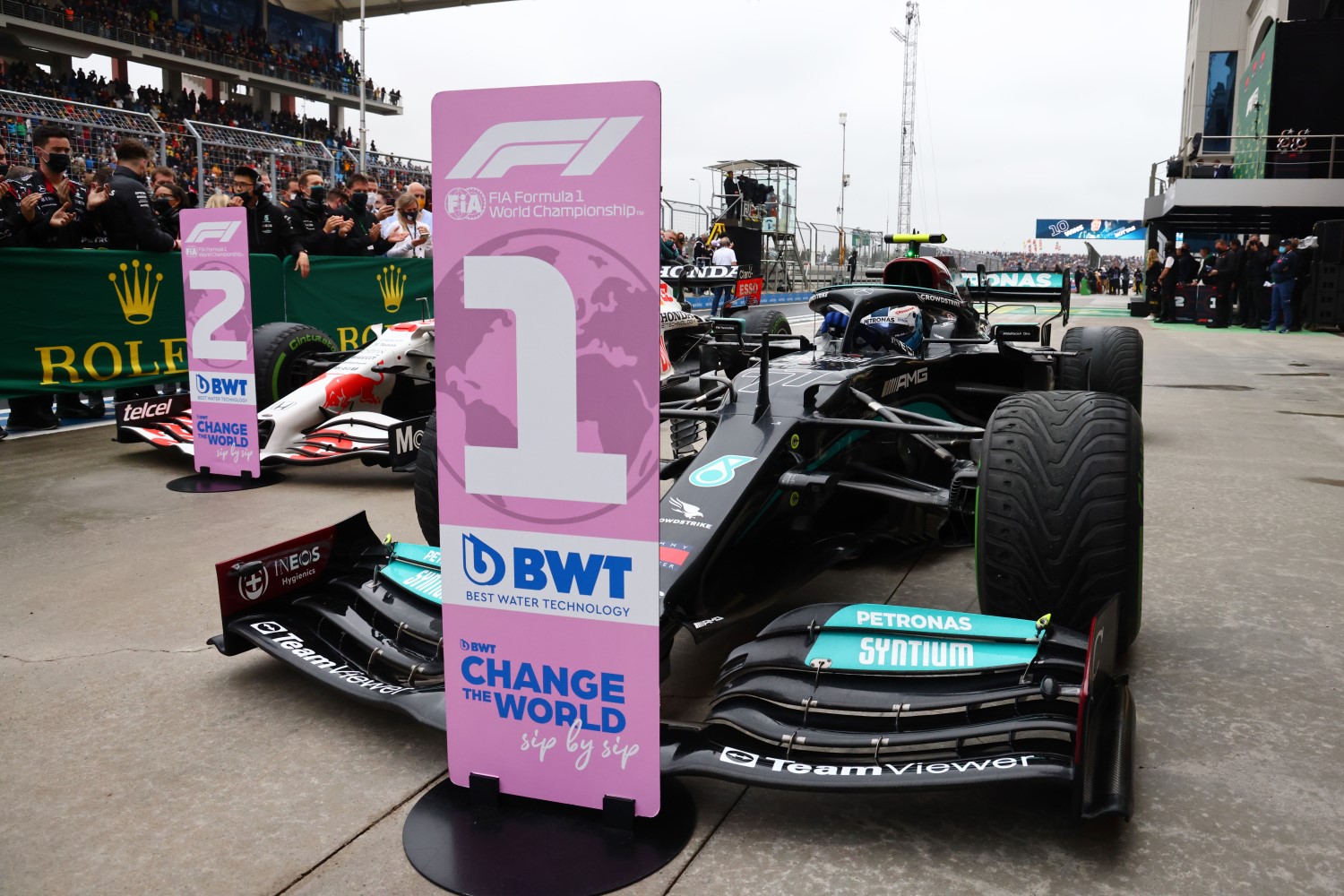 Christian Horner
"A double podium for us was a great result to come away with this weekend. Max has regained the lead in the drivers' championship at a track that has traditionally been strong for Mercedes, we limited the damage and it was a great team job with lots of constructor points, so we'll keep fighting. The lead for the championship keeps changing hands and the rest of the year is going to be incredibly tight, we have some big races coming up and it's good to be putting Mercedes under pressure. For us the crucial moment today was when to pit Checo, we could have kept him out to keep holding up Lewis, but we decided to pit him because we didn't believe Hamilton's tires were going to make it to the end of the race. Checo did an amazing job today, he raced Lewis just as hard as Max does. He went wheel to wheel with him and he actually ended up in the pit lane when Lewis ran him out there, and then it was a drag race down the start-finish straight and he just stuck with it. The next race in Austin has been a Hamilton strong hold so we are going to have to be at the very top of our game, it's great to be in this fight and the whole team is really enjoying it."
Race Results – 58 Laps
| | | | | |
| --- | --- | --- | --- | --- |
| POS | DRIVER | NAT. | TEAM | BEHIND |
| 1 | Valtteri Bottas | FIN | Mercedes AMG Petronas | +0.000s |
| 2 | Max Verstappen | NED | Red Bull Racing | +14.584s |
| 3 | Sergio Perez | MEX | Red Bull Racing | +33.471s |
| 4 | Charles Leclerc | MON | Scuderia Ferrari Mission Winnow | +37.471s |
| 5 | Lewis Hamilton | GBR | Mercedes AMG Petronas | +41.812s |
| 6 | Pierre Gasly | FRA | Scuderia AlphaTauri Honda | +44.292s |
| 7 | Lando Norris | GBR | McLaren F1 Team | +47.213s |
| 8 | Carlos Sainz | ESP | Scuderia Ferrari Mission Winnow | +51.526s |
| 9 | Lance Stroll | CAN | Aston Martin Cognizant | +82.018s |
| 10 | Esteban Ocon | FRA | Alpine F1 Team | +1 Lap |
| 11 | Antonio Giovinazzi | ITA | Alfa Romeo Racing Orlen | +1 Lap |
| 12 | Kimi Raikkonen | FIN | Alfa Romeo Racing Orlen | +1 Lap |
| 13 | Daniel Ricciardo | AUS | McLaren F1 Team | +1 Lap |
| 14 | Yuki Tsunoda | JPN | Scuderia AlphaTauri Honda | +1 Lap |
| 15 | George Russell | GBR | Williams Racing | +1 Lap |
| 16 | Fernando Alonso | ESP | Alpine F1 Team | +1 Lap |
| 17 | Nicholas Latifi | CAN | Williams Racing | +1 Lap |
| 18 | Sebastian Vettel | GER | Aston Martin Cognizant | +1 Lap |
| 19 | Mick Schumacher | GER | Uralkali Haas F1 Team | +2 Laps |
| 20 | Nikita Mazepin | RUS | Uralkali Haas F1 Team | +2 Laps |