F2: Boschung fastest for Campos Racing on Day 1 of testing in Barcelona
Ralph Boschung was the only driver to break the 1m28s benchmark on a chilly first day of testing at Barcelona, with the Campos Racing driver beating Hitech Grand Prix's Marcus Armstrong and DAMS' Ayumu Iwasa.
MP Motorsport's Felipe Drugovich led a gloomy morning session, with the current Championship leader setting a 1:29.755 early doors to see off ART Grand Prix's Théo Pourchaire and Iwasa.
MORNING
With a sprinkling of rain and a track temperature of just 14 degrees, running was reduced on a quiet opening morning of testing, with only two drivers posting more than 30 laps.
Championship leader Drugovich picked up from where he left off at Round 2 in Jeddah, with the Brazilian jumping to the top of the order in the opening hour with a 1:29.755. In second, ART Grand Prix's Pourchaire was 0.165s off his fellow title contender.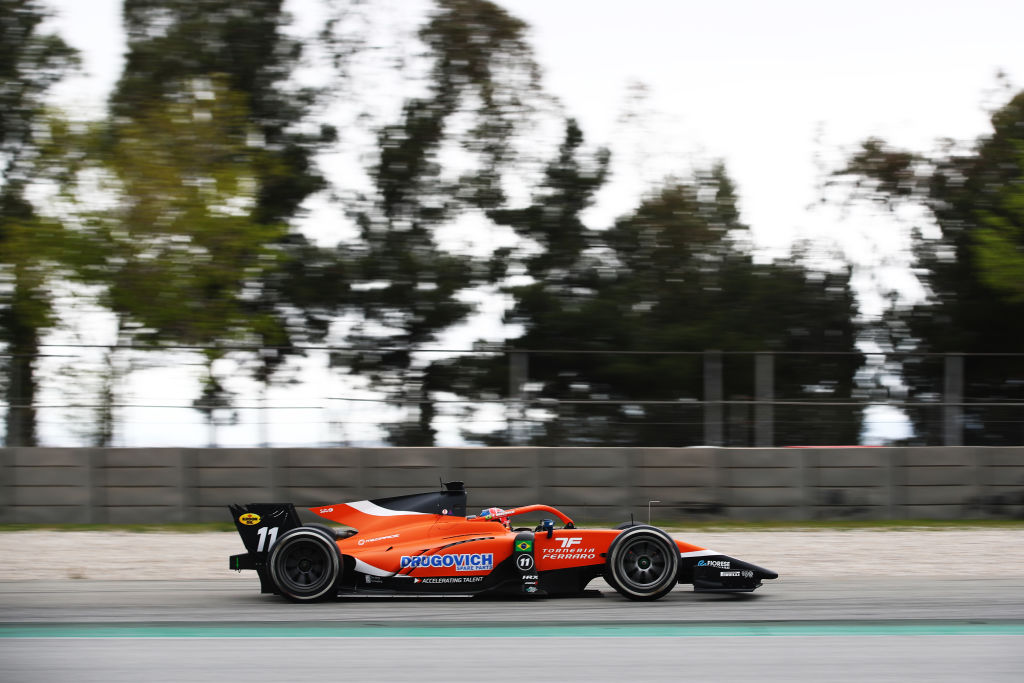 Ayumu Iwasa was 0.369s off the pace in third for DAMS, with Hitech Grand Prix's Jüri Vips and Virtuosi Racing's Jack Doohan completing the top five.
There were three stoppages during the morning, including Calan Williams who spun to a stop at Turn 2. Liam Lawson's Carlin later came to a halt at Turn 10, before Cem Bölükbaşı lost control of his Charouz at Turn 9 and went into the barrier.
Despite the stoppage, Lawson still managed to set the seventh-fastest time behind Marcus Armstrong, who made it two Hitech's inside of the top 10.
Ralph Boschung was eighth for Campos Racing, as Lawson's Carlin teammate Logan Sargeant put himself in ninth.
Finishing 10th fastest, Jake Hughes topped the lap count on Tuesday morning, completing 37 tours of the Circuit de Barcelona-Catalunya.
AFTERNOON
Track temperature marginally increased in the afternoon, rising to 19 degrees, and this meant that the grid was able to offer up a few push laps on the back of their race runs.
After a benchmark time of 1:29.897 from Armstrong during the long-running, Boschung fired to the top of the field, dropping a 1:27.929 to go more than a second faster than the Hitech ace.
Armstrong strapped on a pair of softs and headed back out onto the tarmac, but the New Zealander was unable to break the 1m 28s barrier and had to settle for second fastest, 0.241s off the rapid Campos racer.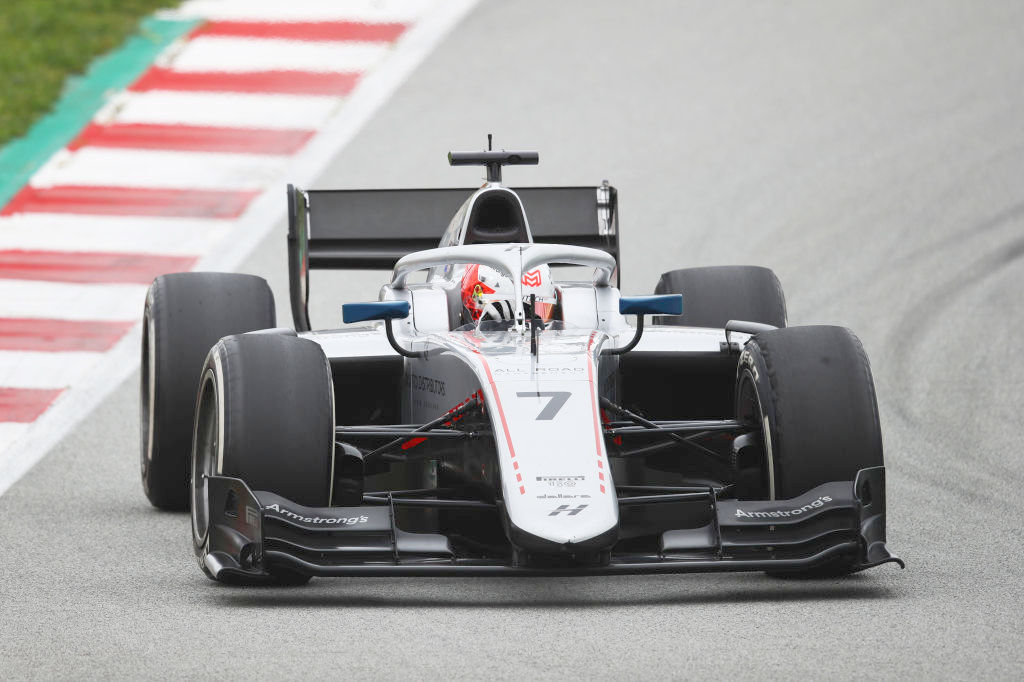 Also switching to Pirelli's soft compound were Japanese duo Ayumu Iwasa and Marino Sato, and they were the only other drivers to come within a second of Boschung. The DAMS racer was third, 0.402s off the leading time, while the Virtuosi was fifth, just over half a second off P1.
The rest of the field opted to remain on the hard rubber, with Felipe Drugovich completing the top five with a 1:29.131. ART Grand Prix pairing Pourchaire and Frederik Vesti were directly behind the MP Motorsport driver, with Richard Verschoor taking eighth. Hughes made the top 10 once again, finishing ninth ahead of Clément Novalak.
There were two more Red Flags in the afternoon, firstly for Vips, who clipped the barriers at Turn 3, and later for Logan Sargeant, whose Carlin came to a halt on track at Turn 1.
Despite the stoppages, there was significantly more running in the afternoon, with just two drivers posting fewer than 30 laps. Boschung and Calan Williams completed the joint-most, with the duo carrying out 55 each.
The second day of testing at Barcelona begins at 9am local time on Wednesday morning.
MORNING SESSION
| POS | DRIVER | NAT | TEAM | TIME | LAPS |
| --- | --- | --- | --- | --- | --- |
| 1 | Felipe Drugovich | BRA | MP Motorsport | 1:29.755 | 20 |
| 2 | Théo Pourchaire | FRA | ART Grand Prix | 1:29.920 | 23 |
| 3 | Ayumu Iwasa | JPN | DAMS | 1:30.124 | 19 |
| 4 | Juri Vips | EST | Hitech Grand Prix | 1:30.207 | 21 |
| 5 | Jack Doohan | AUS | Virtuosi Racing | 1:30.215 | 18 |
| 6 | Marcus Armstrong | NZL | Hitech Grand Prix | 1:30.245 | 22 |
| 7 | Liam Lawson | NZL | Carlin | 1:30.298 | 10 |
| 8 | Ralph Boschung | CHE | Campos Racing | 1:30.361 | 32 |
| 9 | Logan Sargeant | USA | Carlin | 1:30.403 | 19 |
| 10 | Jake Hughes | GBR | Van Amersfoort Racing | 1:30.412 | 37 |
| 11 | Marino Sato | JPN | Virtuosi Racing | 1:30.440 | 18 |
| 12 | Calan Williams | AUS | Trident | 1:30.454 | 17 |
| 13 | Enzo Fittipaldi | BRA | Charouz Racing System | 1:30.465 | 21 |
| 14 | Jehan Daruvala | IND | PREMA Racing | 1:30.466 | 16 |
| 15 | Frederik Vesti | DNK | ART Grand Prix | 1:30.586 | 23 |
| 16 | Roy Nissany | ISR | DAMS | 1:30.692 | 20 |
| 17 | Clément Novalak | FRA | MP Motorsport | 1:30.753 | 18 |
| 18 | Olli Caldwell | GBR | Campos Racing | 1:30.856 | 22 |
| 19 | Amaury Cordeel | BEL | Van Amersfoort Racing | 1:30.886 | 27 |
| 20 | Richard Verschoor | NLD | Trident | 1:30.944 | 13 |
| 21 | Cem Bölükbasi | TUR | Charouz Racing System | 1:31.455 | 21 |
| 22 | Dennis Hauger | NOR | PREMA Racing | 1:31.730 | 16 |
AFTERNOON SESSION
| POS | DRIVER | NAT | TEAM | TIME | LAPS |
| --- | --- | --- | --- | --- | --- |
| 1 | Ralph Boschung | CHE | Campos Racing | 1:27.929 | 55 |
| 2 | Marcus Armstrong | NZL | Hitech Grand Prix | 1:28.170 | 34 |
| 3 | Ayumu Iwasa | JPN | DAMS | 1:28.331 | 51 |
| 4 | Marino Sato | JPN | Virtuosi Racing | 1:28.436 | 42 |
| 5 | Felipe Drugovich | BRA | MP Motorsport | 1:29.131 | 37 |
| 6 | Théo Pourchaire | FRA | ART Grand Prix | 1:29.312 | 52 |
| 7 | Frederik Vesti | DNK | ART Grand Prix | 1:29.383 | 49 |
| 8 | Richard Verschoor | NLD | Trident | 1:29.439 | 54 |
| 9 | Jake Hughes | GBR | Van Amersfoort Racing | 1:29.492 | 36 |
| 10 | Clément Novalak | FRA | MP Motorsport | 1:29.495 | 35 |
| 11 | Jack Doohan | AUS | Virtuosi Racing | 1:29.777 | 44 |
| 12 | Logan Sargeant | USA | Carlin | 1:29.788 | 31 |
| 13 | Roy Nissany | ISR | DAMS | 1:29.824 | 36 |
| 14 | Enzo Fittipaldi | BRA | Charouz Racing System | 1:29.844 | 41 |
| 15 | Jehan Daruvala | IND | PREMA Racing | 1:29.909 | 35 |
| 16 | Calan Williams | AUS | Trident | 1:29.975 | 55 |
| 17 | Amaury Cordeel | BEL | Van Amersfoort Racing | 1:29.993 | 39 |
| 18 | Liam Lawson | NZL | Carlin | 1:30.180 | 49 |
| 19 | Dennis Hauger | NOR | PREMA Racing | 1:30.439 | 36 |
| 20 | Juri Vips | EST | Hitech Grand Prix | 1:30.488 | 15 |
| 21 | Olli Caldwell | GBR | Campos Racing | 1:30.820 | 54 |