The 2022 FIA Formula 1 World Championship season will continue with Round 16, the Italian Grand Prix, at the Autodromo Nazionale Monza this weekend.
The high-speed venue, located in the verdant parklands north of Milan, is this year celebrating its centenary. Monza was part of the inaugural World Championship season in 1950 and has only once been omitted from the calendar, when it underwent renovation works in 1980. The circuit has evolved across its 100-year existence, but the relics of the past remain, such as the iconic banking, which weaves its way through the forest as a nod to Monza's history.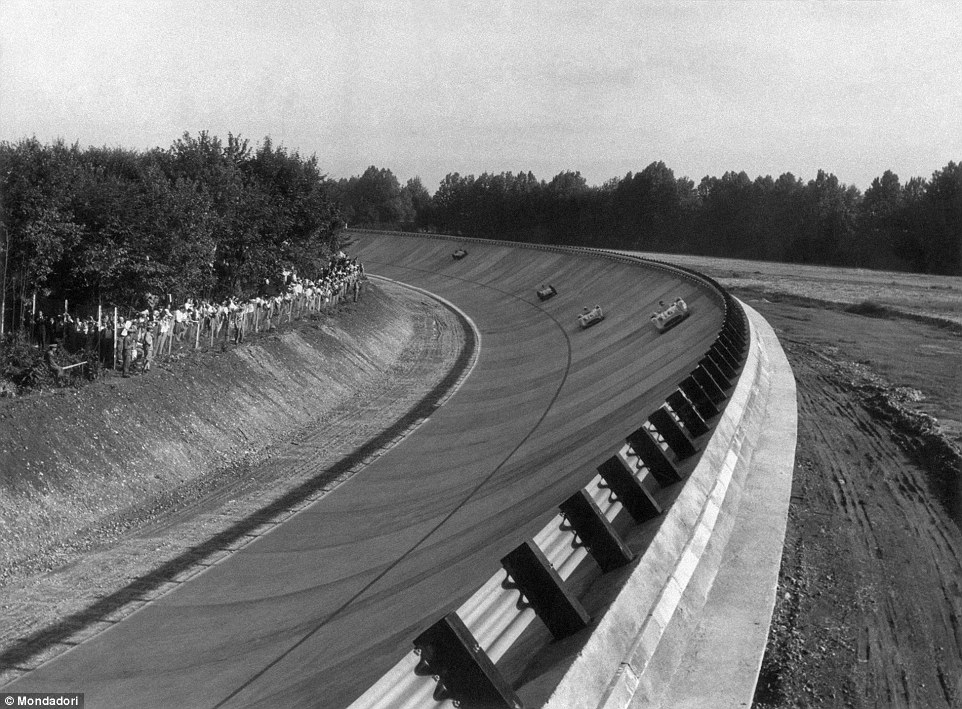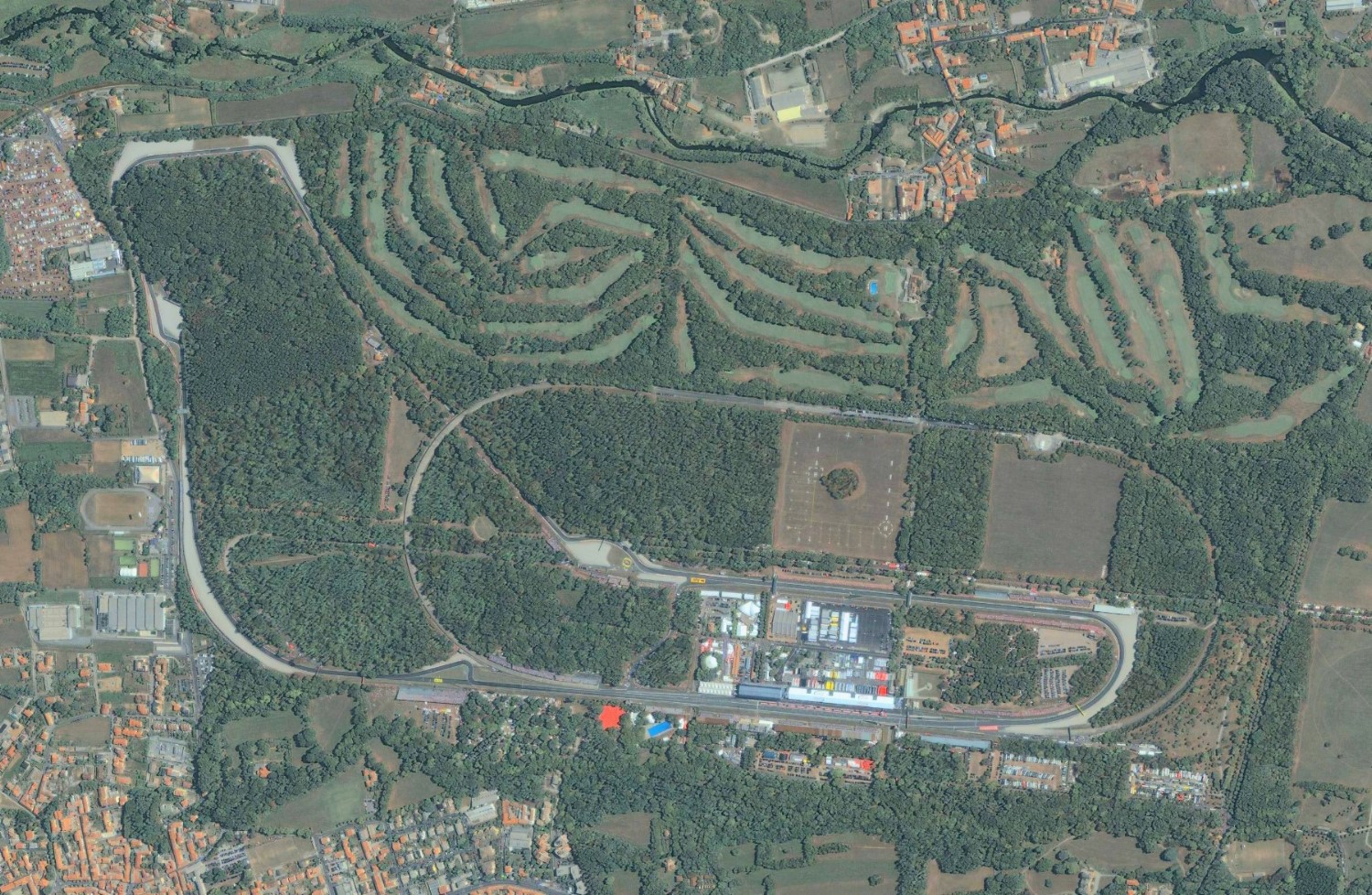 There is something unique about Monza. It's not the octane-laden atmosphere, no matter how fantastic, or the sight of tens of thousands of fans creating a flowing sea of color (admittedly, mostly red) on grandstands and grass alike; it's not the track, no matter how many thrilling, joyous or tragic pages of the history of our sport have been written on its kilometers of tarmac; it's not the slightly melancholic feeling of the final European race of the season, of leaving behind your hospitality – home away from home – until the cold mornings of pre-season testing in Barcelona.
No, there's something unique about Monza, and that's the nature of this circuit itself. It's what this track embodies – in the history of motorsport, in the collective imagination of everyone connected with racing, in the very center of the Italian psyche. Monza is racing: it is racing at its purest, it is human and machine versus the laws of physics. It is banking so steep it's dizzying; corners that have no numbers but names; crumbling tarmac on forgotten parts of the track where you can hear echoes of Farina, Fangio, Rindt, Clark, Senna and Schumacher, heroes through the eras.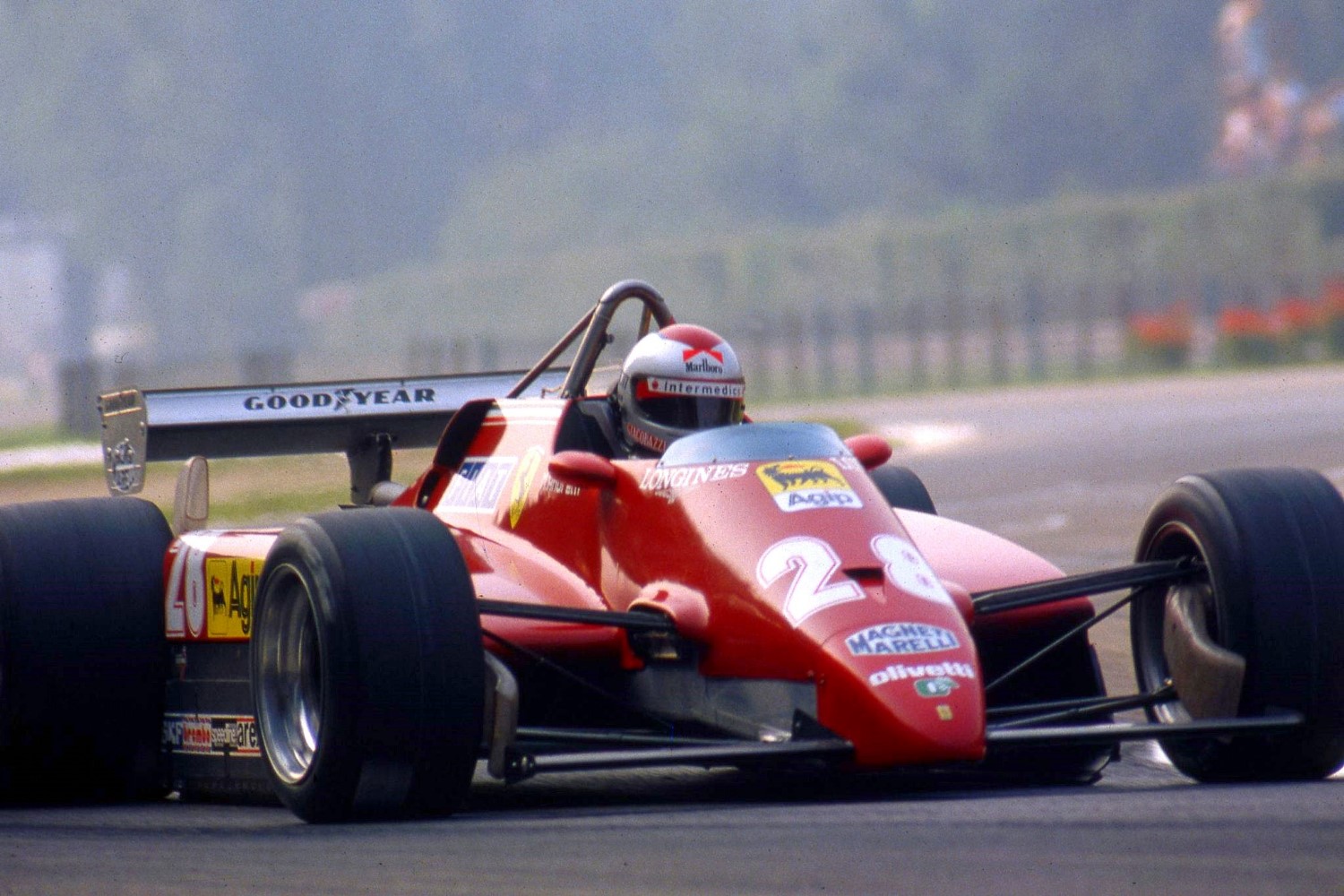 Monza has been synonymous with racing since September 1922 – 100 years ago. This wedding of two concepts, now indissoluble, has been threatened, left for dead, considered a relic of the past – only to return with more passion, more determination, more of a central role in our imagination. It's been here for 100 years, and we hope it'll be here for 100 more.
The circuit is the fastest on the calendar, with lengthy full throttle sections, interspersed by a sequence of chicanes and medium-speed corners. That results in skinny wings and slippery cars, with a low downforce set-up favored, while strong braking stability and traction is also a necessity for a fast lap time. Lewis Hamilton's pole position effort in 2020 was achieved with an average lap speed of 264.363km/h, the fastest in Formula 1 history. As a result, the grand prix itself is regularly the shortest of the season, with 2003's event lasting just 1hr 14 minutes, the quickest full-distance race in history.
Record Crowd expected
Monza is preparing for a record crowd at this year's Italian GP.
Formula 1's popularity is surging this year, which looks set to translate into a huge crowd at Monza as the Tifosi support Charles Leclerc's title push.
"We are still expanding the temporary stands so as not to leave anyone out," said Angelo Sticchi Damiani, president of the Italian automobile club Aci.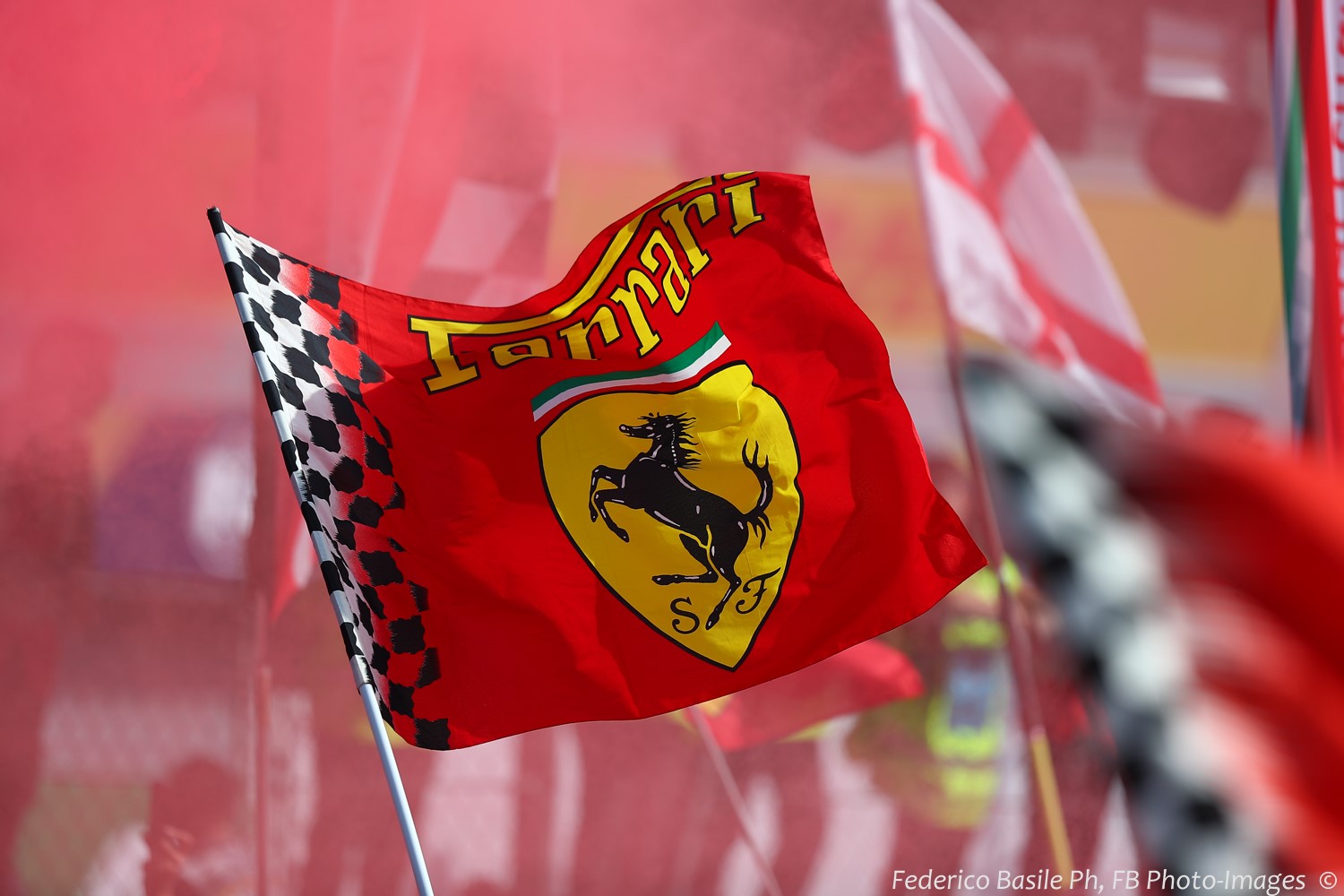 2022 is also a particularly special Italian GP for the fabled Autodromo Nazionale di Monza, as it marks 100 years since the first race back in 1922.
"The numbers for the Monza GP are already exceptional," Sticchi Damiani told Rai radio.
"We are heading towards 320,000 spectators over the weekend – numbers we've never seen."
Last Year's Race
Half-Italian, but racing under the Aussie flag, and now a race winner with McLaren in Italy.
Daniel Ricciardo has broken his streak of bad luck by winning the Italian GP in his #3 McLaren, holding off his teammate #4 Lando Norris by 1.747s.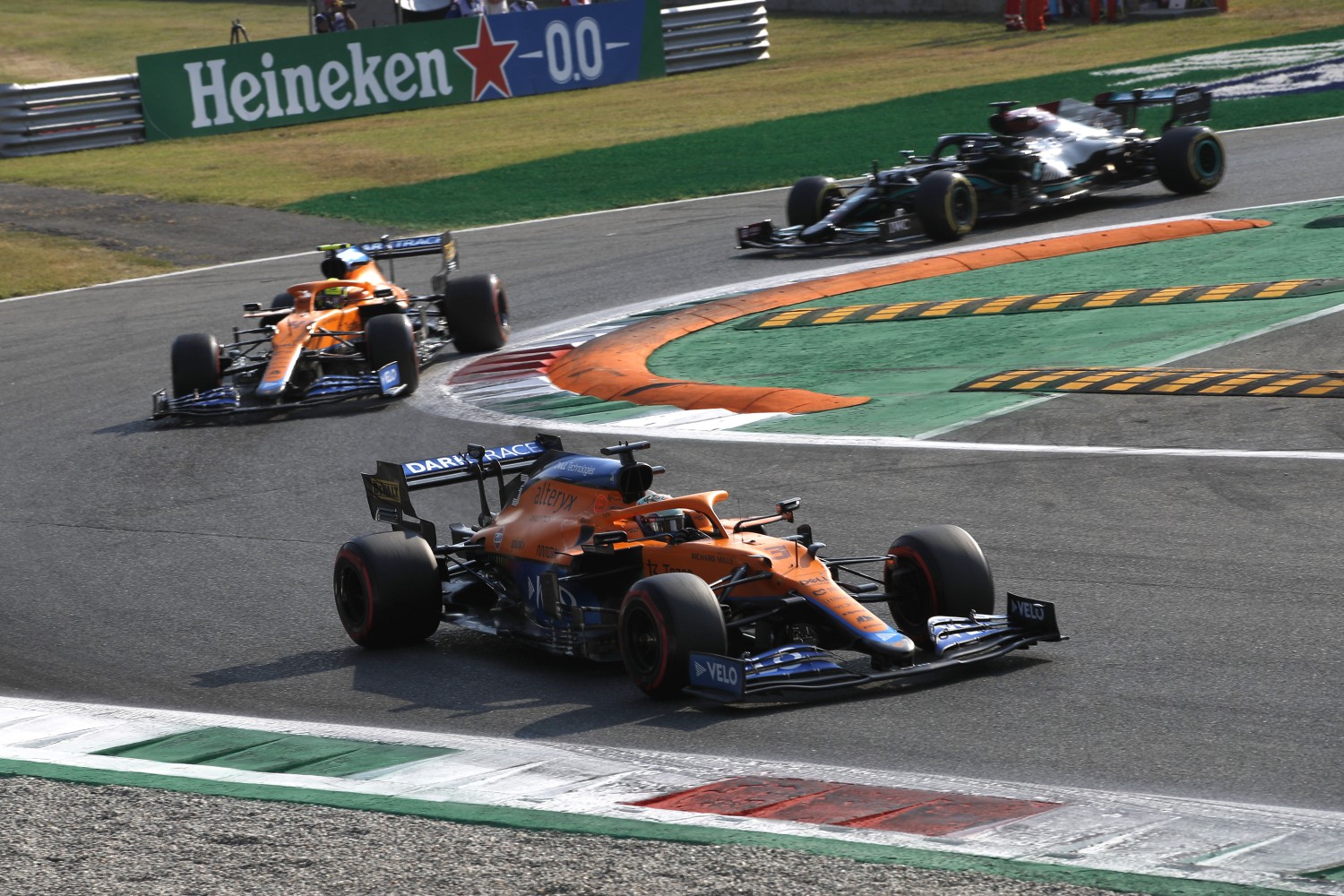 Ricciardo got the jump on polesitter Max Verstappen at the start and never put a wheel wrong to take his 8th GP win. It his first F1 win since Monaco several years ago.
On the podium Ricciardo spoke Italian to the Italian fans, and they loved it.  They consider him one of theirs, even though his Italian family moved to Australia years ago.
The race result changed dramatically when Max Verstappen and Lewis Hamilton took each other out in Turn 1 as Verstappen, on hot tires, was passing Hamilton on cold tires, but Hamilton, did not leave Verstappen any room despite the Red Bull being alongside, and Verstappen's Red Bull ended on top of the Mercedes.
Race over for the two championship leaders.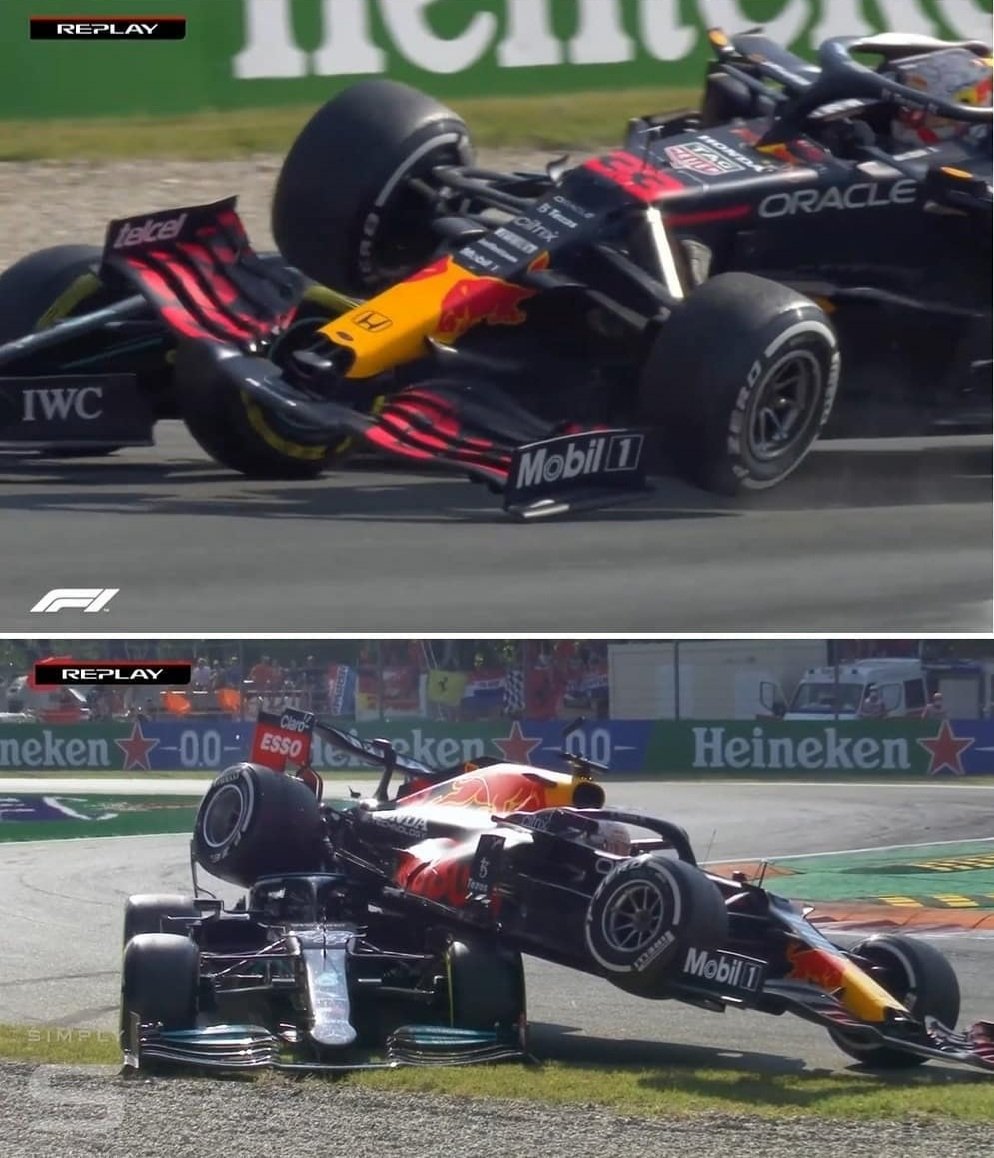 "Of course we realized it was going to be close into Turn 1," said Verstappen.
"He cut across, and he realized I was going for it. He kept on squeezing me and I wanted to work with him. I didn't expect him to keep on squeezing, kept pushing me wider and there was nowhere to go. He pushed me onto the sausage curb and that's why we crashed."
"It landed on my head, but I'm okay," said Hamilton.
Circuit Insight
Overtaking: Despite the long straights, Monza is a fairly difficult circuit for passing. Due to cars running low-drag wings, DRS is less effective here – only 54% of overtakes are completed with it. The opening chicane is the preferred place to make a move – nearly two-thirds of overtakes are made there.
Race disruptions: Monza tends to throw Safety Cars and Virtual Safety Cars into the mix, assisted by a higher-than-average retirement rate. If the timing of a disruption works in a driver's favor, it can benefit them massively. The opening lap is particularly perilous due to the tight nature of some corners.
Strategy: Traditionally, this has been a one-stop race. The pit loss time is quite high due to the long main straight, tire wear is not particularly high, and the overtaking difficulty makes it very tricky to charge through the order. Pirelli is bringing its C2, C3 and C4 compounds for the seventh time this season.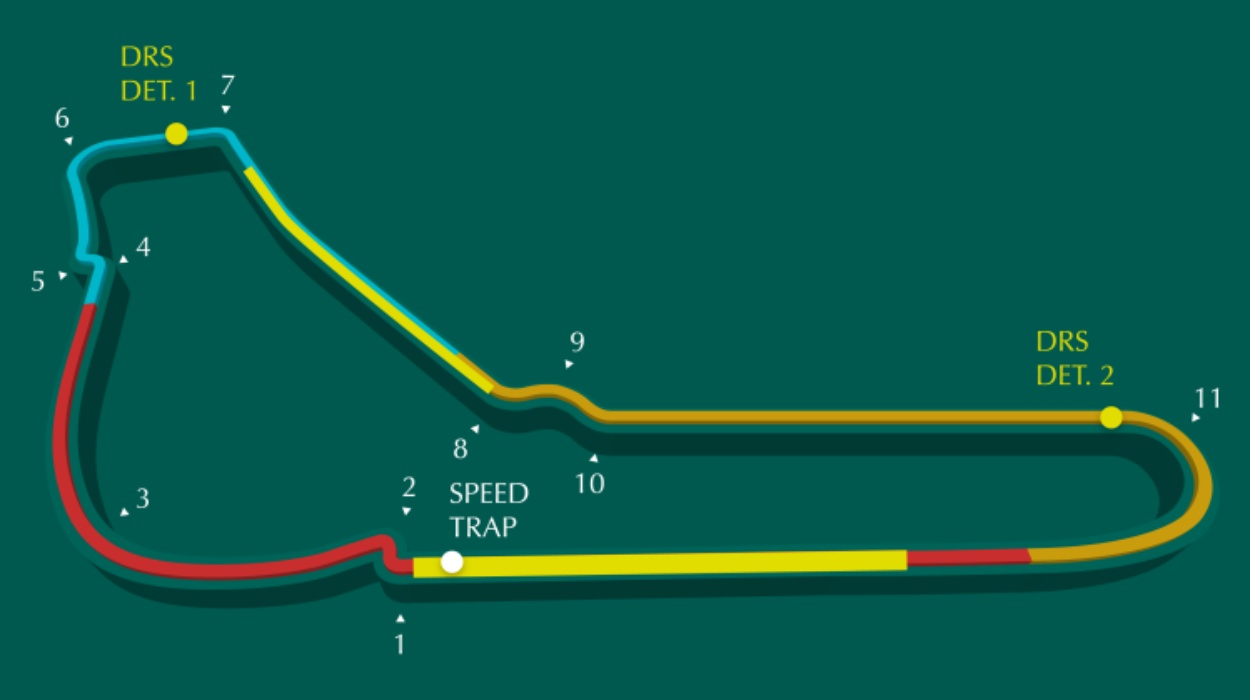 A lap opens with a long run down to the first corners – a very tight right-left chicane that is one of the slowest sections on the whole calendar.
With low-downforce packages on the cars, it can be easy to misjudge the braking point. The exit is also key, with a long flat-out blast through the Curve Grande following.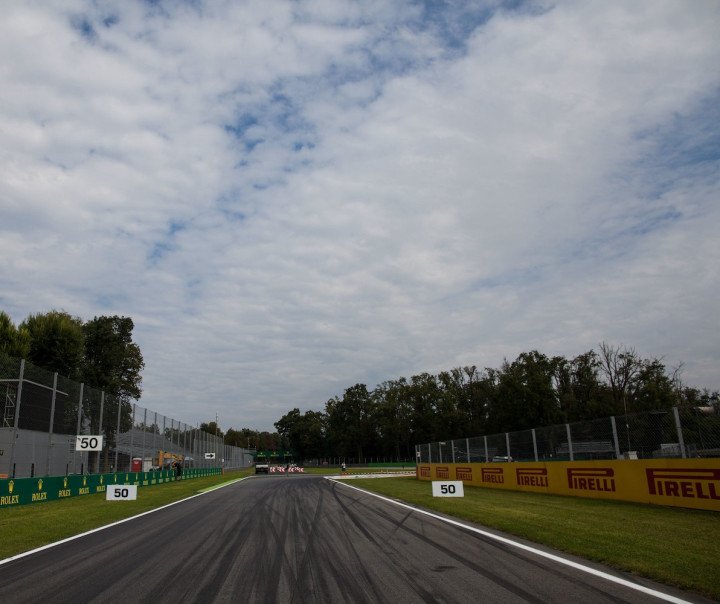 The Variante Ascari is the third, and perhaps the most challenging, of the track's chicanes. Deceptively quick, carrying too much speed or hitting the curbs can really upset the stability of the car, sending it into a spin.
Again, the exit is crucial here, with another long straight following this corner.
Parabolica – now renamed Curva Alboreto after the late Italian racer – concludes the lap. It is a long right-hander that opens up on exit.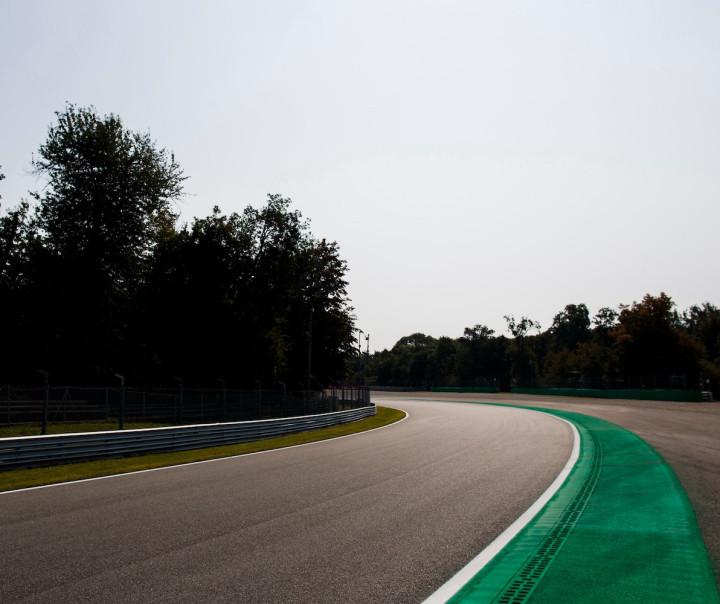 The apex can be difficult to perfect, particularly while following another car, and it is also easy to exceed track limits. It's a key corner.
Monza is nicknamed 'Temple of Speed' and for good reason, as 76% of the lap time and 83% of the lap distance are taken at full throttle – the highest of any F1
Due to the long straights and large portion of lap spent in eighth gear, Monza is one of the lowest tracks for gear changes per lap, with only
The Italian GP is the lowest downforce level of the year and requires a special rear wing, just for this There is still enough downforce to – in theory – drive a car upside down, though.
Monza has the highest average corner speed of any F1 track, with the fast Curva Grande (Turn 3) and Parabolica (Turn 11) counterbalancing the various slow chicanes that split up the long
The tow is massively powerful in Monza and is particularly important in qualifying, leading to battles on track to find a tow – you don't want to be at the front of the pack, punching a hole in the air for everyone It can bring as much as 0.25 seconds of lap time per lap.
Talking Points: 
Heading into this year's race, there's plenty to keep an eye out for throughout the weekend. This is the second home race of the season for Ferrari Scuderia, who've recently been shooting themselves in the foot with poor strategy and execution, on and off the track. Charles Leclerc was victorious in his first Monza outing in Ferrari red, but crashed in 2020 as the team saw its worst performance at the 'Temple of Speed' in decades. Redemption could be on the cards, but their performance will need to be perfect.
Talks of a Mercedes-AMG revival will be tested this weekend, as Lewis Hamilton and George Russell look to improve on their 2-4 finish in Zandvoort last weekend. Hamilton was furious with his team for not getting him in for a pit stop for fresh tyres towards the end of the race in North Holland, but the progress in a team that's struggled for most of the year is there to see.
News of driver moves continue, as Red Bull look to confirm Colton Herta's place in the AlphaTauri seat currently belonging to Pierre Gasly. A chain of events will unfold if Herta is granted an FIA Super License, which he is currently not eligible for, where Gasly will depart AlphaTauri for Alpine to replace Fernando Alonso. There will no doubt be an update regarding the IndyCar star this weekend.
The rivalry between Hamilton and Verstappen was back on the cards in Zandvoort last weekend, and it couldn't be at a better time. Last season saw the pair battling for the world championship at every corner, but Max Verstappen's lunge on turn one after the Brit had the inside line saw the Dutchman bounce from a sausage curb onto the halo of Hamilton, leaving both cars stranded in the gravel and their weekends ruined. More drama this weekend would make for great viewing, but hopefully there won't be another dangerous collision.
Betting Odds to win
Max Verstappen: 2/5 (odds on favorite)
Charles Leclerc: 11/2
Lewis Hamilton: 8/1
George Russell: 9/1
Sergio Perez: 12/1
Pirelli Tires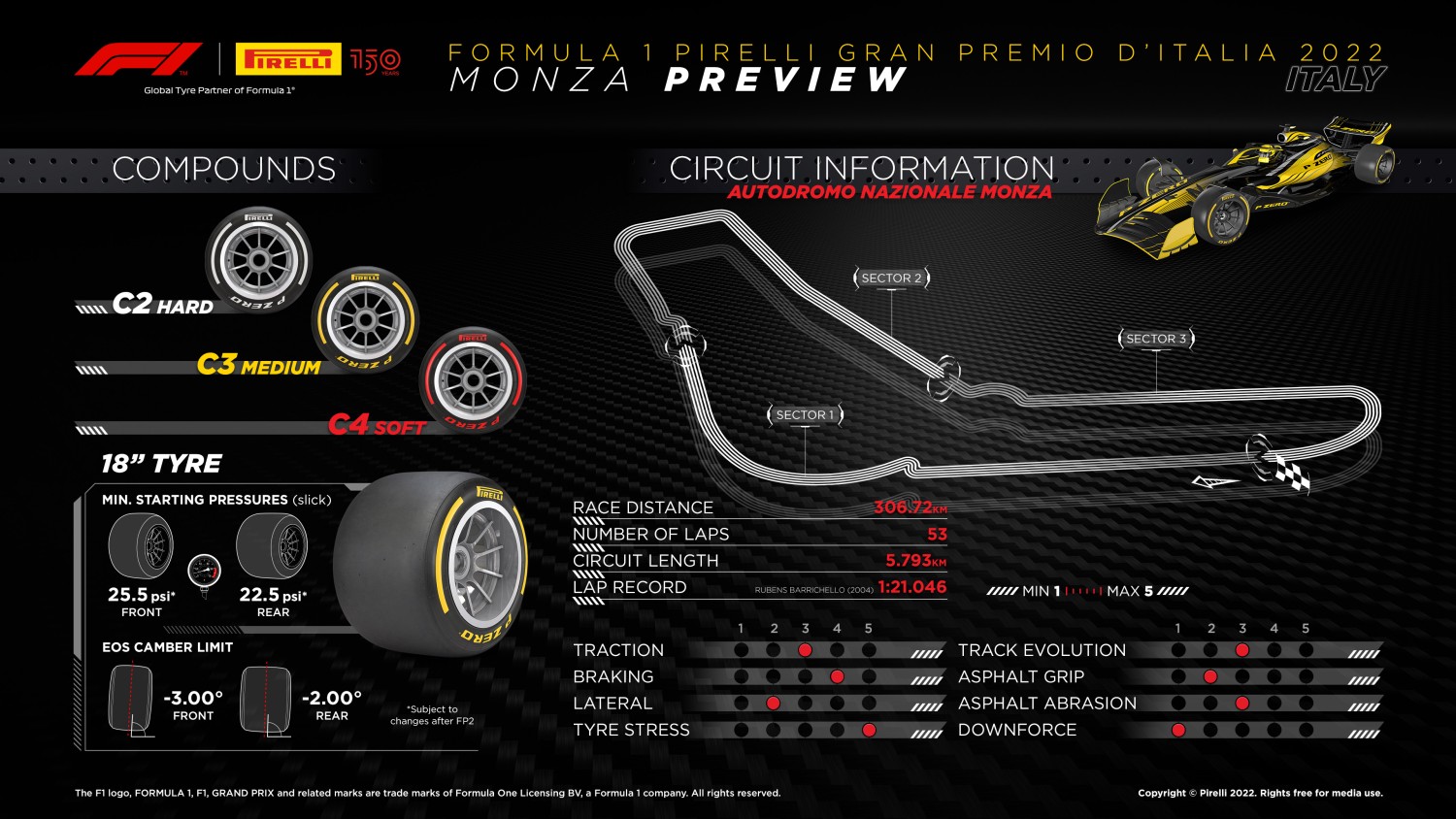 MARIO ISOLA – MOTORSPORT DIRECTOR
"A big festival for motorsport!"
"It's a big event for us as we enjoy our 150-year anniversary at home, where Monza also celebrates its first century! So, we are looking forward to a big festival of motorsport in Italy, which we can rightly feel very proud of as we equip the most sophisticated and efficient cars in Formula 1 history with 18-inch tires. Monza is well-known for its high speeds and some fast corners, where it's important to have a car with perfect balance. This year's tires should lead to less overheating at the rear on a track where the cars run low downforce and often use slipstreaming to gain a tow. With no sprint race in Monza this year, the teams will head into the grand prix with a bit less information than last time, which means that the strategic approach will be somewhat different."
The three compounds in the middle of the range have been chosen for Monza: C2 as the P Zero White hard, C3 as the P Zero Yellow medium, and C4 as the P Zero Red soft.
Eliminating the natural understeer tendency of the current cars is a challenge at the slow corners in Monza, with a strong rear end needed to achieve a perfect balance through the fast sections.
Traction is important to ensure a good drive into the flat-out straights from the slower and more technical parts of the circuit: another well-known characteristic of Monza, with notable curbs at the chicanes.
The low downforce settings, with a specific low-drag package, mean that the focus is more on mechanical grip from the tires.