F1: Friday Spanish GP Team Principals Press Conference
TEAM REPRESENTATIVES
Franz TOST (AlphaTauri), Andrea STELLA (McLaren), Frédéric VASSEUR (Ferrari), Mike KRACK (Aston Martin)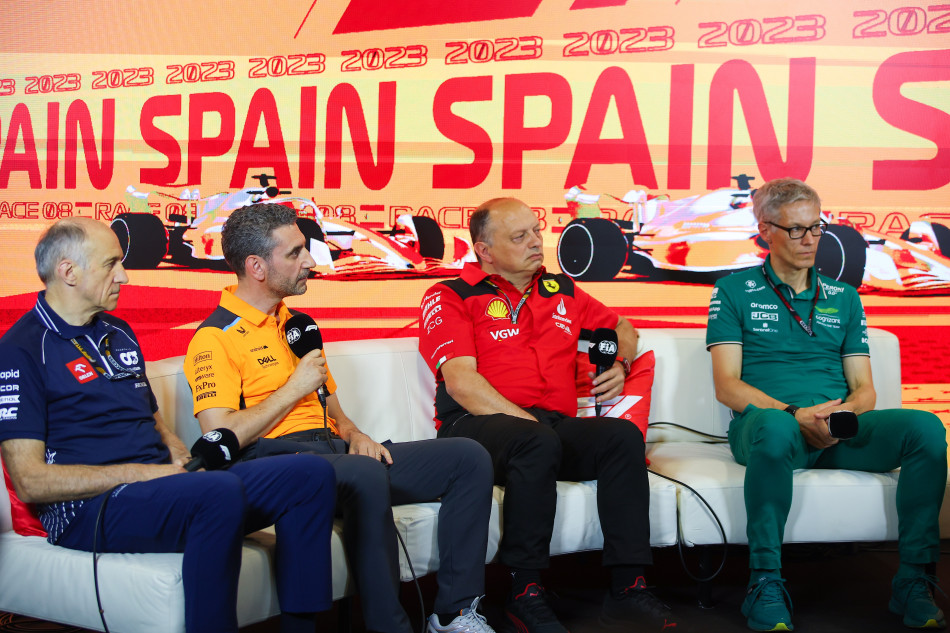 Q: Mike, how are the vibes in the Aston Martin garage this weekend? Are people feeding off the energy in the crowd?
Mike KRACK: Yes – but it's not only the garage. It's the whole circuit and the whole of Barcelona. Wherever you go, you see the green shirts. In front of our garage yesterday it was just amazing what happened there. And this is obviously translating into the whole team and yeah, it's just fantastic to see something like that.
Q: Tell us a little about the car here. We've only had the one practice session but what are your initial thoughts?
MK: Well, for us, it wasn't a practice session, it was a test session because we had a lot of things to try. We have the tires, we had a couple of aerodynamic rakes on and so there was a lot of work to do and we basically had just one run. So, I think it was important to get a feel for the old/new layout – some of us remember this layout – I think it's nice to be back on this one, and we have also seen a little bit the Barcelona-typical things that we knew from the past here, so all-in-all, as I said, for us it was a test session and the first look-and-see at the end. So, all good from that point of view, everything went smooth.
Q: And what were the drivers saying about the new/old layout – if we can call it that?
MK: Well, I think every race driver wants to have fast corners and not these little, tiny chicanes, so both were happy, both are drivers that like high-speed corners, so they are both happy with how it changed.
Q: So, today has been a test session, you were second in Monaco last time out, best result of the year so far. How close do you feel you are to winning a grand prix on merit. 
MK: I think that is very difficult to say because it's such a relative competition that you are depending on the pace of others, you are depending on yourself, so I think it would be bold to say we will win this one, or that we are close to winning. We have to see. We have to be there at each opportunity that is coming and, if it comes, we have to be ready, and until then we have to work hard to keep ourselves in the position to be there. I will not make any predictions of when we're going to win a race.
Q: And after what you learned in Monaco last weekend, are you going to encourage your strategists to be a little more aggressive in future races?
MK: If aggressive means gambling then the answer is clearly no. We are not gamblers, we are a data-driven team, we look at all the information we are having. So, if that is what you mean then the answer is clear.
Q: Final one from me, you've got a new home, the team moved into the new factory this week. Tell us a little bit about that. What is the mood there and just how good is the new factory?
MK: It's fantastic – you should come and have a look – it's really, really nice. We moved in, as you said, last week. Not everything is ready yet, to be fair, but the first floor is full of people, a lot of smiles and the communication is much better. We have seen already after one day that you have a much better exchange between the people. You see different people that you have maybe not seen as often as before. So, it was a good first week and it will continue to be very good.
Q: Is the migration complete? Is everybody in the new factory or is that process still happening. 
MK: Well, for someone like me, it's easy. I pack a box, someone puts it in the new office, I go in the new office and plug in. So that is easy – but for production especially, with autoclaves, with machines, it is not a five-minute job. So this is all well-planned, so that we have no downtime. We have a simulator to move, so all these kind of things are planned well in advance and they will move over gradually.
Q: Fred, Charles' home race last weekend, Carlos' home race this weekend. How do you think the support of the crowd affects a driver?
Frédéric VASSEUR: It's always nice to have the support from the fans. Sometimes you have to take care that it's not too much but I think it's always positive and the fans are always very nice and very dynamic and positive, so you can't complain about this, it's always a good one but I'm  not sure at the end of the day when they put on the helmet that they are faster because we are at home.
Q: You have a very different-looking car this weekend. What have the drivers said about it so far in FP1?
FV: The debrief is now, so it is difficult for me to know exactly what they say but I know the first feeling is good – but as Mike said before, it was a very intense session and we had to test the proto-tires and we did three or four small runs of a couple of laps. Let's have a look around everything and we'll see over the weekend what is the situation.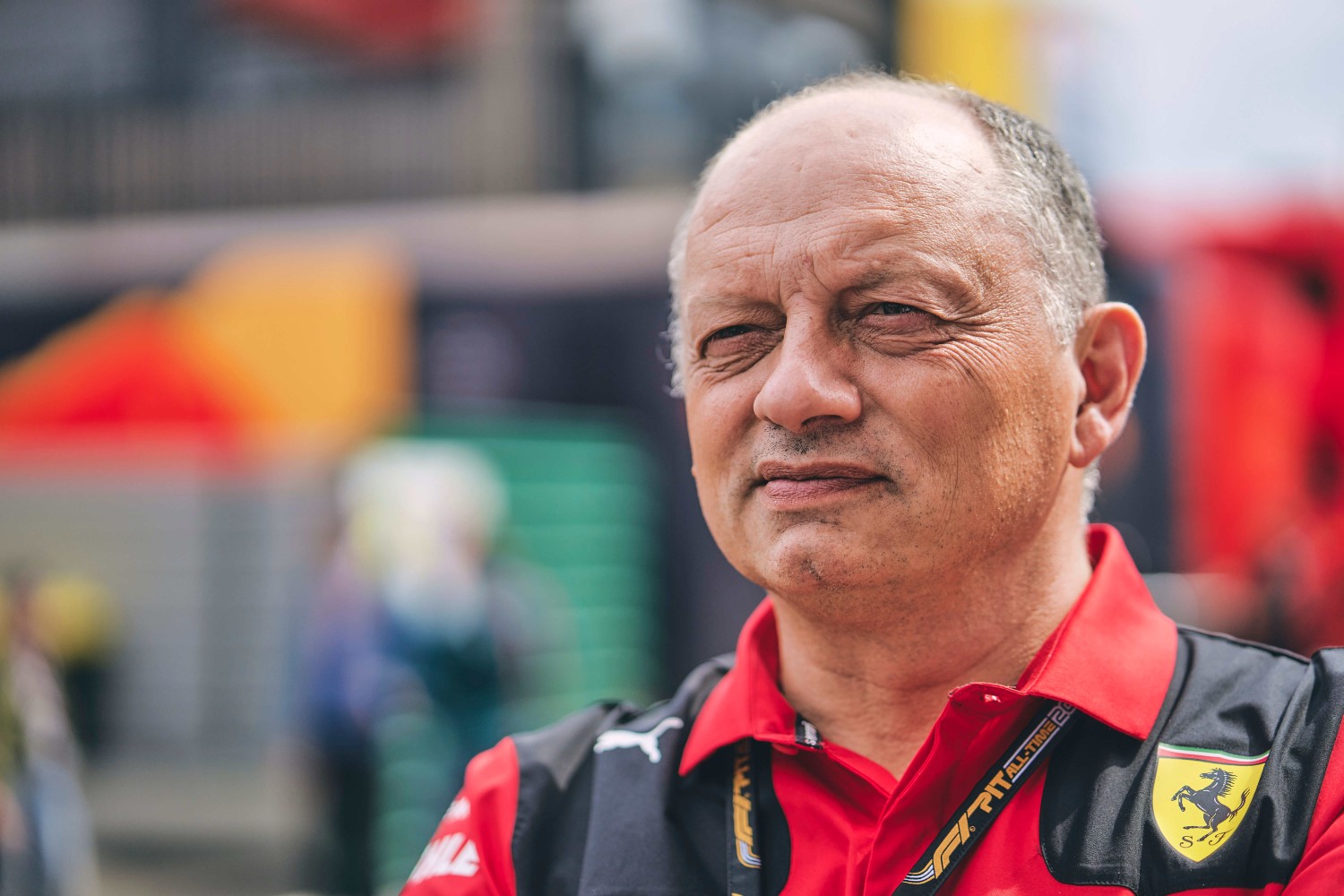 Q: How much of a departure are these sidepods in particular from the car philosophy that you had before?
FV: Yeah, it's a change for sure but it's not a new car also that we are making a step forward, we are opening some doors for the development for the future but it is not a complete change.
Q: Final one from me. The driver silly season kicked-off prior to Monaco, we haven't had you in the press conference since then. You poured cold water on the Hamilton rumours. But can we talk about your two current drivers. Do you see any reason to change your current driver line-up. 
FV: I think you asked me the same question one week ago and I told you that, so far, we have enough to do with the development of the car, that we have a lot to do on the technical side, and we'll speak about drivers a bit later.
Q: Andrea, coming to you now, before we look at this weekend, can we discuss the recent signing of Rob Marshall? What will he bring to the team?
Andrea STELLA: So, Rob will join the team obviously with a unique level of experience, knowhow, in terms of engineering and design of Formula 1 cars. He has also been instrumental in creating such a strong technical department at Red Bull. So, at the moment, we are just very pleased and excited that Rob is keen to join our journey to take McLaren to the front of the grid.
Q: And is there anyone else on your shopping list – or is that it for now?
AS: I think the technical structure is well-set now and quite strong, so I would take one day off.
Q: While we're talking technical matters, I think there has been a bit of a change back in Woking, in terms of how you're using the old McLaren factory from more than 20 years ago. Can you shed a little bit of light on that for us?
AS: Yes, I'm pleased to say the old factory has been repurposed to become the new McLaren Racing composite facility. This is actually on the final sprint, it will be completed in a couple of months, and we have also created… Well, first of all, let me say it's a remarkable project. So, you are invited to visit the McLaren Racing composite department as well. We have created some space at the MTC, which we will use for the heritage cars.
Q: Let's bring it onto this weekend and the performance of the MCL60 here in Barcelona. What can you tell us so far?
AS: I can say what I've been saying for some time, that we remain realistic about the performance and the competitiveness of our car in the current specification. Barcelona has many long corners which, at the moment, are difficult to digest for our car. It helps, the fact that we have introduced some more high-speed content, which at the same time should help – but we would happy to be a Q3 contender and come out of this weekend with some points.
Q: Final one from me, you were an engineer at Ferrari the last time we raced on this spec of the Barcelona track. How different is the challenge of the last two corners with these cars in 2023 compared with 2005, 2006?
AS: I think actually we go back to 2003 – like 20 years ago – the pole position lap has already been beaten today by a couple of seconds, so this generation of cars is much quicker. At the time, I think Formula 1 cars, they were like go-karts with a lot of power, a little bit of aerodynamic forces and very, very light cars. They were 200kg lighter than these cars. This generation of Formula 1 cars nowadays, like the second-last corner is easy-flat in all conditions. At the time it was a challenging corner. But they are much quicker even if they are 200kg heavier because of an enormous amount of downforce, much bigger tires and much more grippy as well and still quite powerful engines. So, different challenges. I think those cars were a lot more temperamental, like go-karts. These cars are very stable, very quick. Yeah… I'm not sure. You should ask drivers really. Fernando might be able to answer – he's the only one.
Q: Franz, thank you for waiting. Nyck de Vries, talk us through his first practice session here. Great to see him up towards the top. 
Franz TOST: Nyck did also a very good job in Monaco and you know, he is getting more and more familiar with the car, with the team and, as I always say, nowadays, if rookies come into Formula 1, it's really difficult for them to learn everything so fast – because if you look at the first races, some of the tracks, they even don't know. Melbourne, for example, or Saudi Arabia, or Miami – and then you have a Sprint race like in Baku with Qualifying immediately after the first free practice – and that's not easy for the young drivers. The midfield is very close together, it's just hundredths of seconds difference and to perform well, you really have to get everything together, and I must say that Nyck did a really good job in Monaco and also this morning in the FP1 session. He showed a very good performance.
Q: How important was that step forward in Monaco for him? Did you sense that he was feeling the pressure before that race?
FT: In Formula 1, you always feel a pressure but he knew by himself that the start of the season was not as expected. But this is not only his fault, as I explained some reasons beforehand. Also, the car was not very good and if you have a car which is not performing so well, having to learn new tracks, then life is really difficult and I must say that now everything is getting together and I'm quite optimistic for the future.
Q: Well, what does his P3 this morning tell you about your car performance?
FT: It's FP1, we must be careful. We brought new upgrades to the car; it looks like they work but I want to see then more in the qualifying what's going on. We did a lot of measurements with rakes on Nyck's car, just to get the database, which you need nowadays, in aerodynamics, to build up the correlation between CFD, wind tunnel and race track and I think that this new crew in Bicester is doing a really good job.
QUESTIONS FROM THE FLOOR
Q: (Christian Menath – Motorsportmagazin.com) I can already see Fred smiling. He knows what is coming. Some questions about your update. First of all, will Charles get the update in the afternoon as well? Or do you only have one set of the new parts? And also do you have to rearrange the cooling system for the update or is it just the new body work?
FV: I'm not sure that that I will reply to the second one. But on the first one, yes, Charles will have the update for this afternoon and we do a back-to-back.
Q: (Adam Cooper – Motorsport.com) Andrea, a couple of months ago when you announced the restructure Neil was in the engineering and design technical director role, he's now become deputy. Can you clarify… did you know then that you would get Rob? Were you trying to get Rob? Did Neil know that his job was going to change?
AS: So Neil has always been a part of the process. He's been in the conversation. He has actually played as a team player in this process. And when we told Neil that we had this opportunity, which was quite unmissable, we elaborated together the solution. There's so much to do in terms of engineering and design to create the right standards to design the fastest car in Formula 1, that actually we thought this is a very powerful combination,  with Rob, the more of the technical authority and Neil running more of the day-to-day activities within the department. So definitely Neil was in the process, very constructive process.
Q: (Claire Cottingham – Racefans.net) Andrea, a couple of the drivers were talking about porpoising, especially in the final corner. Lando was one of those,  is that a new concern, is that track specific? Did you get it fixed throughout the session and is it a concern for the race? 
AS: So if we were alone here, I would say, that's porpoising, we know you can have it in some places but the fact that we heard the same coming from Red Bull as well, I think highlights that it could be a track specific element that all teams might have to deal with. I thought our understanding is that Red Bull was a little more robust in terms of coping with porpoising so it could be a track feature, a challenge that, I would say… well, certainly we have to deal with. We understand Mercedes and Red Bull have to deal with based on their comments, and could be performance limitations, because to deal with that, you need to make some adjustments that might cost some performance somewhere else.
Q: (Luke Smith – The Athletic) For Fred and for Mike. Yesterday, Max Verstappen was asked about the possibility of Red Bull winning every single race this season. He said it's possible but unlikely. Red Bull's  advantage has been pretty sizable. Do you guys see under normal conditions anyway, that Red Bull cannot win every single race this season? 
FV: Honestly, that I'm taking the race one after one and I'm thinking about the next one that it's difficult to predict where we'll be in six month time in term of development and we have to be realistic.  For sure that if you have a look on the result of this morning, it's quite difficult to imagine that it will be for this weekend. But then you never know what could happen and you never know also what will be the right of development over the next couple of weeks or months. But let's take the races one after one and to be focused on what we are doing on track.
MK: Yeah, I agree with Fred. We have to see race by race and it is also a development game that is going on. We might also have a situation where when the championships are won, or whatever, that there is more concentration on the future and then other teams can catch up. So let's take it race by race and keep our fingers crossed that someone else will win one or two or three.
Q: (Jon Noble – Motorsport.com)  To Fred:  on the side pods Ferrari had committed to the kind of in wash solution from the start;  even at the start of the season you seemed very wedded to it. What prompted the decision to try a different route and how hard was the decision to go down a downwash solution and make a fresh departure? 
FV: It's also for us the opportunity to open a new door for the development for the future and it was quite promising.  It means that we committed on this way that let's see what the next weeks we will bring to us. But I think it was a tough decision, but it was a decision.
Q: (Pedro Fermin Flores – The God Flores) Questions for Mr Vasseur and Mr Krack. Mr Vasseur, I am waiting your answer, you will say no, but I was asked to do the question. Last week in Monaco, you had a meeting with John Elkann and  Christian Horner. And do you have any news about the freedom of Laurent Mekies, any kind of agreement of the gathering or the delivering to AlphaTauri?  And the second one is for Mike Krack:  yesterday did you feel like another hooligan of Fernando Alonso, or a supporter of Fernando Alonso, because you lived something special. Please can you tell me how do you feel in this moment and what were the words later in the motorhome with the other people of the room?
MK: I'm not sure if I understood correctly the question to be honest. Maybe you can repeat your question.
I will reply to Fred's question;  the answer was no I think, and you answer mine then. What was it again?
Q: (Pedro Fermin Flores – The God Flores) How did you feel yesterday with the people was talking to you, waiting for Fernando? The moment you lived yesterday?
MK: Yeah, I said it before, it's great that we have so many fans. Formula 1 lives from fans and I think we are fortunate that our fanbase is growing, especially in Spain obviously. And yeah, it was amazing yesterday. You thought you were in a football stadium at one point so it was really nice. We had some meetings and we had to go out and see what was going on there and then when you when you saw that crowd in front of the garage, it was quite impressive.
FV: Regarding Laurent, you were right that I won't to reply to the question because it's a discussion between AlphaTauri, Red Bull and ourselves.
Q: (Matt Kew – Autosport) Andrea,  with repurposing the factory, signing Rob Marshall, David Sanchez, getting Gil de Ferran back in, these are all things that I can't imagine come cheap. So what are you doing to ensure absolute compliance with the cost cap and are there areas in the business that you're having to get rid of stuff to make room in the budget?
AS: In terms of budget, Zak is doing a good job to put McLaren in condition to spend this money. And in terms of compliance, actually within the regulations, we had the possibility to spend this kind of budget, not only from an operational point of view, but also in terms of capital expenditures. So it didn't create particular challenges, I would say. So it's not been a difficult process.
Q: (Scott Mitchell-Malm – The Race) Fred, sometimes when you bring an update that means a change in development direction or opening up greater potential long term, it can be a an interim step back or not immediate progress, because you've got to unlock stuff. What do you expect from what Ferrari's brought here with the side pods and the floor and that kind of thing?
FV: But from this upgrade that we're expecting a step forward, not a huge one, but a step forward. Also to open some doors for the future in terms of development, and we will have other upgrades coming in the next couple of races and it's an opportunity also to take another direction but even with this one, we are expecting to do a step forward.
Q: Mike, can I bring you in on this? It was at this race last year that Aston Martin brought a big upgrade. How many races did it take you to maximize what you'd brought?
MK: We're still in the process of doing it. It took a while. It is true what you're saying but I don't think that you can translate how long it took for us to any other team. But I think until we saw things moving forward from introduction, I think there was a couple of races in between.
Q: (Tim Kraaij – GP blog.com) A question to Andrea, Fred and Mike. Sorry, Franz, but you'll understand why. Last week, there were pictures of the Red Bull floor after the qualifying crash of Pérez. How much time did you have to analyze that floor and can you actually learn something from it? 
AS: Myself, personally, I spent some time, but the 100 aerodynamicists at McLaren will be spending a little bit more time. It's very interesting indeed and also shows the complexity and the quality of their development. So to be honest, when I saw it, I said hats off to Red Bull, I can understand why they have this kind of performance.
FV: I think that we all have a lot of pictures of the other cars. But then it's quite difficult or even impossible to try to copy something. Because it's more a global concept than something else. And you can't copy just one part of the car.
MK: Yeah, nothing more to add. You're always looking at the competitors, what is new, new parts. I was also in front of the Ferrari garage this morning. It's always the same.
Q: (Guillermo Saez – Okdiario.com) For Mike. This morning Fernando lived a very emotional moment with the Spanish crowd. And everybody was cheering to him. He said he wants to remain several years in Aston Martin. So he's in an exceptional moment but at the same time, he's 41. So what is that quantity of several years? What is your vision? How many years can Fernando remain at Aston Martin?
MK: It's nice to hear that, that he has said that, several years, we would be happy with that. I think the main thing, and this is one of the big qualities, is the desire to be at front, the motivation. And I think this is fully on with Fernando. We don't think so much about that, to be honest, as you guys, you know. We take it race by race, and we try to do well every race. It's nice to hear that but we didn't think too much about it yet. Let's make it happen.
Q: (Ed Spencer – Total-Motosport.com) Franz, we know that you're leaving at the end of the season. Has there been any change in morale and mentality at AlphaTauri and are yourself feeling a little bit more relaxed knowing that every race is going to potentially be the last time you'll be here in the paddock?
FT: I'm only relaxed if the car is fast. And the rest of the people take it like it is. And we are all looking forward for Peter and for Laurent, because these are two experienced Formula 1 people, they know the game and I think that these are exactly the correct leaders for the future.
Q: Franz, how relaxed are you now?
FT: Currently very relaxed, because thanks to all of you, they don't ask. That's very good. Thanks.
Q: But the car is fast? 
FT: Hopefully.
Q: (Adam Cooper – Motorsport.com) A question for all of you. Yesterday, Guenther had a bit of a rant about the Monaco stewards. He wants to see professional, full-time stewards, the same guys at every race. Do you agree with that? Or are you happy with the current system? Do you have any ideas of how things could be improved?
MK: I would like to leave this for the FIA to decide.
FV: If there is a job that I don't want to do in the paddock it is the stewards'! And I think it will be… It doesn't matter the system it will be no-man discussion.
AS: Yeah, same. We trust the FIA. Really? Right?
FT: No, I think that so far, this year, the stewards made correct decisions. And most of the time the stewards are well known. It's not at every race that they're completely new. They are changing from time to time, but you see always the same faces. And it's always the same story – if a team has some troubles, for whatever reason, then at the end, they tell that it's the stewards that are guilty. It's not the steward are guilty, if we do our job in a correct way, then I don't think that the stewards make problems.
Q: (Ian Parkes – New York Times) A question for you, Fred and a follow on to Franz as well. Fred, can you at least explain what the situation is behind the hold-up regarding Laurent? Because it's been several weeks now since it was announced that he would becoming the new team principal at AlphaTauri. And Franz to yourself, given the ongoing impasse between Ferrari and Red Bull is there any danger at this stage that you might just be continuing on as team principal beyond the end of this season?
FT: I mean. No, no, we have Peter. If Laurent is not coming at least we have Peter Bayer and therefore, I expect Laurent is coming then, early or later, at least at the beginning of January, the rest we will see.
Q: Fred, what can you tell us?
FV: Laurent is still linked with us, and we have to find a deal with Red Bull and AlphaTauri for this, but I think we'll do it in the proper way, because I don't want to block Laurent. I know him and I have a huge respect for Laurent. And even if we are competitors that at the end of the day I think we have to find a fair solution for everybody.
Q: (Jon Noble – Motorsport.com) Mike, a lot of intrigue after Monaco about what would have happened at that stop if Fernando had taken inters rather than slicks. Some people believe he would have been ahead, some people not. Did you go through the data afterwards? What did your computer systems say that if you had gone to inters, where Fernando would have been?
MK: The computer system says that if we had gone to inters, we would have probably come in front of Max. But that does not mean we would have won the race. So yes, with the full benefit of hindsight, that would have been the case. But when you make the decisions, you have to rely on the data that you have. And that is also why I said before, we are not gambling. So, from that point of view, everything was working as you should have it work. And it's clear that with the benefit of hindsight you might sometimes do things different.
Q: (Adam Cooper – Motorsport.com) On that subject, Fernando said yesterday that he's very frustrated when fans or us media guys criticize teams for pit decisions like that. Do you agree with him that people don't really realize how difficult it is to make those calls in the heat of the moment, and it's easy to say afterwards that they were wrong?
MK: Yeah, but that is the nature of Formula 1. So, you know, we see something we have to live with, we are exposed. And we want to be reported when everything runs well. And then we have also to accept if reports are coming out if things could have been better. It's not really a drama. I understand Fernando, that he points this out because it is a fact. We know that and with the media, with the sport being so public and so under scrutiny, then it is clear that these things are also being discussed. For me, it's not a problem.
Q: (Luke Smith – The Athletic) Mike, you talked about the atmosphere in the garage: lot of smiles, lot of positive energy right now and I think that's come right the way from pre-season testing. What was the penny-drop moment for Aston Martin when you realized just how good this car was – because I imagine after all that work over the winter, to see such a big step forwards must have been a very satisfying moment for everyone in the team?
MK: Yeah, it is. But you never know where you are compared to the others. So, we knew when we had the first laps with this car that it was a step forward because you have your data, you have the drivers that give you this feedback but then obviously you have no competition. Then you go to the first test, we had the issue with Lance who could not drive, so you are always a little bit in doubt: where you are; who shows what. And it is only in Race One where we realized that the car was competitive. And that was obviously nice – but then immediately you think ahead, and think will it also… because Bahrain is very special. So is it also competitive in other places? And I always said, let's wait three, four races to see where we really are. I think now we had three or four, so we can confirm that the car is competitive and now it is about keeping it competitive: developing it; upgrading it at the speed that the competitors do. We have strong competitors around us that are used to his game, so yeah, we're trying our best to bring continuously parts to the car. We have it for the last one, we have done it here, we will do it also in the coming races to try and keep the car there.
Q: Can you remember what Fernando's initial comments were, when he first drove the car in testing?
MK: I don't remember.
Q: (Scott Mitchell-Malm – The Race) Question to Andrea. When Rob was announced it coincided with a Red Bull press release as well, which was very warm, they were very complimentary about him, wished him well, named you in the press release. We've seen them fight a little bit harder and be a little less accepting when other teams have recruited their personnel. Why do you think that is? What has the process been? Why does he seem to be moving to McLaren with their blessing?
AS: Well, I can say what I know. Certainly Rob was very keen to join McLaren. He understood perfectly our journey, our ambition. I think he understood that he could be a fundamental player in trying to make something important like bringing McLaren to the victory, so strong motivation from his side. I think at Red Bull they know very well the role that Rob played over time, and I think this invokes respect for people. From what I could judge from outside, I saw this level of respect from Red Bull to Rob which, observing, was good to see. And then when it came to the press release, that was obviously agreed between the teams, that's why it was coordinated.