IndyCar: Pato O'Ward tops Practice 1 for Detroit GP
In a session interrupted by eight Red Flags, yes, eight, Arrow McLaren driver Pato O'Ward turned the fastest lap of 1m03.077ss (93.885mph) to top opening Detroit GP IndyCar practice on the teeth-rattling downtown streets.
The track is so washboard, one has to wonder how IndyCar ever approved it.  Everyone loves the challenge of a new track, but I think some drivers wish they were back on Belle Island, a much better racetrack than this bumpy street circuit.
The drivers were spinning off, missing their braking points, and Helio Castroneves said he hit bumps so bad it caused his Honda engine to over-rev, and it has to be changed.
Scott Dixon was 2nd fastest, just 0.0986s behind in his Ganassi Honda. "Definitely a pretty wild track, a lot of fun, quite bumpy, but a lot of character. Definitely a tough session – short lap, short track, hard to get position, especially when you're going from blacks to the alternate tires, but decent run – the car's got some great speed in it. Finished up in P2, hopefully some room for improvement."
O'Ward's teammate, Alexander Rossi was 3rd, 0.285s back.
Kyle Kirkwood again showed why he is the best driver on the Andretti Autosport team with a 4th-best time, 0.44s back.
Alex Palou rounded out the top-5 for Ganassi Racing. "Very challenging new track for everybody – it's too bumpy, very narrow, but it's the same for all the cars out there. It was quite fun once we got going and we were really busy trying the new limits. Big difference between tire compounds, which I think is good and is going to play a big difference in strategies. The No. 10 Ridgeline Lubricants car is fast so good start so far."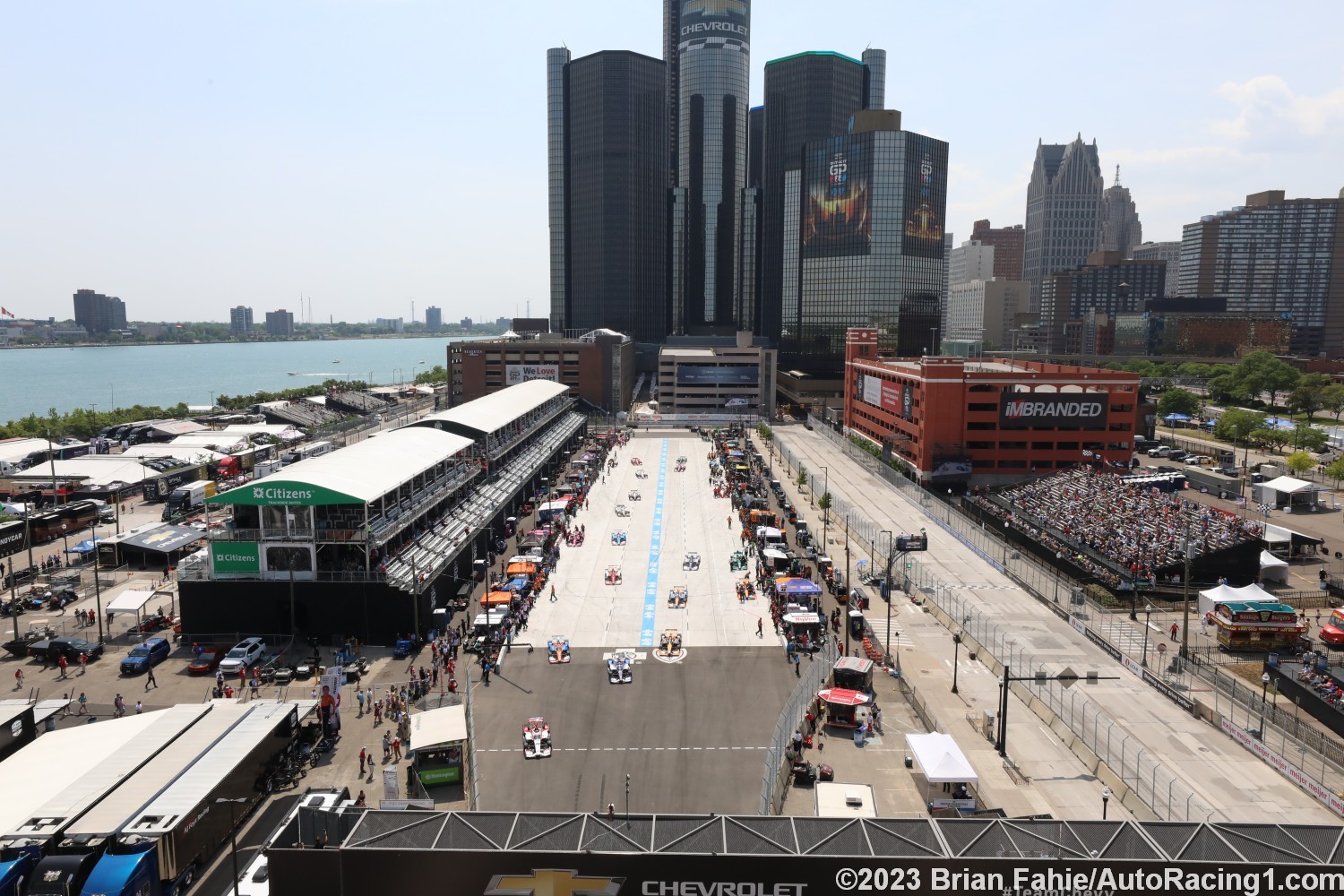 Pato O'Ward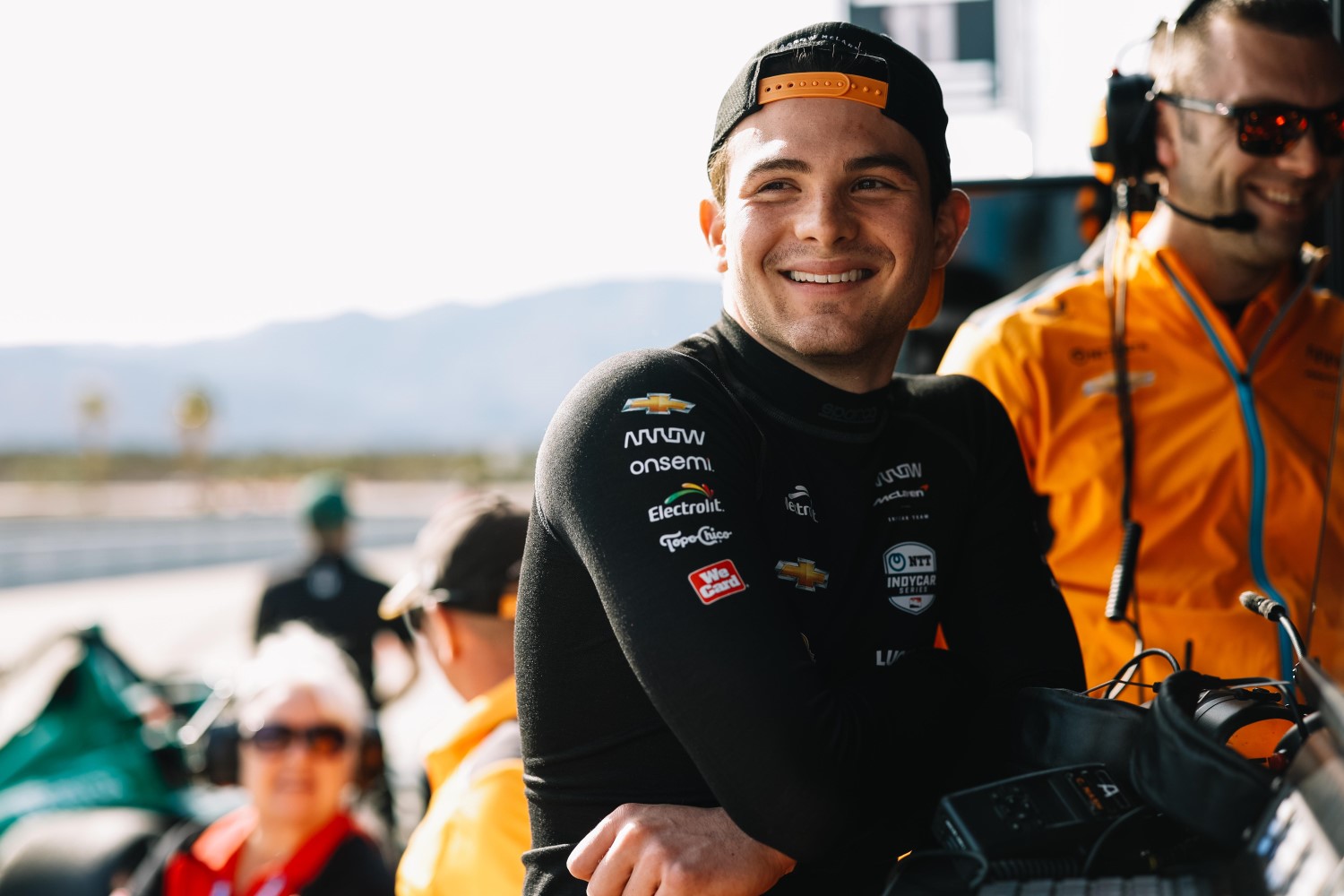 The fastest driver in this session was confident with this run.
"It's definitely a unique track. I think it has a lot of characteristics from all the other street courses that we go to in terms of, like, pavements, certain type of corners."
"Yeah, we rolled off strong. I think there's a lot of first times, first time here, first time with the double pit lane. I think that's going to be interesting in the race with the blend line where it is. I think the pit exit is going to be something to look out for in both qualifying, like impeding. I don't know if they're going to mark it as impeding but it definitely gets you out of place if someone is sent there while you're on a flyer."
" It's so competitive. In some sessions, I think you'll see it being dominated by maybe one manufacturer, but the next session can shift. It really depends on how hard you work with your engineers to kind of get the thing to your liking, obviously work with your manufacturers, in our case Chevy, to really try to maximize."
"The bumps make it a challenge in downshifting, upshifting, power-downs, all those different scenarios. It's definitely a strong start, but it's too early to tell. We need to keep our heads down and keep pushing because everybody is going to make their car go faster."
"I think Belle Isle was an easier track, with a lot more fast corners.  Here there's really one, and that is turn two. It really isn't that fast. Like Belle Isle turn one and two, the last corner, those are fricking fast corners to be in a street course, with a lot of bumps."
"I'm a very big fan of Belle Isle. I was very sad to see it leave the calendar. But it's a different track. It's a new track. It's going to be a great event. "
Felix Rosenqvist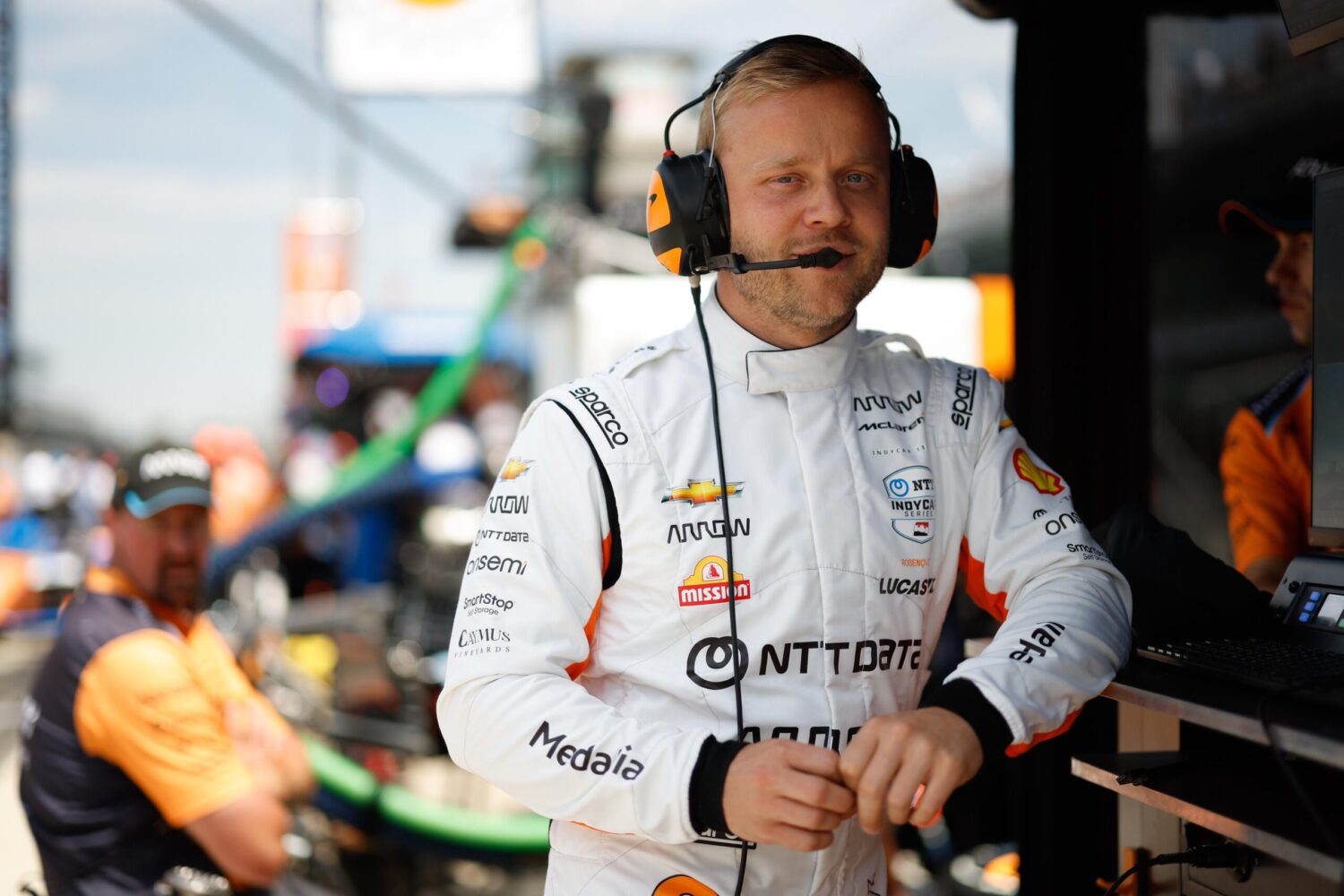 O'Ward's teammate, Felix Rosenqvist was asked his feelings on how the split pit lane will work this weekend.
"I mean, I always felt when the sessions started, there were quite a lot of cars coming in, four-wide, into how do you say the funneling section? It's kind of unique in that way because you have the pit speed limit off section is way further, like after the funnel.  We're
going to have to figure out who's going first in there. I think there's going to be some situations where people probably don't want to lift."
"Yeah, I mean, that's kind of what INDYCAR is, that we battle it out on track. I think that's pretty cool. Yeah, let's hope it doesn't crash us in pit lane."
"I think this track is probably the most important in terms of damping. That's pretty much the biggest tool we have to work with mechanical grip. Yeah, we don't have, I don't think I've even talked about aero today with my engineer, front wing, anything like that, because there's only one corner where you really feel it."
"It's a different challenge. I think these cars, they have quite a lot of downforce. Normally there's a lot of emphasis on making the things efficient with downforce and drag and such things. But here it's just like the more mechanical grip the better. It's kind of back to go-kart days in that sense."
Kyle Kirkwood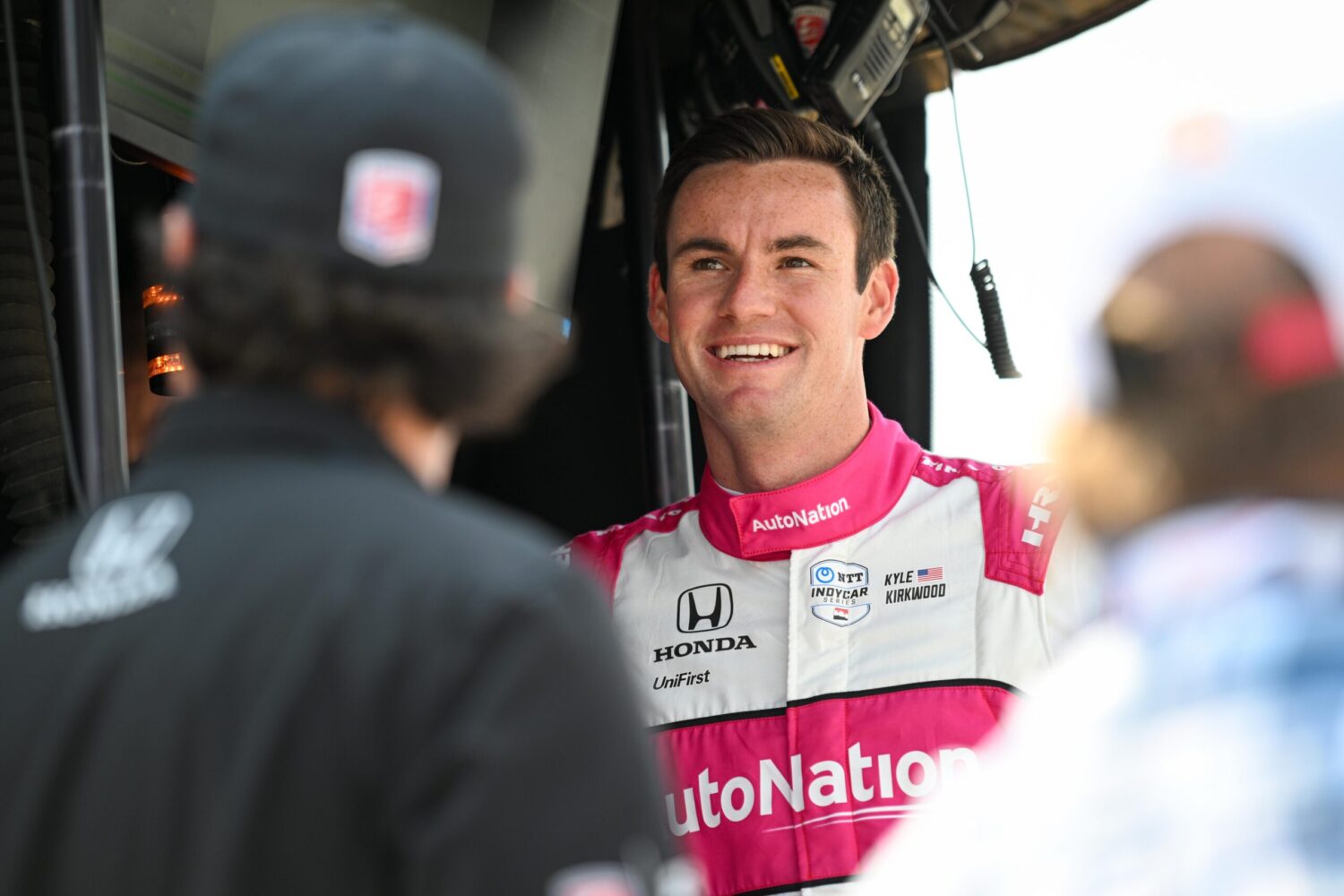 Kyle Kirkwood, the fastest Andretti Autosport driver in the first practice session, had something interesting to say about the double pit lane.
"In my mindset, it's very safe. That's the most important part. It seems like pit exit was a concern for everyone yesterday, but it doesn't seem like it's going to be that big of an issue. I think everyone's pretty calm though on exit.  It's pretty easy to see a car coming out."
"To be honest, you can't really see the car that's on track so you're very reliant on the car that's on track to kind of give way, for you to just kind of stay out of the way. That was more the concern than the double pit lane. I think the double pit lane has been absolutely fine."
The American was asked where he thought passing would happen on the track.
"Yeah, I really don't see a lot of opportunity without it creating carnage.  Like you can pass into one, you can pass into eight, you might be able to pass into five, but you're not going to be able to go double file through there. I think the outside guy is going to go into
the wall in a few of places that people will try and pass, to be honest."
Practice 1 Results
| | | | | | | | | | | |
| --- | --- | --- | --- | --- | --- | --- | --- | --- | --- | --- |
| Pos | No | Name | Time | Behind | Gap | FL | Laps | Speed | Engine | Team |
| 1 | 5 | Pato O'Ward | 1:03.0773 | 0.000s | 0.000s | 28 | 33 | 93.885 | Chevy | Arrow McLaren |
| 2 | 9 | Scott Dixon | 1:03.1759 | 0.0986 | 0.0986 | 30 | 33 | 93.738 | Honda | Chip Ganassi Racing |
| 3 | 7 | Alexander Rossi | 1:03.3630 | 0.2857 | 0.1871 | 28 | 30 | 93.461 | Chevy | Arrow McLaren |
| 4 | 27 | Kyle Kirkwood | 1:03.5140 | 0.4367 | 0.1510 | 27 | 31 | 93.239 | Honda | Andretti Autosport |
| 5 | 10 | Alex Palou | 1:03.6388 | 0.5615 | 0.1248 | 31 | 34 | 93.056 | Honda | Chip Ganassi Racing |
| 6 | 6 | Felix Rosenqvist | 1:03.6929 | 0.6156 | 0.0541 | 27 | 27 | 92.977 | Chevy | Arrow McLaren |
| 7 | 12 | Will Power | 1:03.7439 | 0.6666 | 0.0510 | 36 | 42 | 92.903 | Chevy | Team Penske |
| 8 | 26 | Colton Herta | 1:03.7540 | 0.6767 | 0.0101 | 25 | 30 | 92.888 | Honda | Andretti Autosport w/Curb-Agajanian |
| 9 | 77 | Callum Ilott | 1:03.7984 | 0.7211 | 0.0444 | 31 | 31 | 92.824 | Chevy | Juncos Hollinger Racing |
| 10 | 3 | Scott McLaughlin | 1:03.9518 | 0.8745 | 0.1534 | 32 | 34 | 92.601 | Chevy | Team Penske |
| 11 | 8 | Marcus Ericsson | 1:04.1082 | 1.0309 | 0.1564 | 33 | 35 | 92.375 | Honda | Chip Ganassi Racing |
| 12 | 45 | Christian Lundgaard | 1:04.1978 | 1.1205 | 0.0896 | 33 | 39 | 92.246 | Honda | Rahal Letterman Lanigan Racing |
| 13 | 60 | Simon Pagenaud | 1:04.2281 | 1.1508 | 0.0303 | 32 | 34 | 92.203 | Honda | Meyer Shank Racing |
| 14 | 11 | Marcus Armstrong | 1:04.3134 | 1.2361 | 0.0853 | 36 | 42 | 92.080 | Honda | Chip Ganassi Racing |
| 15 | 2 | Josef Newgarden | 1:04.4376 | 1.3603 | 0.1242 | 28 | 30 | 91.903 | Chevy | Team Penske |
| 16 | 15 | Graham Rahal | 1:04.4797 | 1.4024 | 0.0421 | 30 | 34 | 91.843 | Honda | Rahal Letterman Lanigan Racing |
| 17 | 29 | Devlin DeFrancesco | 1:04.6259 | 1.5486 | 0.1462 | 31 | 34 | 91.635 | Honda | Andretti Steinbrenner Autosport |
| 18 | 30 | Jack Harvey | 1:04.6777 | 1.6004 | 0.0518 | 27 | 31 | 91.562 | Honda | Rahal Letterman Lanigan Racing |
| 19 | 18 | David Malukas | 1:04.7698 | 1.6925 | 0.0921 | 26 | 29 | 91.432 | Honda | Dale Coyne Racing with HMD |
| 20 | 21 | Rinus VeeKay | 1:04.7800 | 1.7027 | 0.0102 | 37 | 43 | 91.417 | Chevy | Ed Carpenter Racing |
| 21 | 51 | Sting Ray Robb | 1:04.8143 | 1.7370 | 0.0343 | 36 | 39 | 91.369 | Honda | Dale Coyne Racing w/RWR |
| 22 | 20 | Conor Daly | 1:04.8789 | 1.8016 | 0.0646 | 28 | 31 | 91.278 | Chevy | Ed Carpenter Racing |
| 23 | 28 | Romain Grosjean | 1:05.5223 | 2.4450 | 0.6434 | 18 | 34 | 90.381 | Honda | Andretti Autosport |
| 24 | 78 | Agustin Canapino | 1:05.6454 | 2.5681 | 0.1231 | 16 | 17 | 90.212 | Chevy | Juncos Holling Racing |
| 25 | 14 | Santino Ferrucci | 1:06.0065 | 2.9292 | 0.3611 | 27 | 28 | 89.718 | Chevy | AJ Foyt Enterprises |
| 26 | 06 | Helio Castroneves | 1:06.0689 | 2.9916 | 0.0624 | 13 | 17 | 89.634 | Honda | Meyer Shank Racing |
| 27 | 55 | Benjamin Pedersen | 1:07.7024 | 4.6251 | 1.6335 | 21 | 38 | 87.471 | Chevy | AJ Foyt Enterprises |