MotoGP: Bagnaia beats Marquez brothers to pole
Ducati's Francesco Bagnaia beat Honda rival Marc Marquez in qualifying for the Italian Grand Prix at Mugello to claim his second consecutive MotoGP pole position of the 2023 season.
Using the superior HP of his Ducati, Bagnaia set a time of 1m44.855s that remained unbeaten over the final 3 minutes
Repsol Honda ace Marc Marquez came up just short with a time of 1m44.933s ahead of his bother. Alex Marquez came all the way from Q1 to qualify third on the grid on his Gresini Ducati, setting a late time of 1m45.007s.
More to follow……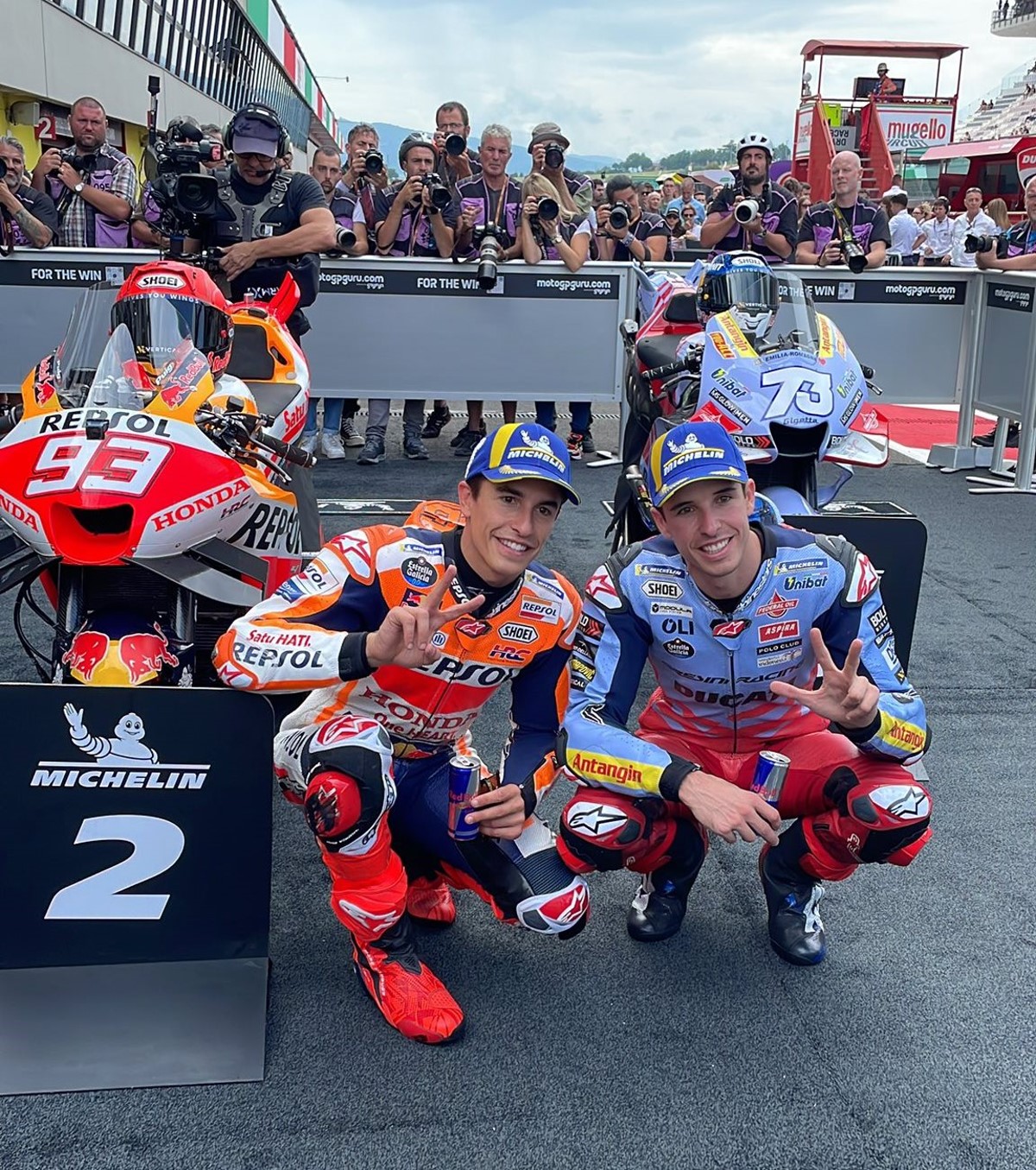 Q2 Shootout
| | | | | | | | |
| --- | --- | --- | --- | --- | --- | --- | --- |
| Pos | No. | Rider | Bike | Laps | Time | Behind | Gap |
| 1 | 1 | Francesco Bagnaia | Ducati | 8 | 1m44.855s | 0.000 | 0.000 |
| 2 | 93 | Marc Marquez | Honda | 7 | 1m44.933s | 0.078 | 0.078 |
| 3 | 73 | Alex Marquez | Ducati | 6 | 1m45.007s | 0.152 | 0.074 |
| 4 | 43 | Jack Miller | KTM | 7 | 1m45.186s | 0.331 | 0.179 |
| 5 | 89 | Jorge Martin | Ducati | 8 | 1m45.268s | 0.413 | 0.082 |
| 6 | 72 | Marco Bezzecchi | Ducati | 7 | 1m45.290s | 0.435 | 0.022 |
| 7 | 41 | Aleix Espargaro | Aprilia | 8 | 1m45.380s | 0.525 | 0.090 |
| 8 | 5 | Johann Zarco | Ducati | 6 | 1m45.627s | 0.772 | 0.247 |
| 9 | 42 | Alex Rins | Honda | 8 | 1m45.702s | 0.847 | 0.075 |
| 10 | 33 | Brad Binder | KTM | 4 | 1m45.731s | 0.876 | 0.029 |
| 11 | 10 | Luca Marini | Ducati | 7 | 1m46.119s | 1.264 | 0.388 |
| 12 | 23 | Enea Bastianini | Ducati | 6 | 1m46.884s | 2.029 | 0.765 |
Q1 Results
| | | | | | | | |
| --- | --- | --- | --- | --- | --- | --- | --- |
| Pos | No. | Rider | Bike | Laps | Time | Behind | Gap |
| 1 | 73 | Alex Marquez | Ducati | 7 | 1m45.231s | 0.000 | 0.000 |
| 2 | 43 | Jack Miller | KTM | 7 | 1m45.559s | 0.328 | 0.328 |
| 3 | 12 | Maverick Viñales | Aprilia | 7 | 1m45.591s | 0.360 | 0.032 |
| 4 | 21 | Franco Morbidelli | Yamaha | 7 | 1m45.754s | 0.523 | 0.163 |
| 5 | 20 | Fabio Quartararo | Yamaha | 7 | 1m45.755s | 0.524 | 0.001 |
| 6 | 30 | Takaaki Nakagami | Honda | 7 | 1m45.860s | 0.629 | 0.105 |
| 7 | 51 | Michele Pirro | Ducati | 7 | 1m46.002s | 0.771 | 0.142 |
| 8 | 88 | Miguel Oliveira | Aprilia | 7 | 1m46.003s | 0.772 | 0.001 |
| 9 | 49 | Fabio Di Giannantonio | Ducati | 8 | 1m46.170s | 0.939 | 0.167 |
| 10 | 25 | Raúl Fernández | Aprilia | 3 | 1m46.347s | 1.116 | 0.177 |
| 11 | 37 | Augusto Fernandez | KTM | 7 | 1m46.359s | 1.128 | 0.012 |
| 12 | 32 | Lorenzo Savadori | Aprilia | 6 | 1m47.244s | 2.013 | 0.885 |
| 13 | 94 | Jonas Folger | KTM | 7 | 1m47.806 | 2.575 | 0.562 |
Grid