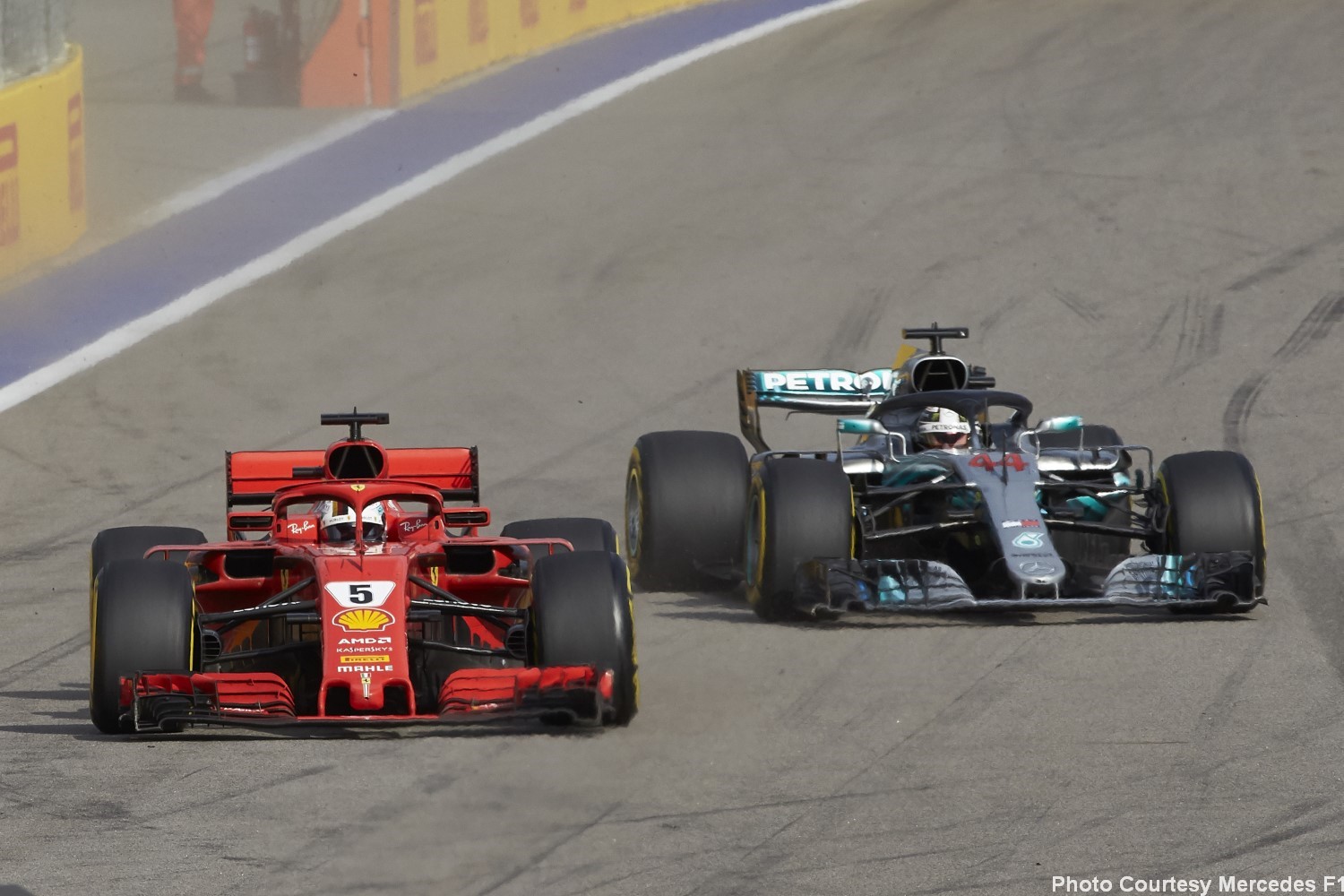 Can Ferrari beat Mercedes 4-straight races?
This Sunday sees the sixth running of the Russian Grand Prix as a round of the Formula 1 World Championship. The race, the 16th of the 2019 season, is held at the Sochi Autodrom on a 5.848 km track using the roads around the Olympic village built for the winter games of 2014, held in this Black Sea resort. Sochi on the Black Sea Coast plays host to round 16 of the FIA Formula One World Championship, following quickly on the heels of a sweltering race around the streets of Singapore last weekend. Unofficially known as the 'summer capital of Russia' the city contains the 5.848 km Sochi Autodrom; effectively a street circuit that has evolved out of the internal roads of the park built for the 2014 Winter Olympics.
A brief history. The major nations of Eastern Europe do not boast an extensive motor sport history. Two races were held in St. Petersburg in 1913 and 1914, won by the Russian Georgy Suvorin and the German Willy Scholl respectively, both in Mercedes. Back in the Eighties, there was talk of holding a race in Russia, on the back of the success of the 1980 Olympic Games held in Moscow. A Soviet Union Grand Prix was even put on the provisional calendar for 1983, but insurmountable bureaucratic difficulties meant it was a non-starter. Then, at the start of the century, the rumors resurfaced, as they did again in 2012, when the Moscow Raceway became the first Russian track to be homologated for Formula 1, although no race ever took place there.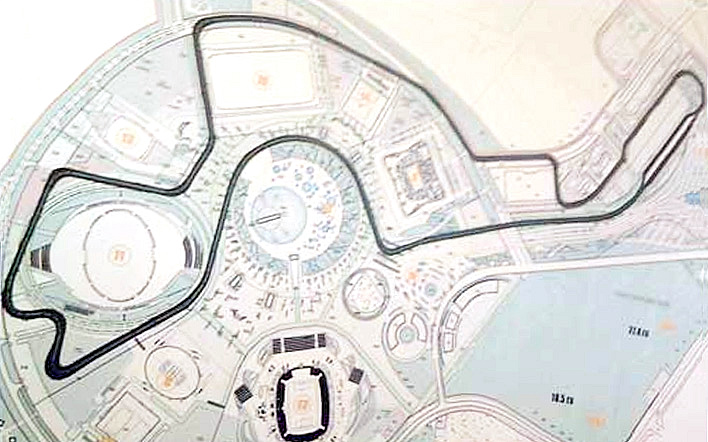 The Circuit
Sochi. Having established itself as the venue for the 2014 Winter Olympics, Sochi on the Black Sea was the ideal venue to finally host a Russian Formula 1 Grand Prix. The Sochi track winds its way around the Olympic Park and starts with an interesting mix of straights and medium speed corners, before reaching Sector 3 where a series of low speed turns test the cars' handling and braking before returning the drivers to the long main straight. Overtaking on the straight requires cars to follow closely throughout Sector 3 and then to have good traction exiting the last corner. As a result, overtaking is not as easy as it might first appear.
Tire compounds are from the middle of the Pirelli range and are the same as those used in Monza. How they will behave will depend on the track temperature on the day but generally, once up to temperature, they should be reasonably robust and may not require much management.
Quotes
Sebastian Vettel #5
"We've raced in Russia a few times now. It's another circuit where we've come close to winning but never quite managed it. I've started from the front row and in fact two years ago, Ferrari locked out the front row, but we really want the satisfaction of taking that last step and winning. It is something quite special racing past the Olympic Stadium and the Medal Plaza used for the Winter Games, so it's definitely unique in terms of its setting. A lot of the corners are similar to one another, but they're all very technical and finding the entry point can be quite tricky, as is getting the braking point right and finding the best way of rotating the car in order to be fast, while also looking after the tires.
From a technical point of view it's one of the trickiest tracks we have on the calendar but it's rewarding when you're able to put together the perfect flying lap, especially in qualifying."
Charles Leclerc #16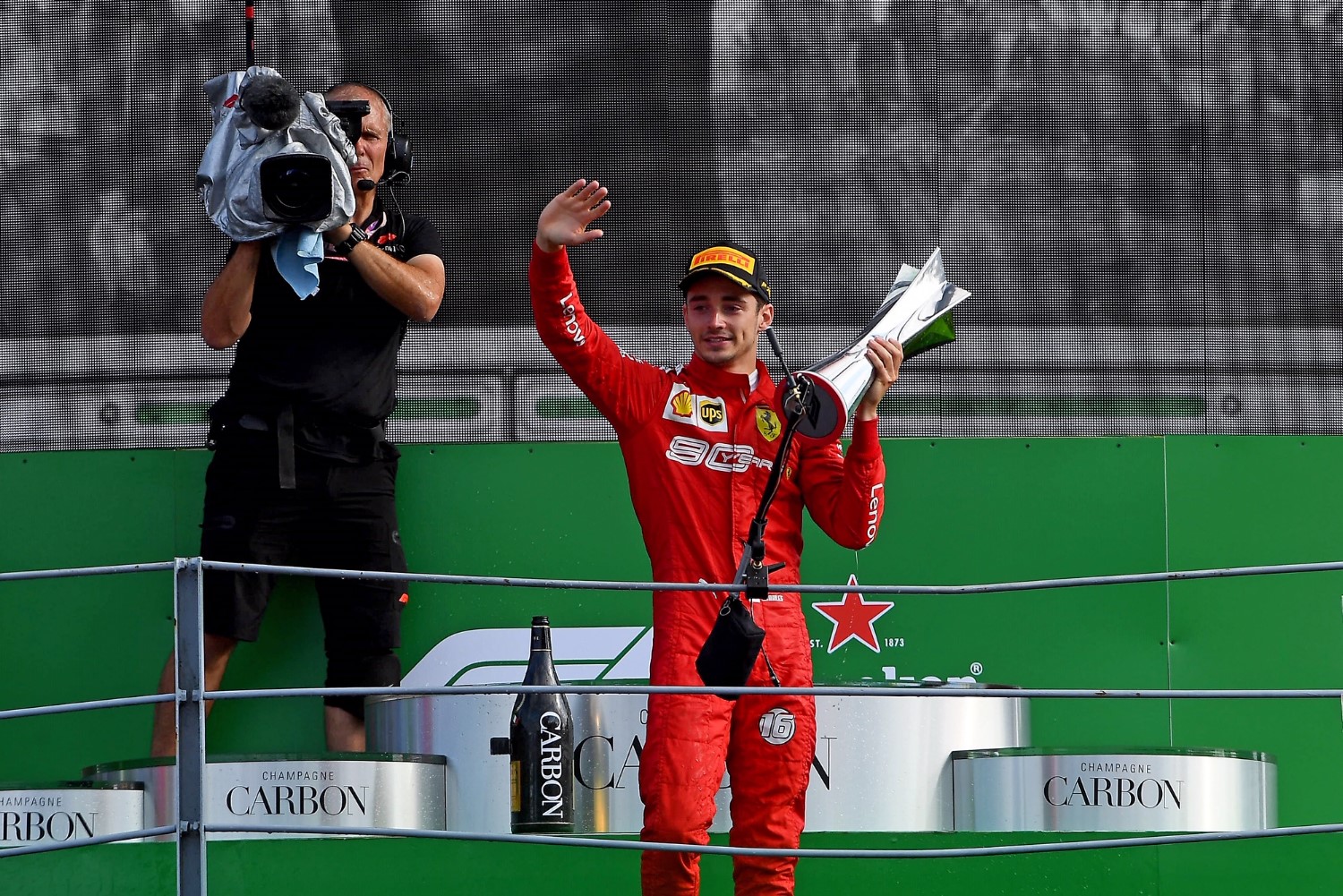 Can Leclerc return to the top of the podium?
"Arriving in Russia with three positive weekends behind us feels great. We have made good progress on our car, especially in terms of our performance on high downforce tracks, and seem to be more competitive on tracks with various layouts now. The Sochi circuit can be challenging, featuring a combination of high speed straights and lots of corners, especially in the last sector. I look forward to getting back in the car on Friday to see how it goes at this circuit and time will tell whether we can be as strong here as we have been lately.
The atmosphere in Sochi is unusual, in that we are surrounded by the Olympic complex. It is special to compete at a location that has played such a big part in international sporting history, which gives this place a unique feeling."
Mattia Binotto, Ferrari Team Principal
"After taking three wins in a row, we are keen to get to Russia to see and check how our latest updates will work on what is yet again a different type of track. Sochi features long straights and a very smooth surface where, once again it is not that easy to get the most out of the tires. The circuit also requires a completely different set-up and aero configuration to that for Singapore. Having a well-balanced car will be a key factor.
Toto Wolff, Mercedes Team Principal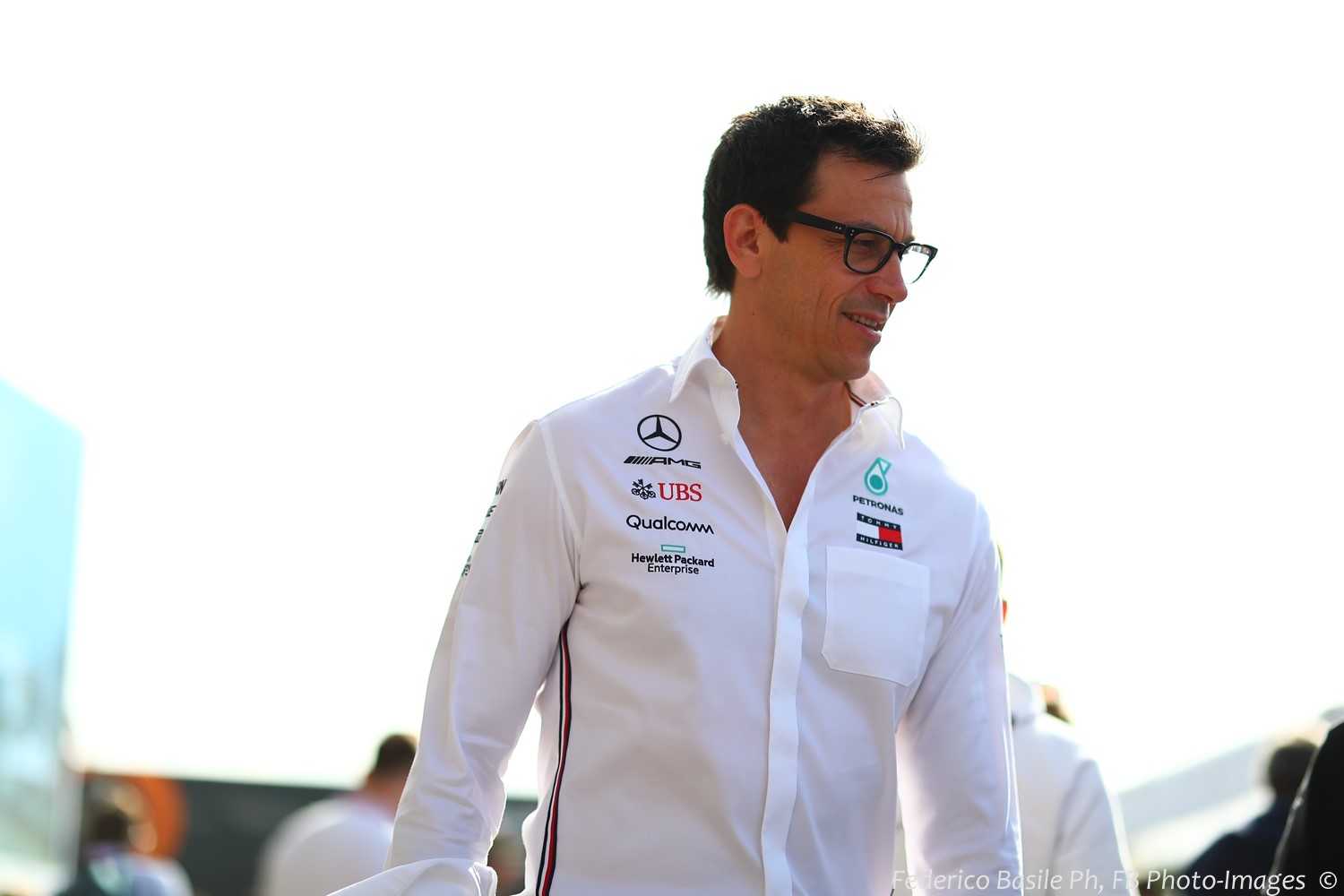 Toto Wolff
Singapore was a tough weekend for us. We had opportunities to win the race, both with a stronger qualifying on Saturday and our decision-making on Sunday – but we failed to do so, for a number of different reasons. But it was also a valuable reminder of the skeptical and humble mindset that has been so important for our success in the past seasons.
Straight after the race, we started to analyze what went wrong in Singapore and we will use those lessons to learn and improve. These difficult days are the ones that make us stronger: this team has shown time and again that it can turn weaknesses into strengths. And we will do so again, here.
However, that shouldn't take anything away from the strength of our opposition, either. The last seven races have shown us that we are in the midst of a fierce battle – and we need to be at our best in every area to claim the top step of the podium.
Sochi has been a strong circuit for us in recent years but those trends don't mean anything once we are on the ground. We expect the weekend ahead to be another challenging one for us – and the entire team is ready to tackle that challenge head on. The circuit features a range of corner speeds, an unusually smooth asphalt and long straights, particularly on the run down to Turn 2. We're hungry to get to Sochi and begin fighting out on track.
Robert Kubica
[adinserter name="GOOGLE AD"]I have been to Russia as a Reserve Driver, so I know how it looks but I have never driven there. It is always a good experience to discover a new track, so hopefully it will be enjoyable and nice to drive.
George Russell
I have good memories from Russia because that was when I found out I would be driving for Williams last year, and so I will always remember that. It is a unique circuit, and off the back of what was a relatively promising weekend in Singapore, I am looking forward to seeing if we can bring a similar amount of performance in Russia.
Lance Stroll
"I always find it interesting going to Sochi and seeing all the buildings from the Olympic Games. I love winter sports so it's great to see it up close. I've not been up to the mountains or anything, but I remember last year seeing the mountain tops covered with snow in the distance. It's a really nice idea to build a track that makes its way through the old Olympic site.
"It's a track that's satisfying to drive and it suits my style. I feel it's going to be a track where we can be competitive. It's a very smooth surface and that allows you to be more aggressive compared to some other circuits. In many ways it's quite similar to Singapore and Abu Dhabi – tracks with some long straights that are followed by slower and medium speed corners. The DRS has quite a big impact in Sochi, but it's still tough to overtake.
"I like the fact that the walls are close because it makes it more of a challenge. You don't get as much margin for error as you do on a lot of other modern tracks. We introduced a decent update in Singapore and there's still some fine-tuning to make sure we get the most from it. Sochi will give us a chance to do that."
Sergio Perez
"Sochi is a track where I have good memories. My podium there [in 2015] was a really special result, where we chose a different strategy compared to the others and it really worked out well. I remember I was under big pressure from behind. There was quite a bit of drama on the last lap, but we came through to take the podium.
"The Sochi track feels like a mix of a street track and permanent circuit. It's quite a challenge and it doesn't allow for any mistakes, especially the final sector where the walls are quite close. It can be very tricky and feels narrow. For the drivers, it's an interesting layout with some unusual corners. I really enjoy turn three because of the high energies and its long duration. You can take it flat, but it's the one corner on the track which really takes the life from your tires.
"For whatever reason, overtaking has never been as easy as you would think. It's surprising, given that we have such a long straight. It's not easy to follow other cars closely around there. When you are following a car, you struggle quite a lot for traction out of the low-speed corners [at the end of the lap] and that can be a problem because you fall back by the time you get to the straight."
Frederic Vasseur, Team Principal Alfa Romeo Racing and CEO Sauber Motorsport AG
"We have scored points in the last few races, often in difficult circumstances, and this is a positive, but we could have and should have scored more. Our car is improving and we have shown we can fight at the front of the midfield and our aim is to continue to do so at every round this season. Sochi gives us an occasion to bring back two cars in the points and continue our chase in the championship, but we will need a good weekend in which every team member delivers. I am confident we can be competitive and I am looking forward to the weekend."
Kimi Raikkonen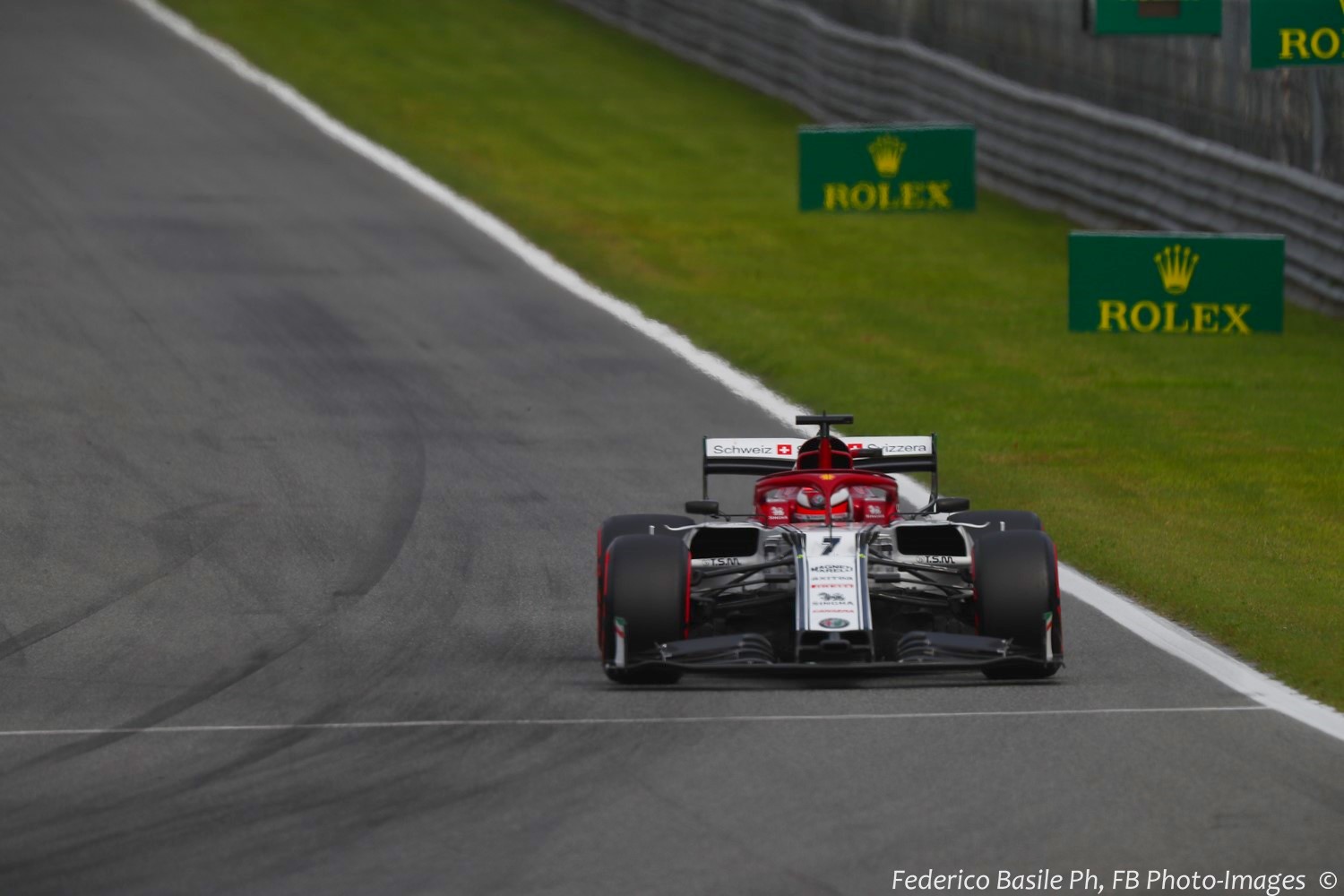 Kimi Raikkonen
"Singapore was another weekend where we showed some promise but things didn't go our way in the race, so it was obviously a disappointment. The plan for Sochi is not different from what we aimed for so far: we need a clean weekend where we can show how good our car is and keep out of trouble. I haven't been very lucky in Russia in previous years but hopefully we can turn the record around this time."
Antonio Giovinazzi
"The last few races have given me a lot of confidence and I want to keep building on these results. I feel more at ease with the car and racing in the field and I think the points I have scored show I am on the rise. Singapore was a good race – not really for being in the lead, but for the way I fought throughout the evening – and I am confident we can have another good weekend in Sochi. It's not a track I know really well – I have only done a session on Friday last year – but it was the same in Singapore and I adapted quickly there."
Pierre Gasly
"[…] the circuit has plenty of good points, even if a lot of the corners are very similar 90 degree turns, taken at the same sort of speed. The key is to have a car well set up for these types of corners because if it works well here, there's a good chance it will work well in the rest of the track too."
Daniil Kvyat
"The Sochi Autodrom is an interesting track and the images will be well known to anyone who watched the Winter Olympics here. I still remember the first race we had here back in 2014: I was also driving for Toro Rosso back then and I had a really good qualifying and started from fifth on the grid. Then a year later, driving for Red Bull Racing, I finished the race in fifth place, so I have some nice memories of this event. "I think it's going to be an interesting weekend for us. I plan to really enjoy my home race."