A.J. Allmendinger wins at the Charlotte ROVAL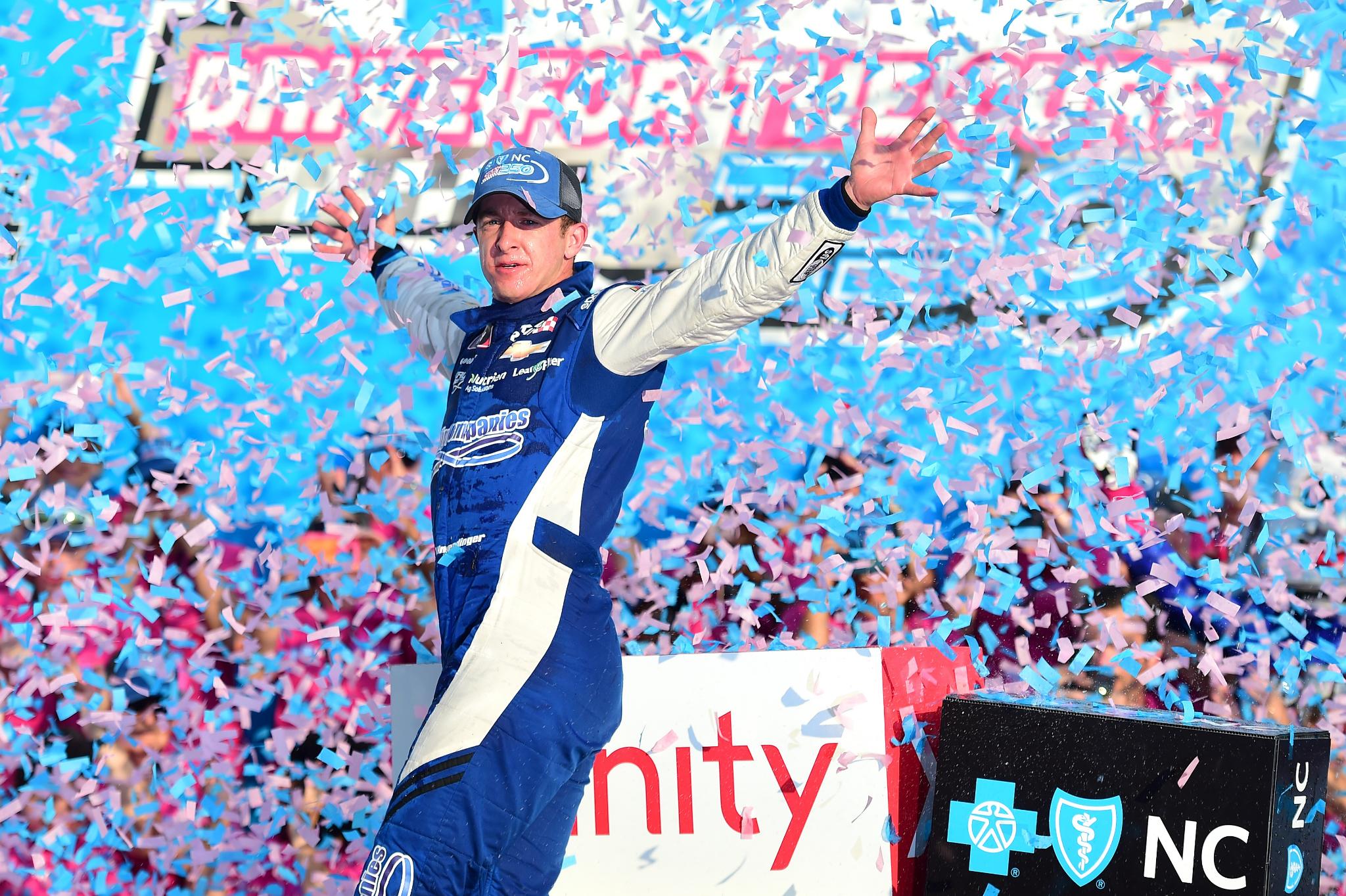 A.J. Allmendinger wins at Charlotte
Jared C. Tilton/Getty Images
There would no disqualifications this time around for A.J. Allmendinger.
The part-time Xfinity Series driver and road course ace played the role of the playoff spoiler and beat out four of the NASCAR Xfinity Series playoff drivers to win his first Xfinity Series race since 2013 in Saturday's Drive for the Cure 250 on the Charlotte Motor Speedway infield road course.
Allmendinger got past series points leader Christopher Bell with 19 laps to go and then got a good jump over Austin Cindric on the final restart with three laps to go to score the victory. Tyler Reddick beat out Cindric to take second, followed by Justin Allgaier and Noah Gragson.
The victory was the first for Allmendinger since 2013 when he picked up two road-course wins for Roger Penske.
"It was for sure challenging. But this track is so fun," said Allmendinger. "It takes me back to my Champ Car days. It's a street course that if you make a mistake it can have consequences. I started using my tires up and I kind of had to dictate my own pace. So I had to be very aggressive on Christopher (then leader Bell) to get around him. I felt like once I got around him I could dictate my own pace.
[adinserter name="GOOGLE AD"]"I really got to thank Tyler Reddick. I knew with him behind me, I could keep someone on the right side of me and Tyler wouldn't shove it down in there. I appreciate that. I was just trying to change up the restarts every time, and you can only do so much. Once we got out in clean air this thing was good. In clean air, this thing was pretty badass."
Saturday's win was a vindication of sorts for Allmendinger, who missed out on third-place and second-place finish earlier this season after getting disqualified in post-race inspection.
There were no such issues this time around, as Allmendinger's No. 10 Chevrolet cleared tech, making the victory official in just his fifth start this season for Kaulig Racing.
"I'd be lying if I said it hadn't crossed my mind," Allmendinger said. "We deserved (the prior disqualifications) – it was self-induced mistakes. For me, all I do can is go out there and drive the wheels off it and whatever happens after that, happens. Whatever happens today, I gave everything I had and what the result was going to be is going to be."
Bell led 14 of the 20 laps in the second stage but opted to pit early before the end of the stage – regaining the top spot once pit stops cycled around at the conclusion of the stage.
On lap 47, Allmendinger had worked his way up right to Bell's bumper and began chasing him through turns six and seven before finally making his way to Bell's inside to make the pass in turn eight.
*bell and Briscoe After losing the lead, Bell soon had his hands full holding off Chase Briscoe for second, with the two drivers beating and banging their way through the frontstretch chicane, leading Bell to run off the track. The chase continued as the two re-entered the road course in turn one, with Bell eventually turning Briscoe as they came through turn two.
Bell was later sent to the rear of the field for cutting the chicane, and despite a valiant effort to fight his way back into contention, wound up finishing 12th.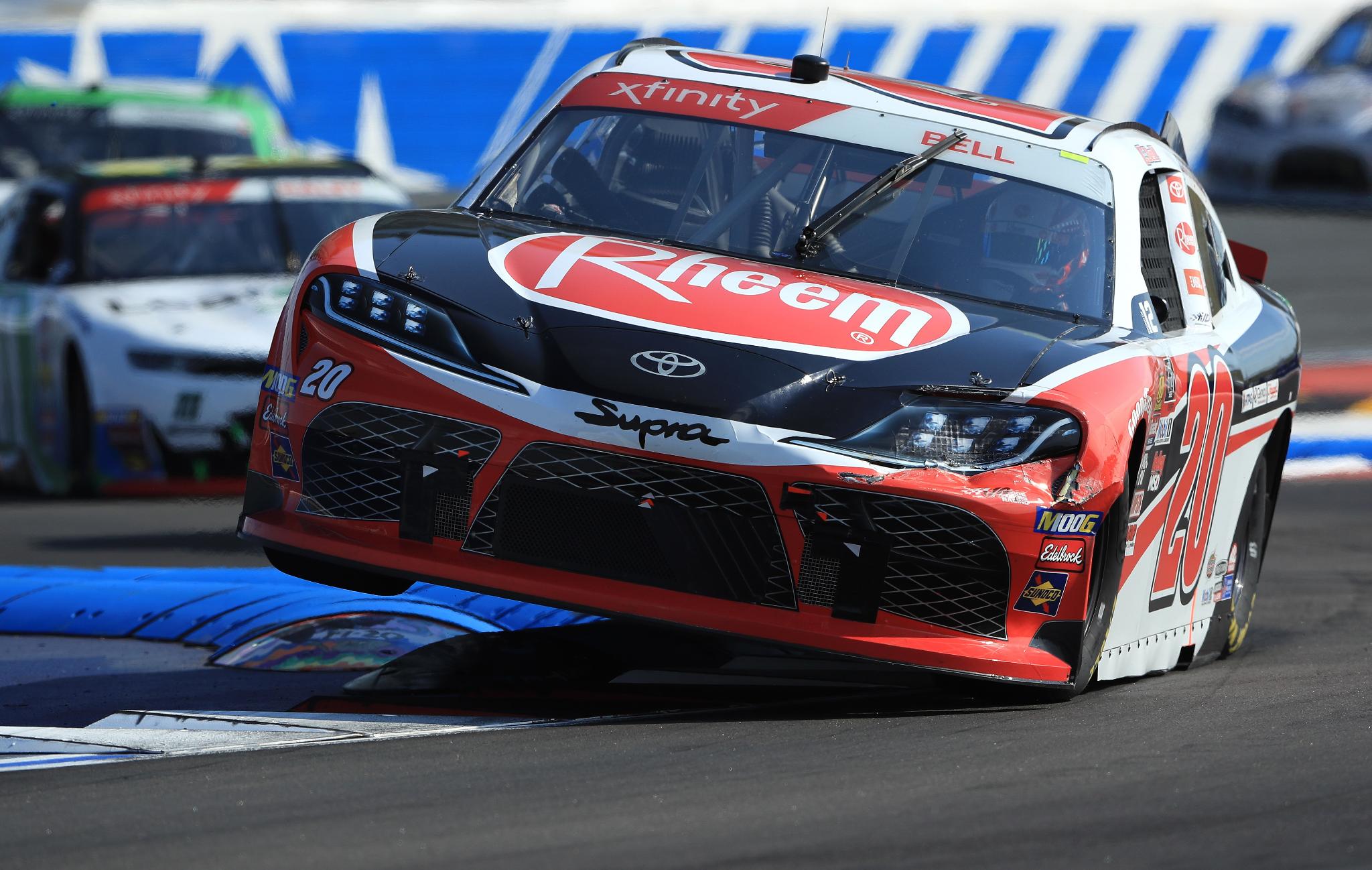 Christopher Bell catches air running through the chicane at Charlotte
Streeter Lecka/Getty Images
"We were really good in the first and second stage and then the third stage, I just, for whatever reason, got a little bit tight and couldn't keep up with those guys," said Bell. "The 98 (Chase Brisco) was really fast and I was going to let him go as soon as he got beside me and then whenever we got into the chicane, he didn't leave me any option besides running me off the race track. At that point, I was just going to race him back as hard as I could.
"I knew it was a penalty to miss the chicane, but there was a clause in there in the driver's meeting where if you missed the chicane due to an incident, NASCAR would review it. I figured that me getting run off the race track and having no other option was a justifiable reason, but I guess not."
Following the caution for Briscoe's spin, Cindric took over the second spot with seven laps to go but never got a shot at Allmendinger, and four laps later the caution flag waved again, setting up a three-lap shootout to the finish.
On the restart, Allmendinger jumped out to a nearly to-second lead as Cindric fell behind with a mechanical problem. Cindric held on to hold off Reddick until the final lap and ended the day third, driving the final three laps with a missing right rear shock.
"I wish I had a chance to fight the 10 there at the end, but under caution I felt a shock mount break," said Cindric. "The right-rear shock was clean off the race car before I even restarted the race, so I'm glad I didn't wreck and I'm glad I finished third. I guess all of that is positive, but at the same time I felt like we had a good shot, especially if the thing would have gone green and try to pressure him into a mistake or getting a good lunge, but, all in all, a great points day. We've got to keep it going this way."
The newly-configured backstretch chicane caused chaos in the early laps of the race, with several drivers failing to navigate to the turn and having to serve an on-track stop-and-go penalty. The high curbing in the chicane – also called "turtles", proved to be rough on the suspension of the Xfinity Series cars.
Allmendinger's teammate and playoff contender Justin Haley was one of the early victims, suffering a broken track bar after running over some of the curbing. Haley spent six laps behind the wall and finished the day 31st – last among the playoff drivers on Saturday – and now sits 39 points below Michael Annett for the final spot to advance to the next round of the playoffs with one race to go.
John Hunter Nemechek finished seventh and now trails Annett by 11 points – tied with Brandon Jones who finished 16th. Ryan Sieg finished two laps down in 30th and now sits 37 points behind Annett.
Cole Custer, who entered the day second in points, finished in eighth and managed to clinch a spot into the second round.
RACE RESULTS
| | | | | | | | | |
| --- | --- | --- | --- | --- | --- | --- | --- | --- |
| Pos | St | # | Driver | Sponsor/Make | Laps | Led | Pts | Status |
| 1 | 5 | 10 | A J Allmendinger | Digital Ally Chevrolet | 67 | 20 | 40 | Running |
| 2 | 2 | 2 | Tyler Reddick (P) | Emerson Chevrolet | 67 | 1 | 43 | Running |
| 3 | 3 | 22 | Austin Cindric (P) | MoneyLion Ford | 67 | 1 | 45 | Running |
| 4 | 7 | 7 | Justin Allgaier (P) | ARMOUR Vienna Sausages Chevrolet | 67 | 0 | 48 | Running |
| 5 | 12 | 9 | Noah Gragson # (P) | Suave Men Chevrolet | 67 | 0 | 40 | Running |
| 6 | 6 | 90 | Alex Labbe | Larue/Hotel Le Concord Chevrolet | 67 | 0 | 42 | Running |
| 7 | 14 | 23 | John H. Nemechek # (P) | Fire Alarm Services Inc. Chevrolet | 67 | 0 | 35 | Running |
| 8 | 4 | 0 | Cole Custer (P) | Autodesk Fusion 360 Ford | 67 | 5 | 40 | Running |
| 9 | 1 | 98 | Chase Briscoe # (P) | Ford Performance Ford | 67 | 21 | 47 | Running |
| 10 | 13 | 8 | Ryan Truex | Marquis Chevrolet | 67 | 0 | 31 | Running |
| 11 | 8 | 51 | Jeremy Clements | Travers Tool Chevrolet | 67 | 0 | 33 | Running |
| 12 | 11 | 20 | Christopher Bell (P) | Rheem – Gemaire Toyota | 67 | 19 | 28 | Running |
| 13 | 22 | 18 | Harrison Burton(i) | DEX Imaging Toyota | 67 | 0 | 0 | Running |
| 14 | 19 | 0 | Lawson Aschenbach | teamjdmotorsports.com Chevrolet | 67 | 0 | 23 | Running |
| 15 | 23 | 1 | Michael Annett (P) | Pilot Flying J Chevrolet | 67 | 0 | 22 | Running |
| 16 | 15 | 19 | Brandon Jones (P) | Juniper Toyota | 67 | 0 | 29 | Running |
| 17 | 35 | 68 | Brandon Brown # | Mid Atlantic Wrecker Services Chevrolet | 67 | 0 | 20 | Running |
| 18 | 21 | 66 | Timmy Hill | LeithCars.com Toyota | 67 | 0 | 19 | Running |
| 19 | 26 | 1 | Stephen Leicht | teamjdmotorsports.com Chevrolet | 67 | 0 | 18 | Running |
| 20 | 20 | 36 | Josh Williams | Circle Track Warehouse Chevrolet | 67 | 0 | 17 | Running |
| 21 | 33 | 35 | Joey Gase | Agri Supply Toyota | 67 | 0 | 16 | Running |
| 22 | 30 | 74 | Joe Nemechek(i) | Chevrolet | 67 | 0 | 0 | Running |
| 23 | 34 | 15 | BJ McLeod | teamjdmotorsports.com Chevrolet | 67 | 0 | 14 | Running |
| 24 | 32 | 99 | Cody Ware | Chevrolet | 67 | 0 | 13 | Running |
| 25 | 36 | 5 | Vinnie Miller | Pit Viper Sunglasses Chevrolet | 67 | 0 | 12 | Running |
| 26 | 28 | 93 | Josh Bilicki | Insurance King Chevrolet | 67 | 0 | 11 | Running |
| 27 | 16 | 43 | Preston Pardus | Chincor Electric Inc. Chevrolet | 67 | 0 | 10 | Running |
| 28 | 10 | 86 | Will Rodgers | Kelly Benefit Strategies Chevrolet | 67 | 0 | 9 | Running |
| 29 | 17 | 8 | Gray Gaulding | Chevrolet | 67 | 0 | 8 | Running |
| 30 | 25 | 39 | Ryan Sieg (P) | Night Owl Contractors Chevrolet | 65 | 0 | 7 | Running |
| 31 | 9 | 11 | Justin Haley # (P) | LeafFilter Gutter Protection Chevrolet | 61 | 0 | 6 | Running |
| 32 | 24 | 7 | Ray Black II | ISOKERNFireplaces&Chimneys/ScubaLife Chev | 60 | 0 | 5 | Accident |
| 33 | 27 | 4 | Garrett Smithley | Contec Chevrolet | 54 | 0 | 4 | Transmission |
| 34 | 31 | 52 | David Starr | DrownOutCancer/CircleTrackWarehouse Chev | 28 | 0 | 3 | Running |
| 35 | 18 | 61 | Tommy Joe Martins | Diamond Gusset Jeans Co. Toyota | 26 | 0 | 2 | Suspension |
| 36 | 37 | 13 | Chad Finchum | MBM Motorsports Toyota | 26 | 0 | 1 | Brakes |
| 37 | 38 | 38 | Bayley Currey(i) | RSS Racing Chevrolet | 10 | 0 | 0 | Rear Gear |
| 38 | 29 | 78 | JJ Yeley | BringYourBible.org Toyota | 5 | 0 | 1 | Accident |